History of BMX (2017-2018)
Year 2017.
January,


May 6th.-7th. 2017, UCI BMX SX round at Papendal Olympic Training Center, Arnhem - Holland.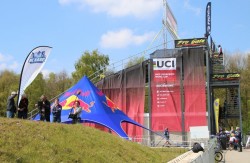 My Opinion on the UCI BMX SX Papendal – Holland of May 6th.-7th. 2017
After the UCI BMX Worlds at Zolder in Belgium in 2015, I decided to take it easy and stop giving my opinion to the UCI and other decision makers in BMX world wide, which I did before for several years. I did not go to a lot of BMX events since 2015. Lately I was invited by a friend as a guest/VIP at the 2017 UCI BMX SX at Papendal-Holland. So, here we were on Saturday and Sunday, May 6 -7th. at the Papendal race.
Besides that, Dutch National TV, NOS-NTR Andere tijden sport, was following me around during the weekend. They were making a docu about the start and rise of BMX in Holland and Europe. This 30 min. docu will be broadcasted on Sunday evening, July 18th. 2017 on NPO 1 at 22.15 hours. Anxious to see the finished docu.

Because of being present, watching the racing and side-events, my creative BMX mind started to work again and after the event I had to give you all my opinion one more time. Hope you don't mind ….... Also because things looked better and situations improved and that's worth while mentioning too.

A view things I learned, had changed this year. First, former promotor, BMX Holland stopped organising this event. The Papendal organization (with Jochem Schellens as "main-man" and his crew) were now organizing this event themselves. As before, there were side-events in place. Papendal also took care of well planned promotion through social media and for sure that worked. Compliments!

Arriving on the venue I was surprised by the many, many cars in the parking lot. Big difference with the previous years (2011 > 2016). On the side-event venue, next to the BMX venue, for 2 days long many people were present, including many children and they were using the facilities. Great job done here, I think. Compliments Papendal!
Racing technical changes.
I was happily surprised by the fact that from 2017 on, the UCI decided, not to use the TIME-TRIALS anymore. Probably you all know my opinion on time-trials and I am very glad those trials are cancelled. The Olympic qualification system is used now. Now we don't have to sit for hours and watch just 1 rider go round on the track, we can see racing happening again.

I also learned that to be allocated a World Cup or Super Cross event, it is not a MUST anymore to have an 8 meter starting hill. The 5 meter hills are o.k. too now. I think that is a very good step forward to. It gives many more professional organizers world wide a change to be able to organize such top events. Read the UCI Chargebook page 82, To be allocated a Worlds an 8 mtr. hill is required. To be allocated a World Cup/SX, a 5mtr. till 8 mtr. starting hill will be accepted.

In my opinion it also will be SAFER for the riders, these 5 mtr. hills. Less speed coming down the 5 meter hill means also less heavy crashes and I think that racing might even be more spectacular on those tracks with 5 meter starting hills. An 8 meter starting hill looks spectacular to the outside world, but may also cause career ending injuries. An extra benifit is that probably most BMX clubs can afford themselves to built a 5 meter starting hill. Thats a different story with an 8 meter hill. It is disappointing ofcourse for those organizers that already built 8 meter hills. Still SAFETY goes first, so its a good thing speed goes down somewhat.

Note: Still one serious problem remains concerning SAFETY of the riders. The concrete, tec-soil, brick layed tracks/turns, I hope in the near future someone comes up with a unique idea to change that too in order to prefent further bad injuries by the riders when crashing. We have seen a couple of bad crashes at Papendal also this weekend, I am sorry to say. But again, BMX is a contact sport and speed is involved. Just like in moto-cross and road cycling, accidents will happen.

In motorcycle road racing and formula 1 for instance, safety is a hot item. Look what has happened in the past 20 or more years. Safety improved a lot. In BMX we have to work harder on that too.

Improving the last straight.
I can't resist giving my opinion/advice on the last straight (done that before!). Looking at the SX and other tracks, the last straight needs some attention. It will bring more racing and exitement till the finish-line, when after the set of whop-de-doos on the last straight, at least 25 meters will be FLAT (no obsticals) in order to have the riders SPRINT to the finish. It will give technical riders (whoop-de-doos) as well as power riders (24 meter flat track) equal changes at the end of a race ánd I am sure it will be spectacular for spectators to watch that longer sprint. Something to try-out / test I think!

Progress is made for sure.
Main reason to give my opinion on the 2017 Papendal race is the fact that is was such a different race in 2011, when the first ever SX race took place on this location. At the time Mr. Lindström was the actual SX series promotor. A copy of the London Olympic BMX track was built on Papendal, including the so-called "box-jump" and so on. This 2011 race was a dissaster.

In 2011 there was a big difference in the level of riding skills by the riders, the track wasn't layed down well and that caused many, many accidents and injuries back then. You can read my report on that event on my website, www.universityofbmx.com (History of BMX, year 2011-12 etc.). It was awefull and I complained about it through my OPINION letters.

For the first time since then (2011), in my opinion this year 2017 was almost perfect race and organization wise. Perfect in BMX is impossible because it is a fast and spectacular sport with 8 riders on the track and then things can happen (crashes). Besides the track itself, also the level of skills the riders has increased a lot. For the first time since 2011, I enjoyed myself for 99%. Also taken into consideration the fact that Time-Trials are no longer a part of racing. Compliments to the Papendal organization and ofcourse compliment for the UCI on the changes they made in the rules and regulations.

From arriving at the Papendal grounds till parking, entry, side-event area, BMX venue in total, everything was just great. Very friendly officials at all spots mentioned, just the way it should be. Again, a job well done here Papendal !
Spectators / Grandstands.
It was clear to all, that the Papendal organization added extra Grandstands along the first straight of the track. Therefore it looked like there weren't that many spectators. Empty seats on the other grandstands. Still there were more spectators overall just on day 1, May 6th. as last year in 2 days. More attention for the event by the Papendal organizers through Social Media, probably is the reason why. Well done! However, now we have to think how to get the grandstands filled completely next year 2018. Well, since I am writing this OPINION letter, maybe I can add some suggestions, to make this event even more attractive. Here we go:

Add a new item to the race program (is my advice).
O.K., in my time (1983 – 1993) when I organized the European Challenge Cup – E.C.C. Events at Slagharen – Holland, I was able to impliment extra races or special activities, without any problem within the I.BMX.F. Today we have a different situation. Things are regulated trictly within the UCI. It still would be nice if UCI would allow some kind of experiment for 2018 to take place during the SX event at Papendal. I do have 2 suggestions/proposals, hopefully worthwhile considering implimenting as last event of the day (Sunday). Pick one of them.

1e.: UCI BMX Trophy of Nations
For many years I am suggesting a Trophy of Nations in the setting as done in moto-cross. As a pilot project and on a small level, one could have a Trophy of Nations Cup as follows. Have Elite men and women form a team, so per country 2 riders. Have a maximum of 32 teams present. They will race 3 moto's, a semi final and a final, men as well as women. In time we need around 2 hours to runs such an event. This count be done after the SX event is finished.Have riders wear their National Flags on chest and back for better recoqniztion. I am sure this works with spectators too. They can cheer for their Country. Try to have teams present from all 5 continents.

2e : UCI BMX CORPERATE TEAM World Cup (commercial and/or factory teams).
Up and till the 2000's, factory team racing was very popular. Manufacturers were very interested in setting up teams, supporting the sport and we can use that now-a-days again very well. Just today I learned that the UCI started Team racing again this year 2017. That's a good thing to hear. Probably it is not a seperate event, but teamriders get points for their results and in the end there will be announced a winner. That's o.k.

What I would like to see, is a Team event, maybe as a pilot project too, where teams of let's say 4 riders (Elite and Juniors, men and women?). Compete against eachother. For 2018 Papendal it should be a max. of 16 (selected) teams (x 4 riders= 64 riders) to compete against eachother for instance. Racing in Team uniforms (commercial and/ or manufacturer teams). Again, just an idea for some EXTRA exitement in 2018.

Celebrating 40 years of BMX in Holland (and therefore in Europe) in 2018.
An extra item could also be the fact that BMX will excist for 40 years in 2018 here in Holland. This celebration could take place during the 2018 UCI BMX SX event and be co-organized by Papendal, together with the University of BMX? It's just an idea specific details have be sent to the Papendal organization. We'll see what will happen. (SFN 1978 - now KNWU 2018 = 40 years).

This is what I had to say. Glad to see progress in adjusting BMX to what BMX is all about. Next important thing is to work on safety, specialy concerning the BMX tracks themselves, soil wise. Yesterday a wise man said to me (the chairman of the professional scoccer club of Heerenveen): why do they make new modern sports that dangerous (BMX, Half Pipe snowboard, etc)! Road racing, F1 and other motorspsort have became much safer over the years. A sport like BMX should work towards that goal too. So far.

Gerrit Does
University of BMX
June 9th., UCI Press-release on among others BMX Freestyle Park
HOT NEWS, ........ Madison and BMX Freestyle Park added to Tokyo 2020 Olympic Games Programme. The Union Cycliste Internationale (UCI) is delighted to announce that the International Olympic Committee (IOC) has agreed to add the Madison and BMX Freestyle Park to the Programme of the Tokyo 2020 Olympic Games. The decision was made at today's meeting of the IOC Executive Board in Lausanne, Switzerland.

Named after legendary races organised at Madison Square Garden in New York (USA), the Madison is a dynamic, exciting and technically demanding track cycling event, which requires excellent bike handling skills, balance, strategic capability, observation and tactics. The Madison will appear on the Olympic Programme with both men's and women's races and two new Olympic gold medals to be won on the track.

The race, which is 50km for men, and 30km for women, involves two riders, a sprinter and a rouleur, working as a team to propel each other forward as they meet between laps. Teams sprint every 10 laps to accumulate points according to the following structure: five points to the first team, three points to the second, two points to the third, and one point to the 4th. Points awarded in the last sprint will be doubled. In addition to the sprints, teams can earn 20 points for lapping the field. The winner is the team with the most points at the end of the race. Famous pairs include many riders who have also been champions on the road such as Juan Esteban Curuchet-Walter Perez (Argentina), Mark Cavendish-Bradley Wiggins (Great Britain), Howard Leigh-Cameron Meyer (Australia) and current women World Champions Lotte Kopecky-Jolien D'Hoore (Belgium) crowned in April in Hong-Kong.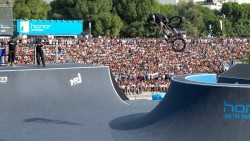 BMX Freestyle Park is a spectacular, crowd-pleasing discipline, which takes place on ramps with big transitions and large obstacles. Competitors are judged on tricks performed throughout the course, with points awarded based on difficulty, originality, style and execution. Each rider in both the men's and women's events gets two one-minute runs (which both count) to impress the judges, who will reward the rider with a score between 0-100 points, with the ultimate goal being the award of an Olympic gold medal. Famous riders include Logan Martin (Australia), Daniel Dhers (Venezuela), Alex Coleborn (Great Britain) for men, Nikita Ducarroz (Switzerland), Macarena Perez (Chile) and UCI World Cup title holder, 15-year-old Hannah Roberts (USA) for women.

In addition, in line with the UCI's strategy to promote women's cycling and the IOC's Agenda 2020, it was agreed that for Mountain Bike and BMX Racing, several quotas previously allocated to men athletes would be transferred to women, achieving full gender equity in both disciplines.

UCI President Brian Cookson said: "I am thrilled to see four more cycling events joining the Olympic programme. With competitions across very different disciplines, cycling already makes a large and diverse contribution to the Olympic Games, and now becomes the third largest sport in terms of gold medals, with 22 on offer. I am also delighted that we have made another big step towards full gender equity across all of our disciplines.

"I want to thank President Bach and the IOC Executive Board for their confidence and reiterate the UCI's full commitment to make Tokyo 2020 a great success for cycling. I also want to thank our partner FISE for the role they have played in the development of BMX Freestyle over the past 20 years.

"The Madison will bring its long-established history and exciting format to the Games, while BMX Freestyle Park has great potential to open the event up to a whole new generation of athletes and fans. In an increasingly competitive landscape for Olympic sport, it is important not only to see our overall quota remain unchanged, but to also welcome the award of four additional opportunities for medals in Olympic cycling disciplines.

"I am proud of the effort made over the past few years by all of our National Federations, event organisers, teams and riders, which has helped us improve cycling's strong position within the Olympic Movement. I am fully committed to continue this work and I am convinced that after extremely successful Games in Rio in 2016, Tokyo will take our sport to another exciting level."



END of Press-release.
June 14th., was a sad day. Mr. Hein Verbruggen. former Board member of the KNWU, later on president of the UCI and I.O.C member, passed away.
Indeed it was a sad day, Mr. Hein Verbruggen passed away. I knew Hein well. He came from the area that I live in, he was born in the city called Helmond in Holland. When the S.F.N. - Stichting Fietscross Nederland,
the first official BMX organisation in Holland, founded in October 1978, joined the KNMU - Royal Dutch Cycling Federation in 1981, both Hein Verbruggen and myself were in the KNWU Board. In those days Hein was already working for the FICP, the professional leg of the UCI (FIAC was the amature leg).
As Secretary of the I.BMX.F. I was in contact mainly with the FIAC in the beginning, but when the working together relation ship started ending '80 s and early '90 s, Hein asked me to act as Project Manager World Cup series BMX in 1994. Mr. Verbruggen played a very important role in getting BMX recoqnized within the I.O.C. with the result of BMX becoming an Olympic discipline in 2008. Hein Verbruggn kept the promis he made, bringing BMX into the Olympics if we, the I.BMX.F. would join and later on merged into the UCI.
We will not forget Hein Verbruggen.
July 14th., the BMX Museum (NED) had a special quests from Australia, Mr. and Mrs. Frank Iglio.
For some time now, I am acting as host for Mike Janssen's Dutch BMX MUSEUM in Megen. On July 14th. I had a special appointed with Frank Iglio from Australia. Frank did bring his wife and his brother in law with him to the BMX Museum were we spent several hours talking about BMX and checking out all the stuff at the BMX Museum.

This was the first time we had a visitor from Australia. Frank got involved in BMX, more specific in the collectors side of the sport and then mainly in BMX Freestyle. We always talk about the European and American scene, but little about the Australian / New Zealand scene of both BMX race and Freestyle. Frank promissed me to sent me information on what is happening since a couple of years in his country and so he did. Please find here a report on the collectors scene in Australia. Hope you all like this and I will try to keep in close contact with the Aussies to general more info over time. Enjoy !
Frank gave me also some inside info already ..... In October of this yeat 2017, legends Stu Thomsen, Perry Kramer and Eddy Fiola will be special guest in Australia. Besides being a "correspondent" for now, Frank also produces special BMX "stands", a quality product under the name SIDEKICK. Check out his facebook and website on that product.
Frank wrote about the Australian situation:
Hi Gerrit,
Here is some more info on what's happening in Australia.

As you know old school BMX collecting and restoring has become extremely popular, which has led to many BMX shows happening each year. Most of these shows started out as a small social meet up with friends that still owned their old BMX bikes. Each year they grew larger and larger. Some of the shows are now charity based, money raised goes to a good cause.

In Melbourne, there is a show called 'Hurstbridge Show and Shine'. In 2016 the special guest was Harry Leary and this year it will be Bob Haro. It is Hosted by 'Bicycle Works' a bicycle store based in Victoria. In my home town, Adelaide, we have a show called 'RADelaide'. Last year it was very successful with Eddy Fiola visiting and this year he is also back in December.

There is also another show based in Sydney called 'BMXpo' this years special guest is Stu Thomsen.

Mark Tawaf is a PK collector based in Melbourne who has started a company supplying reproduction parts in Australia. He is doing very well, working with many of the old brands/manufacturers to remake limited numbers of old parts. These parts range from many styles of Grips, Comp 2,3 tyres, seats such as Kashimax and CW, Bulls eye cranks, CW lightning frames, Hutch frames etc…........Here is a link to his website, although many of the sales are done through his facebook page: http://www.oldschoolbmx.com.au/

I also mentioned a new BMX movie coming out, based on the life of John Buultjens. It's an interesting story and worthwhile reading about. He works for Haro and has the largest Haro collection in the world. Here is a link to the article: http://www.bicyclingtrade.com.au/news/world/new-hollywood-movie-could-boost-bmx-sales-next-summer

Steve Cassap is another interesting story worth reading about. He is also now becoming involved in bmx shows in Australia: http://www.cassap.com.au/index.php/history

OZBMX is another website to check out. It is dedicated to the preservation and research of vintage BMX in Australia – it consists of a community with chat forums. It has been around for a number of years now. You can also find them on Facebook: http://www.ozbmx.com.au/

BMX monthly Swap meets have also become very popular. Again, another great way for people interested in BMX to come together and share knowledge. After most meets a ride is organised. The largest is based in St.Kilda Melbourne.

I've attached some of the flyers for the shows, some photos of my stands and a few pics from the last BMX shows. Feel free to use any pictures from my Sidekick page, and share around if you like. If you have any questions or want to know more info, don't hesitate to email me at any time. Let's keep in contact! Thanks again, Frank Iglio - Australia.

Frank, thanks for sharing this information. Please keep me up to date. I will publish this Australian news frequently. It was very nice meeting the 3 of you. See you next time.

Here some pictures of Frank's workshop in Adelaide.
July 12th - thr. 16th., the UEC BMX European Championships in Bordeaux - France took place.

On July 14th through 16th. the UEC BMX European Championships took pace in the city of Bordeaux - France. Included was the last round of the European Championship Serie in the Elite classes. Many reports on this event can be found on the internet, so we at the University of BMX will stick to some statistic data ánd the results in the Elite classes.
In the European Challenge ánd Elite classes, riders from 25 countries participated. You can find the names of the countries concerned on the "country summary" list below. In the Challenges classes there were a total of 1740 entries. Largest group of participants came from France, 668 entries, smallest number of praticipants came from Hungary, 1 rider. Just in Elite and Junior, Men and Woman classes there were 217 entries. Riders involved in these classes came from 22 different countries. Elite men had 73 entries, Elite women 37, Junior men had 81 entries and Junior women 26.
Overall results in the Elite men series:
1. Joris Daudet - France European Champion
2. Twan van Gend - Holland
3. Sylvain André - France
Overall results in the Elite women series:
1. Laura Smulders - Holland European Champion
2. Elke Vanhoof - Belgium
3. Simone Christensen - Denmark
pictures impressions to be added.
Overview of all classes and countries concerned winning GOLD, SILVER and BRONZE at the 2017 Euiropean BMX Championships:




July 21st.-29th., the UCI 2017 BMX World Championships in Rock Hill, USA took place.
Sixteen years have past since the last UCI BMX Worlds in Louisville - Kentucky in july/August of 2001. A lot did happen in these past 16 years. BMX became an Olympic sport in 2008, riders in the highest performance classes were trained more professional then before, due to the Olympic level they have to reach, the N.B.L. seized to excist and ABA BMX (now called USA BMX) joined the UCI ranks for BMX.
The Worlds in 2001 in Louisville Kentucky was a dissater. A soft track at the indoor facility caused several bad crashes, protests by the Elite riders and even a strike by those riders. They wanted changes to be made on the track so it was safe ánd competable for all. Personally I was very disappointed by the way the NBL handled this 2001 Worlds event as in fact leading BMX country in the world. Read all about the 2001 Worlds in Louisville at the website www.universityofbmx.com then History of BMX and then look for History 2001.
OPINION on the Rock Hil - SC. UCI BMX Worlds.
Anyway, we are 16 years later and the UCI BMX World Championships were now helt in Rock Hill - South Carolina, USA. I will place the time schedule right here and I will give my opinion on what I have seen on the life stream of the event. I followed the racing on life-stream from Tuesday July 25th. on. When I organized the 1983 Worlds and after the the E.C.C. event in Slagharen, after each event we evaluated the weekend past. My main officials had to make a report about what in their section went good, but more important, what went wrong. So the evaluation concerned all aspect of the total organization like, parking, ticketing, routing, parc fermé, race track, first aid, officials etc. About 2 weeks after the race weekend the headofficials did meet en we discussed all notes/remarks made. Our goal: improve the next event. Never we had a 100% perfect score (I believe thats impossible in BMX). We had an average of about 25 till 30 point we needed to address and improve. That's what we did. That's what we did in the '80 s and '90 s. Concerning the Worlds in Rock Hill, in general one can say, "THIS 2017 WAS VERY GOOD, BUT IT ALWAYS CAN BE DONE BETTER". What I think is fantastic to see, how in all age classes the level of racing has improved over the years. Most remarkable improvements in the Cruiser classes of 35 years and over (looking back at the 1980's) and absolutely in Girls, the Junior and Elite Women classes. I can only comment on what I saw on Life-stream of the event, so its' only about the racing.
The time-schedule of the event from July 21st up and till July 29th.: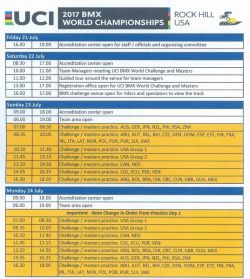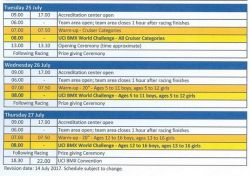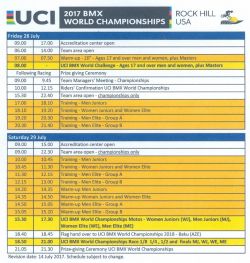 My evaluation notes on the Worlds 2017.
Tuesday: In general I can say that the overall accomodation looked very professional. Very important part of the accomodation is the BMX track. I was happy to see a well manicured track, with no crazy obsticals, On Tuesday the Challenge cruiser classes were on and the Challenge track looked almost perfect to me. Not too technical, but o.k., variation is needed also in our sport. Next time a track can be much more demanding and technical. Not many accidents occurred and smooth racing took place. Some people said, not spectacular enough, I think this is just fine. The main events were exciting to watch. Just enough grand stands were placed and they were filled nicely all day long.
About safety. One thing I noticed was the fact that several riders, after crossing the finishline, took off their helmets without unlocking their shinstrap. That ment, their helmet was sitting loose on their heads. It seems to me, NO UCI official noticed that or checked that at the gate...... which the should ! As prove, here a picture of 2 riders crashing and one of them lost his helmet falling down (helmet under bike). I realy wonder how the rider concerned is doing. I would not be surprised some bad head injury occured there.

In total 48 countries participated in this challenge and championship event with over 4000 entries. Around 700 volunteers were helping out to run the overall organization. That is immese. Overall I would award a 9 (out of a serie from 0 to 10) to this Worlds of what I was able to see on TV, that is.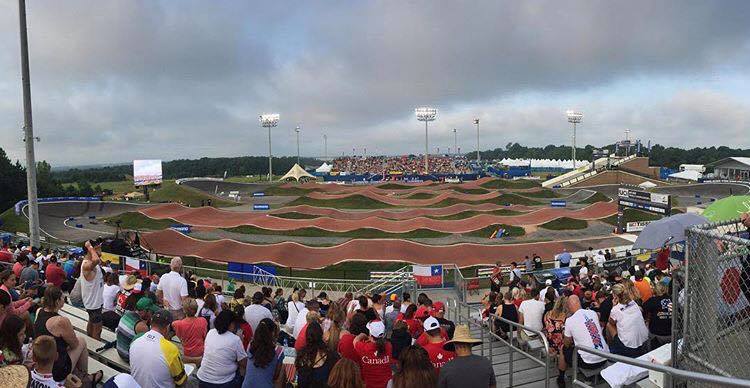 It was good, but things always can be better ....... Now I will write down a couple of "notes" I have made since Tuesday about the event. My ideas for better one's ofcourse, if you have them. Ideas might improve this high quality event. Here we go:
- On these modern tracks, specialy in the younger age groups, often the riders just follow eachother in a "follow the leader" setting. Tracks are wide which doesn't invite for spectacular racing (just a fact).

- With all respect, but the announcing was not the very best. Most of the time, race numbers were called if it did not concern American riders and if they called the names of foreign riders, you could not understand it because of very poor pronounciation. Annoucers only calling numbers and names all day long is very boring too. There is so much to tell, why not add interesting stuff. For instance, former World Champions (from the '80s) took part in Cruiser class. Never anything was said about that. Mr. Speaker(s) did not know much about the foreign riders, only numbers and stuff like, that Aussie guy or that French guy etc. Countries were mentioned like nr. 2 from Brasil", no name. BMX has become very professional, announcing has not improved and did not keep up with those developments, I think. Media training should be in place at this level. Watching and specialy listening to the reports on the racing, I felt like not much had change since the '80 s.

- Because of the high number of participants (over 4000), the event is scheduled to take place from Friday July 21st. up and till Saturday July 28th. A result of these high numbers of riders, specialy when we are racing in the USA is, that out of the 4000+ riders, there were around 1100 USA riders. So, 25% of the riders are coming from the USA, Personaly I think that is wrong. The balance is out of order. I think this needs attention by the UCI. The present ruling is that the organizing country is allowed to sent 32 riders per class to the Worlds. Ofcourse the fastest riders will win a medal for sure and the USA has very fast riders, but a final with 6 USA riders and only 2 foreign riders is not very exiting for a Challenge event and outside USA TV spectators. In the younger age classes that happened a lot. On Friday racing, in the main events, there was a fair mix of all countries in each race. That's good for publicity as well, you know what I main?

On Tuesday, Cruiser class day, the grand stands were completely filled with spectators.
- When the Cruiser finals were on, the comment on life stream was given was not of high quality. Same thing as with the announcers on the track, pitty that they could not pronounce the names of the foreign riders correct. To be professional in this field too, one should orientate more on a serious and professional commentary. The racing developed better then anouncing. Racing was cool, I enjoyed that very much.

On Wednesday, the 20 inch Challenge youngest age classes were on
- In general the same remarks as on Tuesday, grandstands were filled again. Not too many accidents for which I am thankfull.

Thursday, the 20 inch Challenge, medium age classes were run.
- Remarks dito as Wednesday, grandstands filled and racing was good.

Friday, the 20 inch Challenge, 17 & older classe, Master class.
- It was noticable that there were less spectators over the day, Grandstands weren't filled. During the finals the stands were filled. Fierce competition was going on now. Again here, not too many crashes, which is good. I enjoyed the racing very much. The main events today were just great, I loved it. Good racing.

Finaly on Saturday, the 20 inch CHAMPIONSHIP classes. Junior, Elite, men & women.
- No Life-stream in Saturday. That was very disappointing. It's August 1st. now and still I have not seen any action on Dutch TV on the World Championships. UCI had on there roster 2 TV dates for Holland, the 30th. and 31st. including which station and local time. I was ready to watch both times, but NOTHING on BMX was shown. Still we did win a silver medal in Junior Men and a 4th. place in Elite men and a 6th. place in Elite women ........ nothing on TV. This shows me that for some reason BMX here in Holland anyway, still is not excepted for 100% as an Olympic top sport. Because of this the load of "outside BMX" people in Holland, did not get info on what our riders had done at the UCI BMX Worlds. Frustrated and upset I am about that.
Medal count list at the end of this Worlds: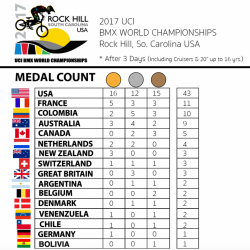 What I did see on pictures on facebook was the totaly overloaded grandstands and even the spectator space in front of the grandstand. Totaly filled. I think this was kind of new for BMX in the USA too.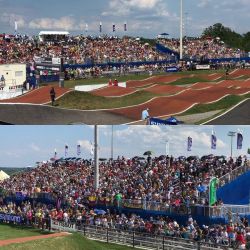 My dear friend Greg Esser, pioneer BMX racer, former champion, BMX Pro from Pompano - Fl., USA, planned to go this World Championship. Long time since he was present at a Worlds. I asked him to give me his opinion on what he saw. I value is opinion very much, here it is:

"Hi Gerrit, Rock Hill I enjoyed very much. Lots of people and the racing was quite good. The organizers did a great job with the show. For myself I don't like how the riders are hiding out and you never see them. I can't say what bike anyone was riding. How do bike companies get their money's worth by sponsoring anyone? I would like to see, as the tracks are pretty much the same now, maybe a 3rd. straight instead of a rhythm section. Out of the 2nd. turn a set of doubles as it is, but in the middle of this straight just 1 big jump that is steep and tall. Then a set of doubles into the last corner, as it is now. Watching the races it would be nice to see riders have to use there pedaling power to pass some. I think Maris possible could have still made the semi, if he could have used his power and not have to go at the same speed through the rhythm section. I think it would be nice for the riders to have a chance to show how fast they can go. Might be interesting.

I have to say I was worried about how I would feel watching and having no real reason to be there. I had a different feeling at Chula and the HOF. I have to say I am very glad I went and would do it again.These are my thoughts Gerrit. Cheers Greg".


The 2017 UCI BMX World Championships Rock Hill results.
Elite Men:
1. Corben Sharrah (USA), World Champion
2. Sylvain André (FRA)
3. Joris Daudet (FRA)

Elite Women:
1. Alise Post (USA), World Champion
2. Caroline Buchanan (AUS)
3. Mariana Pajon (COL)

Junior Men:
1. Cedric Butti (SUI), World Champion
2. Kevin van de Groenendaal (NED)
3. Mikus Strazdins (LAT)

Junior Women:
1. Bethany Shriever (GBR), World Champion
2.Saya Sakakibara (AUS)
3. Vineta Petersone (LAT)

Overall conclusion on the 2017 UCI BMX World Championships at Rock Hill, SC - USA.
As you can read, I did not make too many notes at all. So overall and so far this can be called a very succesful UCI World Championship and Challenge event that washed away the memories of the 2001 Louisville edition completely. Congratulations all involved. On a scale from 0 till 10, I award the Rock Hill Worlds organisation a nine 9. Perfect is impossible in BMX, organization wise. This was the best ever event I have seen on USA soil. A new trend has been set, on to the 2020 UCI BMX Worldchampionships and Challenge events in Houston - USA.

Opinion, figures etc. on the UCI BMX Worlds in Rock Hill by ..........
The Herald | HeraldOnline.comThe Herald | HeraldOnline.comNEWSSPORTS
How much money did BMX World Championships make for Rock Hill? 2:01 Rock Hill economic officials estimate that the 2017 UCI BMX World Championships held in July generated $19.2 million in direct economic impact. The event attracted 3,700 riders from 48 countries. David Thackham How much money did the BMX championships bring to Rock Hill? BY DAVID THACKHAM
AUGUST 15, 2017 11:45 AM

ROCK HILL Rock Hill officials estimate that hosting the 2017 UCI BMX World Championships generated around $19.2 million for this area. The event, held in late July, far exceeded the expectation of $13 million that officials had been touting for months. John Taylor, the city's Parks, Recreation and Tourism Director, said the number inflates to $29 million when accounting for national and international airfare in and out of the greater Charlotte area. "We were very happy about what it did economically for the community," Taylor said. "But I think the biggest thing about the event was that the whole community bought in. People were proud to be Rock Hillians, and show it off to the world."

Taylor said the economic numbers are created by a series of in-depth surveys with consumers, digging into information such as food, lodging and transportation expenses. The international event attracted nearly 20,000 people, while projected cumulative attendance for the week from multi-day admissions is estimated around 50,000-55,000, according to the PRT study. Officials say around 3,700 riders from 48 countries flocked to Rock Hill for the championships. Taylor says the event has broken BMX records.

A webcast of the challenge races July 25-28 broke viewership records with more than 500,000 views, making them the highest-viewed challenge races in BMX World Championships history. City manager David Vehaun told the Rock Hill City Council Monday night that UCI officials complimented Rock Hill on its management of the event, which took three years to plan. "They called it the best they've ever had," Vehaun said. "John (Taylor) and his staff at PRT once again proved they are the best in the world. There's really no other way to say it." Rock Hill won its bid to host the championships two months before the city's BMX Supercross Track opened in the Riverwalk community. This was the first time the event has been held in the United States since 2001 (Louisville, Ky.).
Cheers, David Thackham: 803-329-4066, @dthackham

Read more here: http://www.heraldonline.com/news/local/article167279927.html

The reaction on the above came from me, Gerrit Does. Read on .........
Gerrit Does: O.K., next question, what has been the total COST organizing this Worlds ? I mean TOTAL cost, so also incl. fees/rights USA BMX, UCI, buidling the track etc.etc.etc., O.K., next question, what has been the total COST organizing this Worlds ? I mean TOTAL cost, so also incl. fees/rights USA BMX, UCI, buidling the track etc.etc.etc.,
Fifteen: The UCI costs to get the event are in one if the UCI documents, I'll try dig them out.

Fifteen: Gerrit Does - Here are the costs from the UCI to get the event: "The UCI proposes business models that can adapt to the local economic environment. Transparency and flexibility are key elements in the relations between the UCI and the organisers.THE UCI REQUESTS THE FOLLOWING FEES:Hosting fees: CHF 450,000 The fees include 50% of the marketing rights Optional Marketing fees: CHF 100,000 for 10% of additional marketing rightsTELEVISION PRODUCTION Television production is at the cost of the organiser. The UCI owns the worldwide media rights.BIDDING FEES For each bid submitted to host the UCI BMX World Championships, the Organising Committee shall pay the sum of CHF 20,000 This amount shall cover in particular the costs of the visits made by UCI representatives, as well as the costs of evaluating and processing the bid.BANK GUARANTEE A bank guarantee equivalent to 20% of the contract amount will be requested 60 days after the awarding of the event and will remain in place until 180 days after the last day of the Championships.CONTRACT SIGNATURE The contract has to be signed by the city or the region where the event will be organised. The Organising Committee and/or the National Federation may also co-sign the contract."

Gerrit Does: Thanks "Fifteen" and hè ....... interesting or what. It's all about the money in our modern BMX world! Quess what, I / we organized the IBMXF WORLDS in 1983, total cost of that event around 75.000 gulders, that's about 35.000 euro's !!!!!! Times have changed for sure.

Denny Case: Building the track did cost around 7,000,000 dollar ......

Fifteen: The track wasn't built just for the Worlds, awesome facility though 🙌

Denny Case: That was also the case with the Ponypark Slagharen track. No, but it had a lot to do with being allocated the UCI Worlds. The City does a great job maintaining it and having Mike King running it doesn't hurt either. I'm lucky to be a local at this fine track.
August 3rd. Former FIAC World Champ, Juanma Montero of Spain, visited Gerrit Does.
Former 1985 FIAC BMX World Champion, which Worlds took place in Pineta di Jesolo in Italy, was spending his vacation in Holland, close by where I live. Juanma Montero and family called on me and wanted to visit. On August 3rd., on their way home, we spent some time together and talk history and present. Good times. It is a great feeling, meeting people again after 32 + years and see and hear how they are doing. All the best Juanma and and family, hope to meet you again on your ext visit to Holland.

Here the reaction I received from Juanma Montero in his mother language:

Juanma Montero
6 augustus om 10:13

Un honor y un placer poder encontrarme con Gerrit Does en Holanda, el "padre" del BMX en Europa, fundador de la IBMXF y creador de la web University of BMX. Lástima no haber podido asistir al encuentro internacional que organizó Gerrit en 2014 en el que gracias a Joan Albert Redondo, salió mi nombre como invitado, ¡te debo una, Joan Albert! Por fin pudimos ponernos conocernos personalmente! Además de toda una celebridad he de decir que es un tipo encantador.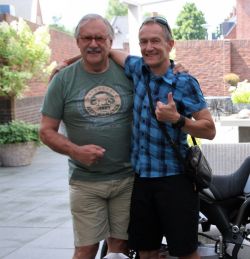 September 1st-3rd., Australian news, the Hurstbridge 2017 BMX Show & Shine - Melbourne took place.
Through my dear Austrialn friend Frank Iglo, I received the following information an pictures about the Hurstbridge 2017 BMX Show & Shine event in Melbourne, were Bob Haro was the guest of honour. The organiser of this event, Glenn Ballinger, owner of Bicycle Works, did put on a very succecfull and great event. Here some comments of Frank Iglio on this show.
Hi Gerrit,
How are you? Last weekend I attended the Hurstbridge 2017 BMX Show & Shine in Melbourne. It was a fun and very successful weekend of BMX. The weekend consisted of a Friday night dinner with Bob Haro, a Saturday ride through the city streets of Melbourne and a Show & Shine on the Sunday. The ride had a great turnout, close to 100 bikes! It was a very interactive for all ages.

On the Sunday, the weather was not on our side, it was raining. However, the organisers did a good job of re-locating the show to an indoor stadium. It was jammed packed and still a huge turnout. There was a turnout of at least 800 BMX bikes. I represented SIDEKICK-BMX, with show stands for sale on the day. I had a very positive response and sold out of stands within the first few hours.

See attached some photos from the weekend. Hope all is well. Speak soon. Regards, Frank Iglio
Last picture from the Hurstbridge event in Melbourne is of Bob Haro at the end of the BMX ride. This was great fun. (All pictures courtesy of Frank Iglio).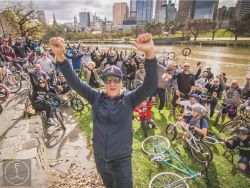 October 13th - 15th., more Australian News ..... the Supershow "SHINE" Melbourne took place.
Another great show of BMX bikes was organised, this time by Mark Tawaf and former USA Pro rider Perry Kramer was the guest of honour this time. Again my dear friend Frank Iglio kept me updated on what happened during that weekend.
Hi Gerrit,
How are you? As you know I attended the Melbourne Super Show & Shine early September 2017. This time I went to the "Supershow - SINE- Melbourne", were Perry Kramer was the guest of honour. It was a really good event too. I flew in on the Saturday morning, unfortunately I didn't make it to the Friday night Dinner show or the Saturday bike ride, but made it to the main event which was on the Sunday.

The event was located at the Old School BMX Store, owned by Mark Tawaf. There were lots of amazing bikes, and a great group of BMX enthusiasts. Once again it gave great exposure to my Sidekick BMX Stands as well, and made good sales on the day.

Perry Kramer is a great guy!, and a very likable person. I was lucky enough to be invited to hang out on the Saturday and Sunday night with Perry, with a few of Marks close friends. I mentioned to Perry that we knew each other, and I said hello from you. Perry also said to say Hi.

Here are some photos I took from the show. Feel free to use any of them and share. Hope all is well, speak soon. Frank.
Last picture from the Supershow - SHINE - Melbourne by the Old School BMX Store. Seen here guest of houner Perry Kramer singning an SE frame tube. Again here, pictures courtesy of Frank Iglio.
November 8th. - 12th, the 1st. UCI Urban Cycling World Championships, Chengdu -China.
The UCI becomes bigger at the Olympic level, new exciting moments coming up. Also the event on November 8 through 12th. is new .........Looking forward to our 1st. UCI Urban Cyling World Championships which event includes Bicycle Trials, BMX Freestyle Park and MTB Eliminator as formats. This 1st event will take place in Chengdu - China.
December 1st. - 3rd., the RADelaide 2017 bicycle show, Adelaide - Australia.
Through my contact in Australia, Frank Iglio of SIDEKICK BMX stands, I was informed about some more news on another bicycle show.

Here Frank's report:
"Hi Gerrit, here is a little more info on the last BMX show for 2017 in Australia. The event was called RADelaide, located in Adelaide, South Australia. The event was spread over the first week in December, with special guests Eddy Fiola, Bill Allan and Kïd Fruhmann coming out from the USA.
The 3 main events were:
1st. December - "The KING Cometh ". A night with Eddie Fiola & Bill Allen". This was on the Friday night. A sit-down dinner followed by the screening of the movie RAD. Bill and Eddie gave special commentary with a detailed insight on what happened behind the scenes. There were lots of signing of merchandise and free give-aways throughout the night. A local guy called David Gartland made a special themed guitar for Eddie and straight swapped him for his EF Performer 20'' BMX. The themed guitar was based on the design of the first generation GT Performer. There were approximately 70 people that attended the dinner. It was a fantastic night and all who attended got to mingle with fellow BMX enthusiasts.
2nd. December - RADelaide Show & Shine. This was the main event on the Saturday, where the public could display their own BMX bikes. There were judges and awards given out to the best bike for each category. A raffle bike was also put together from parts donated from the Forty1Thirty group. It was raffled off at the end of the day. All the money raised went to charity. During the day Eddie Viola rode the local skate park and showed off many of his tricks. The event was a huge success - a credit to Jon Moore and all the sponsors, SIDEKICK-BMX being one of them. At the end of the day everybody got together and enjoyed a yarn about the good old days of BMX!
3rd. December - Bill & Ed's Excellent Adventure Ride took place on Sunday 11am, down at Glenelg beach in Adelaide. The ride started at Boomers café and headed to the West Beach skate park. Once again Eddie Viola performed on the local bowls and half pipe. It was a very relaxed day and a great mix of all ages.
Following on from the Adelaide event. Eddie, Bill, and Kid went on to travel to Melbourne and Sydney to share some time with more BMX enthusiasts. They then made their way to New Zealand for the NOS BMX show, before returning back to the USA. Hope this gives an insight to what is going on down here in Australia, the old school BMX scene is strong and we look forward to 2018. Kind Regards, Frank Iglio".
Pictures courtesy of Frank Iglio and Flickr Photography, an impression of the events:

Year 2018

In this year, 2018, we celebrate that the sport of BMX - Bicycle Moto-Cross - was introduced in Holland and became an official registered sport in th same year, now 40 years ago. Records show that the S.F.N. - Stichting Fietscross Nederland, was the first officialy registered BMX orgnisation, not only in Holland but also in Europe. For that reason one can see that BMX also celebrates its 40th anniversary in Europe as a whole.
Only 4 years after the Americans started to officialy organize BMX nationwide in 1974 (by the NBA and the NBL) and in 1978 (by the ABA, now USA BMX). Within 40 years, BMX developed from a sport just having fun immitating motorcycle moto-cross stars into an Olympic discipline in the highest performance classes, Elite women and men.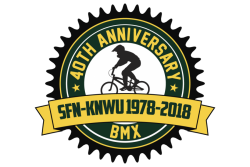 This is not the way I wanted to start the new year, but I have to inform you about the passing of 2 dear friends, who also ment a lot to BMX at a National ánd international level. I am sorry to tell you the mr. Don Hutelin - USA and Mr. Dieter Schadowski - Germany passed away in the first 14 days of this year 2018. Here some more information.
January 8th., a message came in about the passing of long time friend in BMX, Don Hutelin - USA.
I am so sorry to read about the passing of long time friend, Don Hutelin. Don passed away on January 8th. at his home. Don had reached to age of 82 years. Our condolances go out to Sarah and Bonnie, John and their families. Here a short note by Bonnie Marsden-Hutelin about the passing of her Dad.
"I started this fund with the passing of my dad Don Hutelin. My dad passed away in his home on January 8, 2018 at 82 years old. He is survived by my mom Sarah Hutelin of 58 years. As a young kid, my mom and dad supported my brother John and I heavily in BMX racing for our entire childhood. They gave up every weekend to take us racing. As a family, we traveled the country, made life long friends and became successful adults.

With my dad passing everyone is asking what can I do for u. Since Bmx is in our blood and is our passion (my mom and dad included) it only seems right to give back to our Bmx family. I would love to give other kids the the opportunity to be a part of this awesome family sport. So In lieu of flowers, please donate a small portion for me to help future bmx'ers. Thank u for all the kind words on Facebook. We are truley grateful.!! With Love, Bonnie Hutelin Marsden."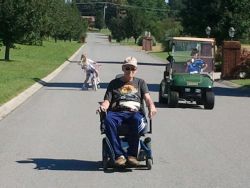 Note Gerrit Does:
It was some time in 1980 that I came in contact with Don Hutelin, through George E. Esser, at the time the MCS - ceo and President of the National Bicycle League - USA. BMX was the reason I got in contact with the NBL and George Esser in the first place and through George with Don. In the years to come I did spent at least twice a year time in Florida to orientate myself on BMX (organisation wise). Several times I was a guest at Don's house, for which hospitality by the Hutelin's I am / we are still grateful. We, Don and I, had also a mutual friend from Japan, Mr. Tadashi Inoue. Don's son John, stayed at our house in Holland in the '80 s and together we travelled Europe with my family and John. All good memories. Don, thanks for all and I hope you, and believe, have now found peace. R.I.P. Don Hutelin.


January 8th., Olympic silver medalist in BMX, Jelle van Gorkum, crashed hard at the Papendal track in Holland.
story will follow ....
January 14th., another sad message came in about the passing of dear friend in BMX, Dieter Schadowski - Germany.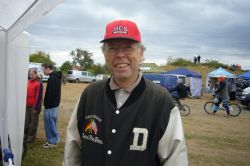 Dieter's son, old school BMX'er and long time friend, Rainer Schadowski, did write the following message on facebook:
" Liebe Freunde,
mein lieber Paps und bester Kumpel, Dieter Schadowski, Familienoberhaupt, Ehemann, Vater, Schwiegervater, Bruder, Onkel, Opa, Papiermaschinen-Ingenieur, Bike Shop Inhaber, mein BMX Hauptsponsor, Team Manager und Old School Bike Sammler ist heute von uns gegangen.
*02.10.39 + 14.01.18

Wir sehen uns wieder ! "
----------------------------------------------
" Dear friends,
My beloved Dad and best buddy, Dieter Schadowski, head of the family, husband, father, father in law, brother, uncle, grandpa, paper-machine engineer, bike shop owner, my main BMX sponsor, Team Manager and Old School bike collector has passed away today.
*10-02-39 + 01-14-18

We'll meet again ! "
Note Gerrit Does:
First of all our condolances go out to Dieter's wife Elisabeth and ofcourse Rainer and his family. Although expected, when it finaly happens, it's always a shock moment. We do wish you all much strength to cope with this loss.
Personaly I know the Schadowski family (father and son) for over 35 years and ofcourse through BMX. Rainer and I together with 2 "powder puffs" from Holland, travelled to the Murray World Cup in the '80s and since then we were in close contact with Dieter and his son Rainer for years. Dieter was a remarkable man and had his opinion about the sport of BMX. As a hobby, Dieter had his BMX shop with old skool part, bikes, uniforms etc. that was kind of unique. Several times he has been one of the main European collectors being present with quality restored BMX bikes at BMX shows, a couple of which I organised myself. His enthousiasm for old skool stuff was remarkable.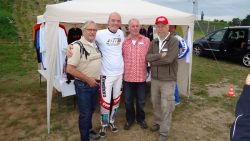 I think it was 2 or 3 years ago that I met with Dieter and many other German old skool riders, during the Reunion in Weiterstadt, for the last time. We had a great time. I will remember Dieter for his motivating talks and enthousiasm for old skool BMX in general and products specialy. You will be missed dearly by many, R.I.P. old friend Dieter!



January 26th - 28th. Special event called "Avignon Velo Passion Vaucluse" - France



This event was organized by pioneer old school BMX'er Christophe Vico. This weekend event included a demo Race of Pros on an indoor BMX track, an Old School Expo, a BMX Freestyle (Flatland) event and several side events. The event was a great success.

Some more pictures just to give you all an idea about the event.

Now some picture of the BMX track at the Avignon event. The design, the building of the track and the starting gate with French Old School Pro's ready to race.

Also some BMX Freestyle action took place by old school riders and first BMX bikes were shown.

Here an American made BMX brand, Mongoose as well as a European made BMX brand, Motobecane. The side-car class always had something special to it.

To finish this report of a very succesfull event in Cavignon, some more ad random pictures.
June 3rd - 9th., the UCI BMX European Championships will take place in Baku - Azerbaijan.
October 6th - 18th., the Youth Olympic Games - YOG, Buenos Aires, Argentina.
The 2018 summer YOG - Youth Olympic Games will take place in Buenos Aires, Argentina.