Nico Does - University of BMX advisor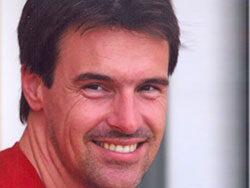 An introduction of Nico Does:
Name: N. Does
Education: School for retail management
Profession: Director of Sales & Marketing at BES&T (Bio Essentials Sportscare & Technology) Nederland B.V. www.gobes-t.nl
GLORY sportnutrition also is also part of the business.
Hobbies: Running, MTB, BMX, fitness, music. Active as staff member University of BMX.
BMX Career of Nico Does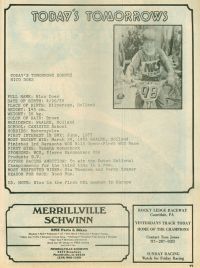 One can say that I have been a pioneer in BMX rider. Early 1976 I got my first BMX bike, started racing in 1978 and ended my active career in 1993. I went to the USA with my parents many times in the early days. I remember me racing against "Racen" Jason Jensen" at that time one of the most famous BMX'ers around in my age class. With a lot of riders, whom I did meet back then, I still have contact with. Nico was the first ever NBL-USA member from Europe.
Right after I finished school, I did spend about 1 year (part 1991 and 1992) in the USA, staying at the Esser's residence. I did help/work for the Esser family at Fabeld Inc. at the time. The result of that was, that I started WEBCO Bicycles in 1991. WEBCO stand for W estern E uropean B icycle CO mpany. Together with former USA Pro rider, National and World Champion Greg Esser from Pompano – Florida, I developed the WEBCO E-type. Greg Esser was the manufacturer of the WEBCO frames, forks and crank-sets. During the ABA Gands in 1992 I crashed hard into a wall and for me that was the last time I wanted to be in a hospital. Some history facts on accidents: A couple of weeks before the Worlds in Brisbane – Australia (1989), I broke my left collarbone. I had a metal plate put in and three weeks after that I finished 3rd in Superclass at the Australian Worlds. Eric Minozzi won the title, Bas de Bever became 2nd, I became 3rd and Wilco Groenendaal 4th. In December of the same year (1989), I made a bad fall and lost my spleen because of this crash during at an international indoor BMX event in Toulouse – France. I was out for three months and had to start from scratch. I wanted to come back hard, trained like crazy and had my best result in the European Superclass series in 1990 finishing 7th. overall.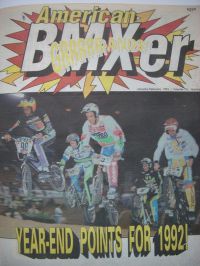 The greatest race on earth, the ABA Grands kind of ended my career as active BMX racer, as I told you above.
I have been active as trainer for the BMX club in Valkenswaard till 2002 and again since 2004 till 2007 I was active as trainer for the BMX club in Luyksgestel. I still love to ride for the fun of it, when I have time.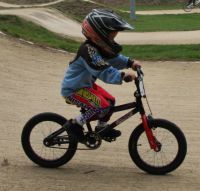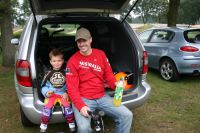 When our son Lucas was born in 2005 and later on our daughter Nienke, I concentrated 100% on my family and work. Just recently, July 2009, I bought a mini-GT Mach for Lucas and for myself a GHP bike and we are both riding at the Luyksgestel track sometimes.
Results in BMX:
1979 1st place Dutch National Championship 8 experts
1979 3rd place World Championship Indianapolis - USA
1980 1st place Dutch National Championship 9 experts
1980 4th place World championships, Indianapolis USA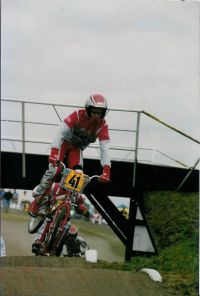 1981 1st place Winner National " AVRO TV CUP series" in his age group
1982 3rd place Open European Championship, Beek & Donk - Holland.
1983 semi-finalist World championships, 12 Experts, Slagharen, Holland
1984 semi finalist World championships, 13 Experts, Suzuka, Japan
1985 semi finalist World championships, 14 Experts, Whistler, Canada
1986 1st place Dutch National Champion 15 Experts
1987 1st place Dutch National Champion 16 Experts
1988 5th place National Championships Superclass 20 inch
1989 3rd place World Championships Superclass 20 inch, Brisbane, Australia
1990 7th place World Championships Superclass 20 inch, Le Castellet, France
1990 1st place, World Champion Factory teams with MCS team Europe
1996 1st place, European Champion Factory Teams with Webco-Mentos team
1987/1988 KNWU/ AMEV National team member
Professional career:
The first ever 1978 SFN (Stichting Fietscross Nederland) license holder, was the orginal founder of WEBCO Bicycles in 1991. Nico joined forces with Albert Knill (SUI) and KD Quality Products A.G. (Knill-Does Quality Products A.G.) became a fact. KD Quality Products did sell WEBCO Bicycles and parts (hardware and software).
Besides being involved at the time in KD –Q.P., Nico and his girlfriend did run a sport shop in Aalst-Waalre in Holland, which the held for about 2½ year (1991-2001) and then sold the shop again.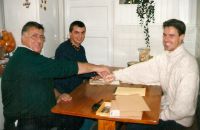 The year 2001 was a tragic year, since cancer was diagnosed with Nico's business partner and owner of K.D. Quality Products A.G., Mr. Albert Knill. Due to Albert's Illness it was decided that Nico's contract would end in May 2002. Sorry to say that Albert Knill died in February of 2002. It was then that Nico decided to take a totally different road and applied for a job at the CARLTON HOTEL & RESORT company, located in Mierlo, about 10 minutes from the city of Eindhoven. He was selected and appointed Sales Executive at the sports facilities of this hotel chain (Carlton Hotels & Resort have 6 hotels in Holland and England).
After a very successful period of 6 months, Nico was appointed Sports Manager of the entire sports complex called De Brug Active in Mierlo, located next to the hotel itself. His responsibility was running the fitness centre, cardio theatre, circuit-training section, Squash, golf simulator, game room, kids club, swimming pool, sauna and racket center. With over 1600 members, this exclusive sports centre was Nico's domain from January 2003 up and till January 2004.
During this period there was less time to be involved in BMX. Early 2004 Nico changed jobs again and is acting as Sales Manager Benelux now, for a company called LOOKWELL Leathers. This company designs and manufacturers among others, leather suites for motorcycle riders. In the early days of BMX, this company manufactured the well know AMEV BMX uniforms and they also worked close together with GT Bicycles (Richard Long), producing DYNO Clothing and Premier Helmets.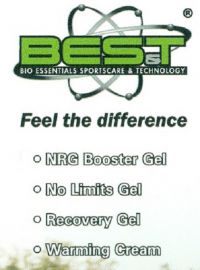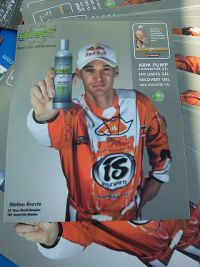 On March 31st. 2012 Nico changed jobs, he left Lookwell Leathers and started working for BES&T Nederland B.V. as Director Sales & Marketing. BES&T stand for "Bio Essentials Sportscare & Technology". Check website www.gobes-t.nl for detaled info on BES&T products.
Another very important happening took place on April 16th. 2004. Nico and his girlfriend Lisenka Welten got married and now they are both living in their newly bought home in Aalst-Waalre.
Reflecting on his BMX career, Nico states; I had a great 25 + years of involvement in the sport of BMX. I did meet a lot of people and travelled to many countries world wide. All of these experiences helped me a lot in my life and jobs.