History of BMX (1978 - 1979)
Year 1978.
1978 - Europeans discover BMX in the USA.
The ABA makes the decision to expand nationally. First ABA national race held in Azusa, California. First large pro purse ($1,000.00) offered at a major race by the ABA.
Kyle Flemming became ABA's first number 1 Amature. Kyle was riding for DG at the time. A couple of years later, Kyle was killed in a car-train accident going with 3 others to a BMX race. I will come back to this tragic event later on.
Again, this was the year I got involved in BMX seriously. I organized the official introduction of the sport of BMX during the international moto-cross event at Valkenswaard in March 1978. A group of about 10 riders did give a demonstration of BMX racing. An unofficial BMX organization was founded (not registered/recognized by the official authorities) on May 16th. 1978 by yours truly, called: "Eerste Nationale Fietscross Organisatie" (1st National BMX Organization).
Around this time, I contacted the municipality of Eindhoven with the request to put at our disposal a piece of land on which a track could be build. In the meantime, I got in contact with Louis Vrijdag (whom I knew from the moto-cross sport), at the time he was working for the municipality of Eindhoven, who also learned about this BMX activity because of his job. Louis and I found eachother and understood each other well and this cooperation led to the foundation of the S.F.N. "Stichting Fietscross Nederland" later on this year.
I returned to the USA, especially to make contact with American BMX organizations like the NBA of mr. Ernie Alexander. At the time the first official and most prestigious BMX organization in California. I also visited the NBL offices at Pompano Beach, Florida with Mr. George E. Esser. In California I made a tour along BMX manufacturers and distributors to learn more about BMX, the products they made and how BMX was developing in the USA. Most impressing visit was at the Mongoose factory of Mr. Skip Hess. Distributor Howie Cohen (Kuwahara) drove a Japanese business man and myself around to several BMX shops.
Here a 1978 price list by Everything Bicycles of Howie Cohen. Later on Howie became thé man running/selling Kuwahara bikes. These bikes were used in the film E-T and had a great sell off because of that. This film also proved to be a good promotional tool for the sport of BMX.
I still do have the promotional kit of the NBA when Schwinn at that time, was the main sponsor of the 1978 National BMX Tour of the NBA. It was also then and there at the NBA home (model) track, that I met with Kevin Jaxon a Schwinn Pro - rider, also working for the NBA.

During this period of time contacts had been established with Australian and Japanese organizers / promoters.
This was also the year that finally my book about training (physical) for moto-cross was published. I started writing this book in 1976 and in it a chapter on BMX, the sport that I discovered in the USA in 1974 and that I still consider a perfect learning school for moto-cross.
It was only in this year that I had my first official contacts with the NBL - Florida. I asked the NBL for information and they did sent me an info-kit. The name to remember for me was that of Mr. George E. Esser, with whom I became very close friends during the years to come.

March 1st, the French BMX organization was founded called:
Federation Francaise de Bicrossing

(F.F.B.).

A couple of so-called boutique's selling BMX stuff formed this organization. Their main goal was promoting BMX and its products. However, not much happened that year. The F.F.B. was not actif in organizing events.

March 1978, Gerrit Does introduced BMX in Holland.
During the opening of the moto-cross season at the International Moto-Cross at Valkenswaard in Holland, Gerrit Does introduced "fietscross/BMX" for the first time in Holland. Around 10 kids who bought an original BMX bike through Pierrre Karsmakers USA Products BV were rounded up and asked to help introduce this new sport. Participants were Nico Does, Wim Rijk, Mark Wiebrand, Ludy van de Werff, Perry van de Werff, Toin van Dijk, Paul Tuin, Maarten Roos, Ronnie Roos en Jan Kwanten. During the interval in between moto's, the demo's ánd explanation about what BMX was, took place while the young riders did some jumping and riding around. For Holland it all started here, from this moment on. Read on for more details.
https://www.facebook.com/gerrit.does1/videos/10210293311224374/?notif_id=1512144316710657¬if_t=like


March/April.
The same promotor that invited me and one of my brothers in law to the USA sometime 1974, to give moto-cross clinics, Mr. Ed Bondurant, also started a BMX organization in the Kansas City area, called the "International Bicycle Moto-cross Association (I.B.M.A.). His Association was sponsored by Mr. Pipp (softdrink). It had an "international" title but the organization operated only in the Kansas area.
April 9th., was the I.B.M.A.'s - International Bicycle Moto-cross Association (by Ed Bondurant) first race at the Herman Laird Park in Shawnee.
The I.B.M.A. was a regional BMX organization in the Kansas area and run by Ed Bondurant a former moto-cross promotor. I understand the I.B.M.A. was affiliated to the A.B.A. at this time. The organization excisted for about 6 years, it stopped all its activities then.
May 16th., the "Eerste Nationale Fietscross Organisatie" (First Dutch BicycleCross Organisation), Holland was founded.
Founded by Gerrit Does, the first unofficial BMX organisation (not registered/recognized by the official authorities) called: "Eerste Nationale Fietscross Organisatie". This was the start of things. Later on that year, in October, an official National BMX organisation was founded called the S.F.N. (Stichting Fietscross Nederland) more on that, later on n the History of BMX year 1978.
July 16th., first contact with the ABA, Mr. Merl Menninga.
During this periode I contact the ABA and asked for a promotion kit, which I received about 2 weeks later. I also obtained a subscription of Bicycle Moto-Cross Action, through Mr. Bob Osborn of Torrance- California. The subscription starting August 1978. At the time mr. Merl Menninga (a typical Dutch name by the way) was heading this organization.
September 8th., JAG BMX World Championships, Indianapolis - USA.
I received a letter from JAG BMX, Mr. Renny Roker of Roker Enterprises JAG BMX, inviting the S.F.N. with a National team of its best riders to come to the USA and compete in the 1st. JAG BMX World Championships in the USA, to be held at Indianapolis, Indiana, December 30th, 1978 Indoors. Since BMX wasn't organized yet in Holland, there were unfortunately no possibilities to go.
September this year I travelled again to the USA and visited my brother in law Pierre Karsmakers, Pro moto-cross rider.
During this visit, among other things, we made another tour around BMX manufacturers in California, visited some races like the events at the Elks Track, the Irvine BMX track and the Van Nuys BMX track. We also visited the headoffice of the NBA and spoke with Ernie Alexander and Kevin Jackson, working for the NBA at the time. Learned a lot again about BMX, the way of organizing an event ánd to run a national BMX organization.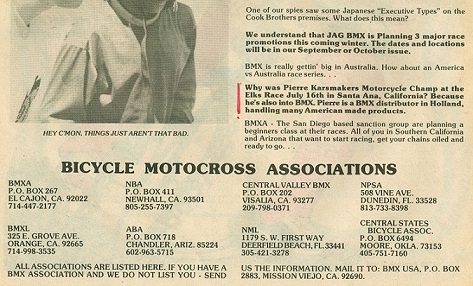 September 18th., the "BMX USA" magazine.
I received confirmation from Mr. Jeff Heininger of the magazine called "BMX USA" Laguna Hills, California that I was on their subscription list. I asked for a subscription during a visit with my brother in law Pierre Karsmakers, to their offices at Laguna BMX. Later on this magazine became a newspaper type thing.
It was in this year that in Chile the idea was born (Mr. Cascino) to start getting the new sport of BMX organized. It only happened in 1980 however.
It was in this year 1978 that I had my first official contacts with the NBL - Florida. I asked the NBL for information and they did sent me an info-kit. The name to remember for me was that of George E. Esser, with whom I became very close friends during the years to come.
We also were invited by the NBL (phone-call December 12th, 1978) to come over to the USA for a big indoor in Indianapolis some time December 30th 1978 called "The JAG BMX World Championships I" organized by the NBL and NBA together with promotor Renny Roker. Our contact in Indianapolis would be Mr. Gary Justice involve in the NBL organization.
Also the promoter if this event, Mr. Renny Roker invited us to come over and race. However as a unofficial organization at the time, we did not have the funds or government support to go there with a group of riders. At the time there was already some kind of unofficial international BMX organization called I.B.M.F.. Attorney at Law Mr. Bill Pippin acted as president of this organization. The I.B.M.F. did not have any official status at that time and in fact did not work!
September 23rd., first BMX demonstrations.
Demonstrations to introduce the sport were held in on September 23rd 1978 in Eindhoven, wijk Heesterakker. Demonstration in Utrecht during a national bicycle road-race event. This kind of promotion activities went on during the second half of 1978.

Pierre Karsmakers imported USA made BMX bikes (Laguna BMX) under the name "P.K. Racer" (PK stand for Pierre Karsmakers). However when Perry Kramer stayed at my house, he told everybodythat P.K. ment "Perry Kramer"! (but that was a joke ofcourse). Also other top brands were imported like Mongoose, Webco inc., DG, Torker, CW, Red Line, among others. One could buy a complete competition bike at the time for about H.fl. 500,= (US$250,=). Also European brands like Peugeot and Raleigh got their own BMX bikes on the market quickly.
October 1978, the situation of BMX in the USA.
1978 In the USA there were at least 6 major BMX sanctioning bodies. NBA - ABA - NBL - NPSA - FBMXA and the UBR. At one time I even counted around 12 sanctioning bodies ! The six mentioned earlier, were the big ones. At that time the NBA was on number 1 with 50 tracks and around 5000 riders. ABA was the number 2 with 35 tracks and around 3000 riders. NBL was the number 3 with 18 tracks and around 4100 riders.
Just to give you an idea of developments, around the year 1989 there were only 2 big sanctioning bodies:
NBL, claiming around 22.000 members and 208 tracks.
ABA, claiming around 45.000 members and 220 tracks.
The estimate was, that effective there were about 35.000 active BMX racers in 1989.
About another 10 years later (year 2000) these 2 bodies were still around,
NBL, claiming around 40.000 members and … tracks in … States.
ABA, claiming around 65.000 members and … tracks in … States. The estimate is that effective there are between 40.000 and 45.000 BMX racers active in the USA.
October 19th., Stichting Fietscross Nederland (S.F.N.) officialy registered and started its activities.

An official recognized National BMX organization was formed in Holland, called the S.F.N. ("Stichting Fietscross Nederland"). The SFN board was formed by Gerrit Does as chairman, Louis Vrijdag a friend of Gerrit from the moto-cross sport was asked to act as secretary and so he did. Mieke Does, Gerrit's wife, acted as treasurer.
Most important goal of this foundation was to advice, promote BMX and to organize BMX events on a scale as large as possible in Holland. The planning was to have a first Dutch National BMX Championship in 1979 already. Here the names of the first 21 official S.F.N. license holders ending December 1978:
nr 1:
nr 2:
nr 3:
nr 4:
nr 5:
nr 6:
nr 7:
nr 8:
nr 9:
nr 10:
nr 11:
nr 12:
nr 13:
nr 14:
nr 15:
nr 16:
nr 17:
nr 18:
nr 19:
nr 20:
nr 21:

Nico Does


Wim Rijk
Mark Wiebrands
Ad Bierens
Jan Kwanten
Wim v. Mierlo
Jurgen de Bruin
Tommy de Bruyn
Lammert Moerman
Bernie Kantelberg
Marlon Mies
Ludy v.d. Werff
Theo Kremers
Perry v.d. Werff
Marcel v.d. Sande
Juan Vrijdag
Marko Verhoeven
Paul Tuin
A. Wallet
F. v.d. Berg
Berend v.d. Akker

8 years old
14 years old
10 years old
8 years old
8 years old
11 years old
8 years old
12 years old
11 years old
8 years old
8 years old-powder puff
14 years old
11 years old
10 years old
12 years old
11 years old
9 years old
? years old
? years old
11 years old
? years old

Waalre
Waalre
Waalre
Waalre
Waalre
Waalre
Waalre
Eindhoven
Weurt
Eindhoven
Waalre
Waalre
Waalre
Middelbeers
Eindhoven
Waalre
Veghel
Nijkerk
Tiel
Gorredijk



In the beginning the SN handed out leaflets as shown below, to make BMX know under young people. Also seen here the front cover of the very first SFN BMX racingrules and regulations.
November 1978, I made another trip to the USA and stayed again in Laguna Beach - Cal.
During this trip Pierre and I visited several companies producing BMX bikes, equipment and others. One of the companies we visited was Redline, run by Linn Kastan at the moment. Seen here there brochure.
November 1978, first issue of BMX PLUS magazine (USA).
In November 1978 the first issue of BMX PLUS - co-editor Mr. Jim Stevens. Pro rider Greg Hill on the cover. I don't have the first issue, but I have the second one n my archieve.
November 3rd., Minicycle BMX/ACTION magazine (USA).
November 3rd. I received an answer from Mrs. Janet Graham of Challenge Publications inc., on the request for a subscription on MINICYCLE BMX/ACTION.
November 15th., action movie "Bicycle Motocross".
Promotion materials ordered and received November 15th. 1978 from Adams Films Productions - 706 Wayside Drive Austin - Texas 78703, 16 mm film titles: BMX B'cycle Motocross. In it a Kawasaki full suspension bmx bike ridden by David Clinton.
Novermber 24th., a first extended article on BMX in a National Moto-Cross Magazine in Holland called
MOTO-73.
December 7th., first contact with Bob Osborn of Bicycle MOTOCROSS Action magazine (USA).
December 7th. I received a letter from Bob Osborn of Bicycle MOTOCROSS Action, sending me some USA BMX picture to help me promote BMX. He also informed me about a contact he had with French journalist, Alain Kuligowski, the photojournalist for MOTO REVUE a French motorcycle weekly publication, located in Paris. Alain was the man who introduced the sport or more specific the BMX bike in France in 1978. Coming back from a trip from the USA (making a report on motocross) he brought back a Mongoose BMX bike.
Alain showed the MONGOOSE bike to Mr. Marcel Seurat a motorcycle importer from Beaune (imported Ossa and Husqvarna). Mr. Marcel Seurat copied this Mongoose exactly and that's how the first French BMX bike was created. An article of Alain Kuligowski in Moto Revue to promote the bike and the sport of BMX, was the start to get BMX off the ground in France.
Mr. René Nicolas, also living in Beaune and a friend of Alain Kuligowski, was the man who finally picked up marketing and promoting BMX and later on started organizing events. He became part of the already existing and created Federations Francaise de Bicrossing - F.F.B. (created in 1978 to start promoting BMX, but weren't very active in the beginning). René Nicolas can be considered as THE pioneer developing the sport of BMX in France.
BMX Australia.
It has been reported that BMX in Australia re-started in this year. However, it nearly died again because the first track was so boring! A change of venue and a more exiting track layout started to signal the return of competitors to the races. The growth however was slowed down by lack of promotion. Most of the promotion in the Sydney area was handled by the Ryde- Eastwood Club. Rumors at the time however were that people like Ole Olsen, the World Speedway Champion and Steve Gall, the 1978 Mr. Motocross of Australia, were going to be involved in BMX as promoters of the sport.
Management awareness let to the modification of the existing track. Attendance slowly grew and the Inter-City Challenge was introduced: a major race that pits the city of Sydney against the city of Brisbane. Brisbane won the first encounter, Sydney won the next.
Another new more Americanized track was established and along with the introduction of a track at a multi-million dollar speedway in the western Sydney suburb of Liverpool, BMX has firmly established itself as an up and coming sport. BMX spread to three other states in Australia, with more than five operating tracks.
By far the most popular bike was the Quicksilver, an Australian built bike. Also Mongoose, Red Line, Webco, Raleigh, Robinson and Diamond Back were available.
Tracks and organization got good enough and Aussie promoters linked into an Australian BMX Association. They established and staged the first Australian National Championships in the Sydney area. These were held back in June 1980 with entrance from every state across the country.
December 1978, seen here a Free issue of the NBA Newspaper by Ernie Alexander.

December 1978, JAG BMX / NBA * NBL World Championships 1, Indianapolis, Indiana – USA.
1978 was the first year promoter Renny Roker organized his JAG BMX World Championship in Indianapolis – Indiana, USA. Since the start of official BMX racing (in 1974) this event became the single largest BMX race ever, at the time. The JAG BMX Worlds was also the first World Championship event ever worldwide.
In total there were about 165 moto's and there was a $ 2,500 Pro purse.
This first race there were not many foreign entries except for Venezuela, Japan and Australia. From Japan there were 3 JAG BMX riders present, Jun Sasaki, Kazuo Mashiko and Satoru Saito and from Australia Peter Wort and Steve Wilkinson. Peter was currently Australian's number 1 and Steve the number 2.
Sanctioning bodies: NBL (George E. Esser) and NBA (Ernie Alexander),
Promotor: Renny Roker
Results:
$ 1,000 Pro Class

Stu Thompsen
Eric Rupe
David Clinton

14 Over Trophy Dash

Anthony Sewell
Stan Robinson
Stu Thompsen

16 year old

Anthony Sewell
Bryan Curnell
David Clinton

14 year old

Steve Givins
Tom Maken
Blake Dotts

13 & under open

Chris Hopkins
Jeff Parscale
Larry Angelman

12 year old

Chris Ow
Dwayne Johnson
Eric Andrews

8-10 Trophy Dash

Marcus Redero
Amon Emeka
Derek Brown

10 year old

J.J. Kelly
Amen Emeka
Paul Murray

8 year old

Derek Brown
Tony Luke
Robbie Hoffman

7 & under open

John Romero
Jimmy Hardness
Jason Todd

6 year old

Trevor Pigott
Joshua Summers
Joy Wallace

12 & over powder puffs 11

Dorene Payne
Christeen Kaufnau
Kathy Schachel

14 Over Open

Greg Esser
Dennis Heaver
James Hall

15 year old

Kenny Nachman
Eric Rupe
Gregg Hill

11-13 Trophy Dash

Chris Hopkins
Jeff Parscale
Richard Zagara

13 year old

Richard Zagara
Jeff Parscale
John Kovachi

11 year old

Jon Anderson
Robbie Mylls
Jay Nesiti

8 - 10 open

Paul Murray
Kyle Fleming
Amon Emeka

9 year old

John Marek
Marcus Redero
Kyle Fleming

7 & under Trophy Dash

Jason Jensen
Trevor Pigott
Joshua Summers

7 year old

Jason Jensen
John Romero
Mark Dickson

6 year old

Trevor Pigott
Joshua Summers
Joy Wallace

11 & under powder puffs

Sharis Ow
Donna Elliot
Pam Holiday
Year 1979.
January, first contact with B.C.B. - F.C.B. (Belgium).
First contact with a Belgium organization in development, to be called B.C.B.-F.C.B. (Belgium Cyclo-cross Bond / Federation Cyclo-cross Belgique). Because Belgium has 2 main languages, Flamish and Frencn,
also the name of this BMX organization was in both languages.
February 5th., letter came in written by Bob Osborn of Bicycle MOTOCROSS Action.
I received a letter from Bicycle MOTOCROSS Actions Bob Osborn, informing me that a Peter Radnall of Micro Cycles Ltd., in London - England, was starting a BMX track.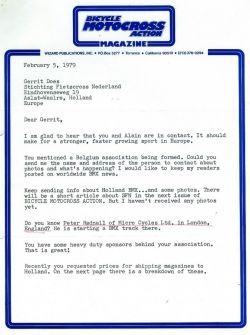 In England, early 1979, people like Malcolm Jarvis, Geoff Wiles, Alan Rushton, Don Smith, David Duffield and others got involved in BMX and started promoting the sport, first on an individual base and later on more coordinated. It is said however, that Malcom and Sue Jarvis were the persons who actually introduced BMX in the UK in the first place.
February 11th., first indoor BMX promotion event took place in Holland.
The first indoor demo at the Agorahal - Lelystad, Holland took place. About 24 riders participated and the event was a success.


March 1st., the B.C.B. - Belgium Cyclo-cross Bond was formed.
Also in Belgium the first official organization was formed called the B.C.B. (Belgium Cyclo-cross Bond) on March 1st, 1979 (officialy announced / made public in the Staatscourant), run by chairman Mr. Albert Dekkers from Lommel-Belgium. Dekkers discovered BMX during the March 1978 demo at the international moto-cross at Valkenswaard-Holland, which I organized. At the time, Mr. Dekkers was present at most moto-cross event in Belgium and Holland, due to his business: food and beverage vendor, selling among other things the famous Belgium french fries! July 7th. 1979 we had our first riders exchange with this Belgium organization at the Eindhoven BMX promotional track.
In Holland also a famous Dutch road bike manufacturer called Gazelle and a French bicycle manufacturer Moto-Becane through its Dutch main distributor by name of Mr. Lamme, got involved in BMX. Shortly after another French bicycle manufacturer called Peugeot, through its Dutch distributor in Veenendaal mr. Kreber got involved in selling BMX bikes and parts. They contacted the S.F.N. and asked for rules and regulations, race-schedules, promotion materials and so on.
March 1st., S.F.N. starts cooperation with M.O.N. - Motorsport Organisatie Nederland.
The S.F.N. starts to cooperate with the "Motorsport Organisatie Nederland" (M.O.N.). It is agreed upon that both organizations will refer to each other. It seemed at the time that in the moto-cross world there was a lot of interest for this new introduced BMX sport. The M.O.N.- members of the board that stood at the basic of the cooperation S.F.N. - M.O.N., were Dick Blokland and Ab Moerman.
March, 1st. issue of Moto Revue - France.
In the first issue of Moto Revue (motorcycle magazine) an article appeared written by Alain Kuligowski on BMX, introducing the sport of BMX and more special the BMX machines. Pictures of Alain showing off an a French built copy of a Mongoose BMX bike. This is what BMX got under way in France.
March 10th., my first official contact with Alain Kuligowski.
As a matter of fact, I got in contact with Alain through BMX Action's Bob Osborn. Alain visited me at my home (Waalre - Holland) on March 10th. 1979 when he was on his way to make a report on the International Moto-Cross at St. Anthonis - Holland (over 20.000 spectators). We exchanged ideas and handed out a lot of written information, among others a rule book. The official French BMX organization called the Federation Francaise de Bicrossing (F.F.B.), was located in the city of Beaune and was actif in 1978. Later on in 1981, the name F.F.B. was changed into Association Francaise de Bicrossing (A.F.B.). Its first president was Mr. Raymond Imbert
An article of Alain in MOTO REVUE, a motorcycle magazine, trickered off the start of the sport of BMX in France.
We also agreed to try to organize an international race between France and Holland in the city of Beaune - France at their local track. René Nicolas, a friend of Alain, would organize the event. Later on, René would become one of my best friends and is the THE PIONEER / Father of French BMX.
March 16th., NBA affiliated with J.BMX.F.
I received an official letter from the NBA, telling that the NBA had affiliated with the J.BMX. - Japan BMX federation. Ernie Alexander had been installed as vice-president and in this capacity, he would coordinate events in Japan. Five trips were plant to Japan and Ernie would bring American riders to this country to promote the sport of BMX.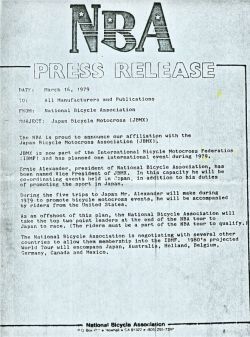 March 23rd., NBL and NBA started the IBMF.
I received a letter from the NBA at New Hall, that the NBL and NBA were organizing an international BMX federation, later to be called IBMF. This organization would die a sudden death after about one year. Two years later, the I.BMX.F. would be formed on initiative of Gerrit Does and representatives from about 10 countries became co-founders of this new world wide BMX organization in the setting of the F.I.M. in motorcycle sports. Main reason the I.BMX.F succeded was because of Gerrit Does, who was the initiator and driving force as well as promotor of an international world wide BMX organisation formed by federations and such (not manufacturers, like the JAG BMX Worlds).
March 28th., first contact with the ABA.
I received a promoter's kit from ABA's Mr. Merl Mennenga. Mr. Mennega also stated that the ABA did not have the intention of joining the IBMF. He did not approve of the structure and operation of that organization "at the time".
March/April, the first official BMX track was built in the city of Eindhoven - Holland.
The first official promotional SFN BMX track was being built by the city of Eindhoven at the Welschapsedijk (a harbor nowadays!!). Total cost of a bull-dozer, Dutch guilders 614,=. The guy who built the track with me at that time, was involved in BMX till about the year 2000, within the BMX club "Lion d'Or" of Valkenswaard, his name is mr. Mies Mallot.
*** foto track Welschap 1979
March 27th. an official invitation for a Press-conference and invitation official Opening 1st BMX track in Eindhoven-Holland,
was sent to among others the B.C.B. - Belgium Cyclo Bond. On April 27th. the S.F.N. was organizing a Press-Conference to officialy introduce a new sport, BMX - Bicycle Moto Cross. In the same invitation letter, organizers in France and Belgium were invited to be present at the official opening of the 1st. so called "model-BMX track" in Eindhoven and they were asked to bring al least 10 riders each to give this happening an international flavour.

April, BMX was born in New-Zealand.
BMX was born in New-Zealand around this time. A guy by the name of Frank Clavis owned a bike shop in Palmerston North (North Island) and did reed about BMX bikes in the USA. Mr. Clavis reckoned it wouldn't be too hard to make BMX frames and sell them to others in the bicycle trade. Looking at Mongoose and their MAG wheels, he hooked up a car mag wheel manufacturer named Dixon to make BMX cycle mags. Clavis and Dixon churned out Pantha BMX kit-sets with mag wheels. Pretty raw stuff, but KIWI BMX had coughed into life.
April, a Goodwill Tour was organized to promote BMX in Japan.
Seen here an article of the so-called Goodwill Tour, organized by Mr. Tadashi Inoue in co-operation with Mongoose USA. Later on that year, Mr. Inoue would travel to the USA with a small BMX team to take part in the JAG BMX World Championships in Indionapolis. There he would meet among others with Gerrit Does. A life long friendship between Mr. Inoue and Mr. Does started there.

April 21st., first official BMX race in Holland.
The first official S.F.N. - BMX race at a schoolyard in Veldhoven, a small town close to Eindhoven-Holland. Due to the fact that the first official BMX track was not finished yet, we had to improvise and have our 1st meeting in 1979 on a schoolyard (participants: 27). Among them the very first S.F.N. license holder, with number 1; Nico Does.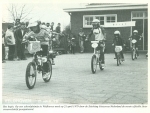 April 27th., official Press-conference and introduction of the sport of BMX in Holland.
BMX: The silent alternative. Presentation of S.F.N. sponsors (Wrangler, Gazelle and Tivoli). Location: Akademisch Genootschap at Eindhoven - Holland. Present representatives of the BCB (Belgium BMX) and the FFB (French BMX) as well as from the MON (motorcycle fed.). People from 1 of the four National TV stations at the time, regional and district New-papers, National bicycle (business) magazine etc. were present. Special quest Pierre Karsmakers. Pro moto-cross rider racing in the USA for YAMAHA and importer of the first BMX bikes and products from 1976 on. Mentioned sponsors above were contracted by Bert Ikelaar of buro INTERSPONSOR, on behalf of the S.F.N.
May 5th. Second official try-out BMX event on a school yard in the city of Waalre-Holland (official track was too wet due to heavy rainfall).
Since the first official track along the Welschapsedijk in Eindhoven was too wet to race on (just finished building the track when heavy rainfall spoiled the fun), the scheduled event was moved from that location to the schoolyard of Nico Does' primary school, were head of this school Mr. Jan van den Braak gave permission to use the schoolyard. At this "event" we registered 32 entries. We still had to explain the racing rules very clearly to all participants and their parents present, since this was a new sport and everybody had to learn how it was done. All riders had a lot of fun and enjoyed the day. On May 19th. we were able to race at the first official BMX track in Holland at last. Read on.
May 18th, USA Magazine on BMX,
received a letter from "Bicycle moto-cross USA MAGAZINE" Mr. Lance Bryson promoting his magazine. The magazine existed since one year and now having a circulation of over 9,500 mags. That's very good. They were asking for advertisements.
May 19th., First race at the official Eindhoven BMX track.
The first BMX race held on the then race-ready track at the Welschapsedijk at Eindhoven. In the early days, track announcer was Peer Bijnen, nicked-named "The voice". Here a picture taken during registration before the races.
July 7th. Official opening of 1st. BMX track in Holland and the first international BMX event, Belgium versus Holland.
First international BMX event between 2 officialy registered and recognized BMX organizations: the B.C.B. (Belgium) and the S.F.N. (Holland) at the "model-track" of the city of Eindhoven. The track was official opened by the alderman of the city of Eindhoven, Mr. Jan Zeelen. Competing were 102 riders of which 38 Belgium riders. Over 600 spectators came to see this event. The building of the track did cost H.fl. 7.000,= excl. tax.

August., an evaluation report about publicity on developments of BMX in Holland.
An evaluation report about publicity was made on the developments of BMX within SFN Holland. A lot of publicity in news-papers, magazines of all sorts such as: Moto-73, Tweewieler, Motor-Visie, Motor, ED. Valkenswaards weekblad, Brabants Dagblad, papers in Schijndel, Utrecht, Lelystad, Gorredijk and Het Limburgs Dagblad. Article in EXTRA and magazine for children JIPPO, newspaper such as Het Parool, Algemeen Dagblad, in brochures of Peugeot, Yamaha and in De fietskrant van Nederland with 1,2 million copies Nation wide, etc., etc. Interviews with riders, with Gerrit Does on regional and national radio and tv.

August 18th. through October 6th., four (4)events for Dutch National Championship 1979 were run.
To determine the first ever Dutch National Champions in BMX, four events were schedule by the S.F.N. (St. Fietscross Nederland) from August 18th through October 6th. Seen here the official announcement of these series.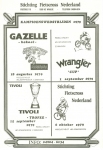 A hand made poster to announce the August 18th. 1979 first round of the S.F.N.'s Dutch National BMX Championship.
September., "Pedal Cross" club New Zealand.

In this month in New Zealand Mr. Stew Robinson and friends in Dunedin, created a "Pedal Cross" club, while Rex Harris and friends in Paraparaumu created a BMX club. Mutual agreement has since decreed that both started on the same hour of the same day in the South and North Island respectively. Others also lay similar claims. The fact is that club BMX had also coughed into life in both Islands of NZ.

September, first program about BMX on National TV, tv station called Veronica in Hilversum.
Dutch National TV station VERONICA, reported for the first time about the new sport of BMX during one of their programs. John Haanen (r.i.p.; was killed in a tragic car accident early '90) was responsible for making pictures and doing interviews at the Eindhoven BMX track.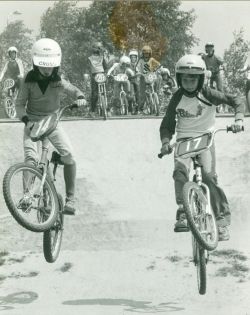 September 10th., first official BMX club in Holland, became a fact.
The first official BMX club was founded and called: the FCC d'Un Urste (meaning the 1st BMX club of Schijndel). Actually FCC d'Un Urste was the first official registered club that joined the S.F.N. as member club. In due time almost 200 clubs all over Holland would follow (up and till 1985/86).

September 17th., contact with PRO-TEC helmets USA.
First contact by phone with Pro-tec helmet representative and competition road cyclist Mrs. Cary Peterson, asking for an official approval of the Pro-tec helmet by the S.F.N.

September 22nd., a special issue on BMX in a Dutch National magazine called "JIPPO".
The September issue of this childrens magazine had an article on BMX in it with picture to illustrate what BMX was all about. Seen here all starting BMX'ers from the town of Waalre with Nico Does jumping.

September / October, the S.F.N. was offered a booth free of charge at the R.A.I. - Amsterdam.
A free booth was offered by the RAI organisation in Amsterdam, at the time a very important and big motorcycle and bicycle show, to promote this new sport of BMX - Bicycle Moto-Cross, in Holland.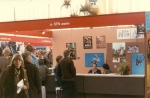 October 6th. the 4th and last round for Dutch National Championship took place in Eindhoven.
The 4th and last race of the Dutch National Championship BMX by the S.F.N. / Stichting Fietsscross Nederland, took place at the first BMX track built in Holland along the Welschapsedijk in Eindhoven - Holland. At the first BMX "test" races early this year, around 27 riders were present. On this last race for the Dutch National Championship 123 license/holders competed against eachother. Seen here a picture of the SFN podium with the thropies that could be won that day. Things were on the move for sure.
October, an article on European BMX in BMX PLUS, one of many American BMX magazines.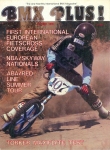 October 19th., first official talk with main National TV station in Holland.
First talks with AVRO, a national top TV station, together with Bert Ikelaar of buro INTERSPONSOR. First contact made with Dutch National TV broadcasting company AVRO, BMX bikes were involved in a program called STERREN SLAG (Battle of the Stars, TV and other celebrities competed against each other in teams on several disciplines: this was good promotion for BMX) TV registration of this event later that month. We also talked about organizing a show for TV on BMX sometime 1980. Next meeting scheduled for December 1979.
October 24th., meeting scheduled with another main Dutch bicycle manufacturer called BATAVUS (brand "Be One").
October 25th., BMX race Zonhoven-Belgium, TV interview with a young Joël Smets.
National B.C.B.- BMX race at Zonhoven - Belgium. A 9 year old boy, called Joël Smets was interviewed and gave a wheely demo for the Belgium National TV program called "Sporttribune". This was very good promotion for the sport of BMX at the time: exposure on National TV. 21 years later (August 2000) Joël became World Champion 500 cc moto-cross for the 4th time. Overall Joël holds 9 world championship moto-cross titles. BMX was his roots. The same goes for Johan Boonen, also competed in that same race in 1979 and became a top moto-cross Grand Prix rider.
October, first official club affiliated to the S.F.N.-Holland, more to follow.
First official BMX club affiliated to the SFN was: FCC d'Un Urste - Schijndel. In progress BMX club Eindhoven (opr.verg. 18-09-1979 and joined SFN in December with 24 new riders to start with) - Veldhoven ( 26-11-79) - Odiliapeel (01-11-79 opr.verg.) - Nistelrode - Volkel (22-10-79 opr.verg.) and Waalre. In "oprichting" : Gemert - Baarn - Heerenveen - Gorredijk - Abcoude - and Lelystad.

Also in October 1979, during a stay in the USA, I did meet for the first time Mr. Mike Acquirre. At that time Mike was involved in BMX PLUS magazine (later on with ATI-grips).
November 18th., trophy presentation Dutch National Championship at Motel Eindhoven - Holland.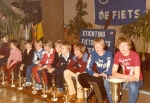 Official trophy presentation of Dutch National Champs, held at the Motel Eindhoven. Rent of hall payed was ... fl. 750,= and the presentation took place from14.00 till 17.00 hours. After the official opening several activities were scheduled besides the presentation of awards. Among others a showing of BMX promotion films.
Seen on the picture the 10 first ever Dutch National Champions of BMX 1979, fltr.
Jan van Loon,
Ian Roelofsen,
Ronnie Roos,
Nico Does,
Marco Verhoeven,
Maarten Roos,
Lammert Moerman,
Wouter Schoneveld,
Peter Ploemen and
Hans Geresse.
All Champions from the South of our country, around the city of Eindhoven were BMX started, one rider came from the Nijmegen area (L. Moerman).
November 23rd., Intersponsor took care of sponsorships.
Meeting with buro INTERSPONSOR on the subject of sponsoring for the 1980 season. That same day we had a meeting with Mr. Kreber, the main importer of PEUGEOT BMX bikes in Holland. They needed the Yamaha Gold Cup film for promotional purposes (dealer meetings) on 12 December '79. Another meeting took place December 15th. after the dealer meetings and now also talks were about starting a club in the city of Veenendaal where PEUGEOT had their offices and ware-house.
December 7th., further talks between S.F.N. and AVRO - TV.
Talks between S.F.N. and at the moment, main Dutch National TV station AVRO took place to discuss possible activities in 1980. The general idea was to start a series of events (approx. 4 per season). It was decided that for 1980, one TV program would be made. Location: BMX track Waalre. A 50 minutes program with mainly team competition (teams from 8 regions), a celebrity race and a popular music group performing for further entertainment, were part of this show.
December 7th. meeting S.F.N. with affiliated clubs.
Meeting with the at that moment affiliated S.F.N. clubs. This meeting took place in the cantina of KARSMAKERS-CARROSSERIEN b.v. in Aalst-Waalre. I decided to have meetings organized by the S.F.N., together with the affiliated clubs to talk about universal executing of the S.F.N. rulebook and discuss all kinds of problems that occurred and had to be addressed. Starting 1980, this ADVICE-COUNCIL would be in effect, 6 times a year this council would meet.
December 23rd., 1st. international event among 3 contries.
First international contact and competition between Belgium, French and Dutch riders took place on a track in the city of St. Kateline - Waver (near Brussels) in Belgium, organized by the B.C.B. Two French riders took part and one of them won his class: Philippe Nicolas - Beaune, France.
December 29-30th., the 2nd "JAG BMX World Championships".
The JAG BMX World Championships in Indianapolis - USA was the biggest BMX event at the time, indoors. 1728 entries, in 2 days 871 moto's and in 2 days approx. 10.000 spectators present. Racing on day I from 12.40 till 21.00 hours and day II from 10.30 till 18.00 hrs. Holland's "St.Fietscross Nederland" did sent a National team to compete. The event was televised on the CHIPS Television Show, 1st National show to feature bicycle motocross and seen by an audience in the States of approx. 20 million families. At the time it was the largest BMX event in the World. There was a re-run of the Chips T.V. show and had a 2nd largest viewing of 15 million families in the history of BMX (at the time).
These were the first ever European riders competing in this JAG World Championship event. Riders selected were the 1979 SFN Dutch National Champions:
- Nico Does finished 3rd in 9 Novice class
- Marco Verhoeven
- Maarten Roos finished 2nd in 10 Novice class
- Lammert Moerman
- Ronnie Roos
- Ian Roelofsen selected, but did not go
- Wouter Schoneveld
- Peter Ploemen
- Jan van Loon and
- Hans Geresse
Team-manager - Gerrit Does
Ass. team-manager - Louis Vrijdag
Total group of 25 persons of which 9 riders, money spend for trip and accommodation….Dutch florins 31,000.
In PRO-CLASS, Bobby Wood became World Champ and did beat 1979 Pro Champ Anthony Sewell. In 14 Open class Greg Esser became World Champion.
Among others, co-sponsoring this group was PRO-TEC helmet representative Mrs. Cary Peterson. All riders were issued a PRO-TEC helmet when arriving in New York.
At these World Championships the first steps were taken towards an international cooperation. The IBMF, the predecessor of the I.BMX.F.was created.
General situation in the USA ending 1979 (BMX at the time 7 seasons young). USA National BMX organizations known at the time about 9. The leading organizations were: NBA, NBL and ABA.
NBA mainly in California, approx. 8000 license-holders. Per competition an average of approx. 300 entries. Biggest outdoor event with just over 1000 entries and approx. 5000 spectators. Biggest Indoor event over 1500 entries (JAG race in Indianapolis). NBL mainly Florida, approx. 5000 license-holders. ABA mainly Mid-West, approx. 4000 license-holders.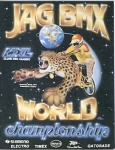 Facts:
Organizer/promoter: Renny Roker
Sanctioning body: the NBA (Ernie Alexander) and NBL (George E. Esser). Ernie, George and Renny seen on picture below.
Promoted by sending out 30.000 flyers, announcements on virtually every radio and TV station and in every newspaper in Indianapolis Foreign countries present: Japan and Holland
Perry Kramer won in Open Pro class $ 1,500; Ted Guilmette won $ 700; Scott Clark $ 400; Clint Miller $ 150; Bobby Encinas $ 100; Tinker Juarez $ 75; Anthony Sewell $ 50 and Bob Woods $ 25.
In picture on right, on left side Ernie Alexander, President NBA and on right JAG BMX promotor Renny Roker. In picture on right, Bob Osborn BMX Action Magazine, talking to George E. Esser, President of the NBL.
The Dutch national team (9 riders) did pay an all-in price for this trip ( flight-transport in USA-hotel-insurance) leaving Wednesday December 26th 1979 till January 3rd 1980:
Adults H.fl. 1.290,=; riders 11 and under H.fl. 540,= and riders 12 and over H.fl. 965,=; 8 of the riders of this Dutch National Team were racing JAG BMX bikes and 1 rider was racing a WEBCO bike. Overall there were 25 persons in this group of which 9 riders.
Results:
Open Pro class
1. Perry Kramer
2. Ted Guilmette
3.Scott Clark
4. Clint Miller
5.Bobby Encinas
6. Tinker Juarez
7. Anthony Sewell
8. Bob Woods
8-10 Trophy Dash
1. Danny Smith
2. Todd Kingsbury
3. Jim Feret
In picture above, Race'n Jason Jensen leading Nico Does. American BMX hero's David Clinton (l) and Greg Esser (r) present at these World Championships in Indianapolis.
In picture above, Perry Kramer pro rider seen here with Maarten Roos and Nico Does from Holland.

14 & over Trophy Dash
1. Bob Woods
2. Greg Esser
3. Eddie King
4. Perry Kramer
5. Jeff Parasholl
6. Don Atherton
7. Rex Reason
8. N/A

Dash 8-10 Open 14 Over Open
1. Danny Smith 1. Eddie King
2. Jason Jensen 2. Tommy Brackens
3. Troy Raatz 3. Mark Driscoll
16 Expert 16 Novice
1. Bob Woods 1. Anthony Tri
2. Greg Esser 2. Jim Emerson
3. Eric Rupe 3. Kevin Roon
15 Expert 15 Novice
1. Donny Atherton 1. Ray Roberson
2. Eddie King 2. Larry Sullivan
3. Scott Robins 3. Gary Fegan
14 Expert 14 Novice
1. Jeff Parashall 1. Thomas Madison
2. Rex Reason 2. Greg Somers
3. Randy Gibson 3. Dwight Ingalis
11-13 Open Trophy Dash 11-13 Open
1. Peter Loncarevich 1. Richard Farside
2. Richard Farside 2. Rob Bauer
3. Rob Bauer 3. Joe Wayne
13 Expert 13 Novice
1. Peter Loncarevich 1. Dennis Owens
2. Richard Farside 2. John Hilliker
3. Jeff Haug 3. Jose Camps

12 Expert 12 Novice
1. Korry Neal 1. Kevin Heeren
2. Peter Buchanan 2. Timmy Tapp
3. John Torno 3. Tim Tri
11 Expert 11 Novice
1. Bill Merici 1. Sean Wood
2. Amon Emeka 2. Chad Chaffen
3. Rodney Cooper 3. Scott Bolf
10 Expert 10 Novice
1. Danny Smith 1. Chris McCrea
2. Todd Kingsbury 2. Maarten Roos - NED
3. Edward Bauer 3. Chip Tranum
9 Expert 9 Novice
1. Tony Luke 1. Mike Condron
2. Jim Foret 2. March Shawn
3. Derek Brown 3. Nico Does - NED
8 Expert 8 Novice
1. Dan Schmitt 1. Bryan McSwain
2. Brad Jamison 2. Jeff Shepard
3. Mark Dickson 3. Jeff Langley
7 & Under Open 7 & Under Trophy dash
1. Trevor Pigott 1. Trevor Pigott
2. Josh Summers 2. Dylan Spears
3. Brad Platt 3. Andrew Soule
7 Expert 7 Novice
1. Trevor Pigott 1. Robbie Summers
2. Dylan Spears 2. Robert Tri
3. William Chapman 3. Albert Ingram
6 Under Trophy Dash
1. Trevor Pigott
2. Dylan Spears
3. Andrew Soule
6 Under Expert 6 Under Novice
1. Andrew Soule 1. Joel Visser
2. Michael Wesley 2. Travis Bryant
3. Shawn Arbeiter 3. Vincent Stewart


12 Over Powder Puffs 11 Under Powder Puffs
1. Kathy Schachel 1. Missey Burge
2. Lauri Piant 2. Debbie Kalsow
3. Leslie Burley 3. Karen Frierson
Well, this is the end of a unique happening for the S.F.N. Dutch National BMX Team. A new experience that was kind of overwelming with so many riders, hundreds of races and being present in the hall from around 6 o' clock in the morning till around 8 o'clock in the evening. For sure the S.F.N. scheduled to be present with a national team during the 1980 JAG BMX Worlds.
December 26th., 1979. An un-official meeting took place during the JAG BMX Worlds, were the idea of a IBMF - International Bicycle Moto-Cross Federation was born.
At these World Championships the first steps were taken towards an international cooperation. The IBMF, the predecessor of the I.BMX.F. was created (not yet registered, so un-officialy). During the event, it became clear to several foreign representatives that the JAG BMX Worlds were great events, but that it did not met the standard of international sportsorganizations. Meaning, a promotor organized this event and only a handfull of countries with around 20/25 foreign riders were present.
Speciale George E. Esser (NBL), Tadashi Inoue (Japan) and Gerrit Does (Holland) came to the conclusion that their experiences with international motorcycle (FIM) and international golf tournements, were very different from this promotor organized event. Normaly world wide governingbody's, composed by National sports organizations in a certain sport were in charge of organizing world championships. Their rules and regulations were used world wide and so on. Talking about this all, the idea came up to get the present national organizations together and discuss this matter. The conclusion was clear, an International BMX Federations had to be formed. This was the first step towards a world governing body for BMX. Besides the 3 mentiond gentlemen, other parties joined this effort. Must be said that Gerrit Does was the driving force behind these developments.
The NBA representatives took it upon themselves to sett up a set of "by laws, rules and regulations" as well as a "Statement of Purposes". This set of documents would be sent to all participating in order to study this and discuss that the next meeting, scheduled December 1980. Here some pieces of the documents mentioned:
December 1979, developments ..........

SFN-MON cooperation. MON stands for Motorcycle Organization Netherlands. SFN (Stichting Fietscross Nederland) at the time, was considered a learning school for future moto-cross riders! This cooperation would only last up and till 1980. Developments showed that BMX was a potential sport on its own.
Development of BMX racing. In the city of Veldhoven we started racing with 27 entries there and at the last race of the 1979 season at the Eindhoven Model track, we already had 160 entries. In total 14 official National events were organized in 1979. There were 123 officially registered license holders, mainly from the province of Noord Brabant (South of the country).
On Any Sunday was a film made by Don Shoemaker on motorcycles, but also had BMX in it. In America this film was a great push for BMX, many youngster that saw this film, started to race BMX bikes. In this year 1979 Don Shoemaker made another film an motorcyle sports and included BMX again, On Any Sunday II was born.

Special attention was given to Berend van de Akker a BMX racer who lives in the province Friesland, in a town called Gorredijk, up north in our country. He travelled with his parents to Eindhoven every time and had to make very long trips.
END OF YEAR 1979.

Picture gallery:
Seen here R.L. Osborn in action, riding for BMX ACTION Magazine as test rider. His father Bob Osborn was the editor of that magazine ánd photographer. Also two nice drawings in poster form, sold by a company called LAGUNA BMX (Cal. USA).


This advertisement speaks for itself. Motorcycle Moto-cross World Champion Roger De Coster got involved in BMX too