Special & Funny Pictures
The idea of this page is to show you all a collection of special pictures of well known old school ánd other persons as well as some funny, action ánd different from normal BMX related pictures.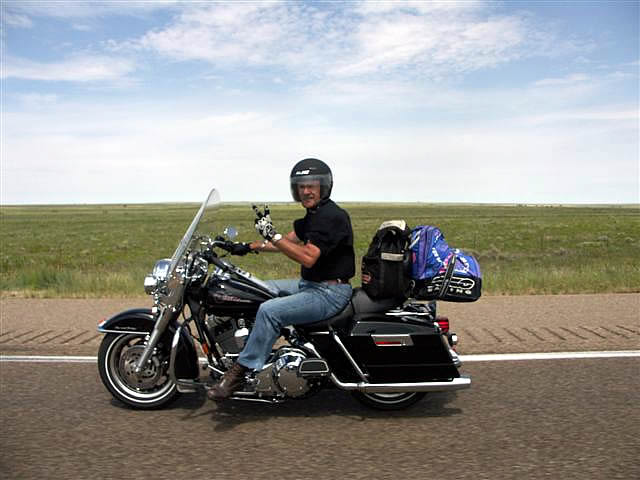 Gerrit Does on a Harley Road King during his 2005 ROUTE 66 trip - USA
Old school BMX professor Gerrit Does in action on a Harley Davidson during his Route 66 Adventure, Sept'. 2005.
Another grea trip took place in 2010, when Louis Vrijdag and myself made a trip through the South of the USA from Orlando to LA.
Motobecane (MBK) "Crazy Bike" action.
Frenchman Claude VuillemotAmev's Addie v.d. Ven showing off the MBK engined BMX bike
Around 1985 Motobecane (BMK) presented it's motorized BMX bike, called CRAZY BIKE.
Seen on the pictures here, Frenchman Claude Vuillemot - France (left) giving a demo during the Bercy Indoor and later on during the E.C.C. in Slagharen, Addie van de Ven of the Dutch Team AMEV showed off. Great stuff.



BMX bike for handicapped youngster.
Around the mid '80, well known bicycle wholesaler Mr. Louis Verwimp of the company Lion d'Or, had a special bake made for handicapped youngsters. These three wheel bikes were great and allowed disabled youngsters to ride a BMX track, which at the time did bring a lot of joy to those younsters in Holland.




1984 Side-Hacks
20 years ago now, a side-hack race in 1984. Check out the riders and their "monkeys".
2003 Joel Smets (B)
2003 Joel Smets Old Skool BMX, now 5 times World Champ Moto-Cross
Scott Dick alias 'Uncle Buck'
Seen on the cover of a glossy magazine called SOURCE, we do find Old Skool BMX Pioneer Scott Dick, alias Uncle Buck from England. Scott still is heavily involved in helping BMX grow. Besides that, he runs his BMX website www.bmxrace-dirt.com Check out Scott's profile".
The FIRST ever backflip was when ....???
I thought I had an exclusive back in 1993 with Todd Lyons doing a back-flip for the first time ever, during the KoD at the European Challenge Cup X in Slagharen, Holland.
Boy, was I wrong and I only did find that out last December 2003. Going through the tons of material I still have to check, I did find a BMX PLUS magazine with on the cover the shown HUTCH rider doing a back-flip.This picture was taken in November 1984 during the ABA Grands and the back-flip was performed by HUTCH rider Jose Yanez. So, I mustmake a correction now. Sorry TL! But Jose Yanez was first. Still we did have a first afterall because Todd Lyons did a back-flip NO HANDER and that was the first time for sure.
George E. Esser, founder of the NBL / National Bicycle Leque, USA
Seen on this picture, my dear friend George E. Esser and his wife Marcia. George is the original founder of the NBL - USA in the seventies, former owner of MCS and was together with Tadashi Inoue en myself, the man to let the I.BMX.F. see the light of day in the early '80 's. George moved from Florida to his home ground in TEXAS some years ago and enjoys live. Once again, thanks for all you did for BMX George!
Comic by Boul
Gerrit Does winning the World title Manufacturer Teams for GT in Waterford, USA 1994 . Boul made a cartoon of the price giving ceremony.
Gerrit Does 2003
About every weekend, Gerrit Does and sons do ride their ATB's (all terrain bikes) in the woods surrounding Aalst-Waalre. It's great fun. GD is sponsored by SINISALO and still riding a GT bike ( GT I-drive 1.0)".
Update 2016:
Since my sons got children, things changed a bit. I am now (since 2005) riding on my own most of the time and since 2014 once and a while together with former MX champ
and brother in law, Pierre Karsmakers. We are now in the 70+ ATB class and want to keep going as long as possible.
EC 2003 rounds 3 & 4, Valkenswaard - Holland
Old Skooler Pieter Does during the 2003 Valkenswaard European round Elite Championship. Pieter is racing since 1979 and at the moment the ONLY rider from the early days still racing (24 years now). Watching in the background with hands on the realling former Dutch and World Champs, Old Skoolers Anita van de Mortel (red jacket on left), Erik Dukino (middle) and Hennie Lemmens.
EC Round 4 in Valkenswaard, PD gettings 6th place.


2003 Dutch National Championships
2003 Max van Heeswijk 3rd in Dutch National Championship Elite (in middle), signed his contract with US POSTAL for 2004
1979 BEAUNE - FRANCE
Number 23 Philippe Nicolas, next to him Claude Vuillemont
ECC Slagharen - Holland 1984
During the 1st. European Challenge Cup in Slagharen- Holland in June 1984, many American Pro's returned to Ponypark Slagharen to race at the 1983 World Championship track. In this picture Pro-class is led by Eric Rupe (22) and show man Mike "the Clown" Miranda (24). Check out his face!
Eric Rupe leading Mike -the CLOWN- Miranda and Nelson Chanady



EC Marsta - Sweden 1993
Another unique picture taken during a race at the European Championships of a rider in a Clowns outfit. His name Todd Lyons. During one of his moto's TL also made a 360 on a table top and even managed to stay in the same position he was (3rd spot). The Swedish crowd went wild! Todd Lyons in disguise.



ECC Slagharen - Holland 1984
Famous Pro class Timmy Judge and Tommy Brackens showing off their prize money
1992 K.o.D. E.C.C.-Slagharen
Webco's Todd Lyons winning the King of Dirt competition during the E.C.C. Slagharen in 1992 with this encredible high jump, saluting the crowd. The dome was a perfect setting for the K.o.D. Over 1500 people withnessed this happening.
1993 K.o.D. E.C.C.-Slagharen
The first ever no hander back-flip by TODD LYONS during the 1993 European Challenge Cup
The first ever no hander back-flip by Todd Lyons during the 1993 European Challenge Cup - Ponypark Slagharen - Holland International BMX and King of Dirt competition! Eric Abbadessa watching "TL" doing this great trick doing that back flip while jumping over Michel Lemal, announcing ánd lying on the ground in a prisoners outfit. Yahooo!
September 2000, Reunion of French Old Skool Riders
French Superclass stars from the early days ending 70's and early 1980, organized by European BMX Hall of Fame member Claude Vuillemont among others.
1979 Indianapolis
Louis Vrijdag during a visit to a fire brigade station
June 2001, Training Session Valkenswaard (NL)
PRO MX 125cc Factory KTM/ CHAMP rider Kenneth Gundersen getting "RAD" on a WEBCO BMX bike at a clubtraining in Valkenswaard.
Magazine Add in BMX Action
Jim Jannard, the Duke, R.L. Osborn and Scott Clark
A few old friends of mine, picture taken some 25 years ago. Brings back great memories. Jim Jannard (Oakley) founder of Oakley in his car, taking to The Duke of Oakley, while RL Osborn and Mike Buff are jumping over Jim's expensive Porsche.
picture ....... In the Philippines they make good use of old BMX bikes. The make them into a BMX sidehack bike and use the as a bike-taxi as seen on this picture.