History of BMX (1983)
January 1983, the NBL - USA issued their new rulebook.

January 1983. The I.BMX.F. race calender 1983 was issued and distributed.
In 1983 a series of International events were named, the "STARTRACK 1" series.
March 19th. - International BMX race in Valencia - Spain.
March 27th. - Can-Am International Canada
April 17th. - Grand Prix of BMX, Venezuela
April 24th. - International BMX race "Startrack 1" in Brussels - Belgium

May 1st. - Grand Prix of BMX in Tokyo - Japan
May 15th. - International BMX race "Startrack 1" in Assen - Holland
May 22nd. - International BMX race "Startrack 1" in Palau de Plegamans - Spain
June 4/5th. - I.BMX.F. European Championship, round 1, Birmingham - England
June 26th. - International BMX race "Startrack 1" France.
June 25/26th. - I.BMX.F. World Cup in Nashville, Tennessee - USA
July 9/10th. - The Anglo-American Cup, Redditch - England
July 20th. - Grand Prix of BMX in Colombia
July 24th. - Grand Prix of BMX in Son & Breugel - Holland
July 30/31st. - I.BMX.F. European Championship, round 2, Dijon - France
August 5/6/7th. - I.BMX.F. World Championship at Ponypark Slagharen - Holland
August 14th. - Grand Prix of BMX in Oostende - Belgium
August 21st. - International BMX race "Startrack 1" in Luxembourg
August 28th. - International BMX race "Startrack 1" in England
Sept. 25th. - Grand Prix of BMX in Las Condes - Chili
Dec. 11th. - International BMX race in Vina del Mar - Chili
Dec. 25th. - International BMX race, the USA Classic of BMX at Knotts Berry Farm, Anaheim, Cal.-USA

January 29th. A Press conference was organized by the NBL at the Hilton West Colonial in Orlando for the press, media and industry.
This meeting was conducted by Gerrit Does in his fuction as General Secretary of the I.BMX.F. Subjects to be covered, but not limited to, were I.BMX.F. internal developments, up-coming World Championship to be held in Holland (the first Worlds in BMX outside the USA), provisions of the International Sporting Code, International Calendar of Events, planned International Professional Racing. A colour slide presentation on the Worlds location, at the Amusementpark PONYPARK Slagharen - Holland was included.

January, the F.BMX.B. (Mr. Armand Blondiau - president) confirms a working together relationship with the KBWB (Belgium National Cycling Federation) and the BMB (Belgium Motocross Bond).
In Belgium now 4 so-called National organizations were actif in the field of BMX: F.BMX.B. (Mr. Blondiau), B.C.B. (Mr. Dekkers), V.F.B.F. (Mr. Laenen) and B.L.F. (Mr. Martens). This would not help the further development of the sport of BMX in Belgium a lot. One strong organization would be the best and adviced by the I.BMX.F.

January 3rd., as I.BMX.F. general secretary I received a letter from the NBMXA (National BMX Association of Nottingham - England), asking for an I.BMX.F. affiliation (National secretary: Sue Nequest).
This request was denied since the UK.BMX.A. already was affiliated. Only 1 organization per country can be a member of I.BMX.F. From this letter it became clear to us, there were problems in England, having more then one organization running BMX events.

January 10th., Mr. M. Michal Jekiel, general secretary of the UCI - Switzerland,
confirmed receiving an extended letter by the I.BMX.F. dated December 22nd. 1982, explainng the present situation on BMX world wide within the I.BMX.F.

January 18th., I.BMX.F. receiving a letter from the National Bicycle League - Australia Limited of Panania - New South Wales and signed by secretary Mrs. N. Lapham,
asking for a copy of the I.BMX.F. rule book. Since another Australian organization, the A.BMX.A., was already they state: "we do not wish to enter into politics with the A.BMX.A, but act as an instrument to bring fairness into the sport of BMX in Australia which is very much missing at the moment".

January 27th., letter received from Mr. Tony Hoar (Canada),
written after a meeting with Mr. Jorge de Jesus of the BML - Philippines, during a business trip Tony made overthere. The BML did apply for a membership and Tony confirmed the BML's non-profit and democratic organization.

January 26 - February 5th. During this visit to the USA, I went to two "War of the Stars" event,
the one in Orlando with 1276 entries and the one at Lake Alfred with 1295 entries: racing started at about 9.00 hours and finished at 19.00 hours. Unique at these events was the participation of an 18 year old Lady Pro rider named Terri Fregoe from New York. Here first Pro race was at the Orlando BMX track. After a 4th. place in her first moto, she crashed in the 2nd. moto and had to leave the race.

Dutch developments: The cruiser class 24 inch is introduced in Holland, which gives a new impulse to riders older than 18 years.
Early this year an Italian BMX organization was formed called: Associazione Italiana BMX and they applied for an I.BMX.F. affiliation.


February 13th., a Pressconference was conducted in Long Beach - CA, USA by the I.BMX.F.,
concerning the upcoming 2nd I.BMX.F. BMX World Championship in Slagharen - Holland later on that year ending July, early August. The presentation was conduted by Gerrit Does, General Secretary of I.BMX.F. and he was introduced to the Press and Pro's present by Scot Breithaupt.
GD explained how the I.BMX.F. started out, what it's goals are, that it concerned a non-profit organisation started by National BMX Federations and that is wasn't a commercial (cycle-) business. He also explained the relationship towards and with the FIAC/UCI, handed out to those present the first issue of the I.BMX.F. rules and regulations book and last but not least he explained the main goal of the I.BMX.F. World Championships.
Ofcourse detailed info was given concerning the accommodation, the venue, the actual track and so on. Riders and supporters flying into Holland through Schiphol Airport will be picked up by busses and brought to Slagharen for free. Housing was possible on the venue (cottages) and a large hotel was available at about 1 mile distance from the track. The Hotel is called "the Bonte Wever - Slagharen". Dutch National AVRO TV would broadcast the finals on Sunday (60 minutes program) and they did sell the rights for broadcasting to about 10 foreign countries worldwide.
To illustrate all of the above, slides were shown to give those present an impression on what could be expected at the 1st. outside USA World Championship sanctioned by the I.BMX.F. In the end of this press-conference, an Information map was handed out and Gerrit Does invited everybody to come to Holland to be part of this unique happening, the 2nd. I.BMX.F World Championship in Slagharen.
Just to give you an idea. The budget for this 1983 Worlds was Dutch guilders 125.000,=. (around 60.000 euro) on an excisting venue. The budget for the 2014 UCI Worlds in Rotterdam - Holland was over 2 million euro (including the cost for building the track inside the to be hired indoor venue, the AHOY hall). Some things changed for sure since 1982 when the first official Worlds was run.
February 27th., the first out of three indoor events in the famous "Rijnhal" in Arnhem - Holland.
Due to pre-publicity on Dutch National TV, roads were blocked around the RIJNHAL area and spectators had to be send home because the hall was completely filled with people.

During the televised event, Gerrit Does was interviewed by Karel van de Graaf (AVRO) on the upcoming I.BMX.F. BMX World-championship to be helt at Ponypark Slagharen early August 1983.
Enlarge the images below and also find the RESULTS of this indoor meeting. This event did have over 500 entries and about 4.000 spectators. It was watched on TV and valued with a 7. Another big boost promoting BMX in Holland.

February 2nd. Major A.J. Woods (r.t.d.) acting as president of the UK.BMX.A. informed the I.BMX.F. office in Waalre,
about the political problems of late in England, being solved between the NB.BMX and the UK.BMX. The UK.BMX. can now concentrate again on the up-coming European Championship in Birmingham - England, later on this year. We were also informed that Mr. Geoff Wiles, one of the initial founders of BMX in England, did not have any official position anymore within the UK.BMX. as from now.
During the 2nd. year of the now official Federation BMX Schweiz (Switzerland BMX was founded on March 16th. 1983) Mr. Franz Hattan (elected as president of the F.BMX.S) organized a National Championship consisting of 5 legs. From the results a National delegation was selected to take part in the 2nd. I.BMX.F. World Championships in Slagharen - Holland, August 1983. The F.BMX.S also applied for a I.BMX.F. membership at the I.BMX.F office in Holland early 1983. Ending 1983 F.BMX.S. did have approx. 100 license holders.
The first official BMX club was "Speed Power Malters" and was founded in February 1983. A few month later, in July 1983, the Bicross Club Echichens was founded by 3 families: Family Claessens, Neri and Roulet. This was the 2nd. official club in Switzerland.
First official riders were: Beat Imbach, Heini Krummenacher, Beat Scharli, Benni Bieri, Angelo Bernasconi, Marc Woodtli, Karin Williman, Valentin Dufour, Constantin and Simon Sutter,Olivier Roulet and Vincent Claessens. Almost all of the above riders mentioned did take part in the 2nd. I.BMX.F. World Championship 1983 in Slagharen.

March, developments in Holland within the KNWU concerning licenses and clubs/tracks.
The sport of BMX still was developing at a high pace. Here a resume of what happened the past years within the KNWU (Royal Dutch Cycling Federation), after the SFN (Stichting Fietsscross Nederland) integrated into the KNWU in early 1981:

Year Clubs Licenseholders Races Departments
1980 15 750 60 3
1981 70 1350 130 5
1982 88 2952 145 5
1983 103 3500 165 5
Note: AVRO TV played an very important role in the rise of BMX and licenseholders from 1981 on.
The budget within the KNWU's BMX committee / department developed as follows:
Income: Expenses:
1981 Hfl. 88.483,= 1981 Hfl. 85.889,=
1982 Hfl. 202.560,= 1982 Hfl. 125.960,=
1983 Hfl. 275.000,= 1983 Hfl. 165.000,=
The above just to give you an impression on developments of BMX in Holland.

March 22nd/23rd. Meeting held in Paris - France concerning the organization of the 2 legs of the "Open European Championship 1983" to be held in England and France.
Representatives from both national organizations and the I.BMX.F. general secretary Gerrit Does did meet to discuss racing technical affairs. Entry-fee at the time was $ 3,= per class. USA Pro Andy Patterson will be allowed to defend his 1982 Open European title, won by him last year at Beek & Donk - Holland. Also USA riders Kathy Schachel and Mike Solido were permitted to defend their titles.

March 23rd. Gerrit Does was present at the Motobecane bicycle factory press-conference,
held in Paris at "le Bowling de Paris" in the Bois de Boulogne, France, were Motobecane announced a working together relationship with Mongoose. Motobecane will built and distribute Mongoose BMX bikes throughout Europe. Founder and CEO of Mongoose, Mr. Skip Hess was present as well and I met with me for the second time.

Skip Hess also announced the at the time, worlds largest sponsor award program ever to the sport of bicycle moto-cross. The intention of this program was to try to retain riders longer in the sport of BMX. Mongoose allocated $ 150,000.00 at selected major race events over the 12 months to those racers who participate in one of the worlds most competitive sports. ABA, NBL and I.BMX.F events were allocated and among them were the I.BMX.F World Championships to be held in Slagharen - Holland in August to come.

On March 23rd. I was present at a Press-conference, organized by MOTOBECANE. Commercial Director Mr. Gérard Serre, whom I did meet the year before in Dayton-Ohio, during the 1st ever I.BMX.F. Worlds, invited me to be present at the meeting. The Press-conference took place at the Bowling de Paris - Jardin d'Acclimatation - Bois de Boulogne, Paris - France.
It was all about MONGOOSE working together with MOTOBECANE. Present were ofcourse, the owner and CEO of MONGOOSE Mr. Skip Hess as well as Mr. Rayond Imbert, President of the AFB and Gerrit Does as General Secretary I.BMX.F. An official MONGOOSE Factory team 1983 was presented, demo's Free-style were given, BMX competition in France was highlighted and also the MOTOBECANE Factory team 1983 was presented.
The Press-conference was very well attended and afterwards everybody was invited to enjoy an "aperative and a buffet".
March 26th., the Halfords BMX Nations Cup, Britain's greatest indoor event took place at the Birmingham Arena National Exhibition Center - England.
March 31st. an article on BMX in a free strip paper, part of the TELEGRAAF daily newspaper.
Seen here an article on one of Holland's most popular BMX racers called "Helicopter" Jantje van den Dungen. The AVRO BMX TV series made him one of the popular racers.





April 1st., the National BMX Association of South Africa was founded.
On April 1st. the N.BMX.A. did see the light of day. They issued their official Handbook for BMX as well and within a couple of months, the N.BMX.A did grow into the largest BMX organisation of South Africa. At the time the N.BMX.A. could not become an official member of I.BMX.F. due to the "Apartheid" restrictions by among others the Olympic committee, which rules were followed by the I.BMX.F.

April 5th. By letter I confirmed to Mr. Lars Forus of the Sandness Sykkelcross Klubb - Norway, that the Dutch free-style specialists Ronnie Croes and Laurens "Zonto" Dingen would come to Norway to give free-style demo's from May 13th. till 15th. and later on from June 26th. till July 4th. 1983. As a middleman I made the arrangements for trip for these boys.
April 5th. The Svenska Cykelforbundet settled in Stockholm - Sweden,
did sent a letter to the I.BMX.F. office explaining that they were getting organized to start a BMX department within the SCF. Mr. Jan Hult asked for detailed info on rules and regulations as well as lay-outs of tracks.
April 11th. A very disturbing letter came in at the I.BMX.F. office, written by Charles W. Scott - Vice president of the N.B.L. - USA and I.BMX.F. representative for the Northern Americas.
Charles Scott informed us about the fact that Mr. George E. Esser and his wife Mary Esser were no longer employed by the National Bicycle League. During the 1982 NBL Congress a new President and several new board members were elected and a large majority wanted a unified fraction leading NBL. Finally it was decided to no longer employ George and Mary.
Personally I was very shocked and worried about this situation, while so much expertise and know how was lost at the time for NBL and I.BMX.F. Also the fact that George started the NBL, did set up a format with a Board of Directors and a President, hurts seeing him being fired in a way, by his own instruments of management.

Years later I was very glad to see that January 1999, during the NBL's Competition Congress, my dear friend George E. Esser (r.i.p.) had been inducted in the NBL Hall of Fame.
Besides his NBL activities, George Esser also was one of the 3 initiators starting the I.BMX.F. (George, Tadashi Inoue and Gerrit Does) and still is the president of I.BMX.F.

April 14th. Another letter from the Mr. Charles Scott came in as I.BMX.F. international affairs representative,
asking me, the general secretary of I.BMX.F., to help MURRAY selecting riders outside the USA to take part in the Murray World Cup event later this year in June. Charles Scott explained that Murray even wanted to send a check for the amount of $5,000 to pay per interested rider $250.00 to help off-set their expenses. Riders from at least 10 countries should be invited to compete. Charles did write: "Murray is willing to make the check out to you (GD), as you have earned the respect and admiration of your counterparts here in the United States" end of quote.

April 28th. Letter received at the I.BMX.F. office written by Mr. Vincenzo M. Cascino (Chile) explaining he visited many South American countries
and contacted many persons. Interest found for BMX in Argentina, Bolivia, Brasil and Peru. Vincenzo also explained that Mr. Alfredo Matheus of Venezuela was working on establishing a legal BMX Federation ruling the sport in all the Venezuelan states. This federation would then replace the AVB, affiliated at present to the I.BMX.F. In Venezuela there were approx. 15 permanent tracks.

May 1st., Open European Championship round 1, Birmingham - England. Organizer "Birmingham Wheels BMX club" run by Mr. Chris J. Lawther.

May 9th. Received copy of a letter by Mr. Russ Okawa of BMX Products, inc. written to Mr. Phil Voxland of the U.S.C.F. on Minneapolis.
Essential part of the letter by Russ Okawa was : "The NBL has for two years been affiliated with the I.BMX.F., under the guidance and dedication of Gerrit Does in Holland, which represents many thousands more riders internationally. - and goes on - "It was during an investigation of an awards program that the question of recognition with the ESCF and its affiliates arose. Are there reasons that this can or cannot be so?" Russ, in name of BMX Products inc. did write this letter on behalf of BMX - Products and their believe in the sport and their interest in cycling in general.

May 10th. An official application for an associate membership I.BMX.F. came in from the Suomen Moottoriliitto - Finlands Motorcycle organization, from Helsinki - Finland.
The motorcyle section counted 219 local clubs and about 30.000 members at the time. BMX had to get off the ground still, but the organization did have their rules and regulations ready. Letter written by Mr. Eino Louhioas executive director of this organization.

May 22nd. A leg of the named ´Star Track Series´ in Europe, was organized by Juan Ventura at Palau de Plegamans in Spain.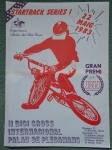 It still seems to be very difficult for the Spanish BMX organisation to get things right. Quality wise they stayed behind the rest of the organisations in Europe. Still they had the support of BH Bicycle company and Mr. Brian Montgomery, which was a good thing. Father of Spanish BMX tried his very best to get BMX at an international level. Main reason for staying behind in developing BMX in Spain lies in the fact that at economic and social level things were not optimal at the time, starting a new sports organization. NO fund were available for instance, to sent groups of riders abroad. Joan Ventura got a lot of support from the French BMX organization run by among others, René Nicolas at the time. France was also the closest country ofcourse to sent riders to.

May of this year 1983, an impression of Spanish BMX developing.
To give you all an idea of what was going on in Spain, here a serie of interesting pictures about Spanish BMX races, the riders, uniforms and other stuff. As I said before, I had very good contact with Joan Ventura (R.I.P.) the father of Spanish BMX and event organizer. Also very good contacts with Brian Montgomery the man behind BH bicycles supporting developments in BMX in Spain. The pictures below are all from the Joan Ventura archieves, published by his friend Joan Albert Redondo in February 2018. I placed the pictures ánd story back in the year it all happened, 1983.
Joan Ventura (Spain) was one of the first men visiting Gerrit Does here in Waalre-Holland to learn what BMX was all about and collect rules and regulations I already had in order in 1978. Beside Joan, René Nicolas from France, Peter Shelby from England, Albert Dekkers from Belgium, mr. Heidkamp from Germany, Lars Forus from Norway and more, visited me to learn about BMX and start setting up a BMX organization in their countries.

As I said before, here pictures from the Joan Ventura archieves to show you all the developments in Spain in the early '80 s. These pictures were published by Joan Albert Redondo in February 2018, but because they concern 1983, I placed them right here in the History of BMX - Year 1983. To be as original as possible I also hereby publish the actual text in Spanish written by Joan Albert and I translated the text in English as well:
"Bueno amigos, aquí os dejo una primera serie de escaneos de fotos en papel del Arxiu Joan Ventura - Amics del Bicicross, correspondientes a la prueba de Torrent del primer Campeonato de España de Bicicross (AEBC) de 1983. Podemos apreciar las bondades de esa primera época de BMX pionero, con bicis y equipaciones que bien pronto evolucionarían, pero que tanto encanto tienen hoy para nosotros. Espero que las disfrutéis !

Dear friends, here I show you a serie of scaned pictures from the Joan Ventura archieves - Amics del Bicicross. It concerns the first Spanish Championship of 1983. Now we can appreciate what has been done in these first years of work by our BMX pioneer Joan Ventura. We also reallize how fast and far BMX has developed up and till now (2018!). I hope these pictures are just great memories for you all. Enjoy ! "
Addition information I received from Joan Albert Rodondo tells us that these pictures were taken at the "Circuit de Sant Gregori" in Torrent (Valencia) - Spain. The track was a nice track considering the difficult circumstance BMX was developing in, in Spain. Economicaly and Socialy times were hard in this periode of time. This event was 1 out of 4 events counting for the Spanish BMX Championships in 1983. This particular event took place on July 24th. 1983.

In the picture of the starting hill, the following names were mentioned: nr. 29 Jose Vaquero, nr. 14 Santi Impact, nr. 19 Abdor Sicias Rios and he telling wearing a "Motortechnique" race shirt, a Nava helmet and Garibaldi/california race pants.

Here the names of the riders in picture number 1 of these 3 pictures: #178 Rodrigo Gil Moreno DeMora, #164 Juan Carlos Bonache, #13 Josep Subiranas, #95 Illescas Santamaria Rafael, #82 Francisco Martinez y #37 Félix Ike Guerrero Carvajal
Picture number 2, the presentation of awards from right to left: 1e. Joan Albert Redondo vencedor (derecha), 2e. Enric Monso Busquets segundo (centro) y, 3e. Julián Gómez tercero (izquierda)



Here the names of the riders in picture number 2: #165 Julián Gómez, #88 Eustaquio Picos Martin H (con una inusual camiseta del Team Faro), #167 Juan M. Jiméne.
Riders in picture number 3, the presentation of awards, are from right to left: 1st. in Group G ... Francisco Martinez (right side), 2nd. place Joan Urpina (centre) and 3rd. place Josep Subiranas.



In picture number two (middle): nr. 42 Rafael Llopis in action in fron of the crowd.
The riders in picture number 3 of the above set of pics: SEMIFINAL Grupo E : #2 Miguel Cervera, #45 Manuel Mario, #138 Francisco Casanova, #43 Luis J. Alonso Díaz, #40 Carlos A. Espi y #4 Joan Comadran

June. Received info through Mongoose USA, informing I.BM.X.F. about their "MONGOOSE Pro/Am AWARDS" program.
Total budget of US $150,000. Among the 10 races mentioned in which points could be won, was 1 event outside the USA: the I.BMX.F. World Championship in Slagharen - Holland. Because of this program even more USA BMX racers were motivated to cross the Atlantic and race in Holland August 2nd. 1983. Skip Hess was totaly promoting this initiative and therefore in fact supporting the Worlds in Slagharen.

June. Received promotional material from Italy. Newspapers articles on BMX and again articles in motorcycle magazines.


June 4-5th. Round 1 of the I.BMX.F. European Championship took place in Birmingham.

This event took place at the Birmingham Wheels Track in Birmingham - England


June 15th. Open I.BMX.F. European Championship round 2, took place in Dijon (indoor) - France.
June 18th., a letter came in written by Charlie Litsky - USA.
One of the very popular BMX racers in the USA was Charlie Litsky (r.i.p.). Besides racing, Charlie was on the mic many times to report about a race or races. In 1982 Charlie was present, racing and announcing during the I.BMX.F. Open European Championship 1982 in Beek & Donk, Holland. In his letter to me he stated he wanted to participate in the upcoming Worlds in Slagharen. After his BMX career, Charlie acted a manager for another top BMX racer who changes to cycling road racing and was very good in that too, John Tomac. I beleive they even participated in the Tour the France at one time. Sad to say that Charlie died much too young. He has been for sure a great promotor for BMX.


June 25th/26th. I did go to the "Team Murray World Cup II" in Nashville - Tennessee, USA
together with a group of European riders. They were: Monique Franssen, Anne van Happen, Ludy v.d. Werff (Holland), Rainer Schadowski (Germany) and Andreas Nyberg (Sweden). Andreas was accompanied by his parents and they stayed in a hotel. The rest of us stayed at the home of a BMX racers, close to the track. After preparing his bike, Rainer did test ride it on the street, did fall down and cracked (not broken) his collarbone. Afterwards, while making a ride in a rolercoaster in an amusement park, his collarbone did finally brake during this ride. A very painful happening. We all still had a great time.
On arrival at the Nashville airport with the team, I did meet journalist and BMX pioneer Alain Kulikowski from France. He came over to write a story about this event for the French Bi-cross Magazine. The both of us went to a party organized by MURRAY and later on, together with Bob Osborn, we did fly in the Murray company helicopter and made picture from above of the World Cup track. A great experience that was.
Seen here Mr. Dan van Vickle, the Murray Bicycles responsable man for the event, working on the track himself. Ludy v.d. Werff - NED, passes by in the background. On the next picture one can see French journalist Alain Kulikowski coming out ot the Murray company helicopter after a flight around and above the World Cup track. Also Bob Osborn and Gerrit Does were with Alain in that helicopter. Some years later they even used to helicopter as a hugh van drying out the BMX track, hovering above the track after it almost washed down by the rain.
*** foto Murray World Cup Action
*** foto Brian Patterson leading Clint Miller
July 3rd., SCHAUFF company, a very large and important German bicycle manufacturer, did sent me a letter asking for 2 I.BMX.F. rule-books.

Early July, I had a proposal ready to be discussed, concerning a World Championship exclusively for factory and national teams.
In moto-cross knows as "Trophee des Nations" and "Moto-cross des Nation", it was the idea of organizing a Worlds in the same setting. Teamcompetition can be considered a "binder" not only for the riders concerned but also for the supporters in each participating country (think of World Championship soccer). This still might be worth-while considering today (2017).

July 9 and 10th. The 2nd. International BMX race took place in Redditch - England, called the "Anglo - American Cup" sponsored by Halfords.

July 14th., I (I.BMX.F.) received a letter from Major Arthur Woods, president of the UK.BMX.A concerning the first round at Birmingham,
of the 2 rounds European Championship this year. Several problems occurred. Internal problems with another organization in England (NBMXA), Sue Jarvis talking around that UK.BMX.A will loose its I.BMX.F. membership and Barry Scott Webb telling everybody that the second round in Dijon is NOT counting for points. Mr. Woods stated: all of this is obviously causing problems and a lot of people are declining to travel to France. I just mention this all to show you how difficult it was in the early days to get everybody "looking in the same direction". Politics, prestige, money and personal interests, did hurt the BMX development in the early days a lot in several European countries!

July 27th. Official documents received at the I.BMX.F. office concerning the foundation of the "Associazione Italiana BMX" (the Italian BMX Organization),
with as its president Mr. Aldo Gandolfo and board members Mrs. Daniela Scarpa, Mr. Roberto Avogadro and Mr. Franco Peirano.

July 31st.- August 2nd. The "2nd I.BMX.F. World Championship of BMX", the first one ever outside the USA.
At first the 1983 I.BMX.F. Worlds was allocated to Great Brittain. Due to internal problems there, they were not able to organize the event. During an I.BMX.F board meeting it was decided to bring this first outside USA, I.BMX.F World Championship to Holland and more specific to Ponypark Slagharen in Holland. This (Slagharen) became a trend setting organization for many years to come. The Worlds, organized at Ponypark Slagharen in Holland ment a new milestone in the international BMX history. Riders from all over the world battled for the highest honor. Present among others were riders and supporters from 17 countries. The overall organization was at a high level, never met before.
This World Championship was the beginning of a close relationship between the KNWU and Ponypark Slagharen, of which its managing director Mr. H. Bemboom, developed himself into a real BMX promoter.
17 countries participated with in total 1031 riders. During the 2 day event, 15.000 people came through the gates and watched the very spectacular races in 36 classes, in which as many titles could be won at the time. For the medal count, see at the end of the Worlds report.

World Champions in the highest performance classes were:
Superclass (Pro's): Clint Miller - USA
Junior 16 & over: Phil Hoogendoorn - Holland
Experts 16 & over:Gary Ellis - USA
Girls 14 & over: Monique Franssen - Holland
I.BMX.F. Team Trophy Award:
1. Hutch USA -1-
2. GT Factory -2-
3. Hutch USA -2-
At the amusementpark Ponypark, the Chilian delegation had 81 cottages.
Dutch National TV station AVRO broadcasted the Worlds live and during the finals I (Gerrit Does) personaly did the TV presentation, which was a great experience for me.
The TV stations from the following countries did buy the TV rights for their country: Chili, England, France, Switzerland and Japan.
TV crews present during the Worlds 1983 from Canada and Australia, as well as a TV crew from Italy working for Bianci and making special effects recording with among others, using a so-called sky-mote camera. On the picture here the complete racing technical officials team at these Worlds. Beside this group, about 40 employees of the Ponypark itself took care of all other tasks. John Paint and Stu Thompsen just relaxing in the VIP stands at the Worlds.

1983 I.BMX.F. Congress.
During the I.BMX.F. Congress, the countries present did give brief reports on their present situation. It must be said, that the number of license holders mentioned could not be checked and were kind of over estimated (due to enthusiasm) at the time. Here a resume from the minutes of that meeting. Present situation in:
Australia: BMX in 7 states now and as many associations all member of the A.BMX. Ass. About 20.000 members/license holders, the travel distances in Australia were/are the biggest problem. Good quality of riders. A.BMX.A had about 250 tracks and had some problems with so called "commercial" tracks.
Holland: BMX started 5 years ago. Now approx. 5.000 license holders and approx. 10.000 club members (no licenses). BMX can be called popular in Holland: 75% of the Dutch population knew what BMX was at the time. This due to the AVRO TV series since 1981. About 150 clubs at the moment with as many official BMX track, most of them built by the local governments. Education programs running at National level for BMX officials as well as a course for BMX coaches and physical-trainers.
Switzerland: Recently joined I.BMX.F. and stated they had about 100 license holders at the time. They were in the promoting phase of things and had about 40 races this year. Four official tracks have been built and were in use. Swiss TV did buy the TV rights for the Worlds in Holland from AVRO TV in order to help promote BMX in Switzerland.
Spain: BMX started in Spain in 1981. The political situation in Spain forced the organization to work in separate regions. Number of tracks at the time 20. In total about 350 license holders and approx. 1.000 clubmembers racing only on a local level. Bicycle trial was (and still is) very strong in Spain. Mr. Pedro Pi, a former motorcycle trialist was the main man in the bicycle trial organization and also a manufactures of MONTY trial bikes. His son Ot Pi holts several European and World trial titles.
England: The sport got off the ground in England in 1980. Because of the fast growth and the fact that it concerns a large country, many problems arose. Because of that, England did have already 2 organizations operating at a National level. The UK.BMX.A. representative stated that there were over 4.500 license holders and 35 official tracks. Many more tracks are being built at the moment.
Chile: BMX started in 1980. Chile is a very long stretched country (3000 km) and has been divided in 13 districts. There were about 10 official tracks. The number of license holders is around 1050 and registered as clubmembers were another 4.000 young sportsmen and women. In 1983 they started with Experts classes in Chile for the first time and the organization was trying to get an affiliation with the National Olympic Committee in Chile. Because of a very good sponsorship deal, it was possible to come over to Holland and compete at the Worlds (48 participants).
Germany: BMX started here early 1980. In 1981 the B.D.R. got involved and picked up the organization. At that moment the B.D.R. had about 20 tracks and approx. 1000 license holders. The BMX department had some financial problems, because promoting a new sport in such a large country cost a lot of money. In Germany about 300.000 bikes (mainly street, but also competition) were sold in one year time. There was fear with the B.D.R. that because of the explosive growth (in sales of BMX bikes in the first place), it would be hard to keep the organization development and things that come with that, under control.
Denmark: In this country BMX was in fact a product of the motorcycle organization. The sport is controlled by the government and there were about 300 license holders. Denmark recently joined I.BMX.F and they were present here to realize good communication with all countries present. About 15 races were organized already in Denmark and developments were not very spectacular up and till this moment. Maybe this Worlds would change things for the better.
Japan: In 1978 BMX started in Japan. The JBA had about 14.000 license holders. Lack of space is the main problem in Japan, its very hard to built tracks because of that. There were 11 official tracks. At each race an average of about 200 riders showed up. Young people in Japan have very little time for BMX or any other sport due to school and their study. Many children want to become member of JBA but race very rarely. Preparations are under way for the 1984 Worlds in Japan. Honda is very interested and might become main-sponsor of the I.BMX.F. Worlds in Japan.
Canada: In Canada BMX started in 1978 as well. About 3.000 licenses at the moment and 36 official BMX tracks have been built. Right now about 15 new tracks were being built. A full-time staff is handling BMX. The Government does think of BMX as skate-boarding (not a serious sport!), these ideas slow down the development of the sport in Canada.
France: BMX growing steadily. Number of license holders this year up to 2.250.
USA: Internal reorganization made the N.B.L. a more professional organization with a fast growing number of license holders. The ever-lasting competition with the A.B.A. and other sanctions seems to turn in favor of the N.B.L. N.B.L. had about 40.000 license holders and 250 tracks, a full-time staff and a professional trained National officials team was in place. The American BMX industry is finding out very slowly now, that there is not only BMX in the USA, but world-wide (23 countries affiliated to I.BMX.F. at the moment).
Organizations not present at the Worlds, did sent their evaluation report and here a resume of some of them.
Panama: BMX is developing steadily here. Panama city has been the center of developments but also in other provinces in Panama, BMX is spreading. At present the BMX organization is working with the Government to obtain from them the concession of a special area exclusively for BMX.
A very unique plan was produced:
Several tracks had to be built on this exclusively BMX area, one for competition, a special track for kids from 3 till 5 years old, a special track for kids from 6 till 10 years old, a professional track for national & international top competition as well as a track for "normal" bicycles, not for competition: like for hi-riser bikes.
In Panama about 500 license holders and 7 tracks. It was scheduled to have BMX races for girls in 1984.

August 5-7th. The 2nd I.BMX.F. World Championship Slagharen – Holland.
Facts and results:
Total number of races: 633
Total number of entries: 1.031
Number of spectators: 15.000 over2 days
TV audience for finals: 1 ½ million viewers
TV rights sold to: 4 (four) countries
Quote from SUPER BMX Magazine;
"The entry fees at the 1983 Worlds were the most reasonable of any other "major" event covered by this publication, or even heard of. At $ 3.00 per class, racing at the 1983 I.BMX.F. World Championship in Slagharen – Holland was the best value in BMX history".
"The BMX course was similar to the best courses found in the U.S. Wide as necessary, large jumps, not too short or too long, well groomed and well maintained. Definitely a 9 + (on a scale of 1-10) in race-track circles".
"There were however, a few ways in which the WC track differed from the tracks in the USA. Most noticeable the starting hill had lanes painted on it. The purposes for these lines was to control riders from moving from side to side about the track" (I.BMX.F. rules).
Remark GD: The track was built by "De Nederlandse Heidemij" in cooperation with Ponypark Slagharen and the actual organizer Gerrit Does, representing the Royal Dutch Cycling Federation (K.N.W.U.).
Results: Superclass 20"
1. Clint Miller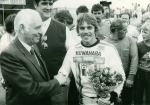 2. Greg Hill
3. Matt Harris
4. Scott Clark
5. Jeff Ruminer
6. Toby Henderson
7. Andy Patterson
8. Anthony Sewell
(all USA riders)
Superclass Cruiser 24"
1. Matt Harris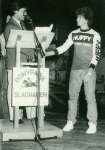 2. Toby Henderson
3. Jef Bottema
4. Scott Clark
(all USA riders)
Super Trophy 20"
Seen here photographer from England, Richard Grant in action during the Pro Throphy race were Greg Hill and Stu Thomsen crashed.
1. Andy Patterson
2. Scott Clark
3. Clint Miller
4. Byron Friday
5. John Piant
6. Stu Thomsen
7. Greg Hill
8. Matt Harris
(all USA riders)

Juniors 16 & Over
1. Phil Hoogendoorn - Holland

2. Franck Roman- France
3. Paul Driessen- Holland
4. Mark Salisbury - England
5. Roel Wet - Holland
6. Fred Waasdorp - Holland
7. Peter van de Voort - Belgium
8. Ian Ruby - England
Experts 16 & Over
1. Gary Ellis - USA
2. Charlie Williams - USA
3. Tim Judge - USA
4. Ken Amen - USA
5. Don Johle - USA
6. Darren Miller - Australia
7. Chris Jenkins - Holland
8. Nelson Channady - USA

Juniors 6 & Under
1. Juan Jabbaz - Chile
2. Julien Lalli - France
3. Simon Lawther - England
4. Hans Altruys - Belgium
5. Fabrice Prunelle - France
6. Paul Meyers - England
7. Frederic de Jasse - Belgium
8. Benoit Bellang - France
Experts 6 & Under
1. Chris rome - Canada
2. Roy v.d. Waardenburg - Holland
3. Patrick Claessens - Holland
4. Michael Ebner - Australia
5. David George Maw - England
6. Scott Baker - England

Juniors 7
1. Louis Maers - England
2. Bart Dalhuysen - Holland
3. Benoit Villet- France
4. Sebastian Contador - Chile
5. Freddie de Vries- Holland
6. Kevin van ter Beek - Holland
7. Rodrigo Garcia- Chile
8. Ulrico Jansen - Holland
Experts 7
1. Cameron Mitchell - Australia
2. John de Lang- Holland
3. Dave Smeets -Belgium
4. Pieter Kinds- Holland
5. Ralph Blewanus- Holland
6. Sven Andries- England
7. Pascal van Rossum- Holland
8. Rene van Zandbeek - Holland

Juniors 8
1. Jeroen van Nuil- Holland
2. Michel Urannie - Holland
3. Raymond Vesterink - Holland
4. Guillaume Dieulle- France
5. Carlos Mularski - Venezuela
6. Dolf Knippels- Holland
7. Leon Eggens - Holland
8. Dennis Hilverink - Holland
Experts 8
1. Gary DeBacker - USA
2. Mark Harris - Australia
3. Pieter Does- Holland
4. Gert Jan Korsten - Holland
5. Rogier Renders - Holland
6. Jason Scott-Webb- England
7. Jeremy Kleppick - USA
8. Danny Nelson -USA
Seen above is the first ever official I.BMX.F. World Championship jersey, presented to all 1983 World Champions during the presentation of awards.
Juniors 9
1. Stefan Welten - Holland
2. Benny Verbeek - Holland
3. Alejandro Vilches - Chile
4. Werner de Geuster - Belgium
5. Willie Formanek- West Germany
6. Matthew Russel - England
7. Alvaro Diaz - Chile
8. Graig Elborough - England
Experts 9
1. Stefan Welten - Holland (check)
2. Jason Christy - USA
3. Maurice Hampsink - Holland
4. Brenton Cooper - Australia
5. Jean Pierre van Hoof - Holland
6. Felipe Ojeda- Chile
7. John Brunner - USA
8. Mike van de Wiel - Holland

Juniors 10
1. Willem Strijker- Holland
2. Dean Bateson- England
3. Bas de Bie - Holland
4. Rocardo Spijkers - Holland
5. Jamie Hunter - England
6. Peter v.d. Heuvel - Holland
7. David Huss - France
8. Hugo Peeters - Holland
Experts 10
1. Andrew Figliomeni- Australia
2. Kevin McDougal - USA
3. Kevin Keller - USA
4. Bradley Wright - Australia
5. Bjorn Hazenberg- Holland
6. Henri Kelders - Holland
7. Darrin Campbell - Australia
8. James Stratton - USA

Juniors 11
1. Ryan Ledebur - Holland
2. Marcel Fleur - Holland
3. Maurtis de Klijn - Holland
4. Olivier Clerici - France
5. Johannes Brinkman - West Germany
6. Mark Leatham - England
7. Remco v.d. Kley -Holland
8. Edward van Heezink - Holland
Experts 11
1. Monte Gray - USA
2. Benjamin Bradley - Australia
3. Jacky Schuyers- Holland
4. Manuel Prospero - France
5. Jan Willem Gottenbos - Holland
6. Dirk van Dijk - Holland
7. Frederica Cassan - France
8. Twan Aarts - Holland

Juniors 12
1. Marcial Rivera - Chile
2. Lee Flavin - England
3. Stephan Braakhekke- Holland
4. Arjan Wolf - Holland
5. Oscar van de Ven - Holland
6. Daniel Jongen - Holland
7. Marc Woodtli - Switzerland
8. Ruy Barbosa - Chile
Experts 12
1. Jason Griggs - USA
2. Danny Lee Farmer- USA
3. Kevin Collins - USA
4. Gerben Dorland - Holland
5. Patrick Manders - Holland
6. Johnny Reybroek - Holland
7. Mark v.d. Steen - Holland
8. Patrick Kelders - Holland
Juniors 13
1. Edwin Lammers- Holland
2. Etienne Kleine - Holland
3. Gert Jan Lucassen - Holland
4. Darren Wood - England
5. Steven Grice - England
6. Harold van Oss - Holland
7. Guido Stokkermans - Holland
8. Mark v.d. Wetering - Holland
Experts 13
1. Craig Bark - USA
2. Steve Veltman- USA
3. Carl Butler- USA
4. Mark Mandigers - Holland
5. Jay Downey- Australia
6. Brian Schofield- USA
7. Marcel Mandigers - Holland
8. Mike Horton - USA

Juniors 14
1. Bas de Bever - Holland
2. Dany Hartwig - Holland
3. Martin Kloppenburg- Holland
4. Ronny v.d. Elzen - Holland
5. Holger Gassdorf- West Germany
6. Paul David Hyre - England
7. Rein Bokslag - Holland
8. Jos Verleg - Holland
Experts 14
1. Rusty Cable - USA
2. Paul Adams - Australia
3. Brian Gass- USA
4. Craig Schofield - England
5. Carlos Swinkels- Holland
6. Marc Leemans - Belgium
7. Rudy Fransman- Holland
8. Marc van der Kort - Holland
Juniors 15
1. Freddy van Breemen- Holland
2. Andre Baltissen - Holland
3. Scott Williams - England
4. Juan de Pablo - Chile
5. Dick Hietbrink - Holland
6. Bouwe Kullman - Holland
7. Gary Sampson- England
Experts 15
1. Mike Salido - USA
2. Jan Hekman - Holland
3. Wouter Schoneveld - Holland
4. Ron House- USA
5. Pierre van Zuylen - Holland
6. Danny Neijs- Holland
7. Lammert Moerman - Holland

Girls 7 & Under
1. Lyndal Ellement - Australia
2. Wendy van Osch- Holland
3. Kim Fidler- Australia
4. Brigitta Zuiderduin- Holland
5. Erica Legrand - France
6. Rachael Jan Maw - England
7. Vivian Russo - Holland
Girls 8-9
1. Corine Dorland - Holland
2. Remke Maaskant - Holland
3. Leandra van Eck - Holland
4. Shalea Ebner - Australia
5. Danielle Ermers - Holland
6. Annette Rijkers - Holland
7. Cecelia Gonzales - Chile
8. Peggy Hurkmans - Holland

Girls 10-11
1. Linda Scheepers - Holland
2. Christine Anderson - USA
3. Erica Verhoeven - Holland
4. Jessie v.d. Waarenburg - Holland
5. Fiona v.d. Heyden - Holland
6. Melanie Gilmour - England
7. Petula Slaats - Holland
8. Diana Koevoets - Holland
Girls 12-13
1. Tracy Kosikowski - Australia
2. Heidi Kelders - Holland
3. Sandra du Maine - Holland
4. Debbie Grabbe - Australia
5. Valerie Huber - France
6. Donna Duffy - England
7. Treja Kingma - Holland
8. Martine van Lievenogen - Holland

Girls 14 & Over
1. Monique Franssen- Holland
2. Anita v.d. Mortel - Holland
3. Melitta Downey - Australia
4. Marianne van Meurs - Holland
5. Veronique Went - Holland
6. Christine Stubber - Australia
7. Wendy Rutherford - USA
8. Angie Scott - USA
Cruisers 18-24
1. Tim Judge - USA
2. Keith Gaynor - USA
3. Ken Amen - USA
4. Freddy Nooyen - Holland
5. Alan Woods - England
6. Ludy v.d. Werff - Holland
7. Tim March - England
8. Darren Miller - Australia

Cruisers 25 & Over
1. Jos Vincent - Holland
2. Edouard Gardier - France
3. Jean Claude Waliko - France
4. Patrick Lamouret- France
5. Geoffrey Barraclough - England
6. Herman Zuiderduin - Holland
7. Craig Kundig - USA
8. Peter van Hoof - Holland
Open class 7 & Under
1. Cameron Mitchell - Australia
2. Ralph Lagas- Holland
3. Louis Mears - England
4. John de Lang - Holland
5. Roy v.d. Waarenburg - Holland
6. Freddie de Vries- Holland
7. Kevin van ter Beek - Holland
8. Bart Dalhuysen- Holland

Open class 8-10
1. Andrew Figliomeni- Australia
2. Andrew Soule- USA
3. Danny Nelson - USA
4. James Stratton - USA
5. Kevin Keller - USA
6. Darrin Campbell - Australia
7. Jean Pierre van Hoof - Holland
8. Willem Strijker - Holland
Open class 11-13
1. Craig Bark - USA
2. Brian Schofield - USA
3. Jason Griggs - USA
4. Marcel Mandigers - Holland
5. Wilco Groenendaal - Holland
6. Bart de Jong - Holland
7. Steve Veltman- USA
8. Carl Butler - USA

Open class 14 & Over
1. D.D. Leone - USA
2. Nelson Channady - USA
3. Glen O'Brien - Australia
4. Paul Adams - Australia
5. Gary Ellis - USA
6. Pete Middleton - England
7. Darrell Young- USA
8. Tim Judge - USA
World Champion SUPERCLASS 20 inch, Clint Miller - USA
I.BMX.F. Team Trophy Award results. The official Factory Team World Championship 1983.
1st. pl. Hutch Team I - 390 points, World Champion
2nd. pl. GT Factory Team II - 386
3rd. pl. Hutch Team II - 350
4th. pl. JMC Team II - 338
5th. pl. JMC Team I - 336
6th. pl. GT Factory Team I - 330
7th. pl. ASCO Holland - 314
" " Kuwahara Australia - 314
9th. pl. Kuwahara Factory II - 308
10th. pl. Raleigh - 286
11th. pl. Kuwahara Factory I - 276
12th. pl. Huffy Racing USA I - 274
13th. pl. Huffy Racing II - 272
14th. pl. Robinson Racing - 242
15th. pl. Skyway Recreation - 230
16th. pl. Bianchi Chile -202

The official National Team World Championship 1983 .
1st. pl. U.S.A - World Champion
2nd. pl. Holland
3rd. pl. Australia
4th. pl. Chile
5th. pl. England
Medal count:
Country Gold Silver Bronze
1. U.S.A. 14 13 11
2. Holland 12 15 15
3. Australia 6 3 3
4. Chile 2 - 1
5. England 1 3 3
6. Canada 1 - -
7. France - 2 2
8. Belgium - - 1
Total 36 36 36
U.S.A. had most wins in the Expert classes, Holland the most gold medals in the novice/junior classes.
Rest of participating countries with NO medals; Colombia, Denmark, Japan, Norway, Spain, Venezuela, West-Germany, Sweden and Switzerland.
Riders arriving by plane from out of Europe were picked up and brought back to the Schiphol Airport - Amsterdam by a special Ponypark Slagharen shuttle. It was still a two hour drive from the airport to Slagharen. Seen here a picture of Greg Hill taken after his pick up by our host. The transportation to Slagharen was a mini bus ofcourse.
More then proud to show you here a picture of my 1983 I.BMX.F. Worlds International OFFICIALS TEAM. Officials from all over Holland as wel as officials from France and Belgium.
Front page of Bicross Magazine (France) with Anthony Sewell doing a no-hander during the Slagharen Worlds Pro demo.
August 22nd., an appreciation letter came in from Englishman Richard Grant.
After the I.BMX.F. World Championships many letters came in from National organisations and individuals thanking "the Worlds organisation" for their fanatastic job they had done organizing this event and in fact promoting BMX as a professional sport. Here an example of one.
August 1983, one of the two BMX magazines in South Arica were presented to the public.
BMXNATIONAL, the publication for the BMX racer, was the first National BMX magazine in South Africa that did see the day of light. Because of the politics around APARTHEID at the time, the SABMXAss. wasn't a member yet of the I.BMX.F - the International BMX Federation, but BMX was developing very well as in other countries in the world at the time. Pitty to say, also in SA there was more then 1 BMX organization actif. President of the SA National BMX Ass. ,Mr. Lance Blom, explains the present situation. Do read the article shown here below:




In this magazine also a Track Directory. At the time there were 30 tracks and around 1500 riders in South Africa. Also an article in this first issue on Andy Ruffell (England). At 17 years old at the time, Andy was promoting BMX and Mongoose bikes in South Africa.

August 12th. Letter received from Mr. Richard Osrin of BMX Action News, South Africas National No.1 BMX newspaper explaining to me,
that he was terribly disappointed not being able to make it to the Worlds in Slagharen - Holland. At that moment, so he told me, the "Race Inc. BMX team" from the USA was in South Africa and there was great excitement among the BMX'ers over there, due to their presents.

August 19th. Receipt of a letter by the B.C.B. (Belgium) from Mr. Albert Dekkers, asking for an affiliation of his organization.
An Associate membership was given. A trial year was negotiated and when having at least 1000 licenses after one year, they could become Full member.
September, BICI CROSS News, changed into Magazine, here there number 1 issue.
This Spanish magazine changed its name, but still was issued by the Amics del Bici Cross in Palau de Plegamans and it's Editor's were Joan Ventura, Miquel Casals, Francesc Macia and Assumpta Ballbé.

September, the Spanish bicycle company "BH"and Mr. Brian Montgomery did promote BMX ánd their products well.


September 1st. I received an extensive letter from the Chairman of the UK.BMX.A. - England, Major Arthur Woods,
expressing his great concern with the present situation in his country. He explained to me there are two organizations in England now, the UK.BMX.A. and the N.BMX.A run by chairman Roger Hammond. For the past few months Arthur has been trying to get both organizations together.

October 5th. An application letter came in from the main cycle club of Luxemburg,
named Velo Sport Esch-sur-Alzette. They also asked for the I.BMX.F. rules and regulations, but had yet to start from the bottom up organizing BMX in Luxemburg.

October 17th. At the I.BMX.F. office a letter come in from FIAC (UCI's amateur leg) signed by Mr. Jekiel - General secretary,
asking us about how the I.BMX.F. felt about a cooperation with FIAC and in which field/way.

October 20th. Letter received from René Nicolas, Directeur Sportif of the A.F.B. (Association Francaise de Bi-Crossing) applying for the 1990 I.BMX.F World Championships.
The A.F.B. did organize the 2nd. round of the Open European Championship in 1983 very well and according to the I.BMX.F. criteria. Around this time the A.F.B. did count around 3.170 license holders (including regional licenses), 123 clubs,together holding 57 official BMX competition tracks. Over 110 events were organized and an official BMX School did see the light of day in the South of France. During the "Le Salon du Cycle" in Paris, BMX was promoted and many manufacturers present had BMX bikes in their stands. December 13th. through 23rd. to come, the "Le Salon de l'Enfants" would be held again at the same location in Paris and probably will draw approx. 200.000 kids. A BMX track was created and demonstrations given. A BMX magazine was now available called "BI-CROSS MAGAZINE": 50.000 copies per issue! For 1984 a National French Team will be created, A Manufacturers Championship will be organized and seminars will be given for track-officials and track-managers. A lot going on in France for sure in those days! Good stuff.

October 25th. As General-secretary, I did answer the FIAC letter of October 17th. written by Mr. Jekiel,
informing FIAC that out of the at present 22 affiliated organizations/countries there were 4 FIAC related organizations, 2 FIM (motorcycle) related organizations and 16 newly formed and independent pure BMX organizations within the I.BMX.F. Our suggested proposal was that UCI, having two legs now, FIAC and FICP, could have 3 legs, I.BMX.F specific for BMX!

October 25th. An official proposal was made by Gerrit Does - Gen.secr. I.BMX.F., to start an International Officials Team, European section.
In this proposal a minimum amount of officials was mentioned and should be active in 1984 at all international scheduled races in Europe! Criteria were mentioned to select officials, such as: No members of board of directors of any National organization could be member of this official team. Candidates must speak at least English, have the age of at least 21 years old and must have experience in the field of organizing BMX events. Up till this day (year 2001) there is no official I.O.T active in Europe.

October. The French BMX Champions 1983 were announced. They were:
Expert 7: Fabrice Prunelle - Club Mours
Expert 8: Michael Kronberger - Club Bruche
Expert 9: Thomas Plissonnier - Club Beaune (Note: Rudy Nicolas, son of Rene Nicolas finished 2nd.)
Expert 10: Philippe Hinault - Club Beaune
Expert 11: Nicolas Schreiner - Club Vandoncourt
Expert 12: Frederic Cassan Apt. - (Note: Other well known names Olivier Imbert (3rd), Xavier Robleda (6th).)
Expert 13: Fabriz Perez - Club Chalon (Note: Other famous name later on, Franck Roman (5th).)
Expert 14: Eric Cassan Apt. - (Note: Other famous name David Kastler (3rd).)
Expert 15: Philippe Leleux - Club Mours (Note: Other famous name Christophe Vico (2nd).)
Expert 16: Luc Koehler - Club Bruche (Note: Other famous name Christophe Delarche (3rd).)

Expert 17+:
1. Claude Vuillemot - Club Chalon
2. Jean-Francoi Lalli - Club Bruche
3. Jean-Luc Ferre - Club Ile de France
4. Xavier Redois - Club Machecoul
5. Gerard Hinault - Club Beaune
6. Pascal Guionnet - Club Altkirch
7. Francis Petersen - Club Altkirch
8. Philippe Nicolas - Club Beaune

November 1983, shown here another issue of BMX Radical Racer out of South-Africa.
Due to the "Apartheid system" at the time in South-Africa, the SA BMX organisation wasn't allowed to become a member of the I.BMX.F. at the time. Only after the "Apartheid" was banned, SA became a full member. Here just some insight on their situation before joining I.BMX.F (later UCI).
November. The 2 Belgium organizations (B.C.B. and V.F.B.F.), agreed to a working together relationship to make BMX stronger in Belgium.

November. During the FIAC congress in Paris in November it appeared that 13 of the 16 countries that responded to the FIAC inquiry (dated 1982!!) pleaded in favor of including the sport of BMX in the FIAC.

November 2nd. As an individual I did find a sponsor to start the MOTOBECANE - MONGOOSE BMX race team.
Available budget then, h.fl.22.000,= not including hardware (bikes and parts) and soft-wear (uniforms). Motobecane Nederland b.v. (Dutch Motobecane importer) acted as main sponsor. Motivation for me to start a BMX team was to help young talented BMX racers with equipment and financial means to reduce the expenses to travel to European I.BMX.F events and being able to pay for professional help in the form of a trainer and such.

November 4th. This year I, Gerrit Does, announced not to be available for re-election as chairman of the KNWU - BMX Committee.
After 5 years of hard pioneer work, it was time for others to continue developing BMX in Holland. I wanted to go back to the basics: organizing events myself and running a BMX team, including taking care of training and coaching riders involved in that team.
The KNWU organized for the first time: "training courses for executives" and the course "Youth BMX Leader" in 1983.
The number of license holders in Holland kept growing to 4581. KNWU - BMX income in 1983 was h.fl. 224.550,= and the expenses of the BMX department were h.fl. 114.400,=. Not bad for a non-profit organization.

November 19th. A fairwell diner was organized for Gerrit Does and his wife (Rest. De Eenhoorn at Woerden).
All KNWU-BMX committee members were present and a special remembrance plate was presented to Gerrit. GD has introduced the BMX sport in Holland and has been promoting BMX up till this day. Since the foundation (SFN) was layed down, solid and functional since the KNWU got involved and they had the means and workpower to develop BMX further more, he decided to withdraw from the BMX Committee and the KNWU Board. In the years to come Gerrit would concentrate on promoting the sport throught TV with the help of a National broadcasting company called AVRO ánd started organising the so called E.C.C. (European Challenge Cup) events at the Slagharen BMX Stadion. His main interest was now with the riders and clubs in Holland. Thet text on the tile says: "The realization of an ideal / dream came true".

November 26/27th. At this date the first "I.BMX.F." competition congress of European affiliated BMX organizations took place.
The initiative was taken by Gerrit Does during the I.BMX.F. Annual Congress held at Slagharen during the Worlds, earlier this year. We all (European countries) agreed then, to have this meeting and discuss racing technical organization and coordination within Europe. The meeting took place in a hotel in Darmstadt - Germany and the B.D.R. was our host. It was agreed upon to call this new committee the "E.C.C." (EuropeanCommittee of Competition).
The first item on which a decision was taken, concerned an International Officials Team. Up till today (year 2001), 17 years later, there is still no international officials team operating.
During this first E.C.C. meeting, it was also decided to have an independent Observer active at all international events scheduled in Europe. The objective was to try to have international events being organized at one and the same level of quality. The observer would make a report on the race he went to and would advice on which points to improve a certain organization (track, racing technical, communication etc.).
Present at this first meeting representative from Spain (Joan Ventura, Josep Casanovas and Brian Montgomery), Norway (Lars Forus), Holland (Henk de Groot and Louis Vrijdag), England (Arthur Woods and mrs. Woods), Italy (Roberto Avogadro and Casati Natali), France (Raymond Imbert and Christine Deconclois), Belgium (Albert Dekkers and Ben Schenkelaars), West-Germany (Wofgang Renner, Heribert Blau and Walter Hupel) and for the first time Switzerland (Franz Hattan and Colette Marx). Not present representatives from Denmark and Finland.
As I.BMX.F representatives were present, René Nicolas (European delegate) and Gerrit Does (General secretary I.BMX.F.) acting as chairman.

December 1st. Letter received from Mr. Renny Roker,
concerning the 1983 ESPN Pro Spectacular Final and the JAG BMX World Championship VI races. The location had changed from Chicago to Los Angeles. Challenging track inside the EQUIDOME was built at the Griffith Park Equestrian Center. Sign-ups on December 26th. as well as qualifiers for the World Championship Freestyle Competition; The ESPN Pro Spectacular Final and World Championship Freestyle Competition would take place on December 27th. and the JAG BMX World Championship would be run on December 28th. 1983.
Due to the fact that since the I.BMX.F. saw the light of day, I.BMX.F. affiliated organizations weren't allowed to send riders to this event, since it was not I.BMX.F. sanctioned, not many foreign riders did participate. Problem was however, that the NBL, affiliated to the I.BMX.F., sanctioned these races. Crazy situation. Early start problems one might call this.

December 5th. Letter from Mr. Alan Rushton (GBR) of the SPORTS PLUS company came in,
explaining about a big indoor to be held at the National Exhibition Center in Birmingham next year and that it would be televised. Sports Plus did contact both British associations and asked not to schedule conflicting dates. Besides the above, Sports Plus also had an agreement with Channel 4 for the preparation of six special BMX programs to be transmitted in the first half of next year. New tracks will be constructed and a major food company (Kellog's) would be sponsoring these events.

December 8th., letter received from Mr. Roger M. Weaver of Sports & Cultural Exchange, Inc.
of Richland, Michigan, USA concerning an exchange of BMX racers between USA and European riders / families.

December 11th. Presentation of Awards of the KNWU - BMX department at the Motel Eindhoven - Holland.

December 15th. I received a FIAC - UCI report by Mr. Galleé on, as he called it, bi-crossing and bi-trial.
UCI at the time had 2 different legs, one called the F.I.C.P. for professional bicycling and one called F.I.A.C. for amateur bicycling (had to do with the Olympics). The F.I.A.C. organization had adopted BMX and Bicycle trials and had appointed Mr. Hector Gallee (President of the Belgium bicycle organization) as committee chairman. With respect, Mr. Gallee did not know BMX at all and was at the time about 70 years old and had some Belgium advisers that hardly could be called objective.
There report was conceived for the purpose of enlightening people on what BMX actually was at world level, so that they became more aware of its positive and negative points. If you read that report, you would be stunned!!! The world for Mr. Gallee was about 5 till 6 European countries. Did not even bother asking about what exactly was going on in the USA, the birthplace of BMX. This report was a big laugh, very defective, facts were wrong etc. One of the conclusions was: BMX is NOT a sport, its a GAME for kids! THAT made me mad!
Incredible how a big organization like F.I.A.C. could make decisions based on such a worthless report. Of course I had to react on this report as I.BMX.F. secretary at the time and did sent an 11 pages counter report, with facts and comments. Because of my straight forward policy and talk, probably they (Mr. Gallee) were not very happy with me as a person.
Within F.I.A.C. at the time (and I think this still is the case within UCI at the moment-1999) you had to be very careful and political on what one says and does not say.
The Gallee report was discussed at the F.I.A.C. meeting held in Zurich - Swizerland ending November of this year and after voting, 13 out of the 16 interested countries within FIAC were in favor of starting a BMX - Commission within F.I.A.C.

December 12th. As general secretary I.BMX.F. I received a confidential letter and report on the problematic situation in Great Britain,
having 2 national organizations, report written by Mr. D.P. Duffield. Mr. Duffield of Halfords tried to explain the situation and informed me about the UKBMX/NBMXA proposed merger by him. He also stated UK.BMX did have approx. 1500 license holders at the time and NBMXA approx. 3000 license holders. The whole idea was to get the NBMXA affiliated to I.BMX.F. if the merge did not go on. We, the I.BMX.F. stayed out of this political situation. At the time, the merge did not succeed.

December 21st. I arranged another trip (10 days) for the BMX Action Free/style trick team to give demonstrations,
during the upcoming bicycle- and motorcycle show in Amsterdam - Holland. After writing back and forward, confirmation received from R.L. Osborn that the BMX Action Freestyle trick team would perform during the R.A.I.-Amsterdam motorcycle and bicycle show in February 1984. Also motorcycle trail demonstrations would be given by the USA, FIM World-Champion, Bernie Schreiber. In between demo's, a group of BMX racers would give a demo BMX racing. Of course we all (RL, Mike Biff, Bernie and myself) did meet in Amsterdam and had diner to talk about our experiences from 1982.

December. At the time former Formula 1 race-car driver Jacques Laffite did have is own range of BMX bikes.
Complete bikes in 12", 16" and 20" wheels as well as trial bikes. Brand name JAQUES LAFITTE. Also the famous brand GITANE produced a French made 20 " BMX competition bike as did MOTOBECANE and PEUGEOT. The AFB (French BMX federation) did have 80 clubs registered with them, In total France did have 10 BMX districts.

December, 1983 UN-World Championships, Burbank, California – USA
Info taken from BMX ACTION dated April 1984, report on the 1983 Worlds, organized by the ROKER Ventures Exclusive Promotion.
"For your viewing pleasure, BMX ACTION presents some photographic highlights of the race billed as the JAG BMX World Championships. In actual fact, the mysterious last-minute change of location of this race from Chicago to Los Angeles, the abrupt withdrawal of the sanction by the NBL, an anemic number of motos (137) at the race and a precious highly successful World Championship race in Holland, sanctioned by the I.BMX.F. (International BMX Federation) would seem to cast doubt on the authenticity of the billing of this event. But, whatever, the facility was excellent, the track was the best and the competition was intense. So get some popcorn, sit back, relax and enjoy the pictures"
End of quote.

A Pro Pro Cruiser
1. Brent Patterson 1. Stu Thompsen
2. Tinker Juarez 2. Rob Fehd
3. Scott Clark 3. Tinker Juarez
4. Eddy King 4. Brent Patterson
5. Greg Grubbs 5. Robbt Rupe
6. Rick Webb

Pro Trophy B Pro
1. Gary Ellis 1. Gary Ellis
2. Nelson Chanady 2. Richard Zagars
3. Harry Leary 3. Tracer Finn


14 & Over Trophy Dash
1. Richie Anderson
Here the final results of all other classes from this event. Note: the above results, as we received them from ROKER VENTURES, promoters of the JAG BMX World Championships. Not al classes are represented for which we apologize.

December 1983, the KNWU (Royal Dutch Cycling federations) issued statics on the development of BMX since its existance. Here the figures:
1978: from 0 to 21 license-holders.
1979: from 21 to 122
1980: from 122 to 750
1981: from 750 to 1.318
1982: from 1.318 to 2.959
1983: from 2.959 to 4.700 license-holders.
End of 1983.
Picture gallery: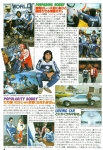 1983 BMX Newspaper from South Africa as well as a drawing of an indoor BMX track at that time.