History of BMX (1994 - 1995)
Year 1994.
January, the I.BMX.F. - Florida, USA
issued an updated Rulebook, since they were working together now with the UCI in Switzerland - Europe. Also a special page with the names of the original founders of which three of them have been awarded a LIFE TIME MEMBERSHIP. George E.Esser, Tadashi Inoue and Gerrit Does. They were the men who took the first initiatif to form an international BMX federation composed of representatives from world wide national BMX organisations. Gerrit Does was the first to start a discussion on this topic in 1979 at the JAG BMX Worlds.
Another change was made on the I.BMX.F logo. The original logo from 1981 was designed by George Esser's son, Brian Esser (also a former BMX racer). The rider in that logo was Pro BMX'er Greg Esser. For copy-right reasons, since I.BMX.F. was working together with the UCI now, a new "rider" in this logo was designed and placed. That's the history behind the I.BMX.F. logo.
January 29th - 30th. I.BMX.F. International Indoor DIJON - France.
January/February 1995. Pick up of GT EURO TEAM materials in Belgium.
Early February we went to Gistel in Belgium to pick up our GT Bicycles team materials at Jan DeJonckheere's workshop (business partner in Belgium of Richard Long at the time). Richard Long had our equipment sent to him, so we could collect it there. Together with Peter van den Wildenberg (Rob's father) we went over there. Part of the shipment stalled in my garden afterwards.
March 5 - 6th., the 10th. International Bicross Indoor de Tours, France. They celebrated their 10th anniversary, organizing this event.
The entree fees were 100 FF till 150 FF per class and spectators had to pay 30 FF for a two day ticket. As usual, on Saturday evening and Sunday afternoon, many outside BMX people from the city of Tours came to watch the fierce racing. In Superclass the follow price money could be won:
1st 3000 FF 7th 600 FF
2nd 2000 FF 8th 500 FF
3rd 1500 FF 9th 250 FF
4th 1000 FF 10th 200 FF
5th 800 FF 11th 150 FF
6th 700 FF 12th 150 F

April 23rd. - 24th., the 2nd. Vredestein EuroCross Doetinchem - Holland, this event also included the European Championship Superclass round 1.
This event was organized for the 2nd. time by "FCC De IJsselcrossers" with Dick Bulten as president. A very well organized event. This event could become the replacement for the ECC - Slagharen, which organization held its last event in 1993.

May 14th. - 15th. International BMX race at Norgent le Roi - France, EC2
May 28th - 29th., International BMX event at Sandnes - Norway, EC3
June 11th - 12th., International BMX event at Schijndel - Holland.
June 18th - 19th., International BMX event at Bispingen - Germany, EC4
July 2nd - 3rd., International BMX event at Tegelen - Holland.

July 16th - 17th., the I.BMX.F. European Championship – Vosendorf, Austria. all classes en final rounds Superclass.
19 countries participated and the total number of entries was 1841. My son Nico Does and I flew over there and we also visited the city of Vienna and the famous Prater amusement park. Report on the event itseld ? No comment, this was the worst organization ever since about 5 years. No promotion for International BMX.
Final standings 1994 European Championship:
Superclass 20"
1. Christophe Leveque (F)
2. Wilco Groenendaal (NL)
3. Dylan Clayton (GB)
4. Dale Holmes (GB)
5. Bas de Bever (NL)
6. Jamie Staff (GB)
7. Pieter Does (NL)
8. Marc Lecossois (F)
9. Laurent Tieche (CH)
10. Ib Soborg (DK)
11. Frederic Le Gall (F)
12. Wolfgang Meyer (D)
13. Yannick Rosset (CH) 1.
Final standings 1994 European Championship:
Superclass 24"
1. Bas de Bever (NL)
2. Dale Holmes (GB)
3. Dylan Clayton (GB)
4. Christophe Leveque (F)
5. Thor Arne Dybdahl (N)
6. Jamie Staff (GB)
7. Laurent Tieche (CH)
8. Ib Sobor (DK)
9. Pieter Does (NL)
10. Frederic Le Gall (F)
11. Wolfgang Meyer (G)
12. Marc Lecossois (F)
Juniors 16:
1. Dan Jensen (DK)
2. Florent Boutte (F)
3. Gerwin Peters (NL)
4. Robert de Wilde (NL)
5. Juan Carlos Becker (G)
6. Boris Savaresse (F)
7. Harm van Brussel (NL)
8. Rene Pallesen (DK)
Junior 17:
1. Bertrand Dufour (F)
2. Michel Joseph (F)
3. Jean C. Tricard (F)
4. Guido Tschugg (G)
5. Dennis Wissink (NL)
6. Claus Rederer (G)
7. Tobias Ahlborg (S)
8. Jean Schafer (G)
Seniors 18 & Over:
1. Denis Olivier (F)
2. Jan Baltzersen (DK)
3. Roy van Leur (NL)
4. Vincent Allie (F)
5. Oliver Kienzle (G)
6. Daniel Herz (A)
Dq. Johan Edman (S)
Dq. Roberts Sprokholt (NL)
Winners in the following classes,
Boys 15: Carmine Falco (F)
Boys 14: Thierry Fouilleul (F)
Boys 13: Sven Nef (CH)
Boys 12: Michal Prokop (CZ)
Ladies 18 & Over:
1. Karien Gubbels (NL)
2. Christelle Le Saout (F)
3. Tina Madsen (DK)
4. Kerstin Munski (G)
5. Bianca Tenniglo (NL)
6. Nicole Webb (GB)
7. Natasha Massop (NL)
8. Corine Dorland (NL)
Junior Ladies:
1. Tanja Pusemann (A)
2. Meta van Spellen (NL)
3. Ann Helen Larsen (N)
4. Joland Oosten (NL)
5. Andrea War (NL)
6. Edilin Recchia (I)
7. Sylvia van de Stay (NL)
8. Ann Caroline Chausson (F)
Junior Ladies 17:
1. Sabine Caballe (F)
2. Mariella Bogers (NL)
3. Saskia Brink (NL)
4. Ludivine Portmann (F)
5. Jana Rapcanova (SK)
6. Wendy van Spierenburg (NL)
7. Claudine Besson (F)
8. Kerri Edgwworth (NL)
Winners in the following classes:
Girls 15 - Ghedy v.d. Aker (NL)
Girls 14 - Femmy Akkerman (NL)
Girls 13 - Ellen Bollanssee (B)
Girls 12 - Sabrine Jonnier (F)
Manufacturer Teams: Points:
1. Sunn-Chipie (F) 290
2. Webco Mentos (NL) 284
3. GPR/Hyper (NL) 264
4. GT Euro Team (NL) 247
5. Van Kuringe (NL) 242
6. Cyclecraft Germany (G) 220
7. Franke Tweewielers (NL) 212
8. Susan's BMX Werkteam (CH) 174

National Teams Points:
1. France 294
2. Holland 282
3. Slovak Republic 264
4. England 262
5. Norway 254
6. Latvia 252
7. Germany 224
July 21st. through August 3rd. the UNIVERSITY of BMX travelled with 57 people to the following events in the USA:
A. Riders took part in the ABA World Cup, Toledo - Ohio, USA, periode July 22 through 24th.
B. From July 29-31st. the 4th. I.BMX.F / FIAC World Championship, Waterford - USA, took place in which they all took part. Since 1982 this was the 13th WC organized.
The University of BMX organized the trip to these worlds for 57 persons. This European team consisted of riders and supporters from Holland, Belgium, Germany, Switzerland, Austria and England.

Group members were:
D. Herz and R. Mitterover from Austria. D. Holmes and J. Staff from England. Family Albert Knill from Switzerland. A. Höpping and his mom, F. Klampferer, family Heupel, G. Meijer and W. Meijer, family Ruckgaber, S. Wohrle, S. Lehman, K. Pfau and G. Fuetsher all from Germany. Family Bollanssee, Guy Geerts, family Wijnants from Belgium. W. Rijk, R. Sprokholt, family Does, family Brink, H. Slager, A. Ringersma, F. Akkerman, family Renders, family Gubbels, family van de Wildenberg, S. Thijssen, P. Thijssen and Bas de Bever. Later on in Waterford also M.v.d. Lievenoogen and A. Verhoeven joint our group. All of them were from Holland.

First stop the ABA World Cup in Toledo - Ohio, USA, July 21st - 25th.
On July 21st. most of the above mentioned groupmembers left from Schiphol Airport in Holland to travel to the USA. From Schiphol - Amsterdam we flew to Washington Dulles International Airport and from there we flew to Detroit. First we went to Toledo to compete in the ABA World Cup. With 7 Chrysler mini-vans, 1 Ford Escort and a Box Van to transport all our luggage and bike-boxes, we arrived at the Holiday Inn Crown Plaza in Toledo, were we had made reservations for 16 rooms. United Airlines was our transporter. The ABA had helped by sending their Box Van as well to help us getting all of our lugguage to the hotel. We had a great time.
As you can see on the next pictures, we had a great time in Toledo. The riders played some pool, in the evening there was a Family Gathering on the banks of the river with life music. Bruce Hornsby was performing there with his band. Next day, again on the banks of the river, there was a historic car exhibition going on which we visited as well.
The ABA World Cup track was an indoor track where part of the track had to be run twice.


July 29th -31st., the 4th. I.BMX.F./F.I.A.C. BMX World Championships at Waterford - USA.
In Waterford we stayed in the Courtyard by Marriott, about half a mile from the famous Silverdome, were in the '80s the 10th. anniversary of BMX in the USA was celebrated. Louis Vrijdag and myself have been present at that celebration in 1981. So, after 13 years we were back in Silverdome. We drove from Toledo to Waterford in our 9 rental cars and arrived safe and sound at our hotel, the Courtyard by Marriott. Around 50 persons stayed in our hotel and the others had made reservations a little bit closer to the worlds track.
Gerrit Does also had a meeting with the UCI BMX Commission Members to talk about his ideas and survey on "The New Concept" a plan to bring the sport of Bicycle Moto Cross to a higher level. Finally the UCI would implement the new concept in their plans for a so-called World Cup Series of BMX. In October of this year the plans were made public. To bring the "New Concept" under the attention from USA PRO's, Gerrit Does did have a meeting with the Pro's as well during this worlds, explaining the goals and targets of the plan.
Story: the days before the actual World Championships got underway, part of our University of BMX group did train in the parking lot of the Silverdome. It was in 1981 that Nico and Gerrit Does were present at the International BMX races that took place at the Silverdome in Pontiac. So after 13 years the Does family was back again. Our bicycles were transported in an XL Van as you can see on the picture below.
In front of the Silverdome, traininggroup from left to right: Pieter Does, Dorus Brink, Karien Gubbels, P. Renders, Ellen Bollansee, Linda v.d. Wildenberg, Robert Sprokholt, S. Renders, Björn Wynants, Wendy van Spierenburg, Rob v.d. Wildenberg, Peter Thyssen en Nico Does. By the way, Pieter Does had his birthday during these Worlds, so we all did put a party together. This was great fun.
The World Championships:
The I.BMX.F./FIAC World Championships accomodation. Here an overview of the actual BMX track. The Odyssey/Redline I.BMX.F / FIAC World Championship of BMX included 1828 entries from 35 countries, all competing for just 36 world titles. Oakland County Parks & Recrreation/Waterford Oaks BMX had more than $ 10,000 worth of landscaping (trees, flowers, waterfall ....) done to the track, which made the track seem more like a golf course than a BMX track. But it realy looked great.
Waterford Oaks added thousands of seats worth of bleachers, three electric message boards, two large stages, a stream with a waterfall, a replica of the Statue of Liberty and more.The opening ceremony even featured skydivers who landed on the track and the closing ceremony ended with fireworks. REDLINE (who shared the title sponsorship with Odyssey) handed out more than 2,000 pins, 500 key chains, 3,000 stickers, 2,000 posters and even a complete Proline bicycle. The vendors were in heaven. From Tuesday through Sunday every vendor had non-stop customers under their tent. The visiting foreign riders were being given all sorts of deals and went home with their bags filled. Very special was the professional moveble medical unit were riders were treated very well.
Part of the Opening Ceremony was a Parade of Nations and Indians were part of the opening ceremony itself.
World Championship racing results:
Superclass 20":
1. Danny Nelson (US)
2. Matt Hadan (US)
3. Wilco Groenendaal (NL)
4. Wade Bootes (AU)
5. Dale Holmes (GB)
6. Jamie Staff (GB)
7. Jason Richardson (US)
8. Anthony Waye (AU)
Superclass 24":
1. Jason Richardson (US)
2. Jamie Staff (GB)
3. Dale Holmes (GB)
4. Wade Bootes (AU)
5. Kiyomi Waller (US)
6. Bas de Bever (NL)
7. Dylan Clayton (GB)
8. Christophe Leveque (F)
Ladies 18+:
1. Corine Dorland (NL)
2. Karien Gubbels (NL)
3. Tina Madsen (DK)
4. Manuela Hauselmann (CH)
5. Melanie Cline (US)
6. Michelle Cairns (US)
7. Natasha Massop (NL)
8. Marie Mcgilvary (US)

Junior Ladies 17:
1. Cindy Davis (US)
2. Tanya Burrows (AU)
3. Tammy Balazs (US)
4. Tara Llanes (US)
5. Sabine Caballe (F)
6. Edilin Recchia (I)
7. Kimberly Bozart (US)
8. Jolanda Oosten (NL)

Seniors 18+:
1. Jean C. Tricard (F)
2. Robert Sprokholt (NL)
3. Timothy Strelecki (US)
4. Tim Merkel (US)
5. Roy van Leur (NL)
6. Greg Romero (US)
7. Daniel Sprague (AU)
8. Alex Eddington (NZ)

Juniors 17:
1. In Hee Lee (US)
2. Kamahl Lord (AU)
3. Robert de Wilde (NL)
4. Gerson R. Krindges (BR)
5. Florent Poussin (F)
6. Nicolas Grevet (F)
7. Alex Vegara (US)
8. Robbie Miranda (US)
Cruisers 16/17:
1. In Hee Lee (USA)
2. Alexis Vegara (USA)
3. Randy Stumpfhauser (USA)
4. Jacquel Gonzales (Ven)
5. Chris Breen (USA)
6. Gerwin Peters (NL)
7. Joaquin Ramolfo (Chi)
8. Miguel Yrizar (Mex)
Cruisers 18/14:
1. Thomas Allier (F)
2. Corky Gainsford (USA)
3. Timothy Strelecki (USA)
4. Larry Miersch (USA)
5. Alex Eddington (Nzl)
6. Justin Loffredo (F)
7. J. Christophe Tricard (F)
8. Mark van Leur (NL)
Girls 7 y.o.: Girls 8 y.o.:
1. Brandi Lynn Harrison USA 1. Ashley Recklau USA
2. Ashley Wilson USA 2. Charlotte Nimod FRA
3. Taylo Gilfoy USA 3. Katrina King USA
4. Aurimar Marchena VEN 4. Samantha Cools CAN
5. Lyvia Tharin SWI 5. Gail Bostrom USA
6. Rachel Smith USA 6. Paola Lozano ARG
7. Stephenie Park USA 7. Marie Racine CAN
8. Jessica Paynter USA 8. Amada Amon USA

Girls 9 y.o. Girls 10 y.o.
1. Nicole Cabrera USA 1. Casey Harrington USA
2. Nicole Goudey USA 2. Jana Horakova CZE
3. Ludivine Lebailly FRA 3. Laura Bostrom USA
4. Aurore Bihannic FRA 4. Tiffany Harris CAN
5. Jacqueline Lebel CAN 5. Angelines Nicoletta CHI
6. Erika King COL 6. Sarah Wilson USA
7. Lindsay Wolff BEL 7. Analia Diaz ARG

Girls 11 y.o. Girls 12 y.o.
1. Bleonora Carames ARG 1. Heather Bruns USA
2. Cristina L. Krindg BRA 2. Elodie Ajinca FRA
3. Jamie Lilly USA 3. Jessica Bredeson USA
4. Michelle Travis USA 4. Miranda Stark USA
5. Silvana Jacome ECU 5. Amanda Sullivan USA
6. April Honaker USA 6. Sabrina Jonnier FRA
7. Desiree Samson USA 7. Romina Carames ARG
8. Meghan Jarvis CAN 8. Kimberly Hayden USA

Girls 13 y.o. Girls 14 y.o.
1. Maria Diaz ARG 1. Nikki Gaines USA
2. Marisol Corujo ARG 2. Kelly Thursby AUS
3. Hannah Chrzanowski AUS 3. Audrey Pichol FRA
4. Rianne Busschers HOL 4. Femmy Akkerman HOL
5. Shevona McKenzie USA 5. Annelies Alferink HOL
6. Nataly Gonzalez VEN 6. Ana Flavia Riberio BRA
7. Anne Rougie FRA 7. Alisha Maltezos USA
8. Julie/Anne Codega AUS 8. Ellen Bollansee BEL

Girls 15 y.o. Girls 16 y.o.
1. Rchael Marshall AUS 1. Judith Meza CHI
2. Liliana Rodriquez CHI 2. Madonna Scott AUS
3. Ghedy van den Aker HOL 3. Shawnda Shaughnessy USA
4. Virginia Lingham USA 4. Casey Haar USA
5. Sheila Songcuan USA 5. Heather Orkfritz USA
6. Susanne Beijer SWE 6. Monica Kelly USA
7. Karine Chambonneau FRA 7. Sabina Schoenmakers HOL
8. Erin Diaz USA 8. Jaquelina Panza ARG
Boys 6 y.o. Boys 7 y.o.
1. Enrique Genova CHI 1. Dwight Tardy USA
2. Daniel Barcelles USA 2. Andres Jimenez COL
3. Shane Magee USA 3. Cody Rowland USA
4. Luis Miguel Vasquez COL 4. Otis Ratliff USA
5. Jesse Heilman USA 5. Danny Courtney USA
6. Diego Carvallo Ren BOL 6. Christopher Silva USA
7. Felipe Angel COL 7. Carlos Varela COL
8. Patrick Lebel CAN 8. Justin Nickoli USA

Boys 8 y.o. Boys 9 y.o.
1. Markus Heiman USA 1. Santiago Duque COL
2. Joshua McDaniel USA 2. Carlos Isaza COL
3. Brandon Christianson USA 3. Rodrigo Rueda COL
4. John Oberg USA 4. Carlos Brambilla ARG
5. Fabian Hernandez COL 5. Michael Oxley USA
6. Leandro Rodicio ARG 6. Laurence Mapp GBR
7. Troy Simek USA 7. Manuel Lopez ARG
8. Zdenek Stybar CZE 8. Jakub Skrejpek CZE
Boys 10 y.o. Boys 11 y.o.
1. David Amon USA 1. Vladislav Khas CZE
2. Michael Hannah AUS 2. Michael Robinson AUS
3. Agustin Podesta ARG 3. Chad Canfield USA
4. Ben Neilson AUS 4. Jaine A. Jaramillo COL
5. Jean Baptist Demesy FRA 5. Josh Pike USA
6. Kyle Johnston CAN 6. Nicolas Jaramillo COL
7. Garreth Rosh USA 7. Jack Kilburn USA
8. Kyle Camyre USA 8. Romain Lottin FRA

Boys 12 y.o. Boys 13 y.o.
1. Medhi Remili FRA 1. Larry Cambra USA
2. Girts Jonkus LAT 2. Gary Houseman USA
3. Aaron Parr USA 3. George Andrews USA
4. Heath Downie AUS 4. Emmanuel Luchetti ARG
5. Carlos Manuel Rivera COL 5. Brandon Meadows USA
6. Santiago Silva COL 6. Mickael Deldyke FRA
7. Chad Hernaez USA 7. steve Harrold USA
8. Mauricio Cruz COL 8. Jose/Roberto Reyes ARU

Boys 14 y.o. Boys 15 y.o.
1. Glenn Codega AUS 1. Ryan James USA
2. Kevin Dougherty USA 2. Dorus Brink HOL
3. Mark Hildebrand USA 3. Mike Strechansky USA
4. Shea West USA 4. Scott Stanley AUS
5. Jason Johnson USA 5. Michiel Wientjes HOL
6. Sean Matteson USA 6. Juan Galvis COL
7. Cedric Sztelma FRA 7. Kevin Royal USA
8. Sebastian Tejada COL 8. Maximilian Maronna ARG

Boys 16 y.o.
1. Andy Contez USA
2. Gregory Kitchin AUS
3. Miles Davis USA
4. Justin Wheat USA
5. Chris Acaccia USA
6. Jacguel Gonzalez VEN
7. Benoit Bellang FRA
8, Joey Garcia USA
Cruiser 13 and under Cruiser 14-15 y.o.
1. Larry Cambra USA 1. Scott Stanley AUS
2. Gary Houseman USA 2. Thierry Fouilleul FRA
3. George Andrews USA 3. Kevin Royal USA
4. Mickael Deldycke FRA 4. Scott Burston ENG
5. Hayden Moore NWZ 5. Robert Steinhoff USA
6. Chad Hernaez USA 6. Mike Strechansky USA
7. Brandon Meadows USA 7. Dorus Brink HOL
8. ? 8. Michiel Wientjes HOL

Cruisers 25 - 29 y.o. Cruisers 30 -34 y.o.
1. Jorg de Louw HOL 1. Dugan Neil USA
2. Arjan v.d. Groenendaal HOL 2. Mark Browning USA
3. Bill Madden USA 3. Terry Shupe USA
4. Christophe Boul FRA 4. Fred Nieuwenhuizen HOL
5. Jeff Tapscott USA 5. Paul Munns USA
6. Jeremy Hayes GBR 6. German Diaz COL
7. Andy Caswell CAN 7. Juan Carlos Carbo COL
8. Philippe Charvet FRA 8. Mark Smith USA

Cruisers 35 - 39 y.o. Cruisers 40 - 44 y.o.
1. Randy Haislet USA 1. Gerard Soucaze FRA
2. David Scofield USA 2. Rene Claude Jan FRA
3. John Paige USA 3. Samuel Cooper USA
4. Robert Warren USA 4. Michael Robinson USA
5. Wayne Means USA 5. Gregory Garred AUS
6. Rich Long USA 6. Terry Shaughnessy USA
7. Dan Butler USA 7. Hank Geis USA
8. Mark Hopkins USA 8. Geoff Oconnor AUS

Cruisers 45 & over
1. Alain Robin FRA
2. Jan Willemsen HOL
3. Everett Rosecrans USA
4. Bob Isgrigg USA
5. Snowy Smith SAF
6. Jerry McClure USA
7. Rafael Gonzalez VEN
8. Olle Ahlborg SWE
World Championships factory teams:
1. GT Europe - TM Gerrit Does 372 points

2. GT USA - TM Bill Nelson 342 points
3. Powerlite - TM Big "E" 321 points
4. Robinson - USA 319 points
5. Auburn - USA 313 points
6. Manzana Postobon- COL 308 points
7. Pro cycles - USA 306 points
8. Wilk World Force - USA 302 points
9. Pony Malta-Aviance - COL 296 points
10. Sunn-Chipie - F 292 points
11. GPR/Hyper - NL 289 points
12. Lowey Axle - USA 274 points
13. MCS - USA 263 points
14. Team Hyper - USA 235 points
15. Webco Mentos - NL 233 points
16. Kids Plus Racing - Ven 229 points
ON the picture below the team Euro GT entry form and next picture with the numbers 1 through 3 result World Championship factory teams, fltr, Gerrit Does - GT Euro team first place, Bill Nelson - GT USA second place and Big "E" - Team Powerlite on third place.
Remark GD:
For the first time ever, a GT - USA sponsored all European BMX Team did win the World Championship Manufacturer Teams. Me as Team-manager, I was really, really proud to win this prestigious title here in Waterford - USA. No other foreign factory team had done this before and probably will not for the near future. The winning GT - EUROPE BMX team had the following members:
Corine Dorland (Holland) - Dale Holmes (England) - Robert Sprokholt (Holland) - Vladislav Khas (Czech Republic, r.i.p.) - Nicolas Grevet (France) and Gundars Osis (Latvia).
National Teams:
1. U.S.A. 372 points
2. Colombia 319
3. Australia 307
4. France 290
5. Chile 288
6. Venezuela 260
7. Argentina 251
8. South Africa 188
Medal count of in total 36 classes.
Country Gold Silver Bronze
1. USA 20 12 26
2. France 5 4 2
3. Australia 3 7 1
4. Holland 2 5 3
5. Argentina 2 1 1
6. Chile 2 1 -
7. Colombia 1 2 1
8. Czechoslovakia 1 1 -
9. England - 1 1
10. Latvia - 1 -
11. Brazil - 1 -
12. Denmark - - 1

In 36 Classes: 36 36 36

August 20th - 21st. The I.BMX.F. European Club Championship - Veszprem, Hungary, took place.
Results:
1. Praha Repy A - Prague, CZE
2. FCV D'n Urste III - Schijndel, NED
3. Elan Pertzalka - Bratislava, SVK
4. Juventa - Bratislava, SVK
5. Talava I - Valmiera, LAT
6. BMX Sumperk - Sumperk, CZE
7. Soproni Autoklub II - Sopron, HUN
8. BMX Verona I - Verona, ITA
9. Team Baierdorf I - Baierdorf , AUS
10. "Mi-Ku" I - Latvia, LAT

August 27th - 28th. International BMX Blumenstein - Switzerland.
This race in Blumenstein was organized for the fourth (4th) time and sponsored by Mentos (Mr. Albert Knill being the promoter behind this event).

September 24th - 26th. Gerrit Does first visit to Riga in Latvia.
Traveled by plane from Amsterdam - Copenhagen to Riga and back. I was picked up from the airport by my friend Janis Silins and we went to a BMX race, were we just were in time to see the main events. The next day I met with Mr. Aldons Vrublevskis, secretary of the Latvian Olympic Committee and President of the L.BMX.F. We had diner together and Aldons showed me around in Riga the next day. We also visited the Olympic Committee office in Riga. Together with my Janis Silins the next day we traveled all over Latvia and learned a lot about the history. Latvia is a fantastic country and I enjoyed this visit very much indeed.
*** div. foto's LATVIA

October 30th. After several meetings at the UCI office in Lausanne - Switzerland, the World Cup Series concept was completed.
Jeroen Vrijdag, working for the UCI at the time was appointed Coordinator, Gerrit Does the UCI Project Manager and Louis Vrijdag as President of the UCI - BMX Commission, the responsible UCI official overall. Gerrit Does advised to start a regular communication with the UCI affiliated BMX organizations, BMX Magazines, Manufacturers, selected International BMX racers, Organizers, UCI BMX Commission members and others.
Details were discussed about the execution of the World Cup events, talks about the financing and speciale the marketing technical aspects and promotion of the Wowrld Cup Serie.
October 30th., the first (of many) so-called "info bulletin" was sent to all those mentioned above, on a world-wide scale:
" Dear friends in BMX,
Since information and communication is essential for good understanding and general development, through this letter and from now on, I would like to start informing you all step by step on the development of a new UCI project within the BMX section. After several years of talking, writing letters etc. by me on a personal base, about the subject of necessary changes in the concept of our sport, Bicycle Moto Cross , known as BMX, not only the UCI BMX Commission Members but also most of the UCI affiliated countries involved in BMX, start to realize that changes are necessary in order to develop our sport and to reach for a higher level (not only competition wise, but specially organization/ marketing and promotion wise).
The BMX Commission Members invited me to have a talk with them during the 1994 UCI World BMX Championship in Waterford, Michigan, U.S.A., about my 1993 survey called "The New Concept". As a result of this very positive meeting, I was asked by Hein Verbruggen and now also the UCI BMX Commission to set up a so-called "UCI BMX World Cup Series", and I was appointed as the project manager of this Series. Being one of the founders and life-members of the International BMX Federation (I.BMX.F.), currently working close together with the Union Cycliste Internationale (UCI), and still being heavily involved in this sport, I said "YES".
Therefore through this informative letter I would like to present myself, explain what the new concept is all about and give you all our time planning to realize the project. I hope to be able to motivate and stimulate you ALL, to actually participate in supporting the efforts WE are going to make. For more detailed background information on the project, please do read further on in this info bulletin.
The official title given to me by the UCI BMX Commission was: "Project Manager of the UCI BMX World Cup Series". The mandate given to me simply is: prepare and organize a BMX World Cup Series, to be started officially from 1996 and try to realize one or two test runs in 1995 ! An open and free mandate was given to me, and as a starting point my survey called "The New Concept" should be used.

MAIN GOALS.

Make BMX a media friendly sport as well as a spectator friendly sport, especially for the uninitiated, the outside world, the people who are not directly involved in BMX. This means that the sport should be easy to understand for the outside public (e.g. not over 30 classes, not over 2.000 participants or more in a race) and the racing schedule shouldn't be too time consuming (a racing schedule from 08.00 a.m. until 06.00 p.m. is much too long for outside BMX people). In this sense comparisons should be made with other adult sports, like soccer, etc. In general ..............simple = beautiful !

Make BMX a more spectator oriented sport.
We are talking the uninitiated spectator here, the outside people. If we want BMX to develop in general and on all levels, we must learn from other sports which have been around for many, many years. The best comparison can be made with motorcycle motocross, stadium motocross and Super Cross. Spectators visit these events in big numbers. They can sit down and relax, all facilities at hand and one can overlook the whole track. The spectacle is fantastic, one can enjoy big jumps and fierce competition, in short: show time! Racing only takes from approximately 01.00 - 05.00 p.m. and then people go home. Service for the spectators, show and spectacular racing, interviews with riders and good intermediate shows, make these events first class happenings. This could also be done within BMX! There are e.g. no over 2.000 motocross riders participating in a Super Cross or stadium motocross event. It's quality and not quantity that counts in these cases !
Make BMX an adult sport!
This verdict will decide on BMX becoming a real and accepted sport or that it will remain a "children's sport" forever. BMX is and always has been absolute top sport. On international level (about 40+ countries involved) riders from many different countries compete against each other. Because of the "children's" like image, partly due to the type of bikes being used, especially the media but also the outside people look upon our great sport as a "children's sport". Presentation is very important here, but we also should take more advantage of the fact that former and present top BMX racers currently are top cyclists in the disciplines of road racing, ATB/MTB cross-country riding / downhill and slalom racing.
Also some former BMX racers made the top in motocross and even car-racing (F-1). As a matter of fact, currently a lot of the 16 year and over BMX racers do ride ATB/MTB downhill and dual slalom in combination with BMX.
We can give BMX more of an adult image by using mountain bikes in our sport. All terrain bikes/mountain bikes are included in "The New Concept". Hopefully, this will open the eyes of the media, that BMX is not a children's sport, but an adult sport, only on smaller (and therefore more difficult to handle and ride) bikes. A BMX racer can ride a mountain bike good and fast, but .... will a mountain biker, who doesn't have a BMX background, be able to race a BMX bike on a BMX track just as well? Absolutely NOT, BMX racing requires a lot of co-ordination, power etc. It would be nice to show to the world the differences! Again, the addition of ATB/MTB to the overall new concept will attract more outside people. Besides, BMX deserves respect as an adult sport and then it will grow absolutely fast.
Make BMX a popular sport!
What BMX needs are heroes. Not just within our own world of BMX, but also the outside world must learn to know our BMX heroes. Any adult sport needs heroes. Just look at Formula One racing, the Tour de France etc. That's the direction in which BMX should move as well. But most essential besides all of the above-mentioned is national and especially international television. THE WAY TO REALIZE ALL OF THIS. First of all I should tell you, that the UCI BMX World Cup Series will be an addition to what we already have within the sport of BMX. Nothing will be taken away from our sport. For the time being, the current way of organizing BMX races, the various classes etc. will remain. It is envisaged though, that at future World BMX Championships the number of classes in which titles can be won, will be reduced/limited. This again is to give a more adult image to the sport, in comparison with other sports.
For the time being, the current concept and organization of the World BMX Championship will be maintained, making it a sports happening especially for the "inside BMX people", and payable for the organizers. Again, as an addition and on top of what we already have, the UCI BMX World Cup Series will be organized especially to market and to promote our sport of BMX. Hopefully, by making BMX more popular that way, the number of licensees (young and old !!!) per country and per national organization will increase worldwide !
Television coverage.
As has been mentioned before, in order to market BMX well, television coverage is an absolute must. At this very moment a marketing plan is being made and will be presented to the media. This plan explains our goals and informs the media about the way the UCI BMX World Cup Series will be organized and run. When possible television coverage is realized, potential sponsors will be interested. The next step will be approaching these potential sponsors and getting them "on board". The following step will be to find and select capable organizers/promoters, at first in Europe and the U.S.A. In the future other continents and parts of the world capable of organizing such events will also be asked to help and organize the BMX World Cup Series.
Cummunications. Another absolute must is good communication and understanding, as well as a "working together relationship" with:
- Federations and organizers/promoters;
- The industry, not only the BMX industry but the "outside" industry as well (sponsors !);
- Cycling magazines in general and BMX plus ATB/MTB orientated magazine in particular;
- The international riders concerned.
When starting a project like this, information and communication is essential for good understanding and motivation, as well as for success of the whole project !
MORE DETAILED INFORMATION ON THE UCI BMX WORLD CUP SERIES.
With the following I would like to update you and outline how the concept of the UCI BMX World Cup Series will look, in order to motivate you all and to make you enthusiastic about it, .... hopefully. As mentioned before, the BMX World Cup Series must be easy to understand by the outside people (simple = beautiful). Racing must be fast, spectacular (with as little danger/risk involved as possible), should present a good show and shouldn't take too long (e.g. from 01.00 p.m. - 05.00 p.m. on the Sunday, main program, this again to keep the interest of the outside people). The goal should be: it's the quality of the riders that counts, not the quantity! We must create heroes (through international television broadcasts). All facilities must be professional !

Racing classes
There will be the following classes only to race in the UCI BMX World Cup Series:
Age Group Class Type of Bike
Male juniors, age 16-18 Junior Men BMX 20"
Male seniors, age 19+ Pro-Elite Class BMX 20"

Female juniors, age 16-18 Junior Ladies BMX 20"
Female seniors, age 19+ Senior Ladies BMX 20"

Male seniors, age 19+ Pro-Elite class ATB/MTB
To start with, there will be a total of 5 classes and therefore 5 BMX World Cup winners (current number of classes at World BMX Championships: 37 !!).
Entries.
The number of riders being allowed to participate in the UCI BMX World Cup Series will be limited. It must become an honor to be allowed to race in these events. There will be a transitional period from 1995 - 1997. A maximum of 80 riders per class will be allowed to enter. In practice this means a maximum total of 5 classes x 80 riders = 400 riders. The countries involved will be asked to select and to send their top riders only.
For European Pro-Elite riders there is a special condition that those riders wanting to be considered for participating in the BMX World Cup Series, must be in the top 30 of the final overall standings of the European Superclass Championship in that particular year.
From 1998, after 2-3 years of experience with the BMX World Cup Series, only the very best will be allowed to participate. Then, national organizations will be allowed to select riders from the top three of their National Championship standings only. In that way a national team includes a maximum of 15 riders. Depending on the total of countries involved in BMX and participating in this Series, the selection of riders can even be limited to two riders per class or even the National Champions only !
BMX stadium and track.
Organizers/promoters must meet special criteria in order to be considered to run an event for the UCI BMX World Cup Series. Further details will be given to the individual organizers/promoters who will be contacted by us. The track will be designed in such a way that it appeals to the capabilities and technical skills of the 16 years and over male and female riders. In practice this means: technical, fast, spectacular, but still as safe as possible. The track should also be suitable for all terrain bikes/mountain bikes! Concerning this subject you will read more further on in this info bulletin.
Note: one of the current problems concerning building BMX tracks is, that the track should be suitable for e.g. 5 years old riders as well as for 50 years old riders. This must change with regard to the concept and design of BMX World Cup tracks.
The BMX World Cup Series organization will dress the track ! Our own organization will arrive on the spot with materials required to dress the track in a professional way, by means of banners, flags, professional sponsor boarding, etc. The BMX Stadium should have a capacity of a minimum of 3.000 seats. Grandstands are a must (the BMX World Cup Series organization will provide grand stands or will give financial support). The above is to give you all some idea. Further details will follow later.
The starting gate must be of high quality, with a "false start" installation included! In this way it can be shown on television which rider is making a false start (this is part of what we call "spectator/viewer orientated"). We will provide potential BMX World Cup organizers/promoters with the above equipment.
A computerized system will work up the results per moto. This will be done automatically by a transponder module, attached to the bike. After a race has finished, the result will be worked up in the computer, shown on a large display and even the lap time will be mentioned. This again is what we call media friendly, special technical connections will make it possible to show result (name, team, country) and lap time on TV screens also. This all will help and make BMX more exiting to watch when shown on television. Look at speed-skating e.g. What makes it interesting and exiting to see two men or women skate on ice, completing lap after lap? TIME DISPLAY for the spectators on a scoring board and on the TV screens. The lap time will also be part of our new qualification system, especially prominent in eigth finals, quarters and semi-finals. Further details will be included in the UCI BMX World Cup Series reglimentation.
On the track there will be well trained UCI BMX WORLD CUP officials. There won't be one specific chief referee making calls. Each track official will act as an independent referee and will make calls independently. Protests won't be possible, calls will be made immediately and on the spot. When e.g. a rider has T-boned another rider, the rider concerned will be disqualified and he will learn this right after he has crossed the finish line, and so will the spectator present. The penalizing track official will make the call directly through the P.A. system.
Racing rules will be as simple as possible. There will be 5 to 7 professional referees on the track, preferable former BMX racers with international experience. As has been mentioned before, each official should take care of his own "section" of the track and there will be no protests allowed! BMX is a contact sport. By means of clear rules and riders' instruction it will be communicated what is allowed and what isn't ! Riders meetings will return. To visualize calls by the track officials, one thinks of using yellow and red cards, to be shown to a rider after an offence. In this way also the audience knows which rider is penalized by a warning or disqualification. This again will make BMX more understandable and transparent for the outside BMX people, the target group we would like to reach by means of the BMX World Cup Series.
Get rid of the "Trophy habit",
Only top three finishers in each class will receive a trophy. In this way we also want to set an example for the regular international BMX races (where all 8 finalists receive trophies, a very expensive item for organizers), with respect trying to get rid of the so-called "trophy habit". It should become an honor to race and to finish with in the top 8 in any final! The trophies awarded should not be the motivation to race well, the honor should be the motivation. Therefore, like in most other sports (Olympics etc.) we would only like to honor number 1, 2 and 3 with trophies. The money saved by doing so, can much better be spent on giving our sport a more professional image by using lap time registration, results displays etc. Currently, big national and international BMX races spend between 5,000.00 and 20,000.00 American dollars on trophies ! All of this goes for the mentioned World Cup classes.
National team and manufacturer team trophy competition will be an important part of the UCI BMX World Cup Series. A national team competition will motivate television viewers from each country to support their national team. After having seen a BMX World Cup television program, viewers from a particular country will surely watch the next show to see how their national team is doing. The same effect occurred during the Dutch national "AVRO TV BMX series" in the early eighties, when a system with provincial teams was applied. In a big way this is the same principle used in soccer at continental and world level.
Riders competing in the UCI BMX World Cup Series must be easy recognizable for the viewers. Riders' uniforms must show clearly to the audience for which country a rider competes. On the other hand, the typical BMX look should be maintained as much as possible (details later).
All terrain bike/Mountainbike - Pro-Elite class.
As you may know, ATB/MTB has gained a lot of recognition from the inside BMX people as well as from the outside people. Many current BMX racers, but also former BMX racers, have added ATB/MTB racing to their activities. Especially downhill and dual slalom racing seems to be perfect for BMX racers. Several well-known BMX riders have won downhill and slalom competitions in the past few years. Even downhill world titles have been won by them (Mike King-USA; Anne-Caroline Chausson and others).

Also ATB/MTB magazines speak highly of the above mentioned riders in their articles, and it seems to be that they are respected now as adult sportsmen and women! So, when these riders race their BMX bike, one says they are involved in a children's sport? When the same riders win downhill races, they are considered as adult sportsmen, committing an adult sport! Only difference ........., the bike !
I think we must take advantage of the fact that our best BMX riders are doing so well in mountain biking. We should make use of them being famous, in order to attract and interest ATB/MTB and road racing people, outside people etc. In this way the attention of those people could be drawn to our new concept of BMX racing and the BMX World Cup Series. The same policy could be applied in approaching the press (newspapers and magazines). Last year I went to Germany to watch an indoor mountain bike race. This was in 1993. But in 1979, when going to the USA with a group of Dutch BMX racers for the first time, in order to compete in the JAG BMX World Championships, we already raced that kind of races indoor! How come that the mountain bike scene is inventing this kind of racing all over again, while we, the people from the BMX scene, have the experience and know-how. (Bercy-Paris, France; Rijnhal-Arnhem, Ahoy-Rotterdam in Holland; Frieland Hallen - Leeuwarden, Holland; Indoor de Tours, France; indoor de Dijon, France etc.)
All of the above gave me the idea to include mountain bikes instead of 24" BMX cruiser bikes in the BMX World Cup Series, but in PRO-ELITE class only. Through the media we can show the same kind of BMX/mountain bike races, and hopefully this will give BMX the adult image that it needs (using ATB/MTB bikes). Promotion wise we are in a position now to make use of the well-known names in downhill and slalom mountain biking (BMX racers), not only to attract lots of outside people, but also to interest television people for our new concept. We can already guarantee ATB/MTB heroes, but we have to make our BMX riders heroes as well !.
Awards and prizes.
Details have to be worked on yet, but the total budget for prize money will be substantial, especially for the Pro-Elite Class. Most probably first 16 per class in every race will receive money. There are several additional possibilities, but probably there will be an overall prize like a car or motor cycle (sponsored) for the winner of the series in Pro-Elite Class.
Demonstrations.
Besides by BMX and ATB/MTB, the audience will be entertained through spectacular demo's in the field of: Freestyle (BMX + ATB/MTB), Bicycle Trial and a BMX King of Dirt competition.

Racing time schedule.
Saturday
12.00 noon - 06.00 p.m. Registration, practice.
Sunday
08.30 a.m. - 12.00 noon Warming up and Motos. In order to attract spectators to the event, promotion and PR will especially be focused on the main program from 12.30 p.m. on !

01.00 p.m. - Official opening ceremony.
01.30 p.m. - 04.30 p.m. Eighth finals - Quarter finals - Demo's, interviews, entertainers (etc.): Semi-finals and FINALS.
Presentation of awards likewise as is done in Formula One racing.

04.30 - 05.00 p.m. Closing ceremony.
There will be television registration of the program from 01.00 p.m. and on. The broadcast of the edited television show should take about 30 till max. 45 minutes. Some quarter finals, all semi's and finals will be televised mixed with interviews and other items. Pro-Elite top 3 finishers must be present at T.V. interviews after the races.
Some general remarks.
The following is to give you an idea how professionally we think the UCI BMX World Cup Series should be organized:
At all races a professional program will be issued. The program will include riders' profiles and pictures as well as stories about the riders, main results etc. Professional announcers will be hired. One of them should have his roots in the sport of BMX and/or in ATB/MTB. There will always be two announcers at work at the same time. Their commentary should not only include riders' positions in the race, but also stories about the riders, the race, the sport itself, depth interviews etc. A professional P.A. system will be used. There will be additional activities by the Pro-Elite Class riders, like autograph sessions, BMX training clinics for the 15 years and under riders etc. A lot of attention will be given to the younger riders! There will be professional pre-announcements of the UCI BMX World Cup events by the organizer/promoter with the guidance and help of the UCI BMX World Cup organization. Pre-announcements will be through magazines, national, regional and local newspapers, television, etc. The framing show program will include fireworks and/or a laser show! As already has been indicated above, regional and local promotion or even national promotion of a BMX World Cup event will be very important. A substantial budget will be available for that purpose. Again, to attract outside people to the event, this way of communication is essential. People must know what we are talking about, where the event will be held, what it will cost to get in, etc. For promotional purposes professional posters will be produced and displayed.
Indoor ATB/MTB competitions.
As has been mentioned before and nothing new to BMX racers, last winter an indoor ATB series took place in Germany. New promoters were re-inventing indoor BMX, however with mountain bikes. We can do such a job even better with all the experience we have. Together with these new promoters we could organize a fantastic televised event. The only problem is, they don't know we exist ! Hope this letter will be of any help to draw their attention as well.
IN CONCLUSION......
With all of the information above, I wanted to give you some inside look into our UCI BMX World Cup Series plans, and I intended to give you an idea of what will be prepared step by step from now on. A lot more details will have to be worked out and they will be. First thing to do was to give you all the general ideas about the new concept and the UCI BMX World Cup Series. Through future mailings, publications etc., you will be informed on a regular basis of further details. I hope this first "wave of information" isn't too much for you. Please digest all info and give us your support. We will be able to reach our goals if all parties concerned will help out and at least will be positive about the new concept.
Let's make BMX the respected sport that it deserves to be. Within the new concept, BMX is as much an adult sport as any other cycling sport !
Best regards,

Gerrit Does
"Project Manager of the UCI BMX World Cup Series".
This was the first communication. Up and till 1998 a lot happened with the World Cup Series/Supercross Series, which details I will tell you step by step from now on. Read on!

November, GT Euro Team was invited by Richard Long of GT Bicycles to compete at the ABA Grands in Oklahoma City.
In this picture the teammembers of GT Team USA and GT Team Europe with fltr: Gary Ellis, Corine Dorland, .......

December of this year an article in the official magazine of the UCI called MONDE CYCLISTE / CYCLING WORLD,
on a spectacular development in our sport: quote
" The international BMX scene is on the move. After the well organized UCI BMX World Championships in Waterford, Michigan. U.S.A., new striking projects are coming up. The UCI BMX Commission has given the green light to the development of a BMX World Cup Series, in continuation of World Cup Series in other cycling disciplines. Further promising event to come are, in chronological order, the 1995 European Superclass Championship Series and the 1995 World BMX Championship in Melgar, Columbia. Up to date there are 40 UCI affiliated federations with officially recognized international BMX activities. In this article it will be pointed out how other UCI federations with BMX activity, though not officially recognized yet, can join the international UCI BMX scene and contribute to the further development of this spectacular sports discipline. The UCI BMX Commission has appointed Mr. Gerrit Does from Holland as the project manager of the Series. Within the BMX scene being known for his great expertise on organizing big international BMX events, Gerrit Does will be engaged in organization, marketing and television coverage of the project in co-operation with the BMX Commission". End of quote.

December of this year an article on the "European Super Class Championship Series 1995" was issued.
Besides the cradle of BMX racing, the U.S.A., Europe has always played an important role in top BMX racing. The European Superclass Championship Series can be considered as the main item of European BMX racing. Next year (1995) the Series promised to be very attractive, as an important financial injection has been given by the UCI BMX Commission, resulting in a total prize money of 53,000 Swiss Francs for male and female Superclass. The Series will include a total of six rounds, spread over races in Holland, Switzerland, England, The Czech Republic and a final double round in France. Furthermore, the Series will have special sponsorship by the Santa Ana, California based GT - Bicycles, Inc.

At the 1994 BMX Worlds in the U.S.A., the GT - Euro BMX Team, managed by Gerrit Does, won the World Title for corporate sponsored teams finishing before Team GT - USA. Special promotion will be given to the Superclass Series by a number of press releases, including race coverage and standings. Press releases will be mailed worldwide to newspapers, magazines, journalists, BMX manufacturers, the UCI affiliated federations, top BMX riders and others. The Series will serve as a trendsetter for other Continental Series of top BMX racing.

December: Dutch National BMX old school stuff



YEAR 1995.

January. In Germany the WGB BMX-Promotions organization was asked by the BDR (Bund Deutscher Radfahrer e.V.) to organize the 5 round series for the German Championship 1995.
This serie of events was called the BMX-BUNDESLIGA 1995. National titles could be won in Youth class B14, Youth class B15, Juniors B16, Juniors B17, Superclass Amateur 20" and Superclass Amateur 24". In women's classes there were a Youth women class and a Women Superclass 20".

January and on Readers Digest world wide did write articles about BMX.
In this year BMX was written about a lot and specialy in that international booklet of READERS DIGEST. To give you an impression, here an article on BMX in the German issue of Readers Digest.


January of this year the UCI BMX Commission made the following announcement.
Besides the cradle of BMX racing, the U.S.A., Europe has always played an important role in top BMX racing. The European Superclass Championship Series can be considered as the main item of European BMX racing. This year the Series promised to be very attractive, as an important financial injection has been given by the UCI BMX Commission, resulting in a total prize money of 53,000 Swiss Francs for male and female Superclass. The 1995 Series will include a total of six rounds, spread over races in Holland, Switzerland, England, the Czech Republic and as a final, a double round in France. Special sponsorships by the Santa Anna, California based GT Bicycles inc. At the 1994 BMX Worlds in the U.S.A. the GT-Euro Team, managed by Gerrit Does won the World title for corporate sponsored teams finishing before team GT-U.S.A., a unique performance. Special promotion will be given to the Superclass Series by a number of press-releases, including race coverage and standings. Press releases will be mailed worldwide to newspapers, magazines, journalists, BMX manufacturers, the UCI affiliated federations, top BMX riders and others. The Series will serve as a trendsetter for the Continental Series of top BMX racing.

February 25-26th .The 11th Indoor de Tours - France, I.BMX.F. sanctioned.

May 6-7th. I.BMX.F. International Vredestein Masters - Doetinchem, Holland EC SC 1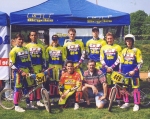 June 3-4th. I.BMX.F. International Echichens - Switzerland EC SC 2
June 17-18th. I.BMX.F. International Ipswich - England EC SC 3
June 25-26th. I.BMX.F. International Milovice - Czech Republic EC SC 4
July 8-9th. I.BMX.F. International Habay-la-Neuve, Belgium.
July 15-16th., the I.BMX.F. European Championship Vallet - France. all classes plus final rounds EC SC 5 & 6.
Result European Championship Factory Teams:
1. Sunn/Chipie team I - 374 pts. France
Ch.Leveque, C. Falco, M. Remili, C. Doby with Tm. Jean Luc Ferrari
2. Webco Mentos Team - 355 pts. Holland
R.v/d. Wildenberg, E. Bollansee, J. Staff SC + Cr. with Tm. P.vd. Wildenberg.
3. Sunn/Chipie team III - 335 pts. France
T. Allier, F. Bout, C. Sztelma, A. Delescluse with Tm. J.L. Ferrari.
4. GT Euro Team - 327 pts. Holland
D. Holmes, C. Dorland, R. de Wilde, Th. Fouilleul with Tm G. Does
5. MCS Euro Team - 321 pts. Holland
6. Sunn / Chipie team II - 309 pts. France
7. Hyper / GPR - 290 pts. Holland
8. Scott team international - 235 pts. Germany
July 28-29-30th., the 5th. Manzana Postobon I.BMX.F. - UCI World Championship in Melgar - Colombia. This event being the 14th W.C. since 1982.
During this year, beside the BMX Worlds, also the Road and Track Cycling Championships took place in Colombia. The Manzana Postobon, G.T. Bicycles and Ecko Helmets sponsored BMX Worlds were held in the so-called CAFAM Recreation Center in the neighborhood of the city of Melgar. Colombia, being one of the most striking BMX countries on the South American continent, faces the challenge to outdo the successful 1994 BMX Worlds in the U.S.A. Up till the actual organizing of the Championships, they progressed energetically and indeed the Colombian BMX people did put up an exciting event.
Results in
Superclass 20":
1. Christophe Leveque - F
2. Gary Ellis - USA
3. Jamie Staff - GB
4. Danny Nelson - USA
5. Brian Colegrove - USA
6. Dylan Clayton - GB
7. Thomas Allier - F
8. Dale Holmes - GB

Seniors 18 & over:
1. Kamahl Lord - Aus
2. Nicoals Grevet - F
3. Jerry Badders - USA
4. Larry Miersch - USA
5. Imko Mike Gerrits - NL
6. Ruben Marquez - Ven
7. Jems Martin - Ger
8. David Maltezos - USA
Juniors 16:
1. Thierry Fouilleul - F
2. Kevin Royal - USA
3. Juan Galvis - Col
4. Paco Torres - Col
5. Cesar Gonzalez - Col
6. Mario Soto - Col
7. Maximiliano Maronna - Arg
8. -------

Juniors 17:
1. Scott Beaumont - GB
2. Andy Contes - USA
3. Edward Zermeno - USA
4. Joost Wichman - NL
5. Florent Bout - F
6. Andre Costa - Bra
7. Sergio Flores - Arg
8. Jacquel Gonzalez - Ven
Junior ladies 16:
1. Rachael Marshall - Aus
2. Karine Chambonneau - F
3. Cecilia Castillo - Arg
4. Vikki Overson - GB
5. Pamela Schafer - Ger
6. Gabriela Geraci - Arg
7. Katuizka Antersijn - Aru
8. Pamela Carvajal - Chi

Ladies 17, 18 & over:
1. Sabine Caballe - F
2. Judith Meza - Chi
3. Astrid Delescluse - F
4. Karien Gubbels - NL
5. Karin Dieterich - Ger
6. Kerstin Munski - Ger
7. Corine Dorland - NL
8. Marisela Marrero - Ven

Champions in other classes, ages 13 and over:
13 & under cruiser: Jaime Jaramillo - Col
14-15 cruiser: Larry Cambra - USA
16-17 cruiser: Kevin Royal - USA
18-24 cruiser: Jerry Badders - USA
Girls 13-14: Hannah Chrzanowski - Aus
Girls 15 : Ellen Bollanssee - B
Boys 13: Santiago Silva - Col
Boys 14: Larry Cambra - USA
Boys 15: Emeric Beyeler - F
World Championship Factory Teams:
1. Team GT - USA .... with Corine Dorland (ned), David Kelley,
Larry Cambra and Kevin Royal (all USA)
2. Manzana Postobon, Team 1
3. Pony Malta Avianca, Team 1
4. Cannondale Factory Team
5. EFE Factory Team
6. Sunn-Chipie Factory, Team 2
7. Malta Cervunion
World Championship National Teams:
1. USA 1 - Cambra, Contes, Royal, Kelley.
2. Colombia 2 - Castro, Jaramillo, Calderon, Cruz.
3. France - Leveque, Falco, Bout, Grevet.
4. Chile - Nicoletta, Meza, Genova, Stolzenbach.
5. Holland - Wichman, Gerrits, Willemsen, Dorland.
6. England - Overson, Beaumont, Staff, Holmes.
7. Australia - Carlson, Lord, Johnson, Marshall.
8. Ecuador - Roura, Falla, Jacome, Mantilla
Medal count of in total 33 classes.
Country Gold Silver Bronze
1. Colombia 9 11 15
2. USA 6 6 6
3. France 5 2 1
4. Australia 3 - -
5. Argentina 2 3 4
6. Venezuela 2 2 2
7. Brazil 2 - -
8. England 1 - 1
9. Holland 1 - -
Germany 1 - -
Belgium 1 5 -
12. Chili - 2 2
13. Bolivia - 2 1
14. Czechoslovakia - 2 -
15. Ecuador - - 1

In 33 Classes: 33 33 33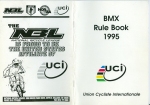 August 25th., the UCI BMX department did send a letter of information to all UCI affiliated BMX federations on the upcoming World Cup Series.
This first UCI BMX World Cup race ever is going to be held on September 30th. 1995 in Brighton - England. In total around 1250 contacts have received this info, among them around 1000 riders and further more magazines, manufacturers, UCI BMX officials and Press. The national federations were requested to inform their riders of the invitations to the BMX World Cup.

August 26/27th. I.BMX.F. - UCI European Championship Clubs Vosendorf - Austria.

September 16-17th. International Mentos Trophy Blumenstein - Switzerland. Organized for the 5th time.

September 30th., the 1st ever UCI - BMX World Cup - Brighton, England, the start of the "pilot project World Cup events".
This was the first UCI BMX World Cup race ever and one out of two try-outs this year. During the introduction and motivation to organize a World Cup Series towards the riders and organizers present during this first try-out, the following was said. A BMX World Cup Serie is a logical step in the development of the sport of BMX within the UCI, in the slipstream of other World Cup Series in the cycling disciplines like road and track cycling, cyclo-cross and last but not least mountain biking. The BMX World Cup Serie furthermore was intended to give special promotion to the sport of BMX. The Serie will focus on the top BMX riders, male and female and thus will provide a maximum of exciting racing. Racing for the BMX World Cup will take place on fast and spectacular tracks, including big jumps, thus providing the BMX elite an excellent opportunity to display their high technical skills.
Over the past few years the high performance level of top BMX racers has become more and more evident, not least because of their successful participation in top mountain bike events. Several top BMX racers combine BMX with downhill mountain biking and have made a spectacular career in downhill racing because of their BMX background.
Most striking examples are U.S. rider Mike King, the 1993 Senior Men Downhill World Champion, and France's Anne-Caroline Chausson, the 1993 and 1994 Junior Women Downhill World Champion. The latter made even faster time than the Senior Women Downhill World Champion in her winning race at the 1994 Downhill Worlds. The above BMX-mountain biking link is a very interesting phenomenon. Therefore, besides the top BMX male and female classes, also a Pro-Elite mountain bike class will be included in the BMX World Cup Series, where the cream of BMX and mountain bike racers will meet each other in interesting races on mountain bikes on a BMX track. Furthermore, the races will be alternated with show and entertainment elements, like BMX freestyle demonstrations and King of Dirt competitions. This year (1995) will function as a try-out with two test runs, one in Europe (Brighton-England) and one in the U.S.A. (Columbus, Ohio). In 1996 the first official BMX World Cup season will start with four races in Europe and two races in the U.S.A. It is envisaged that from 1997 and on the Series will be extended to other continents as well. As mentioned before, Gerrit Does from Holland will act as project manager of the Series.
During the UCI BMX World Cup series, transponders were introduced by Gerrit Does. They were mounted to the BMX bikes for laptime and finish position registration. A Dutch company called AMB, famous for its transponder project in F-1, Moto-GP, road cycling and so on, provided the UCI with these transponders used in go-carts. Later on special transponders for cycling were developed and still used today.

November 23rd. Information sent to all UCI BMX Federations concerning the first round of the 1996 UCI BMX World Cup Series (The Bicycle Supercross Series).
After the 2 pilot races in Brighton (GBR) and Columbus, Ohio (USA) the first race of the official 1996 UCI BMX World Cup Series will take place in Porlamar, Isla de Margarita, Venezuela on February 20th. 1996.

December 17 - 30th., the 4th. UNIVERSITY of BMX trainingcamp Orlando and Christmas Classic in Columbus - Ohio.
For more details and pictures on this trip, go to CONSULTING and then click on TRAINNG CAMPS.

The Trainingcamp was followed by ..... the UCI-BMX World Cup and Christmas Classic at Columbus - Ohio, USA.

After this camp we all traveled to Columbus - Ohio to compete in the UCI-BMX Word CUP / Christmas Classic at Columbus - Ohio, USA. This was the second try-out World Cup event under supervision of Gerrit Does, appointed Project manager UCI.
Number of participants:
in Elite men class - 49
in Junior men class - 37
in Elite women class - 11
in Junior women class - 11
in ATB class - 11
Time registration and identification system was used. Transponders (AMB - Holland) were fitted on to the BMX frames, the register finishing position and lap-time.
For more details ánd loads of pictures on the 4th. Univofbmx training camp in 1995, check out "Consulting" then "Training Camps" and then "the 4th. Univofbmx Trainng camp 1995 ....."
Picture gallery:
These plates and more, were presented to Gerrit Does (and signed) by the 1st. ever World Cup officials and riders in Brighton England, out of respect for getting these pilot series underway.