History of BMX (2013 - 2014)
Year 2013.
January, here the 2013 UCI BMX Calendar.
To give you readers an idea of how many international events are organized (sanctioned) now-a-days within the world governing body for BMX, the UCI, here a complete calender of all International Competitions 2013. A very important reason to have an extensive International calender with events world wide is for holding/keeping our Olympic status.
Date
Event
Venue
Country
Class
4.1.13
C1 UCI Event
Nerang, Gold Coast, Queensland
AUS
C1
5.1.13
C1 UCI Event
Nerang, Gold Coast, Queensland
AUS
C1
26.1.13
C1 UCI Event
Westside, Perth WA
AUS
C1
27.1.13
C1 UCI Event
Westside, Perth WA
AUS
C1
23.2.13
Indoor de Caen
Caen
FRA
C1
24.2.13
Indoor de Caen
Caen
FRA
C1
1.3.13
C1 UCI Event
Canberra, ACT
AUS
C1
8.3.13
Continental Championships
Oldsmar, FL
USA
CC
9.3.13
Gator Nationals
Oldsmar, FL
USA
C1
10.3.13
Gator Nationals Oldsmar, FL
USA
C1
23.3.13
British BMX SX Open
Manchester
GBR
C1
6.4.13
UEC BMX Championships 2013 - Round 1
Messigny Vantoux
FRA
C1
7.4.13
UEC BMX Championships 2013- Round 2
Messigny Vantoux
FRA
C1
19 - 20.4.13
UCI BMX Supercross World Cup1
Manchester
GBR
CDM
27.4.13
UEC BMX Championships 2013 -Round 3
Pardubice
CZE
C1
27.4.13
Crown-Haitai International BMX Racing Competition
Seoul
KOR
C1
28.4.13
UEC BMX Championships 2013- Round 4
Pardubice
CZE
C1
2.5.13
Oceanian BMX Championships - Continental Championships
Brisbane, Queensland
AUS
CC
10 - 11.5.13
UCI BMX Supercross World Cup2
Santiago del Estero
ARG
CDM
13.5.13
Panamerican Championships 2013 - Continental Championships
Santiago del Estero
ARG
CC
14.5.13
Suramerican Championships 2013
Santiago del Estero
ARG
C1
18.5.13
UEC BMX Championship 2013 -Round 5
Weiterstadt
GER
C1
19.5.13
UEC BMX Championship 2013- Round 6
Weiterstadt
GER
C1
19.5.
Asian BMX Championships - Continental Championships
Singapore
SIN
CC
26.5.13
Topcompetition
Valkenswaard
NED
C1
31.5.13
USA BMX Music City Nationals
Nashville,TN
USA
C1
1.6.13
UEC BMX Championships 2013 - Round 7
Ängelholm
SWE
C1
1.6.13
USA BMX Music City Nationals
Nashville, Tennessee
USA
C1
2.6.13
UEC BMX Championships 2013 -Round 8
Ängelholm
SWE
C1
2.6.13
USA BMX Music City Nationals
Nashville, Tennessee
USA
C1
8.6.13
UEC BMX Championship 2013 -Round 9
Riga
LAT
C1
9.6.13
UEC BMX Championship 2013 - Round 10
Riga
LAT
C1
15 - 16.6.13
UCI BMX Supercross World Cup3
Papendal
NED
CDM
23.6.13
Belgian-Dutch-German Cup 2013 - Round 1
Luijksgestel
NED
C1
6.7.13
USA BMX Stars N Stripes Nationals
Pittsburg, Pennsylvania
USA
C1
7.7.13
USA BMX Stars N Stripes Nationals
Pittsburg, Pennsylvania
USA
C1
13.7.13
Canada Cup BMX Series
Quebec
CAN
C1
13.7.13
UEC BMX Championships 2013 - Round 11
Dessel
BEL
CC
14.7.13
UEC BMX Championships 2013 - Round 12
Dessel
BEL
C1
24 - 28.7.13
UCI BMX World Championships
Auckland
NZL
CM
18.8.13
Interland 20" Cup
Weimar-Ahnatal
GER
C1
24.8.13
UEC BMX Summer Games
Lille
FRA
C1
25.8.13
UEC BMX Summer Games
Lille
FRA
C1
30.8.13
USA BMX Bluegrass Nationals
Louisville, Kentucky
USA
C1
31.8.13
USA BMX Bluegrass Nationals
Louisville, Kentucky
USA
C1
31.8 - 1.9.13
Canada Cup BMX Series
Abbotsford, British Columbia
CAN
C1
1.9.13
USA BMX Bluegrass Nationals
Louisville, Kentucky
USA
C1
6 - 7.9.13
UCI BMX Supercross World Cup
Abbotsford
CAN
CDM
14.9.13
UEC BMX Summer Games
Zolder
BEL
C1
15.9.13
UEC BMX Summer Games
Zolder
BEL
C1
27 - 28.9.13
UCI BMX Supercross World Cup
Chula Vista
USA
CDM
11 - 12.10.13
Southamerican Championships
Lima
PER
C1
13.10.13
Latinamerican Championships
Lima
PER
C1
20.10.13
Topcompetition
Zoetermeer
NED
C1
17.11.13
IZU BMX International
Izu City, Shizuoka
JPN
C1
8.12.13
Trophée des Nations
St-Etienne
FRA
C1
9.12.13
Indoor de St-Etienne
St-Etienne
FRA
C1
March 19th., the official Kick-Off by BMX Holland B.V. of the preperations 2014 UCI BMX World Championship - AHOY indoor Sportpalace, Rotterdam - Holland, took place.
BMX Holland B.V., among others the organizer of the UCI BMX Super Cross events in Papendal-Arnhem Holland, invited here staff and main players organizing this Worlds, for the official KICK-OFF of this event. We all came together inside the AHOY Indoor Sportpalace in Rotterdam, on the infield were the BMX track will be built. Around 40/45 specialists in the different sections of the organization did meet: racing technical specialists, track building specialists, ticketing & accreditation specialists, communication / PR specialists, Media group, Accomodation and transportation coordinator and side events specialists, just to mention a few.
The introduction of this meting was done by Mr. Eric Kersten of BMX Holland B.V. The headlines of the organization were highlighted by Jacqueline Hoeks of BMX Holland and she also went through the "organization schedule". Jacqueline also presented the official 2014 Worlds mascot. Last but not least, PR & markeing specialist Mr. Niels Cannegieter talked about among others, the communication aspects and use from now on of social media.
After this informative part we all took a tour through the AHOY Indoor Sportpalace, Eric Kersten showed us the facilities. The facilities available are realy fantastic. As project-manager side events REUNION of BMX WORLD CHAMPS 2014 ánd EURO BMX MUSEUM, I was happily surprised by the fantastic location allocated to these two side events. This official Worlds organization Kick-Off meeting took around 4 hours, I went home at around 20.00 hours. We all were very enthousiastic and realy looking forward organizing "the best ever and most friendly UCI BMX World Championship 2014" (vision statement).
As time progresses, we will update this article from time to time, specific on the side events. I (Gerit Does) will be responsable for, the REUNION of BMX WORLD CHAMPS 2014 ánd the EURO BMX MUSEUM.
COMMUNICATION.

UPDATE:
March 28th., details on the present situation concerning the REUNION OF BMX WORLD CHAMPS 2014.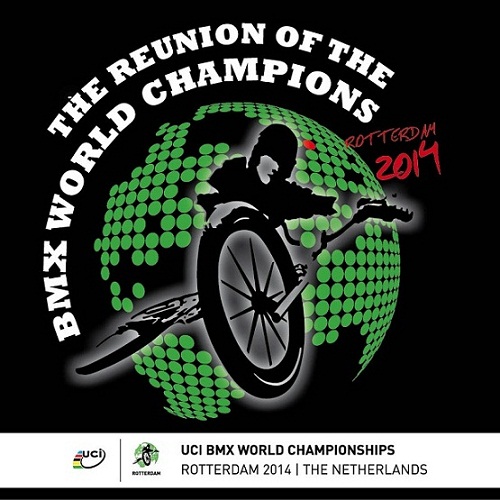 As pre-info here a resume of all World Champions (in numbers), ranking of countries holding World titles in the highest performance classes. Still missing her the results of the 1985 and 1986 FIAC Worlds in Jesolo and Ricione, Italy. Working on that through relations in Italy at this moment and possible results will be added in this resume later on. These statistic include results up and till 2013 concerning the UCI BMX Worlds.
Details updated November 15th.
Please find here detailed info on all World Championships and the names of the World Champions invited for the REUNION of WORLD CHAMPS 2014:
I.BMX.F. > I.BMX.F - FIAC > UCI: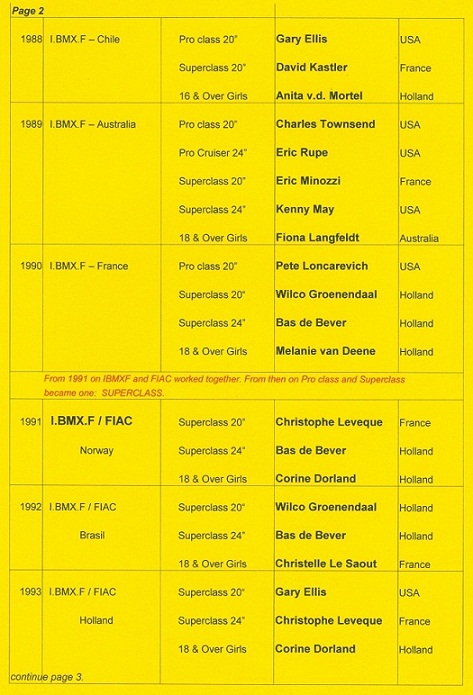 JAG - BMX:
USBA:
F.I.A.C. (UCI):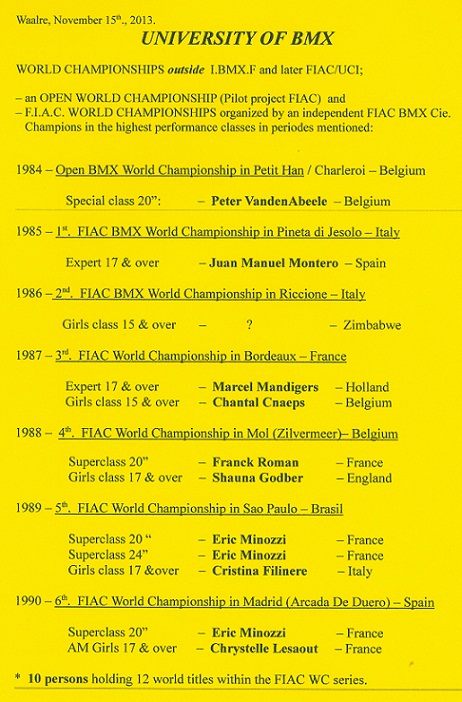 ABA - American Bicycle Association.
Here a REVIEW on all of the above:

Here a SPECIFICATION of the above REVIEW on World Champions with multiple word titles: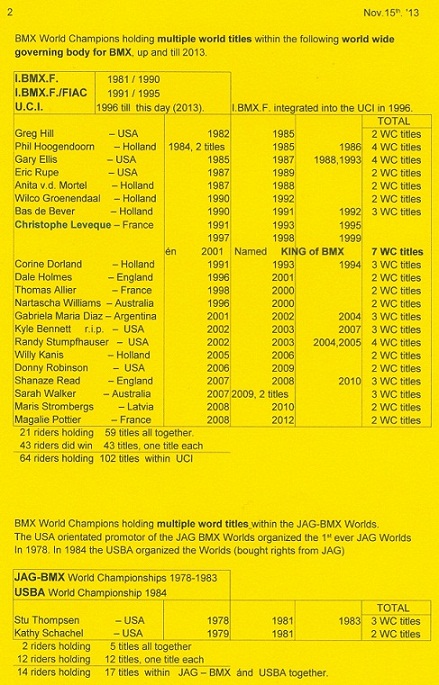 As special quests: our Olympic Champions 2008-2012:

End of review.


Hotelaccomodations. One of the several "world champion" hotels in Rotterdam is a very special and unique one. I'ts a ship, a steamliner that went back and forward from Rotterdam to New York in the early days. This totale restored, renewed and modernized ship is an official hotel now. The ship is called the SS ROTTERDAM. Reunists will be staying in this hotel. The distance from the SS Rotterdam to the AHOY Indoor Sportpalace is less the 4,5 km. For your orientation here a picture of the ship.
Attention: For an update on World Champs present at the UCI BMX Wolds in Rotterdam, go to July 7th. and find the complete list updated till that date.
April 6 -7th., the UEC European Championship inMessigny Vantoux - France, round 1 and 2.

April 19-20th. UCI BMX Supercross Manchester - England, round 1.


Results FINAL Elite Men: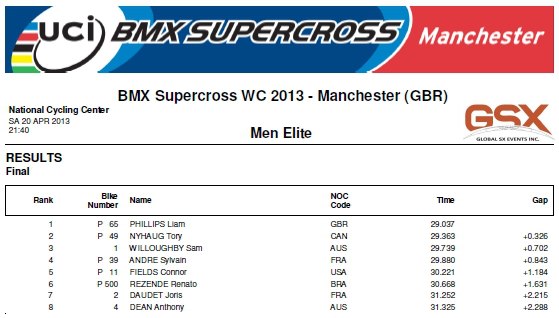 Elite Women:

Results FINAL Elite Women: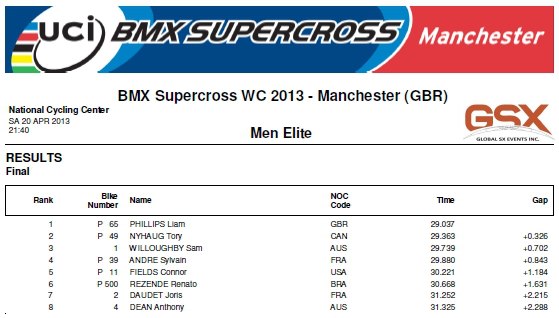 April 27th. the Crown-Haitia International BMX Competition took place in Seoul - South Korea.
On this date an international event took place in Seoul, more precise in Cuijeongbu, Gyeonggi-do, South Korea. To give you an impression, here some picture of among others foreign riders (among them riders from Holland) helping out to shape the track. This was a new track and some of the obstacles weren't layed down 100% correct.





April 27-28th., the UEC BMX European Championship in Pardubice - CZE, round 3 and 4.


May 10-11th., the UCI BMX World Cup/Super Cross in Santiago de Estero - Brasil, round 2.

May 13th. Wilco Groenendaal and Christian van de Groenendaal finaly receive their Euro BMX Hall of Fame award.
October 2009 an international Reunion took place at Attractiepark Slagharen, the former PONYPARK Slagharen, were in 1983 the I.BMX.F. World Championships took place. Wilco Groenendaal and Christian van de Groenendaal (both from Holland), should have received their award there and then. However, due to circumstances both men had to cancel their participation. Finaly now the appointment was made to present these University of BMX, European BMX Hall of Fame awards last Monday, May 13th.
You can read here the motivation for the induction of both BMX pioneers.
Congratulation Christian and Wilco !

May 18th. - 19th., the UEC BMX European Championship 2013 in Weiterstadt - Germany, round 5 and 6.

Results Round 5, Saturday May 18th.:
Results Round 6, Sunday May 19th.:

June 1st. - 2nd., the UEC BMX European Championship in Ängelholm - Sweden, round 7 and 8.

Juni 8th. - 9th, the UEC BMX European Championship in Riga - Latvia, final rounds 9 and 10.
June 13th., BMX Holland B.V. organized a "Rotterdam Tour" for team-managers present in Papendal for the UCI BMX SX.
BMX Holland B.V. organized a "Rotterdam Tour" for those team managers already present at Papendal for the UCI BMX Super Cross event the upcoming weekend. Besides the team managers also press was invited to check out the official UCI BMX Worlds hotel and other hotels in Rotterdam. Ofcourse also the AHOY Sportpalace was part of this tour as well as the famous Euro Mast. To give you an impression on this orientation tour for teammanagers and press, here some pictures.


Ahoy entrance track location catering area

Riders park location Museum and Cinema

An end of the tour drink and back to Papaendal.
June 14th.-16th., "Bike event" at Papendal was organized in connection with the UCI BMX SX event this weekend.
In orde the generate more "outside" BMX people into the Grand Stands during the June 15th. and 16th. UCI BMX Supercross at Papendal, Arnhem - Holland, the organizer BMX Holland B.V. scheduled several bicycle events on the grounds surrounding the BMX facility. The National Offroad days consisted of BMX activities for local schools, bicycle tours in the area (60, 90, 120 and 160 km), Kids ATB/MTB races, Bicycle trail demo's and even a National Championship MTB/ATB Team Relay event as well as the Giant Offroad Battle.

Did this plan work? Check out the report/evaluation on the UCI BMX World Cup / SuperCross event below.

June 15th. - 16th., the UCI BMX World Cup / Super Cross at Papendal - Arnhem, Holland took place. Round 3.
It's for the 3rd. time, a UCI BMX World Cup/Supercross has been organized at the Olympic Training Center at Papendal, Arnhem - Holland. Some small adjustments has been made to the track and one can say that this track meets the UCI standards perfect now, an incredible difference with the first ever lay-out of the track in 2011 when this event took place for the first time at Papendal. It's absolutely a lot safer then its first design.
So, not many remarks to make here. The organizers, the NOC/NSF and BMX Holland B.V. learned a lot about BMX and its caracter as well as BMX traditions, which is a good thing. One thing that was very noticeble for me was the fact that there were more empty seats in the grand stands on Sunday, the main day, then last year. In order to get more "outside" BMX spectators watching this event, the organization scheduled several side events on the fields surrounding the BMX SX track, concerning bicycles like on Friday, Saturday ánd Sunday the so-called National Offroad days. On Friday they also organized all kind of BMX activities for local schools. On Saturday they organized a bicycle tour for those interested. One could choose between a 60 km, 90 km, 120 km or 160 km bicycle tour in the area. A kids race on the ATB/MTB trail was organized. On Sunday the Dutch National Championship MTB/ATB team relay race went on as well as bike trial demo's. All of these extra activities were intended, to draw more spectators to the time trials Supercross on Saturday as well as more spectators on Sunday during the actual UCI BMX SX. Despite all these effords, there was no increase of spectators during the time trial serie on Saturday and even less spectators in the grand stands on Sunday then last year. My conclusion is that this is not the way to get more "outside" spectarors into the BMX Stadion.
Normaly an Olympic medal won in a sport, draws a lot of new spectators to come and watch the Olympic medalists. In BMX our Laura Smulders (Elite women) is very popular now inside BMX, since she won the bronze medal at the Olympics in England last year in Elite women class. However, publicity and getting more spectators at BMX events were she races is still very limited. Must be said on the otherhand, that license numbers have increased in Holland the past year. The Olympic bronze medal gave a boost for sure. Another positif development is that more and more journalists now know what BMX is all about, thanks to that bronze medal of Laura.

Saturday June 15th. SX practise and time trials at Papendal.

Statistic on number of riders present, from which countries and how many National Selections (NOC's) were present.
Some background pictures taken during practise time on Saturday. Again, time trials, I think, are a waist of time, not interesting enough for spectators to watch and for those not qualified (ony 64 qualify) very disappointing: they can go home after 1 lap, even when they come over from far away like Australia or Japan. This year the organization (GSX) added a special race for those who did not qualify, that's at least something. But almost no spectators or press, watching these races. My advice remains: change time-trials in a "normal" competition for those riders who entered the SX events.
Then after practise, Time Trials started. During the Time Trail session, around 50 till 100 people were watching this. Again a formality that isn't very interesting to watch!

Sunday June 16th. Raceday: the 3rd. Papendal UCI BMX World Cup/SuperCross in Arnhem - Holland get's underway.

When arriving at the BMX accomodation at Papendal around 9.30 hours, it was already busy in the "vendor's area". Spectators were allowed in the grand stand from 10 o'çlock on. Around 13.00 hours when the actual racing started, the grand stands were not completely filled. Comparing pictures of the first year and the second year, one can see the number of spectators was down again. In 2011 the grand stand were almost filled completely, 2012 there were around 500 sets emty and this year that number at least dubbled. Looking at the overall set up and expenses of the event, my conclusion is, the organizers lost money. Even with the extra Bike Event on the side on Sunday, less spectators then the year before and therfore less income. Will an event like this, loosing money, be organized in the future, will there be a UCI BMX SuperCross event at Papendal after the UCI BMX Worlds in 2014? We have to wait and see.
Even an Olympic medal, Bronze by Laura Smulders, did not help getting more spectators on the grand stands.
Pictures and story, meaning update in progress ........

June 17th. an ATB/MTB leisure ride with Eddy King (former USA Pro BMX rider/legend) and Dutch BMX pioneers Nico Does, Bart de Jong and Gerrit Does.
Just around a week before the UCI BMX SX Papendal - Holland, Eddy King wrote me an e.mail and aksed me if it was possible to do some ATB (All Terrain Bicycle riding) on typical Dutch ATB trials. Well, that ofcourse was no problem. I was able to lent Pieter's (my youngest son) GT FORCE atb/mtb for Eddy. We arranged to do this ride on Monday, after the UCI BMX SX which took place in the weekend. We were with 4 riders, Eddy King, Nico Does (my oldest son), Bart de Jong (FATBMX) and myself, GD.
I picked Eddy up from the Eindhoven railway station at around 9.45 hours. From there we first went straight to TWIN AIR in Veghel, a 20 minute ride by car, were Pieter Does showed Eddy around. TWIN AIR is the leading producer of foam airfilters for moto-cross and others. At around 12.00 hours we were back in Waalre, were we had lunch.
We had scheduled to leave my house for this ATB ride at around 13.00 hours. Nico was leading the way and on farehand I asked him to take "the old man" (being myself) into consideration, so lets ride at an easy pace. Well, not much came out of that request. After one hour, when we reached the so caled "Hut van Mie Peels", a café/restaurant in the woods, I was waisted. So I told the guys, you all go on, I will rest here outside on the terras of the restaurant. After another hour, Nico, Bart and Eddy returned to the "Hut van Mie Peels". Nico still had a smill on his face, but Bart and Eddy ...... well, they weren't realy fresh anymore too. We all rested there for about 15 minutes, had a drink and the 4 of us started the last part of the around 2 1/2 hours ride.
Nico and Bart went ahead and Eddy stayed with me for that last part of our ride. In total they rode around 40 / 45 km (I did 28 km). Well I think Nico showed Eddy the typical Dutch flat land trails in de woods surrounding Waalre. I think he will remember this ride very well. Lot of single tracks, enduro style trails. We all had a great ride.
At around 16.00 hours we arrived at my brother in law's Pierre Karsmakers workshop, which Eddy would call, "Pierre's men cave". We checked out Pierre's new Husaberg off road motorcycle, drank Karsmakers Coffee, talked among others history MX and BMX and then went across the street of Pierre's men cave to my house to have diner, spagetti (thanks Mieke!). To all nice things comes an end and after diner I did bring Eddy back to the railway station in 's Hertogenbosch, where he took the train to Utrecht and then to Woerden, to spent his last evening in Holland with his friends Arno and Franny Pacheco - Ouwehand. Early in the morning the next day, Eddy did leave for the USA were he arrived safe and sound after a long flight. We all loved having you here Eddy, hope you enjoyed yourself and had fun too. Till next time!
Relaxing after our ride, drink coffee with (fltr.) Pierre Karsmakers, Eddy King, Bart de Jong and Nico Does. Picture by GD.
End of a nice day in and around Waalre.

July 11th. through 14th., the UEC BMX European Championship FINAL rounds took place in Dessel - Belgium.

The FINAL ROUNDS of the UCI European BMX Championship took place at the famous JOEL SMETS BMX CIRCUIT at sportparc Brasel in the city of Dessel. This event did have 1903 entries in total and the grand stands were filled with spectaters during all three race days, Friday, Saturday and Sunday.
Overall organization of the events was very good and of absolute international standard. Racing was fierce and exiting. The chairman of the JOEL SMETS BMX CIRCUIT, Mr. Frank Smets, has been a BMX racer himself. Most important European international BMX event during any year from 1983 through 1993, was the E.C.C. - European Challenge Cup at Ponypark Slagharen in Holland. Frank Smets competed there as young man too. Years later, after he stopped racing BMX bikes, he had one goal: in the near future I want to be an organizer too and copy the E.C.C. events in all its aspects.
I believe in 1999 Frank Smets started to get organized in Dessel, a track was built, riders recruted and now, after around 14 years, this was the result of a lot of hard work for the sport of BMX. Frank Smets and ofcourse his whole crew from Dessel, realized the dream Frank once had: This European Championship event was just as good organized as the former E.C.C. at Ponypark Slagharen ánd I believe even better. For sure Frank Smets had to deal with many more riders then we had at Slagharen and even more riders then any European Championship organizer had in the past 9 years. Well done Chairman and Crew of the JOEL SMETS BMX CIRCUIT in Dessel.
Before the semi finals Junior and Elite, Gerrit Does announced that the Joel Smets Circuit organization under leadership of Frank Smets with help of his crew, will be nominated for best organization European BMX Hall of Fame 2013.
Just to give you all an idea, here the entries per year during the Final rounds of the European BMX Championships:
- 2006 Cheddar - GBR, 1565 entries
- 2007 Romain - F, 1815 entries
- 2008 Weiterstadt - GER, 1861 entries
- 2009 Frederica - DEN, 1261 entries
- 2010 Sandness - NOR, 1419 entries
- 2011 Haaksbergen - NED, 1355 entries
- 2012 Orleans - F, 1668 entries
- 2013 DESSEL - B, 1903 entries
Here some pictures on specifics at the Dessel - Belgium BMX accomodation.

Final and Overall results European Championship 2013 under the UEC. Twelve rounds run, 2 in each country: France - Czech republic - Germany - Sweden - Riga and Belgium.

JUNIOR WOMEN
Name Country Points
1. SAILER Sarah Germany 225 Champion
2. DOUDOUX Mathilde France 184
3. GRUN Melanie France 170
4. SUVOROVA Natalia Russia 164
5. THIBAUT Sandie France 150
6. ANCELOT Roude France 127
7. KAPITANOVA Tatiana Russia 124
8. VAN HEES Viviana Nederland 111
9. LYSENKO Elisaveta Russia 96
10. RENOU Sophie France 58
11. USOVA Anastasia Russia 36
12. HOSSAY Marie Belgium 28

ELITE WOMEN
Name Country Points
1. VALENTINO Manon France 272 Champion
2. RIMSAITE Vilma Lithuania 221
3. VANHOOF Elke Belgium 191
4. HLADIKOVA Aneta Czech Rep. 175
5. PRIES Nadja Germany 135
6. SPRENGERS Dana Nederland 125
7. CHRISTENSEN Simone Denmark 123
8. LABOUNKOVA Romana Czech Rep 123
9. CORLOBE Pauline France 118
10. MIKKELSEN Live Andrea Norway 101
11. ALEKSEJEVA Sandra Latvia 94
12. MAIRE Camille France 74


JUNIOR MEN
Name Country Points
1. MIR Amidou France 336 Champion
2. NAVRESTAD Tore Norway 281
3. KIMMANN Niek Nederland 276
4. KRIGERS Kristens Latvia 249
5. CHRISTENSEN Chris Denmark 248
6. MARQUART Simon Switzerland 200
7. STEVENS Lauren Belgium 199
8. BENSINK Niels Nederland 198
9. GONZALEZ BERNARD Xavier France 184
10. ROCHER Emile France 180
11. KATYSHEV Alexander Russia 149
12. PONOMAREV Boris Russia 141
13. BLUEMLEIN Louis Germany 136
14. MARTINS Evan France 122
15. VAN DEN HUDDING Bram Nederland 114
16. USKAURS Ansis Latvia 112


ELITE MEN
Name Country Points
1. STROMBERGS Maris Latvia 351 Champion
2. TREIMANIS Edzus Latvia 311
3. CALEYRON Quentin France 291
4. VEIDE Rihards Latvia 275
5. ANDRE Sylvain France 262
6. MANKUS Toms Latvia 230
7. PELLUARD Vincent France 223
8. BRETHAUER Luis Germany 186
9. VAN DE WETERING Glenn Ned. 170
10. LAPRAZ Yvan Switzerland 147
11. RICCARDI Rémi France 141
12. GOUX Lilian France 131
13. VAN DER BURG Dave Nederland 130
14. MAYET Romain France 127
15. KLESCHENKO Evgeny Russia 126
16. VAN DER HEIJDEN Jordy Ned. 122
17. MARTINEZ Lorin France 121
18. LEJINS Kristers Latvia 111
19. SCHERPEN Martijn Nederland 101
20. BAIER Maik Germany 94
21. BLANC Renaud Switzerland 93
22. MOROZS Viesturs Latvia 92
23. WOCK-TAI Rémy France 80
24. CRISTOFOLI Roberto Italy 79
Bad luck struck Edzus Treimanus, hurt his speel pritty much, stayed in hospital for a week and then went back to Latvia.
Father and son Dorus Brink (picture, courtesy of BMX GreenHoppers) and Jaymio Brink, both won the European title.
Some more picture taken during the EC in Dessel of celebrities in the world of BMX.

This 2 round European Championship was won in Elite Men class on Saturday by Edzus Treimanus. Bad luck struck on Sunday. Edzus was run of the track and ruptured his spleen. Luckely no operation was needed but Edzus had to stay in hospital for 2 weeks, then he could stay elswhere, close to the hospital and after another 2 weeks he was able to fly to Latvia.
A nice way to announce the FINALS are on and another look at the crowd that surrounded the track 3 days long.
Once again, this was a very good weekend at the Joël Smets BMX Circuit, well organized and under good weather conditions. BMX racing as it should be. On to the UCI BMX Worlds in Auckland - New Zealand.
Final results in the Challenge classes, top 3:
Masters class: Men 25/29:
1. Emeric Le Corguille France 1. Toon Jacobs Belgium
2. Dorus Brink Holland 2. Niels Tepper Holland
3. Harm van Brussel Holland 3. Thony Genet France
Men 17/24: Women 17+:
1. Thomas Grassin France 1. Tessa Meerholz Holland
2. Valentin Revet Perchet France 2. Tamar Vedder Holland
3. Jimmi N. Therkelsen Denmark 3. Soraya Van Hees Holland
Boys 14: Girls 14:
1. Axel Webster Germany 1. Bethany Shriever England
2. Loris Moret France 2. Wietske Bloemhof Holland
3. Vladimirs Boltiks Latvia 3. Vineta Petersone Latvia
Boys 13:
1. Mathias Naerland Norway
2. Emanuele Biscaldi Italy
3. Marc Feldt Denmark
Boys 12: Girls 12:
1. Thibault Daprela France 1. Sam van Oss Holland
2. Edvards Glazers Latvia 2. Femke Gerritse Holland
3. Hugo Duchene France 3. Griselda Artigas Mateu Spain
Boys 11: Boys 11:
1. Ronalds Ritins Latvia 1. Nieke Coppens Belgium
2. Thomas Jamar Belgium 2. Marthe Goossens Belgium
3. Tatyan Lui Hin Tsan France 3. Michaela Hajkova Czech Rep.

Boys 10: Girls 10:
1. Mathis Louet France 1. Mia Christensen Denmark
2. Marco Radaelli Italy 2. Mariane Beltrando France
3. Louison Rousseau France 3. Michaela Wantulokova Czech Rep.

Boys 9: Girls 9:
1. Jaymio Brink Holland 1. Kjelle Poets Belgium
2. Miquel Hernandez G. Spain 2. Yvette de Waard Holland
3. Solal Pieri France 3. Léa Brindjonc France
Boys 8: Boys 7:
1. Jan Kraus Holland 1. Michal Hrazdira Czech Rep.
2. Guus van den Eijnden Holland 2. Felix Twitchett England
3. Hjalte Feldt Denmark 3. Neo Tielens Belgium
Cruiser 17/24 Cruiser 25/29
1. Maik Aerts Holland 1. Noud Verstegen Holland
2. Jérèmy Teaotea France 2. Kieron McAvoy England
3. Guillaume Morin France 3. Adrien Kerkhof France
Cruiser 30/39 Cruiser 40/44
1. Dorus Brink Holland 1. Richard van Zomeren Holland
2. Harm van Brussel Holland 2. Alan Hill England
3. Michaèl Deldycke France 3. Swann Delmas France

Cruiser 45 plus Cruiser 15/16
1. Gilles Faivre France 1. Diego Verducci Italy
2. Alain Deschagt Belgium 2. Maxime Fache France
3. Vincent Claessens Switzerland 3. Alexandre Curron France
Cruiser 13/14 Cruiser Women 30 plus
1. Louis Bodrero France 1. Kerstin Meyer Germany
2. Max van Eijndhoven Holland 2. Morgane Delescluse France
3. Florian Chauvier France 3. Anita Bakkenes/Kok Holland
Cruiser Women 17/29 Cruiser Women 13/16
1. Tessa Meerholz Holland 1. Wietske Bloemhof Holland
2. Annermarijne Mohlmann Holland 2. Sandra Pavokovic Germany
3. Tessa Geerling Holland 3. Mathilde Hugot France
July 15th, preperations started to built the BMX World track in Auckland at the VECTOR Arena.
Seen here an empty hall, the first sections put down and some detailed picture of a double jump.
A sneek preview on the UCI BMX Worlds trophies and a lay out of the worlds BMX track.
Very interesting stuff here, the building of the starting hill with double gate, 9 and 5 meters in one hill.
A few pictures of the rest of the worlds track being built.
Some more pictures on track building and some hard working men already checking out the official program of this Worlds.
Pictures courtesy of www.clintontudor.com 2013
July 21st, the 8th. EVERTS & FRIENDS CHARITY event (moto-cross) took place in Genk - Belgium.
This unique moto-cross event took place for the 8th time. It all started on the MX track of Neeroeteren, home track of Stefan Everts (Belgium). Later on the event moved to the Genk MX track in Belgium.
For promotional purposes I was asked to interview the at this event present Legends of Moto-cross such as Sylvain Geboers, Harry Everts, Jean Jac Bruno and Herbert Schmitz, among others. A promotional video is being produced for a unique event some time next year, concerning moto-cross. More details will be announced ending September, early October 2013.
Special quest at the Everts and Friends Charity event was Kimi Raikkonen, the fomer F-1 World Champion. He also competed in the moto-cross events during this day.

July 25 - 28th 2013, UCI World Championships, Auckland (New-Zealand)
Report and pictures on the 2013 UCI BMX World Challenge ánd Championship helt in the Vector Arena, Auckland - New Zeland.
After several days of hard work by Clark and Kent Constructors and other associates, the track was ready. With the facility and means at hand, this was the best Kent & Clark could do. The track looked nice but in fact the length of the track was around 280 meters, where normaly an outdoor track would be around 400 meters. More on indoor World Championship tracks later on in this report.
Pictures courtesy of BMX Mania's - Jerry Landrum
This BMX Worlds is the 32nd. Worlds since the I.BMX.F. organized its 1st. Worlds in Dayton- Ohio in 1982. There have been 14 I.BMX.F and later on I.BMX.F-FIAC Worlds and up till now 18 UCI BMX World Championships. In the World Challenge classes, 32 countries were represented by 1808 entries. In the World Championship classes there were 175 entries in total of 29 nations present. Elite Men had 68 entries, Elite women 29, Junior Men had 62 entries and Junior Women 16.
Interesting to see that in the World Challenge classes with 1808 entries, 74,6% of the entries came from New Zeland (511) and Australia (838). Only 25,4% of the entries came from the rest of the world.
Here a couple of pictures taken during the official opening of these World Championships, just to give you an impression. Pictures courtesy of BMX Mania's Jerry Lendrum.
Here the final result in the world championship classes.
Final results Elite Men: Final rsults Elite Women:
1. Liam Phillips GBR 1. Caroline Buchanan AUS
2. Marc Willers NZL 2. Lauren Reynolds AUS
3. Jeremy Rencurel FRA 3. Manon Valentino FRA
4. Martijn Jaspers NED 4. Ariele Martin USA
5. Tony Nyhaug CAN 5. Alise Post USA
6. Joshua Callan AUS 6. Mariana Pajon COL
7. Yoshitaku Nagasako JPN 7. Stefany Hernandez VEN
8. Barry Nobles USA 8. Gabriela Maria Diaz ARG
Final results Junior Men: Final results Junior Women:
1. Sean Gaian USA 1. Felicia Stancil USA
2. Gonzalo Molina ARG 2. Shayona Glynn USA
3. Jeremy Rencurel FRA 3. Hannah Sarten NZL
4. Roman Mahieu FRA 4. Domenica M. Azuero Gonzalez ECU
5. Maliek Blyndloss USA 5. Viviana van Hees NED
6. Max Cairns AUS 6. Yerlin Castillo VEN
7. Trityn Kronk AUS 7. Natalia Suvorova RUS
8. Amidou Mir FRA 8. Sarah Sailer GER

August 5th. the ABA - USA introduced the Class of 2013, Hall of Fame
Because of the fact that my dear friend George E.Esser was an inductee ABA Hall of Fame - USA this year, I place the complete press-release on the "Introduction of the Class of 2013" on my website. George Esser was the man who learned me all about BMX and als was a co-founder together with Tadashi Inoue (Japan) and myself of the International BMX Federation - I.BMX.F. which organization merged with the UCI in 1996.
Please read all about the ABA Hall of Fame and this years induction if its 2013 members.


Introducing the Class of 2013

In November of 1985, the ABA inducted its first three members in to the BMX Hall of Fame. Now, 29 years and 109 members later, the National BMX Hall of Fame is proud to announce the "Class of 2013" - five more legends from the sport of Bicycle Motocross. It's a long and arduous process to narrow down the field to just one inductee for each category. This year, there were a record number of nominations, which were slimmed down by the Hall of Fame committee to the final five nominees in each category. Final selection was then voted on by nearly 500 members - including former Hall of Fame inductees and the BMX industry.

Inductees for 2013 are:

PIONEER RACER: Rob Fehd

Rob Fehd first raced BMX in the early 70's, but put racing on hold for a few years to pursue baseball. By 1980, he returned to BMX racing - and with the introduction of 24" cruisers to the scene, excelled on the big-wheelers and quickly hooked up a factory ride with GT Bicycles. After coming close to capturing ABA's No.1 Cruiser title in 1982, Rob turned Pro the following year. Probably best known for his super strength, Rob was one of the first "body building" pros of the 80's - seriously training for his sport. Representing America at many international BMX races, he went on to win the IBMXF World Championships in Australia. Forced to retire after multiple knee injuries, Rob evolved into GT's first in-house Team Manager and competed in some of the first Masters (Vet Pro) races in the 90's.
RACER: Billy Griggs

Known best as "Mr.Bill", Billy Griggs was one of the most stylish racers of the 80's. As a top ranked amateur and pro racer during the 90's, Billy rode for CW, Mongoose, Schwinn and Redline. Known for his style as well as speed, Griggs held an average ranking of 12.7 with three top-3 National rankings, and 140 AA-pro mains. Following his retirement from racing, Mr.Bill worked at GT Bicycles in the R&D shop - and was responsible for developing the Box Series frame design, alongside Gary Turner, and has welded up plenty of custom frames for top Pros - including the GT frames ridden by Mike Day and Jill Kintner in the 2008 Olympics. Currently, Griggs works for Razor in product development.

INDUSTRY: George Esser

In the early 70's, a motorcyle race promoter named George Esser was running the NML - the National Motorcycle League, when his eldest son Greg asked him about racing their bikes on the track. Almost instantly, BMX was born in the Sunshine state. By 1974, the National Bicycle League (NBL) was formed. As founder and president of the NBL, George gave the sport of BMX the major boost it needed on the East Coast.
In 1981, Esser teamed up with the Godfather of European BMX - Mr. Gerrit Does, to found the first International Governing body for BMX Racing; called the IBMXF. Esser, at one time, was also part owner of MCS - and would later own and operate Fab-Weld of Pompano Beach, FL, manufacturing frames and product for many big BMX brands. Sadly, Alzheimer's disease took George Esser away from us in August of 2006 - but
along with his five sons and his ever lasting legacy in the sport BMX, George Esser's legend will always live on.

FREESTYLER: Ron Wilkerson

In 1984, when Wizard publications introduced a new magazine called FREESTYLIN', there on it's very first cover, was a hyper mop-headed Ron Wilkerson doing his thing in Golden Gate park. This moment not only kicked off the sport and paved the way for where it is today. Soon after hooking up a factory ride with Haro Bikes, Wilkerson went on to invent numerous tricks - such as fakies, abubaca, and nothings. For over
ten years, Wilkerson toured the World, helping spread the freestyle gospel to all who would listen - and as team manager, picking up some of the most talented riders along the way. Ron was never one to be pigeon-holed in to one specific type of riding - he did it all. Proof of this is Wilkerson's 1985 AFA Flatland, Ramp, and Overall Champion. Ron continued to push the limits of himself and the sport. Thus, when that sport needed a boost, Ron turned into an event promoter and created the 2-Hip contests, King of Vert halfpipe series and Meet the Street contests. Starting up his own brand in 1989 - originally called Wilkerson Airlines, it became one of the first rider-owned freestyle brands - and still survives today as 2-Hip Bikes.

WOMAN: Leigh Donovan

From the moment that Leigh learned to bunny hop a curb on her boyfriend's bike, at age 11, she was hooked on bikes. After convincing her dad to get her an Elf BMX bike and an ABA membership, Leigh began racing at the World famous Orange "Y" track and hasn't stopped going fast on two wheels since. Leigh's speed and smoothness stood out amongst her peers - and in 1988, she dominated the entire season and brought
home the very first National No.1 Girls Cruiser title. After a successful career in BMX, Leigh turned her sites on the MTB scene and became one of the most winning female racers in mountain biking. It's safe to say that the skill level of today's women pros and Olympic athletes are all a part of the racing evolution that dates back to Leigh Donovan.

SATURDAY - SEPTEMBER 28th

For 2013, the Induction Ceremony for the BMX Hall of Fame moves back to it's regular time - in September. This year's Ceremony is tied in nicely to the first-ever USA BMX HALL of FAME Nationals,
at Chula Vista (held on the Chula Vista Am track). In addition, the 3nd Annual HOF Golf Tournament will be held on September 28th beginning at 8:00 am. The ceremony will again take place at the upper pavilion at the U.S. Olympic Training Center in Chula Vista - on the evening of Saturday, September 28th. Tickets will go on sale on June 14th - thru EventBrite - with an Early-Bird price savings when you book early.


THE NATIONAL BMX HALL OF FAME SCHOLARSHIP

THE FIRST BMX HALL OF FAME SCHOLARSHIP GOES TO...
USA BMX and the National BMX Hall of Fame committee would like to congratulate Illinois racer TYLER WHITFIELD on becoming the recipient of the first-ever BMX Hall of Fame scholarship. Tyler Whitfield will be attending Marian University and will be a member of the university's cycling team. His future goals are to become a pediatrician, get a NAG No.1 title in his class this year, earn a national title at some time and race
in the 2016 Olympics. Tyler commented that, "without family behind you supporting and pushing you, it is almost impossible to get to the spot where you want to be. "The National BMX Hall of Fame scholarship has been accumulated over the past four years, since the Induction Ceremony moved to San Diego. Funds for the scholarship are brought in through the annual Silent Auction at each year's ceremony.


ABOUT THE NATIONAL BMX HALL OF FAME:

Established by the ABA in 1985, the BMX Hall of Fame's mission is to recognize, honor and salute the pioneers, makers and shakers in the sport of Bicycle Motocross. Each year, USA BMX (The American Bicycle Association) inducts 5 new members to the BMX Hall of Fame. They are: two legendary racers, one legendary freestyle rider, one influential Industry person, and one influential BMX woman. Special Recognition
inductees may also be included. LOCATION: The official home of the National BMX Hall of Fame is currently located at the Olympic Training Center in Chula Vista, CA. - at 2800 Olympic Parkway, Chula
Vista, CA 91915. For hours of operation, check with the U.S. Olympic Training Center @ (619) 656-1500.
End of press-release. Hope to have given you all an impression on what the ABA BMX Hall of Fame (USA) is all about. For more pictures on the induction and diner ceremony, check on this page September 28th.


August 13th., Opinion on the organization of a BMX World Championship at indoor facilities in general.

Waalre, August 20th. 2013.
UNIVERSITY of BMX
Keeping and creating tradition in our sport
Concerns: opinion on outdoor and / or indoor BMX World Championships in general.
To: Open letter to the UCI BMX committee, the UEC - section BMX, dear friends in BMX,
It's about 4 weeks now, since the UCI BMX World Championship took place in the Vector Arena in Auckland – New Zealand. Following reactions on facebook and others, as well as watching Junior and Elite racing life on the internet myself, I do have the urge again to give you all my personal opinion on BMX World Championship Indoors, in general.
I do have a problem with a BMX World Championship indoor on a track of around 20/22 seconds laptime. This is not the character of BMX. I do have lots of respect for the riders that won a World title in New Zealand, they had to adjust to a very short track, so respect for them all.
I also have respect for Clark and Kent Constructors building this BMX track within their possibilities in the Vector Arena. Here my motivation for writing my opinion on this topic, BMX Wolds Indoor or Outdoor?
Background.
I am involved in BMX since 1974, have seen BMX develop from simple tracks like the 1976 Irvine BMX track, the Van Nuys BMX track, the JAG BMX indoor Worlds towards, the Redditch '80 s BMX track, the Beaune 1 BMX track, the Worlds and ECC Slagharen BMX tracks towards the World Cup/Supercross BMX tracks of Chula Vista, Papendal etc. and the Beijing and London Olympic tracks . In Junior and Elite class at a Worlds and in Elite class during World Cup/Supercross events, the 8 meter high starting hill is a remarcable improvement. It has a spectacular look from the outside. After about 40 years of development, BMX racing can be considered a full grown topsport now. For me personaly the London Olympic BMX racing track was the best of all so far and an example for the years to come.
Prepairing for the 2012 Olympics, a copy of the Olympic BMX track was built at the Papendal Olympic facility in Arnhem in 2010. The Papendal design was "one bridge too far". The promotor and trackbuilder of the Papendal track wnet too far in making BMX extremer. The result was too many (bad) accidents (2011) and after evoluation of the event, things changed for the better, specialy concerning safety. UCI layed down strict rules building a trick. Again, an absolute great example how a Junior and Elite World Cup/Supercross track should look like has been the 2012 Olympic track in London.
BMX – Bicycle Moto Cross, a historic background.
I believe it is very important to watch over the character of our sport, plus keeping and creating tradition in our sport. When international BMX racing started within the I.BMX.F., I did compose and write the first ever IBMX.F. Racing rules and Regulations. I also took care of the second issue of these Rules and Regulations as General Secretary I.BMX.F. at the time.
The principal was executing BMX outdoors as copied from motorcycle moto-cross. Minimum standards were set for outdoor BMX tracks: length of a top class BMX track should be between 400 and 440 meters or around 40 seconds a lap for a Pro to cover the track.
Motivation writing these criteria in the 80's was, athletes had to have a certain physical fitness and ofcourse riding technique as well as mental attitude, to race at top speed during around 40 seconds in, at the time Pro or Superclass. Stamina, power, endurance to be compaired with an Olympic athlete in 400 meter distance running was essential. Making this comparison to sportsjournalists gives them a better impression of what BMX'ers had to do prepairing and training for racing.
Just the last couple of years, the UCI has updated their criteria building outdoor tracks concerning a layout of an AA type track (WorldCup/SuperCross – Continental, World and Olympic tracks). Specialy after the 2011 Supercross in Papendal, criteria became more specific and clear such as width of a track, type of obstacles, pro-section and its messurements, the starting hill which in this case is 8 meters high etc. The same situation with the A type tracks, exactly the same as above only with a 5 meter starting hill and without a so-called pro-section. These tracks have to be around 380 till preferable 400 meters and a lap should take at least 38 seconds till around 40 seconds in Elite Men class. This all concerns international BMX racing worldwide.
For the Press/Media the comparison sporttechnicaly with 400 meter running in athletics, appeals to them. Like right now (Aug.'2013), at the World Championship Athletics in Moscow, the 400 mtr. running World Champion, covers the 400 meter in around 42/43 seconds. In BMX riding a bicycle on a track with obstacles at a 400 meter track is done in around 38/39 seconds.
This also says something about how to train and prepaire for such an event. A 1500 meter run in athletics is done in around 3 minutes 40 seconds, however the first 400 meters are done in around 1 minute, insteed of 43 seconds in wich 400 meter specialists run their 400 meter.The way of training and prepairing is absolutely different in both cases.
Why do I tell you all of this, well that has to do with outdoor BMX World Championships on at least 400 meter tracks in around 38/40 seconds OR indoor BMX World Championships of around mostly 250 / 280 meters on which a lap will be done in around 20 till 24 seconds in Elite Men class. THERE IS AN ABSOLUTE DIFFERENCE NEEDED IN TRAINING AND PREPAIRING as in athletics, to be top in either of them.
Just to keep our feet on the ground, Mr. Bolt, 100 meter sprint, runs at top speed at 44,7 km per hour. Average speed over 100 meter is 9,77 seconds or 35,1 km per hour. Top speed in BMX (with help of 8 meter high gate) at the bottum of the starting hill is around 60 km per hour and average speed on the bike over 400 meters is around 38/39 km per hour. This also tells specialists something how to train and prepair for BMX. 
INDOOR Worlds, why?
During the early days of International BMX in the 80's and 90's there was discussion on outdoor BMX Worlds having them indoor to be sure it was a dry and warm or an airconditioned event. Good for the riders ánd spectators. Tracks at the time were made out of dirt such as sand, clay or whatever. When the weather was bad, half the track could wash away, berms could wash away etc. Examples were the I.BMX.F. Worlds in Japan 1984 on practise day, Brasil 1986 and Holland 1992. So it was decided to try to organize World Championships Indoor when a possible weather risk occured in a certain country. So, several Worlds were scheduled indoor later on. The problem then was, less space in a hall mostly, to built an original 400 meter BMX track.
We have had BMX Worlds Indoor over time in among others, Melbourne 1998, Louisville 2001, Paris 2004, Birmingham 2012. In Melbourne the track had to be run twice, a loop was built in that track, which created many problems. This indoor facility was much too small (former Olympic swimming pool!!). All of them had too small a track, not up to outdoor standards. Modern International BMX racing is done now-a-days on BMX tracks with very hard surfaces and weather restistant tracks one can say, on so called ALL WHEATHER tracks. So in fact there is no absolute need to go indoor anymore. This is what makes BICYCLE MOTO-CROSS special, it's originaly an outdoor sport and we should go back to outdoor racing as standard and with high exception go indoor.
The first ever all wheather BMX track by the way, was built at Ponypark Slagharen. In 1983 the I.BMX.F. Worlds took place there. On Friday, part of that day it rained cats and dogs, but racing good go on, except for one or two short brakes. O.K. Spectators and riders got wet, so what, thats BMX. The Saturday and Sunday were just fine, with just some short showers, no problem, the track could to be ridden on at all times. Spectators came in anyway.
My opinion and advice:
Since we have ALL WHEATHER tracks now-a-days at UCI AA tracks and A tracks, why not go outdoor at all times and race on BMX 400 meter tracks. That would be up to standard for a BMX World Championship.
Financial consequences organizing INDOOR Worlds.
Organizing a World Championship Indoor has become very expensive. Budgets of around 2 million euro's is just normal at present. A large part of this amount goes into building an AA or an A BMX track. Most of the time the square meters needed to built a 400 meter track are not available, so a too small and too short a track has to be built. In itself that isn't all that bad if it is just an international event, not a Worlds. BUT, after such an event is over and done with, the track will be taken down, the starting hill(s) is taken apart and an investment (100.000 euro's? at least) is just gone up in the air. No benefits left for the actual sport in the sence of a top quality track on which riders can practise and race afterwards for years.
My opinion and advice:
If nessecary (if no club with qualified track is available), have a new AA and A track built OUTDOOR, which facility can remain there after the World Championship and benefit the National Organization concerns. It can be used for World Cup/Supercross competition afterwords as well. This is a good investment and NOT throwing away money building a track indoor for just 1 week.
Overall conclusion on World Championships indoor or outdoor?
If it seems impossible to built a BMX track Indoor according to UCI rules concerning length of a track, go outdoor. At least a 400 mtrs / 38-40 sec lap should be in place for a Worlds. And again, better invest in building an all weather outdoor track, then building an indoor track just for a week. For me. London again is the example. They rebuilt the Olympic track somewhat and this track is still used now, not destroyed.
Alternatif idea on BMX Worlds Indoor / Outdoor.
To give indoor facilities a change to organize a World Championship, why not have 2 types of Worlds Championships as in many other sports:
1. World Championships outdoor on 400 mtr. tracks of 40 – 38 seconds a laps (endurance).
2. World Championships indoor on 270 / 300 mtr. tracks of 22 – 25 seconds a lap (sprint).
So, 2 seperate World Championship titles to be won here. Outdoor Worlds in the summer (July/August), Indoor Worlds in the winter periode (December). Riders who prefer outdoor 40 second tracks can train specific for these outdoor Worlds and those prefering short 20/25 sec. tracks can train and practise those intensities.
Besides my main purpose writing this letter, BMX Worlds Indoor or Outdoor, I also want to mention the following.
Track Layout.
Why always 180 degree turns now-a-days, 3 turns in a track. Why not have a 90 degree turn as 1st corner, then a straight, 2nd corner 90 degrees, a straight again and then a 3rd corner 180 degrees and 4th and last corner also 180 degrees, straight toward the finish,. With such a design, less crashes in the first 2 corners and for sure closer racing. The mix of 2 x 90 degrees turns and 2 x 180 degrees turns looks more appealing to the riders too, I believe.
Time Trials.
Publicity wise there is no sence in having Time Trials and a World Champion Time Trials. Sportjournalists don't think highly of those time trials in BMX, compairing it with road cycling. They don't write about it and it's not shown specific on the sportsnews on TV.

For spectators (most of the time inside BMX people!!) Time Trails are boring and for the organization a waist of time. Time Trials aren't typicaly BMX like. It would be better to have a special price (cash money, like in motorcycle moto-cross) for those riders in Junior and Elite m/w class for those having a HOLE-SHOT in the main events. First from the gate up dan till around the first corner. Hole Shot only counts when NO crashes occur up and till the line put on the ground through the first corner.
Also a National Team competition would be much more attractive for outside BMX spectators. I have mentioned this many times before, would be good to realy serious look into this suggestion! A National BMX Team World Championship title will publicity wise bring the sport much more then a World Champion Time Trials BMX. Check most other Olympic sports on this subject. 
BMX a World wide sport.
We think BMX is BIG!!! My quess is there are around 250.000 registered license holders all over the world, affiliated to the UCI, coming from around 45-50 countries. Around 200 / 250 top athletes from those countries and numbers do race at World Cup/ Supercross events in Junior and Elite classes (m/v), the show-case class of our sport.

At the 2013 BMX World Championship there were around 2000 entries from 32 countries. Out of New Zealand and Australia together came 75 % of these entries and from the other 30 countries came the rest of the entries, 25%. The World Championships Atheletics had 2000 atletes present from 206 countries. One can see we still have a long way to go, 38 countries or 206 countries. 
BMX in England.
Last thing I want to say is the following. I have been involved and following the development of BMX in England since the 80´s. Going over there racing BMX I always found that the development of tracks stayed behind, looking at the rest of Europe. I remember the so/called `Center of Excellance` in Brighton, the track were we had our first try/out UCI BMX World Cup in 1995. The track was of poor quality. It is absolutely incredible what happened in England after the Olympics in London in 2012. I was, and I am still very surprised about the immense big step that has been made in England concerning building new tracks, top quality, an example for all European and worldwide BMX nations. Important part in this fantastic development is I think, CLARK and KENT Constructors, they do a fantastic job. About every other couple of weeks a new track has been built by them, somewhere in England. This is absolutely amazing.
So this is what Olympic Games can do for a sport like BMX. Training facilities are just great now, look at the indoor training facility in Manchester. Communities, clubs, regions, councils many of them are behind the sport of BMX 100%. Well, and the results are there as well, England has its fourth (4th) world champion in Elite class in 2013 ….... LIAM PHILLIPS (Dale Holmes, Jamie Staff and Shanaze Read are the other WC's in Elite classes). I am absolutely confinced more titles will follow in the future, won by Brits.
Time to stop writing down my opinion here. All of the above is just a thought of one person. Still I hope people involved in the political side of organizing BMX world wide, will take this letter serious and hopefully some of it can be of use in our sport of BMX, sometime. Wishing you all the best, warm regards,
Gerrit Does
Holland


August 17th. the RED BULL REVOLUTION event took place for the 2nd. time in Berlin-Germany.
This was NOT a UCI sanctioned event, allthough UCI license holders were racing there !? RED BULL wants to take BMX to the NEXT LEVEL, they say. It means another new form of BMX Racing is promoted and shown here. Let's call it BMX STUNT RACING. It is in a way, a pitty to see that we are getting away from traditional BMX Racing as we know it. The UCI BMX World Cup/Super Cross events are thé top events in traditional BMX racing and RED BULL is making BMX racing more like an extreme sport for only a small group of riders. Wonder were these developments will lead to and what the position of the UCI will be in this development.
Here a reaction on FACEBOOK about this event:

Gerrit Does
14 augustus 2013 ·
Indeed, questions are raised: "will this be the future of BMX?" Well, personaly I think this looks great, spectacular, wild, crazy, but ONLY for BMX FREESTYLE RACING and absolute for Pro's/experts only. I don't believe this is thé promotion for the original sport of UCI BMX racing like we know it TODAY! Parents of young children watching this, will NOT stimulate their children to start racing BMX bikes. As a SHOW, once a year, executed by Pro's, this is nice and fun to watch. Hope nobody gets hurt badly here! Just an opinion.

Red Bull R.Evolution Trackanimation: http://link.brightcove.com/services/player/bcpid1684512102001?bckey=AQ~~,AAABTw4lHzE~,sr1E9bdX6d4wCdvdlD8QKdNij3uKs2K9&bctid=2601273327001

Some opinions:
- Christophe Gentizon I spoke about it with some riders who were riding there last year. They had great fun. A show like this is "in my opinion" better for BMX than what we saw at Manchester or Auckland. Less rider falling. But I agree, this is more a RAD "Hell track" II than a race track.

- Chris Jacobs I do agree with you Gerrit Does , this must stay only for special occasions !

UPDATE: it's August 2018 now and so far we never heared and saw anything about this event anymore.

August 23rd.-24th., the French Old School of BMX Reunion took place at Cavaillon - France.
Early this year I already received an invitation to be present at the Old School Reunion Cavaillon - France, which event would take place on August 23rd.-24th. 2013. I accepted the invitation and on Thursday August 22nd. I got on my motorcycle, a Yamaha Bulldog 1100 to leave for Beaune, that is around 670 from Waalre. This was my first "leg" to Cavaillon and while in Beaune, my dear friends Christine Deconclois and René Nicolas, the father of French BMX, invited me to have diner with them in the evening. We had a great time, a fantastic French diner and talked ofcourse politics and developments in BMX in general.
The next day, René and myself would ride our motorcycles (René on his Harley) to Cavaillon, another 440 km. We decided to take the Route National and not the motorway. Well, that trip took us 8 hours, it was incredebily busy on the RN towards Cavaillon. We had lunch at around 13.00 hours and then went on with our ride. We left Beaune at 8.30 and arrived at the Cavaillon track at around 17.00 hours.
On arrival we ran right into the arms of the event organizer, Christophe Vico and some time later we met his assistants co-organizers Seb Ronjon and Franck Belliot. Present were also from the USA, Eddie Viola, Dave Nourie, Bob Haro and Toby Henderson. It was nice meeting everbody again after many years and hear their story of their lives.
Friday was used for practise, because besides the actual Reunion of OS French BMX riders, they also had an Old School BMX race planned, with most of the former top riders competing. When it got dark in the evening, at about 20.30 hours their was a presentation of old school offiicials, celebreties present and former top riders. A podium was built with a screne on top, were later on that evening the movie RAD was shown for everybody present. At first René Nicolas, the father of French BMX and Gerrit Does, father of Dutch BMX, one of the original founders of the I.BMX.F. and co-ordinator of international BMX in Europe in the early days were instructed to ride their motorcycles in front of the podium, so they did. Both men were interviewed by "Amadeus" and introduced to the public.
Then in a classic Ford Mustang, French BMX legend Christophe Leveque was brought to the podium and interviewed. Next were the USA Pro's to be introduced and they were in a very old, open Porsche: Bob Haro, Eddie Viola and Dave Nourie. Toby Henderson had a business appointed that evening and could not make it in time for this presentation. Then a classic truck came in with the Motobecane BMX Freestyle team, "the Mad Dogs". Last but not least Xavier Redois and Claude Vuillemot were delivered to the podium and interviewed by "Amadeus". All of this was great fun and spectators enjoyed this presentation very much indeed. Then the movie RAD was shown, we did eat and drink some and then left for our hotel at around 22.00 hours.
The next day racing started at 10.00 hours. Besides the Old School riders, also their children and others were racing. It was a fun day. During the day I did meet many old friends like former teammember GT EURO team, Dennis Cassamata, Christophe Boul, Valerie Huber etc. The Americans did a signature session and Bob Haro was signing his recently released book on the history of HARO. Ofcourse there was a BMX MUSEUM with some very nice old school bikes. Among others Christophe Detandt from Belgium was present with a series of bikes.
Ofcourse racing took place that day too. Besides Old School riders, also young BMX racers competed, some of them on old school BMX bikes, which was fun to see. Even a side-hack class with around 8 teams were racing. Some very stylish action of old school riders, what everybody enjoyed very much indeed.
In the afternoon a BMX Freestyle demo took place and ofcourse Dave Nourie and Eddy Viola were actif there as well as members of the famous MBK sponsored "MAD DAGS" Freestyle team and many others. Check out the pictures taken there.
At about 19.00 hours I went back to the hotel, because the next day I had to return to Holland. I understood that the racing went on till early Sunday morning around 0.30 hours. That would have been a bit too late for me. However, everybody had fun, enjoyed the Reunion very much and so did I. Glad that I came over and did meet many old friends again. See you all next time during the UCI Worlds in the AHOY Sportpalace in Rotterdam - Holland, July 23 - 27th. 2014.
PICTURE GALERY OS of BMX REUNION CAVAILLON:
Thanks Christophe VICO -on left- for a great weekend, compliments!
Pictures shown, courtesy of several French photographers present, among others Joyce Vuillemot and Marielle Ronjon.

August 30th.-31st., Professor Brian Frehner from the Olkahoma State University visited Gerrit Does.
More then a year ago, I was contacted by Mr. Brian Frehner, a Professor at the Oklahoma State University. Brian Frehner is a historian at the Oklahoma State University and already had several publications see the day of light, like: Finding Oil: The Nature of Petroleum Geology, 1859-1920
As an historian, Brian Frehner also was very interested in the history of BMX and more specific in the start, growth, decline and rise of International BMX. He wanted to write and publish a book about this topic. Mr. Frehner has been a BMX racer himself from 1976 till around 1982. Through the internet Brian did read my personal website www.universityofbmx.com and more specific he did read the History of BMX as I know , on that website. As founder member of the I.BMX.F. - International BMX Federation, I started writing down the History of BMX in the year 2000. Documents from around 1976 up and till today were the basics for that history.
Professor Brian Frehner started his historical survey in the USA, speaking to founders of the main organizations, editors of BMX magazines, pioneer riders and now also foreign experts in BMX, like Gerrit Does. Historians always want proof of what has been said or published and that is what Brian Frehner came to do, when being in Holland, checking what has been said on the internet through the University of BMX, if that is all true and can be verified with documents, facts to prove it.
Well, Brian interviewed Gerrit on Friday evening for about 3 hours and on Saturday both men worked hard from around 10 till 22.00 hours to go through documents, letters, publications to prove the facts mentioned were correct. All of this was very interesting for GD as well. Just now he realizes himself how valuable documents can be, saving them for over 40 years. Professor Frehner will continue his investigation the coming years and hopes to issue a book on the History of BMX, seen in a historical perseption, sometime 2016. Very anxious to see the result of all of this.
This is what Professor Brian Frehner had to say after he left the Does' residency and went back to the USA:
" It was absolute joy to meet you and your wife. The information you provided was great and it will take time for me to read through it and to think about it in order for it to make sense. The archive you've assembled is amazing! I greatly appreciate the hospitality that you and your wife showed me. I thank you very much and please extend my gratitude to your wife. I'll try to stay in touch as much as possible. I greatly admire all the work that you have put into organizing the sport of BMX and to preserving its history. Thank you Gerrit and I'll see you down the road. Best regards, Brian".
September 24th. - October 3rd., Gerrit Does went to the USA BMX Hall of Fame diner and induction ceremony San Diego - USA.
It was very early in the morning of September 24th., when I took the train from Eindhoven to Schiphol Airport-Amsterdam. My travelplan was to go to Florida first, stay with the Esser family in Pompano Beach. Greg picked me up from the Ft.Lauderdale Airport that evening.
Wednesday 25th. Around noon this day, old friend John Hutelin came over to the Esser's and pickted me to go to his house, meet his son and later on picked up his wife from school (she is a teacher). From Ft. Lauderdale we went back to Pompano to visit with another old friend, Jeff Devido of Custom Cycle Supply / MCS. Both John and Jeff stayed at my house in Waalre-Holland for some time, during the 80's. Also did meet with Brian Fell, working for Jeff at Custom Cycle Supply. Ofcourse I had to write down my name on their "Wall of Fame", signed it with "teammanager MCS Euro BMX team, World Champion manufacturer Teams 1990 - I.BMX.F. Worlds in France". John left us and Jeff and I went out to have diner that evening. Afterwards Jeff did bring me back to the Esser's home in Pompano. It was great meeting you guys again.
Thursday 26th. I learned that Albert Bensink (Holland) was in Florida too, delivering and placing a Bensink startinggate at the Okaheele BMX track in West Palm Beach. Since Brian Esser, Greg's brother, had his birthday on this day and is living in West Palm Beach too, we decided to visit Brian ánd the Okaheele BMX track. Sorry to hear that Albert Bensink had already left West Palm Beach that Wednesday for San Diego, so we missed eachother. It was great meeting Brian again. Brian, Greg and myself went out for diner, celebrating Brian's birthday. Greg and I went back to Pompano, late that evening.
Friday 27th. On this day, the Esser family and myself left Ft. Lauderdale for San Diego in the afternoon, arriving in San Diego at around 8.30 that evening. After we picked up our rental car, we went to the official host hotel for the USA BMX Hall of Fame event, the Hilton.
Saturday 28th. We got up early this morning since the golftournament was on our list to be a part of. I could not play golf myself, due to 2 brused rips after a crash a couple of weeks ago, riding my all terrain bike here in Holland. So Greg, Melanie and Alex Esser and I drove around in a golfcart to watch the US BMX Pro's play golf for a good cause. It was great fun seeing around 20 BMX stars play golf and having fun. Greg, as usual, was the "hackler". The tournament started at around 8 in the morning and the last group came in at around 13.30 hours.
The official title of the tournament was: 3rd. Annual BMX Hall of Fame Scholarship Golf Tournament, Salt Creek Golf Club, September 28th. 2013. Seen here the trophies and some of the prizes of the raffle ticket action.
Here some "action" pictures and others of our BMX Pro's playing golf. Teams were formed and the competition was a team efford. We travelled along with the Cash Matthews team and did meet the other teams going round the golf course.
Around 13.30 hours the golf tournament came to an end. Everybody gathered in the golf clubhouse for the presentation of awards. Team Andy Ruffel won and Greg Esser, who did buy several raffle tickets hoping he would win the Strider bike for his son Alex, did indeed win the Strider bike. A very happy Alex rode around the tables on his Strider some time later. This has been a fun day and around 1500 US dollars were collected for the scholarship.
By the way, it was very special too, meeting "Racing" Jason Jensen during this golf tournament. Jason Jensen was one of thé talents and top riders in the '80 s in the 10 - 12 year class. My son Nico Does raced with Jason several times during 1979 - 1981, among other during the '79 and '80 JAG BMX Worlds in Indianapolis. It was realy great seeing him again after so many years.
Due to the fact that my camera refused work sometimes, several very nice picture were lost in the process, so concerning the golf tournament, this is it. After the presentation of awards everybody went his way to prepaire for the USA BMX Hall of Fame diner and induction ceremony that would take place that evening at the Chula Vista Olympic Training Center, starting at 6.30 that evening.

The UCI BMX SUPERCROSS at CHULA VISTA.
It seemed I did not prepaire myself very well, since I only learned that afternoon that the UCI BMX Super Cross had taken place that Saturday too. So on Sunday no BMX Supercross event. Gosh, I missed that one! Thanks to the courtesy of BMXMANIA.COM I can show you some pictures ánd the results of the last UCI BMX Super Cross of 2013.
Here the result on this UCI BMX Wolrd Cup/SuperCross event in Chula Vista that took place on September 28th. 2013:
Saturday Final results in Elite Men class: Saturday results in Elite Women class:
1. Sam Willoughby - AUS 1. Mariana Pajon - Colombia
2. Tory Nyhaug - CAN 2. Alise Post - USA
3. Connor Fields - USA 3. Amanda Carr - THA
The OVERALL results of the 2013 UCI BMX World Cup/SuperCross series:

OVERALL results Elite Men: OVERALL results Elite Women:
1. Connor Fields - USA 1. Mariana Pajon - COL
2. Jelle van Gorkum - NED 2. Arielle Martin - USA
3. Liam Phillips - GBR 3. Laura Smulders - NED
Top 22 riders in Elite Men ánd Women, Overall stadings UCI BMX World Cup 2013:
Again I missed this race, so it's not possible for me to make an evaluation of the event. Only thing I can say is, that again the interest of spectarors in this event was very low. Only a few hundred spectators were present. Probably due to the cost of a ticket at US $ 25,= for an adult. We are used to those prizes in Europe, but not in the USA.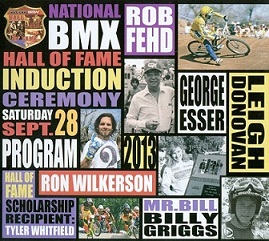 The USA BMX Hall of Fame diner and induction ceremony, Saterday evening September 28th. 2013.
Anyway, we all were present at the Olympic Training Center at around 6.30 that evening, to take part in the Hall of Fame diner and induction ceremony. Our presentator/host was Cash Matthews. When we entered the Olympic Training Center, we had to pick up our identity cards, pictures were taken and video interviews made by Gork and conpany. Over 400 people were present and there were so many familiar faces and old friends, this was incredible. It looked more like a reunion at a certain point. We all went past the USA BMX Hall of Fame wall and also walked through the BMX Museum before entering the HoF diner and ceremony location.


Our 1st. course of our diner was surved at around 20.15 hours, during which time the official Hall of Fame induction ceremony started. Cash Matthews introduced the HoF inductees one by one and a short video clip showed the careers of the inductees in our sport. I specialy came over to be present during the induction of my dear friend George E. Esser (r.i.p.). Brian and Greg Esser had the honour of receiving the HoF plaque of their father. I also had a surprise for the Esser family since, George E. Esser, Tadashi Inoue (Japan) and myself, were honoured by the UCI for starting the I.BMX.F. (International BMX Federation, integrated iinto the UCI in 1996) in 1981 and for organizing and promoting BMX during many years afterwards. I was allowed by the UCI to present the UCI MERIT and PIN to George's sons, Greg and Brian Esser, that evening. Cash Matthews introducing George E. Esser:

Here my speech during the 29th. Annual Induction Ceremony at the Olympic Training Center in Chula Vista on September 28th. 2013.
"Good evening everybody. It is so great to see so many familiar faces and meeting so many old friends. USA BMX, thank you very much for your hospitality and also allowing me to say a few words. Normaly I speak from the heart but because there was a time limit, I did write down at least what I wanted to say in order not to miss anything.
Added on the spot: Before I go any further, I want to say the following. I just learned from Rob Fehd's speech, that his son is serving in the 101 Airborne Division. Well, I can tell you that exactly 10 days ago, we celebrated our liberation in the South of Holland, Eindhoven area, from the German occupation in 1944 by the 101 Airborne Division. A parade takes place then and veterans still alive are honored in Eindhoven. We still thank the 101 Airborne Division every year for our Freedome and thanks to your son, Rob, for his service.
R E S P E C T
O.K. now I will continue my speech: First of all, congratulations to all Inductees of tonight and specialy to my dear friends the Esser family with the induction of George E.Esser (r.i.p.). Thanks to those who voted for my dear late friend George Esser, it's well deverved. I am so proud to call George my friend and mentor in BMX!
In fact George Esser (USA), Tadashi Inoue (Japan) and myself (Gerrit Does - Holland), should have been at the UCI CONGRES in Florence – Italy at this very moment. Why I am here now, I'll explain to you: On July 10th, the three (3) of us received an invitation by the UCI President, Mr. Pat McQuaid to be present at the UCI CONGRES. Motivation: "During the UCI Management Committee meeting held in Bergen – Norway on June 13th.-14th 2013, it was decided to award George E. Esser, Tadashi Inoue and Gerrit Does, the UCI MERIT for all services rendered to the UCI".
This UCI MERIT would have been presented to us at the end of the UCI CONGRES in Florence – Italy. However, we already arranged early this year to be present at this USA BMX Hall of Fame ceremony in Chula Vista. I did not want to miss the induction of my dear friend, George E. Esser. So we sticked to our plan.
I explained our situation to Mr. Pat McQuaid through his secretary and he did understand our position. He even allowed me to present the UCI MERIT, being an AWARD and UCI pin, to George's sons Greg and Brian Esser, here in Chula Vista – Ca., USA. They awards and pins were sent to my home address and I did bring them overhere now.
Sorry to say that Mr. Tadashi Inoue could not be here today, due to health problems. Mr. Inoue, celebrating his 74th birthday today, has received the UCI MERIT today in Tokyo – Japan.
Main reason/motivation to award the UCI MERIT to the three of us, is the fact that we are the only three Life (original) Founder Members of the International BMX Federation – I.BMX.F., founded in April 1981. Since 1996 the I.BMX.F. is integrated into the UCI. This "Life Founder Members of I.BMX.F" status has never been addressed during the negotiations and integration of the I.BMX.F. into the UCI. About 2 years ago I have made a remark on this point to the UCI office and just last year (2012) I was requested by the UCI, to present the curriculum vitae of Mr. Esser, Mr. Inoue and myself concerning our careers in BMX organizing and more specific the start of the I.BMX.F. and the development thereafter of that organization. Again, on July 10th. 2013 confirmation through a letter was sent to the three of us that we were awarded with the UCI MERIT, which we think is a great honour.

1985
We tried to have Mr. Pat McQuaid – President of the UCI, to introduce Mr. Esser, Inoue and Does through a video message here in Chula Vista now. However, he denied that request, mainly because he had to focus himself 100% on his possible re-election as UCI President. Today this election took place in Florence – Italy and I wonder what the final result was!
Added on during this speech: somebody from the audience confirmed Mr. Brian Cooksen has been elected as new president of the UCI.
It would have been an emotional event in Florence, since a "dirty war" has been going on in the media between Mr. Pat McQuaid (Ireland) and his only opponent Mr. Brian Cooksen (England). I can understand Mr. Pat McQuaid wasn't in the mood to address this Hall of Fame audience now.
Anyway, it is my pleasure and honour to present the UCI MERIT, being an Award and a UCI pin to my dear friend
George E. Esser (r.i.p.)

, through his sons,

Greg and Brian Esser

. I will read the text on the award and then hand out the award to Brian Esser, Greg will receive the UCI pin.

Last but not least!
For me personaly this is a very important statement: Preserving the History of BMX and keeping and creating tradition in the sport of BMX, through times ánd during the development of our sport into becoming an Olympic Sport, is essential to remain accepted and recoqnized as an Olympic Sport in the future. Keep that in mind please.

Respect for the USA BMX organization in doing the above through among others, this Hall of Fame activity, now for the 29th time. I am closing now by wishing you all the very best for the future and till we meet again. THANK YOU ALL!

Gerrit Does

proud USA BMX Hall of Fame member (since 1998)
Owner of the UCI MERIT (bmx since 2013)

https://www.youtube.com/watch?feature=player_embedded&v=K2oMvlx__7s This is the actual induction of George E. Esser on video.


Here a series of pictures taken after the official part of this Hall of Fame induction ceremony. All present Hall of Fame members were asked to come to the podium, pictures were taken and stories told.
Sunday 29th. BMX race at the Chula Vista National BMX track + visiting San Diego habour.
On this day the Esser family and myself went out to the Chula Vista BMX track for the USA BMX Hall of Fame National event. We did met several old friends with among them Dale Holmes and Chris Jenkens. Also had a long talk with Jerry Landrum of BMX MANIA about BMX in general. One thing I loved very much was the fact that I saw Dale Holmes win his class with a strong lead, riding flat pedals, so NO CLICK pedals. Well done Dale and for me it was a nice "statement": you can do without click pedals and still win!
Racing was over at about 15.00 hours so we had some time to spend. We went out to get a bite at "In and Out" fast food restaurant, together With Greg Hill and friends (among them 2 German BMX racers Henry Pawlak and Jens Klünder). Afterwards the Esser family and myself went to down town San Diego. Visited the Gaslamp Quarter, which was very nice and later on we went to the harbour were the carrier USS MIDWAY was. We decided to visit the USS MIDWAY on Monday. We left the official HoF Hotel early that morning and had to look for another hotel close to the airport. We ended up at the La Quinta Ins & Suites in San Diego historic Old Town. After a nice diner at a nice Mexican restaurant the day was over.
Monday 30th. On our program today was, visiting the USS MIDWAY carrier.
We took it easy this morning, had breakfast in a restaurant in San Diego Old Town and arrived later on at about 11 o´clock at the USS MIDWAY for as it turned out to be, a day long stay at this carrier. We had to leave the MIDWAY at 17.00 hours, because they were closing down for that evening. It was a fantastic experience. With our headphones on we followed the signs. Former sailers, pilots and so on, explained about the practical dayly life on the MIDWAY, it was an impressive visit. Even little Alex enjoyed himself very much. Just to give you an impression, here some picture of out tour.
So at around 17.00 hours we had to leave the USS MIDWAY and we went back to the hotel. Went out for diner in San Diego Old Town.
Tuesday October 1st. Visiting San Diego Zoo
This would be the last day for me here in San Diego, since I would leave for Holland early the next day. Had breakfast in San Diego Old Town and after that we went to San Diego Zoo. As a former amusementpark employee (Manager Personal), I am always interested in how organizations like among other the San Diego Zoo, operate. So, this could be a very interesting day. It indeed turned out to be a great day again.
Wednesday 2nd. Left the hotel at 6.00 hours in the morning. My friends the Esser family travelled on to L.A. Greg Esser would leave L.A. for Tokyo Japan on Thursday. Greg would take part in the World Championships RC car racing. I arrived home safe and sound after an 18 our trip by plane and train, on Thursday October 3rd. 2013. Had a great time in the USA and I am very thankfull to have met many old friends and being present at the induction ceremony of my dear late friend George E. Esser.
End of report.


October, an International BMX race took place in Euijeongbu, Gyeonggi-do - South Korea.
Here an impression of the BMX track. The track wasn't totaly according to what the riders wanted and they helped out the organizer by shaping the track a little bit. Real International co-operation!

In general this South Korean BMX track was a great facility for such a "young" BMX country: compliments.

November , the Curacao International BMX event.


YEAR 2014.
January. Promotion video on the UCI BMX WORLD CHAMPIONSHIPS in the AHOY in Rotterdam/Holland 23/27th of July 2014. Check this out!
http://www.youtube.com/watch?v=z9VkPwx6cqA

January, 2014.
It was announced by the UCI (Union Cycliste Internationale) that a new BMX COMMITTEE was formed. The newly appointed President of the BMX Committee is Mr. Artur Lopes from Portugal. Three (3) members of the BMX Committee were appointed by the UCI Management Committee and they are: Roger Rinderknecht (Switzerland), Jolanda Polkamp (Holland) and Jose Luiz Vasconcellos (Brasil). Appointed as rider representative was Sarah Walker (New Zealand).

April 4th.-5th., UCI BMX European Championship 2014 rounds 1 & 2, at Circuit Zolder - Belgium.

Report: This was the opening weekend of European BMX racing at an international level. The weather was just fine and an exiting weekend was ahead of all of us. Circuit Zolder is know for its unique road race track (cars and motorcycles). Many international events do take place here. Besides motorsports, the Circuit Zolder organization also is very active organizing bicycle events like road racers, tour events all on the actual road track as well as cycle cross and atb/mtb events. Since a couple of years, BMX has become a part of there selected sports too.
Several national BMX events took place on the BMX track "Circuit Zolder". Also smaller international events took place here in the past couple of years. This time the rounds 1 and 2 of the UCI BMX European Championship 2014 Junior and Elite (men and women) were scheduled here. This was a very important event, because this was kind of a test for the organization towards the 2015 UCI BMX World Championship that will take place on the Circuit Zolder then. The event had around 1400 entries from 27 countries present: Bel, Fra, CZE, Ned, SVK, Lat, Ger, Hun, Aut, Den, Eng, Rus, Sui, Spa, Pol, Ita, Nor, Swe, Por, Lit, Fin, Col, Bol, BLR, Slo, Ven, and Jap.
Besides testing the actual organization, racing technicaly, housing, parking and so on, there was another very very important aspect within this event to be tested: the newly built Pro and Amature track including their 5 meter and 8 meter high starting hill and electronic gates. This would be a challenge for sure. The trackbuilding organization PROTRACKS, run by Thomas Hamon (former top BMX pro), did a great job rebuilding the complete BMX track into a world level track. Actual responsable organizers, Marc Hermans and Gil de Vis, have been very busy together with Thomas Hamon and his organization to get the track ready in time. The track was ready allright, but had not yet been tested by the riders under fierce competition level. So this weekend they would find out what was right and what had to be changed.
Circuit Zolder is a professional organization with a lot of experience, general organization wise like reception, parking, camping, vendors, catering and so on. The new built track would cause some problems and rumours around the track. On the Saturday there were many crashes and as I see it, there were 2 reasons: 1st. This was the first big international event and everybody was pushing to show were they stand. Impress the competition. 2nd. This was the ultimate test on the track desing and it showed some lips, jumps, weren´t 100%. But again, that´s were among others this race was for, find out what was good and what had to be changed. Right now, the organization is working hard with PROTRACKS to update the track to have it ready for 100%, for the 2015 Worlds.
In general people present were happy and had a great weekend. Everybody is looking forward to the 2015 World Championship at the Circuit Zolder. Just to give you an impression here a series of pictures taken during the day, at this event. The organization has done a good job, congratulations you all.
pictures here .....................
Results Day 1, Saturday April 4th.:

JUNIOR WOMEN
1. BONDARENKO Yaroslava Russia
2. THIBAUT Sandie France
3. VAN HEES Viviana Nederland
4. DOUDOUX Mathilde France
5. LAJMI Mégane France
6. BESNIER Océane France
7. KAPITANOVA Tatiana Russia
8. CORLAY Amelie France

JUNIOR MEN
1. KIMMANN Niek Nederland
2. BENSINK Niels Nederland
3. SCHIPPERS Jay Nederland
4. KRIGERS Kristens Latvia
5. GEERLINK Nick Nederland
6. GONZALEZ BERNARD Xavier France
7. LABAUNE Nicolas France
8. NAVRESTAD Tore Norway

ELITE WOMEN
1. HERNANDEZ MENDOZA Stefany Venezuela
2. CHRISTENSEN Simone Denmark
3. KLAUS Lieke Nederland
4. VANHOOF Elke Belgium
5. RIMSAITE Vilma Lithuania
6. CORLOBE Pauline France
7. SUVOROVA Natalia Russia
8. HLADIKOVA Aneta Czech Republic

ELITE MEN
1. VAN GORKOM Jelle Nederland
2. TREIMANIS Edzus Latvia
3. CALEYRON Quentin France
4. RICCARDI Romain Italy
5. DUCHENE Simon France
6. DOUCET Thomas France
7. VAN DER BIEZEN Raymon Nederland
8. GODET Damien France

Results Day2, Sunday April 5th:
WOMEN JUNIOR
1. BONDARENKO Yaroslava Russia
2. THIBAUT Sandie France
3. VAN HEES Viviana Nederland
4. LAJMI Mégane France
5. DOUDOUX Mathilde France
6. KAPITANOVA Tatiana Russia
7. ROJAS Anna Sara Bolivia
8. ESCOBAR Andea Colombia

MEN JUNIOR
1. KIMMANN Niek Nederland
2. KRIGERS Kristens Latvia
3. BENSINK Niels Nederland
4. HUBERT Quentin France
5. GONZALEZ BERNARD Xavier France
6. MARQUART Simon Switzerland
7. SCHIPPERS Jay Nederland
8. BERNHART Jakob Germany

ELITE WOMEN
1. VANHOOF Elke Belgium
2. SUVOROVA Natalia Russia
3. CHRISTENSEN Simone Denmark
4. CORLOBE Pauline France
5. RIMSAITE Vilma Lithuania
6. KLAUS Lieke Nederland
7. ALEKSEJEVA Sandra Latvia
8. AILLOUD Eva France

ELITE MEN
1. CALEYRON Quentin France
2. MIR Amidou France
3. BUJAKI Bence Hungary
4. TREIMANIS Edzus Latvia
5. RICCARDI Romain Italy
6. VAN GORKOM Jelle Nederland
7. VAN DE WETERING Glenn Nederland
8. DUCHENE Simon France
For your information, the 2015 Worlds in Zolder will be the 3rd. World Championship in Belgium. Here are the facts.
In the early days, a 1st. so/called Open BMX World Championship 1984 was organized in Petit Han / Houffalize, Belgium. This was a pre FIAC event organized by Armand Blondiau. The 2nd. worlds was the FIAC BMX World Championship in MOL / Belgium in 1988. And now the 3rd. worlds will be the 2015 UCI BMX World Championship at Circuit Zolder in Zolder, Belgium.

April 18th.-19th. UCI BMX World Cup - SuperCross round 1, Manchester - England.
Pictures courtesy of Jerry Landrum - BMX Mania
Results - BMX 2014 Men Elite UCI BMX Supercross #1 - Manchester (GBR/CDM)
Final 19 Apr 2014

1 Liam PHILLIPS GBR
2 Anthony DEAN AUS
3 Tory NYHAUG CAN
4 Edzus TREIMANIS LAT
5 Kyle EVANS GBR
6 Connor FIELDS USA
7 Joris DAUDET FRA
8 Marc WILLERS NZL
other resuts:
9 Corben SHARRAH USA
9 Jared GARCIA USA
11 Trent JONES NZL
11 Vincent PELLUARD FRA
13 Barry NOBLES USA
13 Renaud BLANC SUI
15 Kurt PICKARD NZL
15 Renato REZENDE BRA
17 Carlos Alberto RAMIREZ YEPES COL
17 Carlos Mario OQUENDO ZABALA COL
17 Steven CISAR USA
17 Tre WHYTE GBR
21 David HERMAN USA
21 Jordy VAN DER HEIJDEN NED
21 Niek KIMMANN NED
21 Niels BENSINK NED
25 Damien GODET FRA
25 James PALMER CAN
25 Kristens KRIGERS LAT
25 Martijn JASPERS NED
29 Daniel FRANKS NZL
29 Jelle VAN GORKOM NED
29 Quentin CALEYRON FRA
29 Sylvain ANDRE FRA
33 Axel LE NAGARD FRA
33 Collin HUDSON USA
33 Evgeny KLESHCHENKO RUS
33 Raymon VAN DER BIEZEN NED
33 Romain RICCARDI ITA
33 Tanner SEBESTA USA
33 Thomas DOUCET FRA
33 Yoshitaku NAGASAKO JPN

Results - BMX 2014 Women Elite UCI BMX Supercross #1 - Manchester (GBR/CDM)
Final 19 Apr 2014

1 Caroline BUCHANAN AUS
2 Brooke CRAIN USA
3 Stefany HERNANDEZ VEN
4 Charlotte GREEN GBR
5 Sarah WALKER NZL
6 Pauline CORLOBE FRA
7 Laura SMULDERS NED
8 DNF Melinda MCLEOD AUS
Other resutls
9 Simone CHRISTENSEN DEN
10 Elke VANHOOF BEL
11 Lauren REYNOLDS AUS
12 Natalia SUVOROVA RUS
13 Aneta HLADIKOVA CZE
14 Dani GEORGE USA
15 Felicia STANCIL USA
16 Nadja PRIES GER
17 Romana LABOUNKOVA CZE
18 Teagan O'KEEFFE RSA
19 Eva AILLOUD FRA
20 Andrea ESCOBAR COL
21 Priscila STEVAUX CARNAVAL BRA
22 Vilma RIMSAITE LTU
23 Tahlia HANSEN NZL
24 Camille MAIRE FRA
25 Abbie TAYLOR GBR
26 Manon VALENTINO FRA
27 Sandie THIBAUT FRA
28 Lieke KLAUS NED
29 Amanda CARR THA
30 Valerie ZEBROKOVA GBR
31 Mathilde DOUDOUX FRA
32 Haruka SEKO JPN
33 Dana SPRENGERS NED
34 Hannah SARTEN NZL
35 Jonna JOHNSEN DEN
36 Mariana DIAZ ARG
37 Bianca QUINALHA BRA
38 Thaynara MOROSINI CHAVES BRA
39 DNS Mélanie GRÜN FRA
DNS Alise POST USA
Here a picture of the time trial winners Laura Smulders (NED) and Liam Phillips (GBR). One good thing about winning this time trail event was the very nice guitar both Eilte riders did win. Personaly I still don't like the time trial part of Super Cross events. It takes too long and it's boring to see just one rider on the track, while BMX is ment to be a competition sport with at least 3 till max 8 riders on the track. UCI, think of something new, challeging and in the spirit of BMX. Qualification can also be realized through the actual ranking!?

April 26-27th., UCI BMX European Championship 2014, rounds 3 and 4 at Besancon - France.
May 10 -11th. UCI BMX World Cup - SuperCross round 2 - 2014, Papendal - Holland.
During this weekend, the UCI BMX SX took place at the NOC-NSF National Training Center at Papendal, Arnhem - Holland. This was the 2nd. round in 2014 and the 4th. year a SuperCross took place at the Olympic Training Center Papendal. Due to very bad weather conditions, the event only had about 5 till 600 spectators. Taking the circumstance into account, racing was good. On Sunday, Dutch National Sports chanel NOS - Sport, broadcasted life from the accomodation and also during the NOS Sport evening program, a short report was broadcasted, showing the main events and some interviews.
Riders, officials and the view present spectators present had to coop with long waits on Saturday because of the rain, the cold and the wind .... To give you all an impression of the situation, here some more pictures.
Finaly practise good go under way and racing started somewhere around 16.00/16.30 hours.
Pictures taken during racing, not only racing but attention for some special guys, non riders too.
Final resuts in Elite Men:
Name Country laptime
1. Sam WILLOUGHBY AUS 39.317
2. Twam van GENDT NED 39.803 +0.486
3. Liam PHILLIPS GBR 39.842 +0.525
4. Antony DEAN AUS 39.909 +0.592
5. Barry NOBLES USA 40.311 +0.994
6. Yoshitaku NAGASAKO JPN 40.453 +1.136
7. Joris DAUDET FRA 40.629 +1.312
8. Connor FIELDS USA 41.859 +2.542
Final results in Elite Women:
Name Country laptime
1. Laura SMULDERS NED 38.541
2. Felicia STANCIL USA 39.122 +0.581
3. Stefany HERNANDEZ VEN 39.618 +1.077
4. Caroline BUCHANAN AUS 39.621 +1.080
5. Brooke CRAIN USA 40.423 +1.882
6. Manon VALENTINO FRA 42.472 +3.931
7. Merle van BENTHEM Merle NED 42.907 +4.366
8. PAJON Mariana COL 46.675 +8.134
Note: Thanks to Jerry Landrum of BMXMania.com for allowing me the use of some of his pictures!

May 15th. 2014. The UNIVERSITY of BMX, preservation of the BMX of History ánd honoring the Legends & Heroes of BMX racing.
Concerns: Opinion / Evaluation of the 2nd. UCI BMX SuperCross at Papendal – Arnhem, Holland, May 10-11, season 2014.
Last weekend May 10-11th. the UCI BMX World Cup/Super Cross took place at the Dutch Olympic Training Center NOC-NSF at Papendal, Arnhem – Holland. This was the 4th. SuperCross that took place at this venue, starting in 2011.
Most of you know, that I was very unhappy with the 2011 first ever Super Cross event at Papendal - Holland. You can read all about it in my report on that event at www.universityofbmx.com section History of BMX, year 2011-12. A lot was wrong then, in my opinion that is.
Ofcourse the UCI did receive my report on the 2011 event as well back then and I must say that the organizers, BMX Holland BV and the NOC-NSF as well as the UCI took good notice of what I said (and with me, many others had the same opinion!) and had changes implimented to the track this year and also racing technicaly wise some changes were made, since then (2012 and on).
Despite the terrible weather conditions this weekend, which we can't control, this 2014 event went rather well. Rain all day on Saturday slowed down racing and only at the end of the afternoon it became kind of dry in a way and racing could finaly start. Pitty that only a handfull of spectators were still in the grand stands (around 100).
The track itself was o.k. to race, only two problems were the wooden starthill ánd the starting gate itself. Both were very slippery because ot the rain. All possible was done to get the races underway and they succeeded when it became dry.
So, in comparisson with 2011, this track now is 99% o.k. Next upgrade is making the starting hill raceble when WET! Also the starting gate platform has to be made RAIN/WET proof. Work to do here then. Compliments on the changes made to the track and I might say that probably Papendal belongs now to the top 3 best Super Cross tracks in Europe, maybe even in the world (Chula Vista, Aigle, Papendal). I also hope other organizers and the UCI will learn from this bad rainy weather and that they will take care of SuperCross starting hills being rideble at all times, in all weather conditions. I guess everybody knows what I mean? Rain can happen everywere and any time.
One other very important aspect of changes that were made this year, time trials were limited till only top 16 Elite riders (M/W). To qualify for the main events on Sunday, 3 ad random scrambled moto's were run on Saturday. Instead of watching one rider at the time on the track for hours, now we saw what BMX is all about, real racing with at least 4 till 8 riders on the gate. This is so much more exiting then just time-trials ….. very good decision to change the format in what BMX is all about: competative racing!
Around this UCI BMX SX event, the organizer BMX Holland B.V. and the NOC - NSF Papendal organization also did set up a so-called BIKE EVENT, which included the Gert Jakobs tour cycling event(60, 120 and 160 km to ride), the Dutch National Championship MTB Team Relay event as well as the Dutch National Championship MTB Eliminator event with special guest, World Champs 4 X, Anneke Beerten. Kids were able to ride a BMX track over artificial obstacles and there was the "Modular Pumptrack by BIKEPARKITECT" were kids could ride a short pumptrack. Because of the very bad weather, not many participants showed up, we are sorry to say.
The change in time trials is an important change and will keep spectators in the grand stands for sure. They want to see racing and not 1 rider going around each time (160+ times!!). Again, only a handfull of spectators could witness this "normal" qualification system. I believe the UCI did find a nice compromise having normal racing going on ánd the top 16 per class doing a time-trial for gate possitions, after these qualifiers. Compliments! Nothing more to say at this moment. Again, despite the bad weather, I left as a happy man. And now we are getting close to the 2014 UCI BMX Worlds in Rotterdam, another indoor Worlds. Personaly I hope the UCI will decide to go outdoor in the future and race on at least 400 meter BMX tracks or have an indoor Worlds at locations were an outdoor 400 meter track can be layed down. We'll see what happens.
Another big question is, what will happen next with SuperCross racing in Holland? I understand that the 3 year contract with GSX Inc. came to an end last year (2013) and NOC-NSF / KNWU / BMX Holland BV came to an agreement with GSX Inc., the organizer of the UCI BMX Supercross Series, for another 3 more years ( so up and till 2016). We'll see you all next year then? Now on to the 2014 UCI BMX Worlds in Rotterdam!
End of Opinion/Evaluation.
GERRIT DOES
Waalre-Holland
Note: Thanks to Jerry Landrum of BMX Mania for allowing me to uese several of his pictures.


May 17th.-18th., UCI BMX European Championships 2014, rounds 5 and 6 at Grandson - Switzerland.


May 23rd. - 26th, Trip to Valmiera - Latvia, Olympic Park Tree planting event.
Do reed the report on this trip in the "old & new(s)" section and then "new(s) and opinions". This Olympic Tree Parc has been founded by Mr. Matisons, father of former top BMX racer, Arthurs Matisons. At this Olympic Tree Parc, besides Olympic athletes from all diciplines, ofcourse BMX is included too (article and pictures will be published ending November 2014).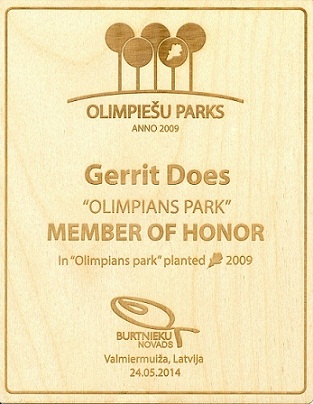 May 31st. - June 1st., UCI BMX European Championship 2014, rounds 7 and 6 at Klazienaveen - Holland.
June 13th.-14th., UCI BMX World Cup - SuperCross round 3, Berlin - Germany.

For the 1st. time a UCI BMX World Cup/SuperX was organized at the BMX track called Mellowpark in Berlin. Previous years a RED BULL event took place here, organized in a different sett-up. Now a "normal" according to UCI BMX racing rules, event took place. The track did not have the traditional form as used in the SX series, which I personaly liked o.k. One jump I did not like, racing technicaly wise, was the "sugar-loaf hat" jumb, right after the first corner seen on the design shown. At the actual track they changed this obstacle/jump in a kind of "normal" shape. The mid section of the track was kind of twisting and turning like, but the rest of the around 38 seconds track looked o.k.
Not so many spectators as during that RED BULL event, were many BMX Freestyle riders were present. For an important event like this, there should have ben at least 5000 spectators. They were not there for sure. O.K. and then the rain came in, well that's something everybody has to coop with. Everything went well anyway. Prove for me here again is whatever we are doing with and to BMX tracks, it does not draw thousands of spectators. We have to think of something else to make BMX racing attractive to outside BMX spectators to watch. Any ideas?
Most noticeble to me was, Maris Strombergs performing that well. Looking from the outside in, it looks like Maris has been off the track for about a year, taking it easy (NOT), a cebetacle. I think he took it easy but according to his schedule he is now getting back in chape very fast in order to qualify for the Olympics. Smart guy, going about his sport this way, he can last long and make some good money for later.

Final results
Elite Men Elite women
1. Maris Strombergs - LAT 1. Caroline Buchanan - AUS
2. Twan van Gendt - NED 2. Mariana Pajon - COL
3. Jorius Daudet - FRA 3. Manon Valentino - FRA
4. Corben Sharrah - USA 4. Stefany Hernandez - VEN
5. Renato Resende - BRA 5. Laura Smulders - NED
6. Kyle Evens - GBR 6. Melinda McLeod - AUS
7. Jared Garcia - USA 7. Felicia Stancil - USA
8. Alfredo Campo - ECU 8. Simone Christensen - DEN
Overall standings World Cup Series 2014 up and till Berlin-Germany,
June 21st.-22nd., UCI BMX European Championship 2014, rounds 9 and 10 at Birmingham - England
July 7th., article from the official UCI website on the Reunion of BMX World Champs 2014.
NEWS, Title: the UCI BMX World Championships: Reunion of Champions
Description: The list of participants for the Reunion of Champions reads like a veritable Who's Who of BMX. It will take place during the 2014 UCI BMX World Championships and will reunite Champions from as far back as the 1970s.
"We wanted to create an extra feature for the public during these Worlds and of course give these athletes the platform they deserve," explains organizer Eric Kersten. The idea of a major international reunion was born during discussions between the event organizers and Gerrit Does, organizer of the World Championships in the Netherlands in 1983. Mr. Does called on his extensive contacts worldwide to bring the idea to fruition.
"This is an absolute first and unique happening," he said. "We also hope we can attrac current riders for a unique photo opportunity," he added. The main day of the reunion will be Saturday July 26th., with an organised bike ride through Rotterdam for the former Champions, who will arrive at the city's Ahoy arena in time to watch the Juniors and Elite time trials.
1979 World Champion "PK Ripper" among participants.
It will bring back strong memories for the world's former World Champions, such as Perry Kramer, one of the first ever USA Pro's to race in Europe. Namesake for the infamous "PK Ripper" bike, Kramer was crowned BMX World Champion in Indianapolis, USA, in 1979.
"The BMX community is strong and we really try to stay connected," says Kramer. "I see a lot (of former BMX competitors) at BMX reunions, but to try to get together racers who have earned a distinctive title such as World Champion has not been attempted before. "It will be cool to swap some 'World Championship' stories with some of the other champions."
Kramer welcomes the globalisation of BMX which sees riders from a lot of different countries on the international podium. "When I won the Pro World Championships back in 1979, all 8 riders in the main event were Californian," he says. The former Champion has a hard time naming some of his greatest BMX memories, although winning his first big national race in the 1976 Winter Nationals would have to be one of them… as his travelling to the Netherlands to race in 1980 (AVRO Fietscross Trophy).
"But more of my best memories come from the off-the-track fun we had while touring the USA back in the late 70s and early 80s." At the end of his competitive career, Perry Kramer remained in the industry, covering a wide section of American territory as sales rep and accounts executive for Giant Bicycles. "I actually started working in the bicycle industry when I was still racing. It was a logical step. I still really want to ride bikes all the time and I still race… but on mountain bikes and mostly for fun."
The 2014 UCI BMX World Championships will take place at the Ahoy arena from July 23rd. to 27th. The unofficial meeting place for the former World Champions during that period will be at the nearby BMX Museum.
Photo: Perry Kramer (107), World Champion in 1979, is one of more than 40 former World Champions who will be present at the reunion in Rotterdam.

UPDATED list of participants July 7th. 2014, in the REUNION of WORLD CHAMPS 2014?
- PHIL HOOGENDOORN, Holland:
I.BMX.F. World Champion in Superclass 20 ánd 24", Suzuka - Japan, 1984.
I.BMX.F. World Champion in Superclass 24", Whistler - Canada, year 1985.
I.BMX.F. World Champion in Superclass 20", Slough - England, year 1986.
- MELANIE HOOGENDOORN - van DEENE, Holland:
I.BMX.F. World Champion in 18 & over Girls class, Le Castellet - France, year 1990.
- MARIS STROMBERGS, Latvia:
UCI BMX World Champion in Elite Men class, Taiyuan - China, year 2008.
UCI BMX World Champion in Elite Men class, Pieternaritzburg - SA, year 2010.
- WILCO GROENENDAAL, Holland:
I.BMX.F. World Champion in Superclass 20", Le Castellet - France, year 1990.
I.BMX.F. / FIAC World Champion in Superclass 20", Salvador - Brasil, year 1992.
- MONIQUE FRANSSEN, Holland:
I.BMX.F. World Champion in 14 & over Girls class, Slagharen - Holland, year 1983.
- WILLY KANIS, Holland: NOT present (expects a baby)
UCI BMX World Champion in Elite Women class, Paris - France, year 2005.
UCI BMX World Champion in Elite Women class, Sao Paulo - Brasil, year 2006.
- CRAIG SCHOFIELD, England:
I.BMX.F. World Champion in Superclass 20", Whistler - Canada, year 1985
- CHRISTELLE LE SAOUT, France:
F.I.A.C. World Champion in Girls 17 & over cl., Arcada De Duero-Spain, y. 1990.
- CORINE STAM - DORLAND, Holland:
I.BMX.F.- FIAC World Champion in 18 & over Girls cl., Sandness-Norway, y. 1991.
I.BMX.F.- FIAC World Champion in 18 & over Girls cl., Schijndel-Holland, y. 1993.
I.BMX.F.- FIAC World Champion in 18 & over Grils cl., Waterford-USA, y. 1994.
Queen of BMX.
- DALE HOLMES, England:
UCI BMX World Champion in Elite Men class, Bournemouth - Eengland, year 1996.
UCI BMX World Champion in Elite Men class, Louisville - USA, year 2001.
- SARAH JANE NICOLLS, England:
I.BMX.F. World Champion in 16 & over Girls class, Slough - England, year 1986.
- NATARSHA BIRK - WILLIAMS, Australia:
UCI BMX World Champion in Eltie Women class, Brighton - England, year 1996.
UCI BMX World Champion in Elite Women class, Cordoba - Argentina, year 2000.

- THOMAS ALLIER, France:
UCI BMX World Champion in Elite Men class, Melbourne - Australia, year 1998.
UCI BMX World Champion in Elite Men class, Cordoba - Argentina, year 2000.
ABA World Champion in AA Pro class, Ontario, Cal. - USA, year 2002.
- MAGALIE POTTIER, France:
UCI BMX World Champion in Elite Women Cruiser class, Taiyuan - China, y. 2008.
UCI BMX World Champion in Elite Women class, Birmingham - England, y. 2012.
- SHANAZE READ, England:
UCI BMX World Champion in Elite Women class, Victoria, BC - Canada, year 2007.
UCI BMX World Champion in Elite Women class, Taiyuan - China, year 2008.
UCI BMX World Champion in Elite Women class, Pietermaritzburg - SA, year 2010.
- JAMIE STAFF, England:
UCI BMX World Champion in Elite Cruiser class, Brighton - England, year 1996.
ABA BMX World Champion in AA Pro class, Salt Lake City - USA, year 2000.
- JOHN E. PURSE, USA:
UCI BMX World Champion in Elite Men class, Saskatoon - Canada, year 1997.
- PERRY KRAMER, USA:
JAG BMX World Champion in Pro class, Indianapolis - USA, year 1979.
- JAVIER COLOMBO, Argentina:
UCI BMX World Champion in Elite Men class, Sao Paulo - Brasil, year 2006.
- CRISTIAN BECERINE, Argentina:
ABA BMX World Champion in AA Pro class, Reno, NV - USA, year 2003.
- RANDY STUMPFHAUSER, USA:
UCI BMX World Champion in Elite Cruiser class, Paulinia - Brasil, year 2002.
UCI BMX World Champion in Elite Cruiser class, Perth - Australia, year 2003.
UCI BMX World Champion in Elite Cruiser class, Valkenswaard - Holland, y. 2004.
UCI BMX World Champion in Elite Cruiser class, Paris - France, year 2005.
ABA BMX World Champion in Pro Cruiser class, Nazaimo - Canada, year 2004.
ABA BMX World Champion in Pro Cruiser class, Ontario, CA - USA, year 2005.
- ROBERT de WILDE, Holland:
UCI BMX World Champion in Elite Men class, Vallet - France, year 1999.
ABA World Champion in AA Pro class, Kettering - USA, year 2001.
- PETER VandenABEELE, Belgium:
F.I.A.C. Open BMX World Champion in Special cl. 20", Charleroi - Belgium, y. 1984.
- PATRICK DE WAEL, Belgium:
I.BMX.F. World Champion in Superclass 24", Slough - England, year 1986.
- JORIS DAUDET, France:
UCI BMX World Champion in Elite Men class, Copenhagen - Denmark, year 2011.
- WARWICK STEVENSON, Australia:
UCI BMX World Champion in Elite Men class, Valkenswaard - Holland, year 2004.
- BAS de BEVER, Holland:
I.BMX.F World Champion in Superclass 24", Le Castellet - France, year 1990.
I.BMX.F./FIAC World Champion in Supercl. 24", Sandness - Norway, y. 1991.
I.BMX.F./FIAC World Champion in Supercl. 24", Salvador D.B. - Brasil, y. 1992.
- THOMAS HAMON, France:
UCI BMX World Champion in Elite Cruiser class, Taiyuan - China, year 2008.
- MIKE KING, USA:
I.BMX.F. World Champion in Superclass 20", Orlando - USA, year 1987.
- IVO van der PUTTEN, Holland:
UCI BMX World Champion in Elite Cruiser class, Adelaide - Australia, year 2009.
- ANITA van de MORTEL, Holland:
I.BMX.F. World Champion in Girls 17 class, Orlando - USA, year 1987.
I.BMX.F. World Champion in Girls 16 & Over class, Santiago - Chile, year 1988.
- CHRISTOPHE LEVEQUE, France:
The KING of BMX. Christophe owns 7 World titles (20+24") in the highest
performances classes a any time during the development of international BMX
from 1991 up and till 2001. Runner-up is Randy Stumpfhauser with 6 World
titles.
I.BMX.F.-FIAC World Champion Superclass 20", Sandness - Norway, year 1991.
I.BMX.F.-FIAC World Champion Superclass 24", Schijndel - Holland, year 1992.
I.BMX.F.-FIAC World Champion Superclass 20", Melgar - Colombia, year 1995.
UCI World Champion in Elite Cruiser class, Airdrie - Canada, year 1997.
UCI World Champion in Elite Cruiser class, Melbourne - Australia, year 1998.
UCI World Champion in Elite Cruiser class, Vallet - France, year 1999.
UCI World Champion in Elite Cruiser class, Louisville - USA, year 2001.
- CAROLINE BUCHANAN, Australia:
UCI World Champion in Elite Women class, Auckland - New Zealand, year 2013.
And .... Olympic Champion 2012.
- JUAN MANUEL MONTERO, Spain:
F.I.A.C. World champion in Expert 17 & Over cl., Jesolo - Italy, year 1985.
- JAMIE LILLY, USA:
ABA World Champion in Girls Pro Cruiser, Salt Lake City - USA, year 2000.
ABA World Champion in Girls Pro class, Reno-NV, USA, year 2003.
- CHRIS SCHOONOVER, USA:
ABA World Champion in AA Pro Cruiser, Salt Lake City - USA, year 2000.

NOTE: Most of the World Champions from the past 5 till 7 years will be present ánd racing at the 2014 UCI BMX World Championship in the AHOY - Rotterdam. Depending on schedules during the weekend and goals set for this Worlds by those athletes, they will decide on the spot to be part of the REUNION activities yes or no. Not sure yet to be present at the actual Reunion on July 26th. 2014 are the following riders;
SHANAZE READ
MAGALIE POTTIER
MARIANA PAJON
SARAH WALKER
JORIS DAUDET
SAM WILLOUGHBY
LIAM PHILLIPS
CAROLINE BUCHANAN
and others .....

During the actual REUNION of WORLD CHAMPIONS 2014, we will respectfully remember and honour those BMX World Champs that passed away during time. They are:
- MARIO ANDRES SOTO (r.i.p.), Columbia:
UCI BMX World Champion in Elite Cruiser class, - Argentina, year 2000.
- ANTHONY SEWELL (r.i.p.), USA:
JAG BMX World Champion in Pro Cruiser class, Las Vegas - USA, year 1982.
- KYLE BENNETT (r.i.p.), USA:
UCI BMX World Champion in Elite Men class, Paulinia - Brasil, year 2002.
UCI BMX World Champion in Elite Men class, Perth - Australia, year 2003.
UCI BMX World Champion in Elite Men class, Victoria BC - Canada, year 2007.
All together around 40 World Champs will be present at the UCI BMX Worlds 2014 in Rotterdam. Depending on race schedules, important for those around 11 - 12 Champs racing at this Worlds, we hope to have at least 30 Champs present during the official Reception, moment with the Press and presentation of their "Appreciation Award".

July 12-13th., UCI BMX European Championship 2014, final rounds 11 and 12 at Roskilde - Denmark.
Final and overall results in Junior and Elite classes:

Women Junior EUROPEAN BMX CHAMPIONSHIP 2014
Pos. Name RIDER Country
1 THIBAUT Sandie France
2 DOUDOUX Mathilde France
3 VAN HEES Viviana Nederland
4 HETMANCZYK Margot France
5 LAJMI Mégane France
6 USOVA Tatiana Russia
7 JUILLERAT Louanne Switzerland
8 HOSSAY Marie Belgium
Men Junior EUROPEAN BMX CHAMPIONSHIP 2014
Pos. Name RIDER Country
1 KIMMANN Niek Nederland
2 KRIGERS Kristens Latvia
3 SCHIPPERS Jay Nederland
4 MARTINS Evan France
5 NAVRESTAD Tore Norway
6 VAN DEN HUDDING Bram Nederland
7 MARQUART Simon Switzerland
8 BERNHART Jakob Germany

Women Elite EUROPEAN BMX CHAMPIONSHIP 2014
Pos. Name RIDER Country
1 SMULDERS Laura Nederland
2 VALENTINO Manon France
3 CHRISTENSEN Simone Denmark
4 POTTIER Magalie France
5 AILLOUD Eva France
6 HLADIKOVA Aneta Czech Republic
7 VANHOOF Elke Belgium
8 VAN BENTHEM Merle Nederland
Men Elite EUROPEAN BMX CHAMPIONSHIP 2014
Pos. Name RIDER Country
1 STROMBERGS Maris Latvia
2 MAYET Romain France
3 JASPERS Martijn Nederland
4 VAN GORKOM Jelle Nederland
5 DAUDET Joris France
6 TREIMANIS Edzus Latvia
7 ANDRE Sylvain France
8 VAN GENDT Twan Nederland

July 23rd.-27th., 2014, UCI BMX World Championships - Ahoy, Rotterdam - Holland


UNIVERSITY of BMX ...... PRESERVING THE HISTORY OF BMX AND KEEPING/CREATING TRADITION IN OUR SPORT.

The evaluation of the 2014 UCI BMX World Championship in Rotterdam - Holland, July 21st. – 27th. as I see it: " Looking In from the Outside ".
It's a couple of week ago now, since the 2014 UCI BMX World Championship took place at the Ahoy SportPalace in Rotterdam – Holland. I want to give you my opinion on this event under the title "Looking In from the Outside". Allthough I have been involved in organizing the side events, the BMX Museum, BMX Cinema and the first ever REUNION of BMX WORLD CHAMPS 2014, I was not involved in the overall organization. I want to give my view on everything what happened during the periode of July 21st. through July 27th., in headlines.
A record breaking event it was for sure with 2860 entries overall. In Elite men 105 entries, in Elite women 40 and in the Junior men there were 87 entries with in Junior women 31 entries. So in the Championship classes we did have 263 entries and riders represented 36 countries world wide. In the Challenge classes a total of 2597 entries were registered coming from 41 countries world wide.
The total budget for organizing this 2014 UCI BMX Worlds was around 2.2 / 2.5 million euros.
GENERAL OPINION.
My general opinion on the overall organization, meaning PR, advertising, communication through social media/press, information for and to the riders, banners all over the City of Rotterdam from around July 19th. on, parking, camping, the indoor total accomodation, national sportschannel NOS broadcasting live on Sunday, VIP's on Sunday, realy everything / overall was the BEST I have ever seen before anywhere at a BMX Worlds I attended. This was a unique event and the compliments have to go to the organizer BMX HOLLAND B.V. with event director Mr. Eric Kersten and all of his business partners, co-workers and KNWU officials/ Staff members and Ahoy staff.
It is very difficult to organize such a big event without anything going as planned for 100%. Here and there things will go wrong, sometimes not even noticed by riders and/or spectators. That's kind of normal in BMX event like this. It isn't easy to keep 2860 riders organized and under controle as well as around 3 till 5000 people accompaning them to this Worlds. It's impossible to score "PERFECT", there will be "rustle" (ruis) always.
So here my evaluation on what I saw, went wrong, could have been better or different. Not the little things, but things that matter. I am telling this so others can benefit from this and/or improve things, so it's ment to be a POSITIVE evaluation.
COMMUNICATION/PR/PUBLICITY.
All of the above mentioned have been executed at a very professional level. Specialists were involved/hired in all of the mentioned areas and have done a great job. The website, facebook page etc. did work as planned and in the weeks before the event, meaningfull articles in several leading newspapers in Holland were published.
Somewhere January 2014 in Rotterdan and surrounding areas, BMX promotion was made at schools and even a school competition was set up to promote these Worlds. The final event of this school competition took place in the Ahoy during the Worlds "week of action".
For the first time ever, the Dutch National sports channel NOS, broadcasted the Championship classes main events life on National TV on Sunday. At Worlds before here in Holland, commercial TV Stations broadcasted these events (like in 1983, AVRO TV station broadcasted the I.BMX.F. Worlds in Slagharen-Holland).
Again meaningfull articles on these Worlds in several leading newspapers on the Monday after the Championships. So overall good publicity for BMX during a long periode of time.

BUILDING THE TRACK.
The week before the BMX Worlds would start, the actual BMX track was built in around 3/4 days. The AHOY SportPalace had limited space to built an outdoor track, indoors. Seizes of the space available, were about the same as the indoor facility at the 2013 Worlds in Auckland – NZ (in my opinion, hall too small for a Worlds worthy BMX track).
A problem was however, the weight of the dirt that had to be brought in, on the too thin floor of the arena. Track builder Teun Stam and company (Teun being a former BMX Champ) had a great solution: according to the drawing of the track, first fill up the jumps with compact haybales and afterwards put the dirt on top. That was a great solution of the problem. It worked out just fine. Seen here a serie of pictures showing the built up of the Worlds track.
Seen here the original design of the track, let's see how they built the track
Since it was not possible to built a 400 meter track, an around 300 meter track was designed and jumbs were adjusted to the kind of short straights. Three series of jumps on the first straight was not possible, only 2 were. Building very high turns was not possible too.
My opinion is that Teun Stam and crew did built the best possible track taking into account the space available and therefore its length. Just for your understanding, out of the past 7 World Championships, plus the Olympics (total 8), only four (4) were outdoor tracks and four times we went indoors. To messure a track, we use the Elite men class. One round done in seconds, as "standard", should be between 37 and around 40 seconds.

Here the laptimes by each winner in Elite Men class, in the main event during the past Worlds and 2012 Olympics :
-Beijing Olympics, outdoor, 36,109 seconds.
-Taiyun, outdoor, 36,091 seconds
-Adelaide, indoor, 28,648 seconds
-Pietermartizburg, outdoor, 38,391 seconds
-Copenhagen, outdoor, 33,444 seconds
-Birmingham, indoor, 25,923 seconds
-Auckland, indoor, 23,280 seconds
-Rotterdam, indoor, 25,393 seconds
As you all know, the in principal around 380/400 meter outdoors tracks are covered in around 36 till 38 seconds, depending on the obstacles of that track. This should be the standard.
Opinion: Length of track.
As you all probably know and I said it several times before, any track for a Continental Championship, World Cup/SX, World Championships or Olympic games, indoor or outdoor, should be around 380 / 400 meters and in seconds aroun 36/38 seconds depending on obstacles.
I would pledge strongly for outdoor events, specialy since new built BMX tracks are "waterproof" and accomodations around the track are professionaly layed down now a days. If one decides to go indoor, then the accomodation should be able to have an outdoor track layed down indoors. It's that easy, so an around 380/400 mtr. track indoors should be in place then.
Tracks like in the past 3 years devaluate BMX immensly. Finishing an indoor track in about 23/25 seconds, means around 33 till 38 % less intention, stamina, power etc. then racing at a 38 second track. This SPRINT race has a lot of risks in it. Riders need to push harder, have to take extra risks to try to get out in front, causing crashes that again devaluate a Main event immense (look at the Elite men Main, after turn 2, only 2 riders finish kind of "normal". It causes also bad crashes and career ending injuries. That is NOT a very good promotion for BMX.

On the other hand, it is still the same group of riders that normaly get through to the semi's and mains on both events (Sprint and Standard 400 mtr.). Too much attention on the Start only, which is very important on 23/25 seconds indoor tracks and that is NOT what BMX is all about. Insiders as you all are, know exactly what I mean. Besides that, if we want BMX sprint races, built special tracks for that purpose. If we want BMX races as they were ment to be, built 400 mtr. tracks. To explain to journalists what BMX is all about, the comparison is often made with 400 meter running. One can compare the intension of a `normal` BMX race with among others 400 mtrs. running in athletics.
Besides that, I learned from interviews done in the USA on this 2014 World Championship that former Pro riders refer to this indoor track as `Mickey Mouse` track and-or `Tennis court` track ! Again devaluation of World Championships in BMX.
Opinion: Destroying Capital !!!
Concerning indoor tracks layed down for just this one Worlds event, I want to say the following in general about that. To built a "weekend Worlds track" now a days, organizers have to spend between 200.000 and 250.000 euros minimum to get that done. After racing, the "weekend track" is taken down in one day, NOTHING is left. I do think this is destroying a lot of capital.
Would it not be fantastic, the built a new track or rebuilt an existing track to the present world level, according to the UCI ruling for World Championships and still have the track after the event ready for many years to come? A clubs could benifit from that worlds, having an up to date BMX track available afterwards. A good investment for all parties concerned. A promotor can do just a good job then, as at an indoor facility, only the budget will be spent in a different way!
Opinion: Starting hill at this Worlds.
Normaly there are 2 starting hills at this kind of events, one max. 5 meter hill for the Challenge classes and a max. 8 meter hill for Junior and Elite classes. There is a significant difference in the steepness of both hills mentioned. In Rotterdam (it was NOT possible to do it otherwise, I understaand that only an Elite hill was built in such a manner that at 5 meters, the Challenge classes had their starting gate first and afterwards, that gate was taken away, the gape was closed and the 8 mtr gate was placed. Here 3 pictures to show you how it was done.
So, the Challenge classes had to start from a very steep hill, specialy impressive for the youngest age groups. They probably never practised on that kind of hill before and I KNOW, a lot of them were affraid. I strongly believe this was wrong, should never happen again at a Worlds. It took away the joy ánd changes (affraid at the gate, did holt back etc.) several riders had. Something to think about next time. The following picture shows you all the Junior / Elite starting hill and gate.


Advice for UCI on Indoor Worlds. Just and idea.
Again, I said it before, IF we want to go on with indoor Worlds racing, UCI start to consider 2 types of World Championships:

1. "Standard" Outdoor or Indoor BMX World Championships on 380/400 mtr, around 38 sec. tracks and 8 riders p.r. (in periode July/August), Challenge and Championship classes (2000 and plus entries).
2. "Sprint" Indoor BMX Championships on 300 mtr. tracks, around 24 sec. and 6 riders p.r. (in periode November/December) Youth Olympic Games and Olympic classes only (4 till 500 entries).
Might be interesting such a new type of World Championship Sprint indoor, in wintertime!?
REGISTRATION.
Registration started on Monday afternoon with the normal; "getting into the rhythm" of things, activities, etc. Always a bit hectic at first, but then it smoothes out. No realy crazy problems here, just some small communication problems that were solved on the spot. At 16.00 hours the grandstands were openend to allow everybody to check out the track. One did find a track about the same seize as in Auckland – NZ, in 2013. Disappointing but expected by a lot of riders.
PRACTISE.
The next day, Tuesday, practise for Challenge classes nand Masters. Training continued on Wednesday for the same classes, all in groups and at last the training for the Challenge 17 and over + Masters again.
OPENING CEREMONY.
The opening ceremony took place on Wednesday at 18.15 hours. The hall was filled with around 4 – 4.500 people and except for a small misshap, it was a nice opening of the event.
BMX MUSEUM / BMX CINEMA.
Wednesday afternoon the 4 collectors arrived and did built up the BMX Museum. At around 17.00 hours the BMX Museum opened. From start till finish on Sunday July 27th., 14.30 hours, there have been people coming in and out constantly. During racing one could walk around easily but during intervals on the race track, it was crazy busy at the Museum, one could hardly walk. Again here, I never did see such a well attended exhibition as this one.
Besides the very well restored old school BMX bikes (up and till the year 1990 models, around 65 of them) and Dutch corner (bikes made in Holland over time), our French friend Christophe BOUL had around 34 drawings made of European and some USA BMX Heroes and Legends and they were exposed at the BMX Museum, which gave extra body to this activity.
Again, the Christophe BOUL drawings did give extra flavour to the OS BMX bike Museum at the AHOY during the UCI BMX Worlds in Rotterdam.
Must be said that most of the people going to the BMX Museum were old school BMX'ers with their children. Holland has around 6 till 8000 old school license holders (years 1978 – 1988) and many of them were present at these side events ánd the Worlds Championship racing.
CINEMA.
After walking through the isles of the BMX Museum, one ended up at the BMX Cinema where a move was shown about the History of BMX. This around 15 minutes movie received a lot of appreciation and people were applauding when the movie came to an end.
SPECTATORS during racing.
During all racing days I found it surpising that so many people stayed and watched the racing. During the Challenge competition, at all times there were around 3 till 4000 spectators in the grandstands.
On Sunday, the Championship competition, I believe there were around 5 till 6000 spectators at all times present in the grandstand. To me this was kind of exceptional too and very positif.
MEDICAL STAFF.
The professional Medical Staff did a great job. As always there were some accidents, but looking from the "outside in" I did not see too many "very bad" crashes.
OFFICIALS UCI/KNWU/AHOY staff.
Without some minor problems (had to do with communications, misunderstanding etc.) looking from the outside in, all looked very great. Enough officials present and very capable people on registration, computer/timing, track etc. No remarks to make here except that all was executed perfect.
The AHOY staff being used to events like this with thousands of people, did not have a hard time, I believe.
REUNION of BMX WORLD CHAMPS.
Since early 2013 I have been busy finding e.mail or other contact addresses of 103 BMX World Champs. World Champions in the highest performance classes at any time during the periode 1978 – 2013. I did find around 92 contacts of which after inviting them around 60 had the intention of coming over to Holland for the 1st. ever and unique REUNION of BMX WORLD CHAMPS 2014 during the UCI Worlds in Rotterdam.
The final count of Champs taking part in this event was 42 at around 2 months before the actual event. Sorry to say that 3 weeks prior to the event 6 Champs that had to come from far, cancelled their participation, mainly due to financial problems. So we were left with around 36 Champs.
The Reunion day was Saturday July 26th. Those who registered before, were going to do a City Sightseeing Cycle Tour through Rotterdam. We went on or way with 18 bicyclists to tour the City. Guides showed us around and it was great fun. Besides the 2 stops in between, we had lunch together and during that whole periode new friendships were made or renewed. It took us from 10.30 till 15.30 to go around in the City. This has been a success.
After the time trials and finals on Saturday evening (Elite classes), at 20.30 hours all pre-registered Reunion of BMX World Champions would come together in the BMX Cinema for the Official Reception and Ceremony. That was the plan.
However, several of the latest and still racing World Champs did not show up. Also a couple of Old School Champs that were present at this Worlds as coaches or business wise, promissed me to be present earlier that Saturday, did not show up. That was kind of disappointing for sure, but it also shows how "our own" think about this kind of happenings (respect?).
If we want to give BMX the status of a REAL sport, we still have to learn our spotsmen and women how to act in activities as serious as this one. It would have taken only about 30 minutes to come over and be present, get the special award made for them, be present for the group picture and then leave to relaxe and prepair for the next day or do business!
Some of them did not even "excuse" themselves and some of them said: "sorry it does not fit in my planning/program for racing, have to focus on the racing for Sunday etc. As a former sportman myself, I understand, but what are we talking about ….... only about 30 till 40 minutes and the ceremony was over. Focusing for the next day?? I saw Elite men and women in the hallway of the hotel at around 23.00 playing with their Iphones, ….. concentrating? resting? The next day they had in total around 200 seconds of racing to do ! And then concentrating …... in our sport concentrating the day before will help you to be over-concentrated. Realy concentrating 1 hour before the race is essential. Again, very disappointed by the attitude of some of you old school and new World Champs.
Must say that even some people from the BMX press-magazines/websites did not bother to come and have a look. So far the interest for our history as well as our legends and heroes. You know what I mean !
The REUNION of BMX WORLD CHAMPS 2014, AHOY - Rotterdam, Holland.
However, with those World Champs present we had a great time together. A word of welcome by Gerrit Does. Special welcome to a good friend Mr. Aldons Vrublevskis, the President of the Latvian Olympic Committee. The presentation of awards was a nice one and very personal. An introduction was done, then I presented the appreciation awards and gave short stories on each of the Champs concerned. Peter VanDenAbeele did speak on behalf of the UCI (as Off Road Manager) and presented GD with a present. After closing the official part of this Reunion, we had a drink and a bite and around 22.00 hours we left the building. The 1st. ever REUNION of BMX WORLD CHAMPS came to an end.
* Details on which rider won when and where a world title, can be found above on this page.
Special attention was given to 3 World Champs that passed away over time: Mario Andres Soto, Kyle Bennett and Anthony Sewell. A minute in silence. On the picture below, the Christophe BOUL (F) drawings of the World Champs mentioned.
UCI Off Road Manager, Mr. Peter Van Den Abeele (a BMX World Champ himself) took the floor and did thank Gerrit Does for organizing this unique and for the 1st. time Reunion of BMX World Champs. He also thanked him for all his work he has done and still is doing for BMX. Peter presented Gerrit with the UCI Yearbook and a traditional Swiss knife, for which GD thanked Peter very much.

Last but not least, the special video was shown one more time with the title: WC BMX 2014 - THE HISTORY of BMX. In this video pictures and film on a Bicycle Cross event in 1958 in Amersfoort Holland. After the video, GD official closed this meeting and invited everybody for a drink and a bite in the voyer. So we did.
We all had a good time afterwards during the Reception of the Reunion of BMX World Champs 2014 at the Ahoy SportPalace in Rotterdam-Holland.
Sarah Jane Nicolls - England, Perry Kramer - USA and Natarsha Birk-Williams - Australia.
One World Champ competing at this Worlds was present at the Official part of this happening, Dutch Ivo v.d. Putten. He left right after the Official part of this evening, at around 21.15 hours. Quess what, he was the best Dutch teammember performing at the Worlds on Sunday. So far for concentration and other conflicting stuff. Thanks for being present IVO, respect.
REUNISTS and ENTRANCE AHOY.
I still have on more disappointing experience I want to mention. Most of the participants in the REUNION of BMX WORLD CHAMPS arrived on Friday or Saturday. On arrival at the Ahoy after the City Sightseing Cycle Tour at around 16.00 hours, we had to report at the Welcome Desk. The Champs received a wristband (free entrance) there, but partners accompanying them had to buy a ticket to get in. They even had to buy a ticket for the Sunday. In total it concerned about 7 persons, who travelled from the USA, England and France, did spent a lot of money being present at the Reunion and their partners had to PAY to come in and be present at the Official reception. That did upset me very much.
I understand that money has to come in for such a big event, but for me, this was "one bridge too far" and very inhospitable !! Just had to get this off my chest.
TICKETING / pricing of tickets.
I just want to see something about the prices of the tickets for this UCI BMX Worlds. When BMX Holland B.V. announced the pricing for the Worlds tickets in 2013, hell broke loose. A lot of complaines came in because there were week passes and weekend passes at high cost.
Some very good suggestion were made through facebook to BMX Holland B.V. and they extended the possibilities of types of tickets as shown underneath. That was a smart thing to do. Still, it was kind of expensive for a family of 4 to come the Elite main events on Sunday, 4 x 37 euro's makes a total of 148 euro's, when buying your tickets on that day.
Knowing what kind of budget (at least 2.2 million euro's) was needed to organize this event, it looks more then normal to ask this kind of ticket prizes. If one wants QUALITY, you have to pay for that and I agree with that. It's a good thing this Worlds is just a once in about 10 years event (so far anyway, 1983/ 1993 /2004/ 2014). I believe that if this kind of ticket prizes would become a common thing at International events, we will have a problem getting people in and events financialy sound. This is absolutely an item to consider and think about.
I remember Chula Vista a couple of yours ago, the UCI World Cup / XS was run there. Even though a National event was organized at the "standard " BMX track (2nd track) at Chula Vista, with a view thousand people present, maybe around 500 till 1000 spectators came over on the Sunday to watch the Super Cross event. Why so little spectators ? The tickets for specators were $ 25,= a person. People did not want to pay that amount of money. Normaly they get in for free at races in the USA. That will make you start thinking, I quess?

Just to get the idea, here once again the pricing of the tickets by BMX Holland B.V. for the UCI BMX Worlds in Rotterdam 2014. Regular sale is started! Order your ticket, click on the banner below.
Available tickets:
Week Pass: Wednesday 23 July, Thursday 24 July, Friday 25 July, Saturday 26 July, Sunday 27 July
Day Pass: Wednesday 23 July, Thursday 24 July and Friday 25 July
Weekend Pass: Saturday 26 July, Sunday 27 July
Saturday 26 July
Sunday 27 July
Challenge riders have free access to the grandstands on Wednesday, Thursday and Friday. Wheelchair and Wheelchair-helper tickets available in the ticket shop. All Challenge prize giving ceremonies will take place on Friday 25th July. Prize giving ceremonies for Masters will take place together with Junior and Elite classes on Saturday 26th July. Free admission to watch the training on Tuesday and Wednesday.
Ticket pricing
Regular Sale 12 May till 22 July 2014
Adult* Kids <12yrs**
Week Pass Wed, Thur, Fri, Sat, Sun € 75,- € 59,-
Day Pass Wed, 23 July € 19,- € 14,-
Day Pass Thur, 24 July € 19,- €14,-
Day Pass Fri, 25 July € 19,- € 14,-
Weekend Pass Saturday & Sunday € 49,- € 39,-
Saturday 26 July € 24,- € 19,-
Sunday 27 July € 35,- € 28,-
Regular Sale during event 23 July till 27 July 2014
Adult* Kids <12yrs**
Week Pass Wed, Thur, Fri, Sat, Sun € 77,- € 61,-
Day Pass Wed, 23 July € 21,- € 16,-
Day Pass Thur, 24 July € 21,- €16,-
Day Pass Fri, 25 July € 21,- €16,-
Weekend Pass Saturday & Sunday € 51,- € 41,-
Saturday 26 July € 26,- € 21,-
Sunday 27 July € 37,- € 30,-

**Kids * Excluding reservation costs. € 1,35 per e-ticket. Transaction cost per e-ticket booking € 1,00, for hard copy ticket booking € 3,00. Buy all your tickets in one booking that saves you cost.
REMARK GD on the above and Ticketing and Price Giving Ceremony Challenge classes. (except Cruiser classes).
The only bad thing about the above was, that riders that finished their racing on Thursday had to come back on Friday for the Prize giving Ceremony. Parents and or supporters/fans had to buy a Thursday ticket, if they wanted to be present at that Prize giving Ceremony (Between 19 and 21 euro's p.p. for adults). I heared many complains about that and a large group of riders left Rotterdam right after the prize giving ceremony.
Also that granddad and grandmom that wanted to see their grandchild being presented it's trophy, had to pay 19 or 21 euro's just for that reason. That is the backside of things. Maybe also something to think about !!

SUNDAY, Junior and Elite racing for World titles.
The Sunday was just great. When the doors of the AHOY opened thousands of spectators came in. Noticeble was that there were many old school (early '80 s) BMX' ers with their family or just with their kids. I knew many of them.
Also the VIP accomodation on this day was very well organized, as we are used to when BMX Holland is involved. Again, they took care of an overall fantastic organization, while "normaly" at events like this, most of the concentration is on the racing technical aspect only, of such an event.
Races were exiting and the Main events were broadcasted life by the NOS from 15.00 hours on. The only anti-climax for me was the main event , Elite Men and this main also shows what I tried to explain above. After 2 corners only 2 riders were riding around, the rest had fallen down. That was a pitty and stays in the minds of people who watched.
FINAL NOTE.
Allthough I was only present form Wednesday on at these Worlds, I had 5 fantastic days at the AHOY SportsPalace in Rotterdam. Met many, many old school BMX'ers and friends there from home and abroad and was proud of my collectors at the BMX Museum / BMX Cinema, Paul de Jong, Christophe Detandt, Mike Hoogerheijde and Arjan Scheepers.
I hope and wish the UCI BMX Worlds at Zolder in Belgium will be able to compete with the Worlds in Rotterdam, they at least have the professional organization available to make it a great success too. Good luck.
Gerrit Does
More pictures:

RESULTS 2014 UCI BMX WORLD CHAMPIONSHIP AHOY ROTTERDAM:
Time Trial: Elite Men - 26 Juli
Country Lap-time
1 Sam Willoughby AUS 24,757
2 Corben Sharrah USA 24,819
3 Joris Daudet FRA 24,924
4 Liam Phillips GBR 25,021
5 Maris Strombergs LAT 25,051
6 Jared Garcia USA 25,170
7 Connor Fields USA 25,194
8 Edzus Treimanis LAT 25,347
9 Justin Posey USA 25,375
10 Bodi Turner AUS 25,473
11 Jelle Van Gorkom NED 25,548
12 Tory Nyhaug CAN 25,560
13 Damien Godet FRA 25,607
14 Carlos Mario Oquendo Zabala COL 25,691
15 Quentin Caleyron FRA 25,777
16 Ivo Van Der Putten NED 25,904
Time Trial: Junior Men - 26 Juli
Country Lap-time
1 Niek Kimmann NED 25,356
2 Collin Hudson USA 25,434
3 Brandon Te Hiko AUS 25,531
4 Sean Gaian USA 25,566
5 Tore Navrestad NOR 25,802
6 Bram Van Den Hudding NED 25,882
7 Kristens Krigers LAT 26,167
8 Hunter Pelham USA 26,173

RESULTS WORLD CHAMPIONSHIP BMX 2014:
Elite Men - 27 July
Country Lap-time
1 Sam Willoughby AUS 25.393
2 Tory Nyhaug CAN 27.526
3 Tre Whyte GBR 33.461
4 Edzus Treimanis LAT 34.537
5 David Herman USA 34.904
6 Amidou Mir FRA 35.848
7 Connor Fields USA 1:01.144
8 Anthony Dean AUS DNF
Junior Men - 27 July
Country Lap-time
1 Niek Kimmann NED 25.091
2 Sean Gaian USA 25.528
3 Romain Racine FRA 26.191
4 Tore Navrestad NOR 26.480
5 Xavier Gonzalez Bernard FRA 27.097
6 Jay Schippers NED 27.278
7 Walker Finch USA 27.542
8 Kristens Krigers LAT DNF
Elite Women - 27 July
Country
1. Mariana Pajon COL
2. Alise Post USA
3. Laura Smulders NED
4. Simone Christensen DEN
5. Sarah Walker NZL
6. Dani George USA
7. Brooke Crain USA
8. Stefany Hernandez VEN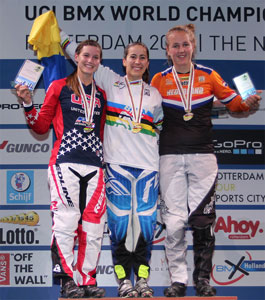 Junior Women - 27 July
Country
1. Dominica Gonzalez ECU
2. Shealen Reno USA
3. Tatiana Kapitanova RUS
4. Varoslava Bondarenko RUS
5. Rachelle Smith USA
6. Sandie Thibaut FRA
7. Camilla Zampese ITA
8. Dana Tuchscherer CAN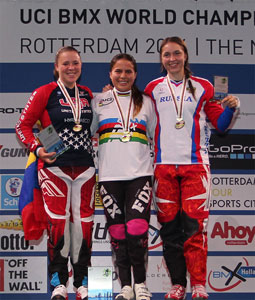 Above pictures Presentation of Awards, courtesy of Jerry Landrum.
Medal count per country in Junior Men-Women and Elite men-women classes:
pos. Country Gold - Silver - Bronze Total
1 Nederland 3 0 1 4
Goud
Niek Kimmann BMX Junioren Heren
Laura Smulders Time Trial Dames
Niek Kimmann Time Trial Junioren Heren
Bronze
Laura Smulders BMX Dames
2 Australië 2 1 1 4
Goud
Sam Willoughby BMX Heren
Sam Willoughby Time Trial Heren
Zilver
Caroline Buchanan Time Trial Dames
Bronze
Brandon Te Hiko Time Trial Junioren Heren
3 Ecuador 1 1 0 2
Goud
Domenica Michelle Azuero Gonzalez BMX Junioren Dames
Zilver
Domenica Michelle Azuero Gonzalez Time Trial Junioren Dames
4 Frankrijk 1 0 2 3
Goud
Sandie Thibaut Time Trial Junioren Dames
Bronze
Romain Racine BMX Junioren Heren
Joris Daudet Time Trial Heren
5 Colombia 1 0 1 2
Goud
Mariana Pajon BMX Dames
Bronze
Mariana Pajon Time Trial Dames
6 Verenigde Staten 0 5 1 6
Zilver
Alise Post BMX Dames
Shealen Reno BMX Junioren Dames
Sean Gaian BMX Junioren Heren
Corben Sharrah Time Trial Heren
Collin Hudson Time Trial Junioren Heren
Bronze
Shealen Reno Time Trial Junioren Dames
7 Canada 0 1 0 1
Zilver
Tory Nyhaug BMX Heren
8 Rusland 0 0 1 1
Bronze
Tatiana Kapitanova BMX Junioren Dames

9 Groot-Brittannië 0 0 1 1
Bronze
Tre Whyte BMX Heren
Here some pictures giving you all an impression of the Presentation of Awards on Thursday evening, World Challenge classes:
Here AD RANDOM placed pictures taken during the UCI BMX World Championship 2014 in the AHOY SportsPalace in Rotterdam - Holland.
August, resumé of World titles in BMX by Dutch athletes over time, 1982 - 2014.


August 6th. a surprise meeting took place between old friends .... Renny Roker meeting Gerrit Does.
Had a surprise meeting today. Last Monday Renny Roker e.mailed me, stating he was in Antwerp/Belgium for a week and wanted to meet with me. So, today 2 old friends did meet at the Lindner Hotel in Antwerp. It was great seeing and talking to you Renny. You only had to be here in Europe about 1.5 week before, then you could have seen the 2014 UCI BMX Worlds in Rotterdam, I told Renny. A lot changed since 1979 and on, organizing World Championships. Mainly for the better, I am glad to say. So funny Gil de Vis (organizer of the UCI Worlds at Zolder-Belgium) had a meeting with you too ! Till a next time then, cheers

Gerrit Does and Renny Roker at the Lindner Hotels & Resorts (Lindner WTC Hotel & City Lounge Antwerp).

Reactions on facebook:
John Hoffard
I was very blessed to ride for Renny Roker in the 1982 JOX JAG BMX World Championship, so blessed I won 25 and over class. And meet so many great people. Lord bless you Renny for your passion in this sport and every thing your hands come in contact with......

Martin Kinnard
It would be great to see a rebirth of BMX popularity as it was in the 70"s. With social media, the internet, and the the youth interest of today it is difficult to even field baseball, basketball, and other sports activities, and BMX is no different.

Martin Kinnard
Renny was responsible for giving many kids opportunities to grow through his positive direction and experiences in BMX. He always stressed the importance of education and his continued work with other projects proves his lifelong compassion for our you

Gerrit Does
Greg Hill, you are so right: age is a matter of mind and if you don't mind, it doesn't matter.

Renny Roker
Greg Hill is one of the smartest guys in BMX. I'll always respect him

August 22nd. through 24th. Trip to the 20th. Veteranen Cup in Weiterstadt - Germany.

On Friday August 2nd.
Louis Vrijdag
and
Gerrit Does
left Holland by motorocycle to be present at the
20th. Veteranen Cup
, which event took place at the Weiterstadt BMX track in Germany. On our way to Weiterstadt we took a touristic route throught the country side. For a long distance we followed the river Rhine stream upwards, which was fantastic. Passed many familiar places. Although the weather forcast said otherwise, we had kind of good weather, no rain. After 7 hours we arrived in Weiterstadt at our hotel, Hotel HAMM.
Organizer Ralf Maurtiz (2nd left) welcomes Gerrit Does, Louis Vrijdag and Dieter Schadowski, our German long time friend.
Looking for a place to have diner in the evening, we ran into an old Dutch friend, Bram Jager, a former assistant track manager and later on headofficial (at both I.BMX.F and UCI event) most of the time working together with Eddy Posthuma (r.i.p.). He is a pensionado now too, heard about this event and planned to go there.
The next day we took it easy in the morning, also because racing would only start at 16.30 hours. We were at the track at around 14.00 hours. We looked around at the Old School of BMX bicycle exhibition and found some very nicely restored BMX bikes from periode 1978 till 1990. In the afternoon I was very happy to see and meet a dear friend from the early days of BMX, Hutch Worksrider in the early '80 s, Heidi Mirisola, now living in Florida - USA. Heidi's Mom originaly came from Germany and at this time she spent time with family in Mainz - Germany, a city about a 30 minute drive from Weiterstadt. Together with friends ánd her sister, she came over to Weiterstadt to watch some races and meet all of us. We had a great time.
Look who was here in Weiterstadt: former Hutch workd rider HEIDI MIRISOLA (USA)
Some pictures of the Open Air Bicycle Exhibition at Weiterstadt.
Since socializing was more important then racing, to me, not many action pictures. Here just a view to give you an impression.
Also this event came to an end. On these pictures all participant saying "see you next time in Weiterstadt" for the 21st. Veteranen Cup 2015.
The main event took place at around 19.00 hours and here are the final results of that race:
OLDIE CLASS: in this class bikes are used from the 80'ies and 90'ies, riders must wear uniforms from the same periode of time, no click pedals ofcourse.

1. Ralf Mauritz
2. Holger Godau
3. Nino Nagel
4. Sven Stübner
5. Jürgen Wagner
6. Michael Balint
7. Hamdi Abbas
8. Steffan Uhlschmidt
VETERAN CLASS: in this class also newschool bikes from 2000 and later are allowed to race on. Also click pedals are allowed in this class.
1. Daniel Velten
2. Torsten Hafner
3. Thorsten Cornils
4. Ralf Mangold
5. Steffen Sänger
6. Giovanni Vecchio
7. Olaf Klein
8. Mark Antony
The event had a so called "open-end". There was a afterparty with music, floodlight, beer, food, interviews and stories to tell. Everybody enjoyed themselves very much. The next day Louis Vrijdag and myself left Weiterstadt to travel back home to Waalre and Almere in Holland. Again a very interesting happening ánd celebration which we enjoyed very much. For the time being it will be kind of quit. Next important STOP will be the 2015 UCI BMX World Championship in Zolder - Belgium.

See you all next year at the 21st. Veteranen Cup in Weiterstadt, 2015.

September 6th.-7th., UCI BMX World Cup - SuperCross round 4, Santiago Del Estero, Argentina.
Final results in Elite Men class:

Final results in Elite Women class:

September 20th. (through October 13th. 1974) is was 40 years ago I discovered BMX in the USA.
Fourty (40) years ago, I made my first ever trip to the USA. I travelled overthere with my brother in law Frans Karsmakers and Henny Beekmans, both international moto-cross riders. As a trainer/coach in moto-cross, I travelled with Frans and Henny to the Kansas City area where both riders would compete in moto-cross events. At their sponsors shop in Kansas City (Yamaha dealer Mr. Perkins), I did see for the first time a BMX bike, a Yamaha full suspension 20 inch bicycle. It all started there and then for me. For more details, check back in the History of BMX, year 1974.
September 26th.-27th, UCI BMX World Cup - SuperCross round 5, Chula Vista, Ca. - USA.
Published: 28 September 2014
Written by: Scott Hobro
Great Britain's Liam Phillips has been crowned 2014 UCI BMX Supercross World Cup champion in a dramatic finale in Chula Vista, California. The 25-year-old entered the final event leading the five-round series before a crash in the quarter-finals at the United States Olympic Training Centre threw his title chances into doubt.
But when Phillips' main rival Anthony Dean exited in the semi-finals, the Australian also involved in a collision, the Briton was mathematically guaranteed the overall crown. Phillips, the first British male to win the world cup, ends the series on 710 points with Dean in second place on 610. "Super happy to win the 2014 @UCI_BMX_SX overall title!" Phillips tweeted.
All three Great Britain Cycling Team riders - Phillips, Tre Whyte and Kyle Evans - were drawn in the same quarter-final after progressing from the moto heats. Both Phillips and Evans were knocked out after crashes with Whyte finishing fourth to reach the semi-finals, where the 19-year-old's race day came to an end as he finished seventh. World champion in 2013, Phillips opened the world cup season with victory at the Great Britain Cycling Team's training base in Manchester. Third in Papendal followed before a quarter-final exit at round three in Berlin. A second place at the penultimate event in Santiago del Estero earlier in September put Phillips on the periphery of the title before the final meeting in the USA.
Australian Caroline Buchanan won the overall women's title. Sam Willoughby and Mariana Pajon won the men's and women's events respectively in Chula Vista.
Explore British Cycling Different types of cycling BMX,Cycle Speedway,Cyclo-Cross,Paracycling,Go-Ride, Racing,GB Team,MTB,Road,Track, Commute Sportives Cycle for Fun. Get involved Join British Cycling. Find an Event to Ride. Join a Club Where to Ride Start Coaching Young People Go-Ride Sky Ride,Volunteers
British Cycling,
Stuart Street,
Manchester M11 4DQ
Tel 0161 274 2000
Fax 0161 274 2001

November 14th., the 40th. anniversary of BMX racing in the USA.
On this day, November 14th. 1970, Scot Breithaupt organized the first BMX race in California.

December 4th., I received confirmation of the passing of Joan Ventura - Spain.
On December 4th. I was informed by Joan Albert Rodondo (from Spain), that a dear friend of mine ánd farther of Spanish BMX, Mr. Joan Ventura (69 y.o.), died of cancer early this morning. Joan Ventura (Spain) was one of the first men from other countries in Europe, who visited me in 1978 and 1979, to learn about "American BMX". Others were René Nicolas (France), Albert Dekkers (Belgium), Mr. Green (England) among others.
Joan was the organizer of the 4th. I.BMX.F. European Championships in 1985 (we started in 1982 with E.C.'s, here in Holland at Beek & Donk). This event took place in Palau de Plegemans - Spain and is well remembered by most old school international BMX racers.
Thanks for all the work you did Joan, to get BMX going in Spain. You lost the fight against cancer, Rest In Peace now, old friend!
Joan Ventura - R.I.P.