History of BMX, year 2021
Dear followers of this website. I have to tell you all that this year, 2021, will be the last year that I write about the History of BMX and other things concerning BMX in detail. I will update the site from time to time as interesting things happen.
I have been in BMX wordwide since I got involved in this great sport in 1974 and decided to finish up my activities in this year. I have reported on among others, the Olympic Games since the beginning in 2008, in 2012, 2016 and 2020 would have been the 4th. Olympics I should have written about. Due to a world wide pandamic ...Covid-19, the 2020 Olympics were postponed and as it stand now, the Olympics will go on in 2021 in Japan. For me it's a good time to leave it up to the next generation to report and write about BMX world-wide developing from 2022 on.

There still is a lot to update on my website from the beginning up till 2022. I will continue that work with pleasure. Wishing you all the best for the future and enjoy reading the University of BMX website.
Cheers, Gerrit Does
June 11 th. a dear friend and BMX pioneer organizer, Mr. Theo Overman passed away.
BMX pioneer from the early days of BMX, 1980 through the mid '90's, Theo Overman passed away. Theo has been very actif in the Nijmegen area in BMX and later on became part of the E.C.C. - European Challenge Cup officials team of Ponypark Slagharen. Over the years Theo and I stayed in good contact up and till 2020. Due to cancer he passed away in June. Thanks for all your help and advices Theo, always being yourself, calm and collected. R.I.P. my friend.

July 9- 10-11th. the UCI BMX European Championships at Zolder - Belgium took place.
Due to Covid-19 situation in among others Europe, these European Championship BMX Race were very different from the normal Championships. Because of Covid there were restriction and therefore only around 1/3 the number of competators where able to race, this time in totla around 830 riders. Also the number of spectators were limited till a max of 2500 persons. One had to be tested covid free or one had to have a QR code proven that you had been vaccinated. No riders from Great Britain were present.

The head of organisation, mr. Marc Wauters and his team were informed only 1 month before actual racing, they were allowed to organize this Europeans with restrictions due to Covid. They did a great jog getting everything finished in time. The experience was there, the Zolder BMX organisation organized the 2015 and 2019 UCI BMX World Championship and done that very well.

European Championship
Results BMX Elite Ladies - July 11th. 2021

1 Zoe Claessens (SUI) - European Champion.
2 Manon Valentino (FRA)
3 Tessa Martinez (FRA)
4 Simone Christensen (DEN)
5 Natalia Afremova (RUS)
6 Natalia Suvorova (RUS)
7 Manon Veenstra (NED)
8 Christa Von Niederhäusern (SUI)

9 Ruby Huisman (NED)
10 Elke Vanhoof (BEL)
11 Rikke Balle (DEN)
12 Daniëlle Vrenegoor (NED)
13 Dorte Balle (DEN)
14 Camille Maire (FRA)
15 Regula Runge (GER)
16 Axelle Etienne (FRA)
17 Mathilde Doudoux (FRA)
18 Charlotte Devolder (FRA)


European Championship
Results BMX Junior Ladies - July 11th. 2021

1 Mariane Beltrando (FRA) - European Champion.
2 Thalya Burford (SUI)
3 Marie Favrel (FRA)
4 Laurine Crozet (FRA)
5 Michelle Wissing (NED)
6 Renske Van Santvoort (NED)
7 Léa Brindjonc (FRA)
8 Elisa Lance (FRA)

9 Adriana Dominguez Bernal (ESP)
10 Capucine Favre (FRA)
11 Jodie Viemont (FRA)
12 Tiphaine Rullier (FRA)
13 Yvette De Waard (NED)
14 Robyn Gommers (BEL)
15 Aiko Gommers (BEL)
16 Liva Lizete Glazere (LAT)
17 Felicia Klingström (SWE)
18 Mariona Calvis Garcia (ESP)
19 Agathe Bodineau (FRA)
20 Orleen Nicolas (FRA)
21 Anne Lise Corlay (FRA)


European Championship
Results BMX Elite Men - July 11th. 2021

1 Arthur Pilard (FRA) - European Champion
2 Mitchel Schotman (NED)
3 Eddy Clerte (FRA)
4 Jay Schippers (NED)
5 Aleksandr Katyshev (RUS)
6 Mathis Ragot Richard (FRA)
7 Paddy Sharrock (GBR)
8 Kristens Krigers (LAT)

9 Dave Van Der Burg (NED)
10 Amidou Mir (FRA)
11 Michele Tomizioli (ITA)
12 Romain Racine (FRA)
13 Ruben Gommers (BEL)
14 Corentin Dubois (FRA)
15 Julian Schmidt (GER)
16 Justin Kimmann (NED)

17 Evgeny Kleshchenko (RUS)
18 Martti Sciortino (ITA)
19 Thomas Jouve (FRA)
20 Boris Ponomarev (RUS)
21 Karl Le Nagard (FRA)
22 Quentin Charavin (FRA)
23 Matthijs Verhoeven (BEL)
24 Quillan Isidore (GBR)
25 Arnaud Chauvin (FRA)
26 Matteo Grazian (ITA)
27 Nick Vandeput (BEL)
28 Jakob Bernhart (GER)
29 Enzo Papa (FRA)
30 Ugo Ballerini (SUI)
31 Mattia Furlan (ITA)
32 Hugo Marszalek (FRA)
33 Bruno De Freitas Cardoso (POR)
34 Valentin Deumie (FRA)
35 Macleo Meynier (FRA)
36 Wouter Segers (BEL)
37 Stef Lauwers (BEL)
38 Liam Webster (GER)
39 Simba Darnand (FRA)
40 Djeronimo Slots (NED)
41 Philip Schaub (GER)


European Championship
Results BMX Junior Men - July 11th. 2021

1 Tim Goossens (NED) - European Champion
2 Matteo Tugnolo (ITA)
3 Jools Melis (BEL)
4 Toni Skrzypek (GER)
5 Casper Pipers (NED)
6 Pierre Geisse (FRA)
7 Jaymio Brink (NED)
8 Leonardo Cantiero (ITA)

9 Roy Kater (NED)
10 Lucas Mues (GER)
11 Seppe Laenen (BEL)
12 Gebbe Sauvillers (BEL)
13 Einar Lindberg (SWE)
14 Julian Bijsterbosch (NED)
15 David Szell (GER)
16 Louis Kasper (SUI)

17 Tanguy Rivoire (FRA)
18 Arthur Chavanon (FRA)
19 Marek Neuzil (CZE)
20 Ivars Svarinskis (LAT)
21 Victor Agosti (FRA)
22 Tommaso Gasparoli (ITA)
23 AIlan Lefebvre (FRA)
24 Wannes Magdelijns (BEL)
25 Bernd Smeets (BEL)
26 Marcus Leth (DEN)
27 Gabriel Avellaneda (ESP)
28 Louison Rousseau (FRA)
29 Emils Martins Treimanis (LAT)
30 Adam Aubin (FRA)
31 Levin Grünig (SUI)
32 Marco Radaelli (ITA)
33 Clement Lafragueta (FRA)
34 Mathis Gantner (SUI)
35 Jorrit Maes (BEL)
36 Filib Steiner (SUI)
37 Didi Van Tiggel (BEL)
38 Miquel Hernandez Gallego (ESP)
39 Marc Roman Martinez (ESP)
40 dvards Emils Liberts (LAT)
41 Tom Petezki (FRA)
42 Matyás Mentlík (CZE)
43 Thomas Willems (BEL)
44 Aurélien Vaessen (BEL)
45 Hippolyte Bourdeau (FRA)
46 Tim Gille (SWE)
47 Kip Stauffacher (SUI)
48 Marco Boyadjian (FRA)
49 Boris Brekelmans (NED)
50 Anton Wennbring (DEN)
51 Kentin Perrichon (FRA)
52 Riccardo Rizzardi (ITA)
53 Karlis Pedraudzis (LAT)
54 NEDKuiper (NED)
55 Martins Zadraks (LAT)
56 Lukás Kuncar (CZE)
57 Antti Laakkonen (FIN)
58 Lucien Dussex (SUI)
59 Maximilián Marencík (SVK)
60 Jeremy Pache (BEL)
61 Max Skrzypek (GER)
62 Gijs Adriaanse (NED)
63 Timo Caloz (SUI)
64 Owen Mielczarek (BEL)
65 Jakub Vesecký (CZE)
66 Oliver Orosz (SVK)
67 Martin Fatnes (NOR)
68 Aaron Schoonbroodt (BEL)
69 Basten Weeland (NED)
70 Thor Hjul Seedorf (DEN)
71 Marko Manik (SVK)
72 Sem Lourensen (NED)
73 Nick Brugman (NED)
74 Mathis Carlier (FRA)
75 Bo Piepers (NED)
76 Aleksandr Kazantsev (RUS)
77 Mathis Jacquet (FRA)
78 Loïc Fourcade (FRA)

July 29-30th. the BMX (Race) OLYMPICS at the Games in Tokyo - Japan 2021 (original date 2020, postponed due to corona !).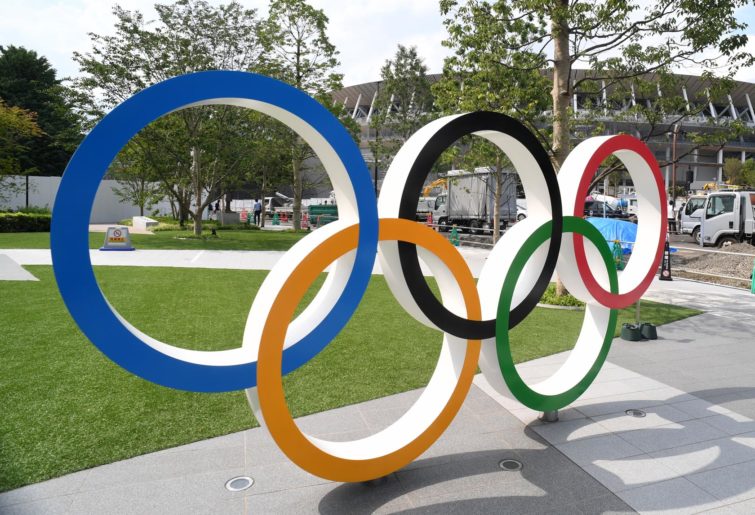 This will be the 4th. Olympics including "BMX Race" discipline since it's start in 2008;
-2008 the 1st ever Olympic Games including BMX Race, Bejing - China.
-2012 the 2nd. Olympic Games incuding BMX Race, Rio de Janeiro - Brasil.
-2016 the 3rd. Olympic Games including BMX Race, London - Great Britain.
-2020 these Olympic Games were postponed because of the Covid-19 pandamic world-wide and executed in .......
-2021 the 4th. Olympic Games including BMX, Tokyo - Japan.
Olympic BMX Track Tokyo-Japan viseble on the left side of the Dome.Juli 31-August 1st. the first ever BMX Freestyle OLYMPICS at the Games in Tokyo - Japan.
The 2020/2021 Olympics, a unique happening due to Covid-19.
Due to the world wide corona pandamic also the 2020 Olympic games in Tokyo-Japan have been postponed. At last the 2020 Olympics took place in 2021, ending July. No spectators were allowed at any event at the Olympics, National teams had to stay in their own "bubble" being checked several times a day on the corona virus. Still the athletes made the very best of this situation and exiting sportmoments were seen on TV.
Around 11.000 athletes were present.

In BMX Race Elite Women and Elite Men were competing for Olympic medals. Just to give al an impression here some pictures and the final results in BMX. First of all a few pictures showing you all the building of the track and then afterwards how it all looked when it was finished. Great Job done by the French track builders .......

On qualification day the weather was very bad, lots of rain, but the orginization was prepaired to get water off the track when the rain stopped. All went well afterwards.
Semi finals Elite Men heat 1.

Semi final Elite Men, heat 2.


The 200/21 Olympics did host around 11.000 athletes and the Paralympics 2 weeks later hosted around 4.000 athletes from all over the world.

August 20th. Looking back at the 2020/21 Olympic Games with a "Dutch view" .....
We like to look back at the 2021 Olympics helt in Tokyo - Japan with special attention to the Dutch National BMX Team performing there. So we talk about the BMX Race discipline now, since at these 2021 Olympics we do have also the 1st. ever BMX Freestyle discipline active there. The results for the Dutch National BMX Team was just great. At first it looked like evetything went wrong with our riders in Elite Men and Women classes, but in the end we did have Merel Smulders finishing 3rd. in the main event and winning at her first ever Olympics a BRONCE medal ..... compliments for that.

In the Elite Men, favorite rider Niek Kimmann ran into a Japanese official crossing the track during practise, crashed hard nd injured his knee. In the end Niek was so motivated to make the best of this bad start of the racing and did won the main event and recevied a GOLDEN medal and the Olympic title. As he mentioned in intervierws, "a DREAM"came true". Niek was the first Dutchman wining an Olympic title in BMX. Europe proved to be a strong BMX continent, after 4 Olympic Games including BMX ..... Maris Stromberg - Latvia did win the Olympic title in 2008 - Bejing, China ánd in Londen - England in 2012. In 2016 American Connor Fields did win the Olympic title with Niek Kimmann winning the Olympic title in 2020/21.

Not only for Niek a dream came true. Starting the I.BMX.F. in 1981 one of the main goals I had was getting BMX Race recognized and accepted as an Olympic discipline, that was at the time very optimistic to state. In 1984 as General Secretary of I.BMX.F. I applied offcialy with the I.O.C. for recoqnition of our sport. Over time we realized that working together with the FIAC and later intergrating with the UCI was nessesary to reach that goal ...... They were already recoqnized by the I.O.C. and that would help us getting there too. In 1996 I.BMX.F. officialy merged with the UCI and from then on "building" towards Olympic recoqnition would start seriously. President of the UCI and good friend mr. Hein Verbrugge (r.i.p.) did very good lobby work, National BMX organisations world wide within their continents started improving the level of our sport with National Championships, Continental Championship, World Championships, World Cup / Supercross event etc. In 2005 it was announced that BMX within the UCI had reached the official status of an "Olympic sport". During the Games of 2008 in Bejing-China, BMX Race had its first ever Olympic Champions. My "dream" on this subject came true ...... A 2e dream of mine was .... having a Dutch BMX rider (M/W) winning the Olympic title at some point. Well .... here Niek Kimmann comes it. He did it, he became the first ever Dutch rider winning an Olympic title in 2021.....my 2e dream came true as well .... I am so very glad !



Another very special thing is the fact that Niek Kimmann was presented with the Royal award named "KNIGHT in the ORDER of ORANGE NASSAU". At the same time three (3) bicycle track racers who did win GOLDEN MEDALS in the Team sprint, also received this special award. The came from BMX and changed to track racing .... there names are Harrie Lavreysen, Roy van den Berg and Jeffrey Hoogland (a 4th member came from cyling, Matthijs Buchli). This means BMX is a very good "school" for bicycle track racers as well.

At the 2008 Olympics in China also several former BMX racers from Great Brittain, who turned to track racing, did win GOLD and were KNIGHTED by Queen Elisabeth in 2008, they are Jamie Staff and Chris Hoy.

This all makes me very happy as KNIGHT in the Order of Orange Nassau sinds 2008 and I therefore do welcome the new Dutch KNIGHT's with great pleasure. The 2020/21 Olympics have been very succesfull for the entire Dutch National Team, BMX as a apart of that team promoted our sport as best as they good ....compliments to you all.


Cheers, Gerrit Does

The University of BMX statistics, .... double succes for Golden BMX'ers at Olympic games ánd at the UCI BMX Worlds in 2021.
Since the start of BMX being an Olympic Sport in 2008, again something UNIQUE happened last Sunday at the UCI BMX Papendal World Championship: Two European riders did win an Olympic Gold medal in their BMX class, Elite Men and Elite Women, as well did they win the UCI BMX World Championship title in the same year, 2021. They are;

Bethany Shriever - GBR Elite Women and
Niek Kimmann - NED Elite Men
Congrats to you both Bethany and Niek !

Trendsetter for such action at the Bejing Olympics was European Maris Strombergs. He won a Golden Medal in 2008 at the Olympics and the World title in Elite Men class that same year.
From outside Europe it was Mariana Pajon who did the same, winning a Gold Medal at the 2016 Olympics and the UCI BMX World title in Rio in 2016.

For the 1st time ever, BMX FREESTYLE PARK is included in the Olympic Games in Tokyo - Japan, 2020-21.











After many years of Lobying, finaly BMX FREESTYLE PARK became officialy an Olympic discipline around 2017 and the 1st. ever Olympic BMX Freestyle event would take place during the 2020 Olimpic Games in Tokyo-Japan. Due to the Corona pendamic, these OLympics were postponed till 2021.
Story .....
As you all can see, Australian Freestyler Logan Martin became the first Olympic Champion in the BMX Freestyle Park discipline.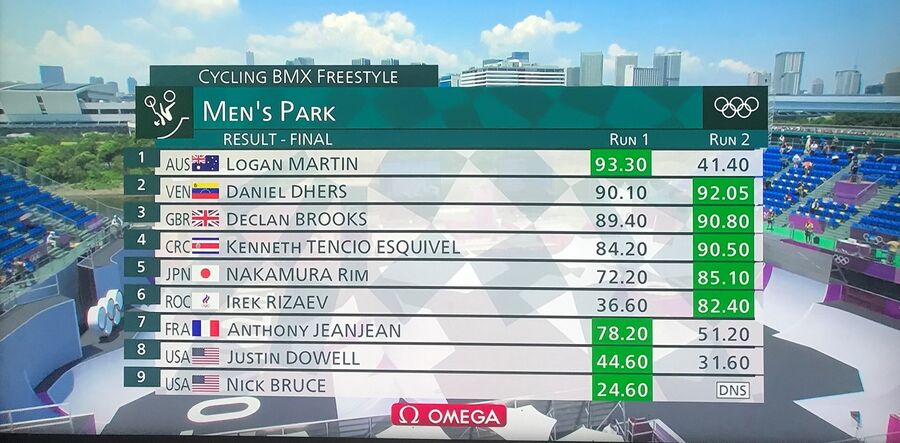 August 22nd. the UCI BMX World Championships at Papendal-Arnhem, Holland took place.
This BMX Worlds will be the 5th. BMX World Championship taken place in Holland since 1982 when the I.BMX.F, as a world wide governing body, started running / organizing World Championships.

- 1983 the 1st. ever outside the USA BMX WC under I.BMX.F. flag took place at Ponypark Slagharen - Holland.
- 1993 the 2nd. now I.BMX.F. - FIAC BMX WC took place in Schijndel - Holland.
- 2004 the 3rd. now UCI BMX WC in Valkenswaard - Holland.
- 2014 the 4th. UCI BMX WC in Rotterdam - Holland.
- 2021 the 5th. UCI BMX WC at Papendal - Arnhem, Holland.

Since the start of the I.BMX.F. organizing World Championships, the 2021 UCI BMX WC will the the 39th. Worlds organized since 1982. In 2022 we hope to see the 40th BMX Worlds organized and then we celebrate the 40th Anniversary of BMX World Championships. Hopefully we can organize a world wide Reunion of BMX Legends and Hero's in France during the 2022 WC.

Note: the 40th. UCI BMX World Championships took place in Nantes - France on July 30th - 31st. 2022. I am so sorry to say the NO ONE in France took up the task of organizing a World Wide Reunion of former and present BMX World Champions. Please read my OPINION on the 2022 UCI BMX Wworldchampionship in "History of BMX Year 2022".

UPDATE on the above added Sept. 2022: It was very disappointing that there was no attention what-so-ever by the UCI or the actual organizers in Nantes - France in 2022. The speakers at the 2022 event were NOT talking about the 40th official Worlds, they only counted the years BMX was under the UCI name and that was since I.BMX.F. merged with UCI in 1996, so for the UCI it was the 26th. BMX Worlds !!!
NOT KNOWING YOUR PAST IS DENING THE FUTURE.

Timeschedule of these UCI BMX Worldchampionships at Papendal - Holland: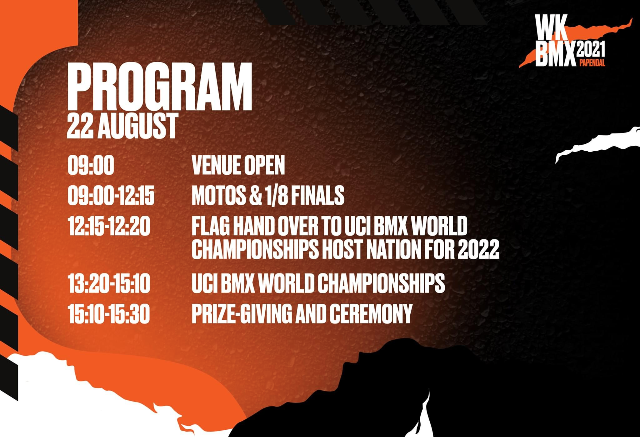 In general the overall organization was just great. The track was nicely manucured and in the World Championship classis racing was fierce. We had a very enjoyable time and great racing for sure. Due to Corona however the organization had original plans to make this a very special event. However they had to reduced this unique sett-up to a "normal" kind of Worlds sett-up. This picture shows you all how the total venue should have looked under normal, non corona, conditions.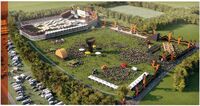 Several weeks before the 2022 BMX World Champipnship at Papendal, a Press-Conference (Corona style) was given at Papendal. To give you an impression here some pictures of that happening.

Actual racing and results seen on pictures below.

Everybody was ready, riders, officials, TV crew, spectators .....lets GO !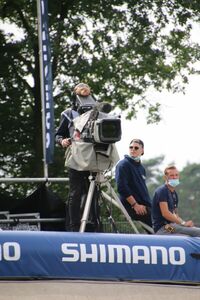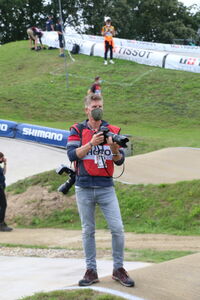 Finals were on, Junior Women ..........

Next were the Junior Men final at hand .....

On with the Elite Women final .......

Last but not least, the Elite Men Final ..........

End of picture gallery on the 2021 UCI BMX Worlds in Papendal.
EXTRA some pictures ad random from the 2021 Worlds at Papendal: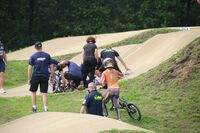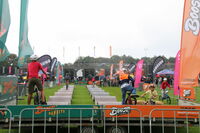 E N D.

August 29th. just found a nice post on facebook by Todd Huffman on Dave Clinton and first USA MX 500cc World Champion, Brad Lackey.
Just saw this nice post today on facebook, published by good friend Toff Huffman. This is what I added to the picture with Dave Clinton and Brad Lackey on it.

Gerrit Does added:
This is so cool ... David Clinton (l) en Brad Lackey (r) both on Kawasaki, David in the early '70's on a BMX and Brad mid '70 > on a MX machine. There is a nice story to this picture. When David Clinton and Perry Kramer stayed at my house in Waalre- Holland in the early '80, we all went to the FIM Luxembourg 500cc Moto-cross GP where Brad raced on Kawasaki. David and Perry supported Brad there and now ... some 41 years later, both David and Brad did meet again.

INSIDERS in MX know that Lacky and my brother in law Pierre Karsmakers (Honda) battled in 1976 for the AMA National MX Championship (USA) title in the Open class as well. Small world, great history.
BY THE WAY, the man posting this picture, Todd Huffman is a good friend of mine and former GT BICYCLES top guy, now making great historic video's of among others of MOTORCYCLE HERO's from the past.

Dave Clinton's reaction on the above picture on facebook today August 30th:
What a great day getting to hang out with your child hood hero Brad Lackey. Holding the custom plate that Brad made for me.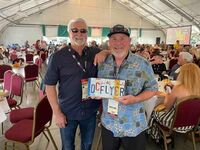 REACTIONS, ..... just a few:
Gerrit Does
Great stuff hè Dave, did you tell Brad we were at the Luxembourg Grand Pric 500 cc early '80 s, you, Perry Kramer and me? Good times 👊🥳
Dave Clinton
Gerrit Does I did tell him about our trip.
Perry Kramer
Dude! You are and always will be top shelf. Awesome to see this bro.
Jon Hejda
Two Factory Kawasaki guys!
Todd Huffman
You were a great "dinner date" DC! ⁠
October 2021, Dale Holmes interviewed Tom Lynch

NEW Podcast Tom Lynch MBE -
While in the UK, I managed to record a couple of Podcasts. Last week while down in London, I met up and recorded the first one with Tom Lynch and the following week I will post the one I did with Keith Duly (Jump Club), both of which I really enjoyed doing.

Tom Lynch is one of the riders in the UK that inspired both me coming through the amateur ranks in the 80s and many others in the UK during his time, with his riding style and coming from behind for wins. If you were around who can forget in 1986 when Tom won the Superclass European Championship finals in Weiterstadt, Germany at just 16 years old against the Powerful Dutch Amev Team.
Tom shares his early days training and taking racing seriously at a young age, getting on Patterson and battling for the UK titles in probably one of the hardest UK age groups in history with the likes of Stu Diggens, Darren Wood, Whoppa Watkins, Steve Greaves, Lee Alexander, Dave Morris, Tim Print and the names go on. Tom talks about winning 15x at the 85 Euros in Spain fresh on Redline (Patterson frame with Redline stickers), going there with a plan, being in the zone and executing it and becoming the European Champion.

Tom talks Kelloggs, getting on Robinson and working with Tony Hoffman turning Superclass at an early age and changing teams to ASR. He battled the likes of Darrin Stock, Andy Welsh and a fresh and hungry Neal Wood when he turned Superclass. He also went up against the European talented riders from Xavier Redois, Eric Minozzi and the strong Dutch Superclass contingent.
Tom talks about getting on Haro racing, Mike King and then getting on Elf and turning racing more into fun as he transitioned to working as he headed into the 90s. We chat about LRP (London Rocket People) the Jive guys, riding with Will Smyth, Rom and early Backyard Jams.

Of course we talk about Tom working at the London Ambulance Service HQ in Waterloo (Cycle Team Hub) as a Cycle Response Unit Operations Officer and all about the programs. He deservingly received an MBE and meeting both the Queen and Prince Charles. Tom was the first official British Cycling BMX Coach. He shares the early days of the program with a young Shanaze Reade, Liam and Charlie Phillips, the Murray brothers, Joey Gough and so much more.
Check this out ......
https://www.bmxweekly.com/2021/10/podcast-tom-lynch-mbe/


history OF bmx, YEAR 2022.
Under CONSTRUCTION from Sept. 10 th. on .....
Dear friends in BMX, as I stated before I am taking it more easy since 2021. On the internet and in th social media sector as well as Youtube there is so much to find on BMX in general, that I think the only additional input to the sport can be just my personal opinion on the development of the sport and NOT reproting on all events taken place.

I also will update the EUROPEAN BMX HALL of FAME up and till 2022 and no further. That's for pioneer or new and younger enthousiastic BMX specialist to do from 2022 on.
April 19th. the Swiss Marlies KNILL family visiting the Does family.

Marlies Knill (Switzerland) and her family visited Holland and ofcourse Mieke & Gerrit Does. Marlies was a former team WEBCO- MENTOS teammember of which her father Albert Knill was the main-sponsor. Both
Albert Knill and Nico Does were associates during the WEBCO-MENTOS team periode and which team was very successful in the '90 s, early 2000 's. Marlies and family went on from Waalre to around the Amsterdam area and did some sightseeing there. It was very nice meeting up after several years not being able to see eachother. Till next time Knill family !
May 27th. Assistant track-manager Bram JAGER passed away.
Received this official annoucement on Saturday 29th. of the passing of Bram Jager. Bram was a pioneer BMX person and got involved in officiating during the '80 s. As assisting Track Manger to Eddy Posthuma (r.i.p.) he worked at important events such as the E.C.C. - European Challenge Cup events and many others, not only in Holland but throughout Europe. Last time I did meet with Bram was a couple of years ago during the Veteranen Cup in Weiterstadt - Germany that Louis Vrijdag and I visited back then. Bram was there too. He was a very nicce guy and a referee with a good judgement. He will be missed by his family .... Rest In Peace Bram !
June 5th. Meeting of Belgium BMX Collectors at Wolvertem in Belgium (close to Brussels).



June 11th. the
28th

Reunion of Reunions, the Veteranen Cup - Weiterstadt, Germany



Participants in the 2022 Veteranen CUP in Weiterstadt - Germany, edition # 28 !

Specialy for our German speaking BMX friends, a report in GERMAN ........ Veteranencup 2022: Zeitplan und Teilnahmebedingungen

Der 28. Veteranencup ist geplant fuer Sa., 11-Jun-2022 in Weiterstadt. Die folgenden Rahmenbedingungen gelten fuer die Veranstaltung.

Eintrittsbedingungen:
Je nach den aktuellen Coronaauflagen im Juni 2022 werden wir Maßnahmen ergreifen (muessen). Genaueres erfahrt Ihr aus der Presse oder kurzfristig hier auf der Webseite.
Diesjaehrige Raceklassen:
- Veteranenklasse (BMX-Raeder 20- und 24-Zoll, Bikes aller Jahrgaenge erlaubt, Klamotten egal).
- Oldieklasse (BMX-Raeder 20- und 24-Zoll, Bikes und Klamotten aus den 80er und 90er Jahren, keine Klick-Pedalen etc).
- No Chain-Klasse (BMX-Raeder 20- und 24-Zoll, Bikes aller Jahrgaenge erlaubt, Klamotten egal, nur Kette demontiert, sonst alles am Bike dran).
Teilnahmebedingungen:
Nur Race-BMX-Bikes, keine Freestyle-Bikes, keine Pegs und keine MTBs etc. Mitfahren darf, wer mind. 18 Jahre alt und in 2021 & 2022 keine Lizenzrennen gefahren ist. Alle Jahrgaenge fahren zusammen, ebenso Maenner und Frauen. Es besteht Helm-, Mundschutz- und Handschuhpflicht, ebenso lange Hosen und lange Aermel. Startgebuehr einmalig 15 €, dafuer erhaelt jeder Teilnehmer auch wie immer ein Shirt des 28. Veteranencups. Zusaetzlich gibt es eine Teamwertung, sofern ausreichend Teams gemeldet sind (immer 4 Racer bilden ein Team, die Ergebnisse der Rennen werden zusammen- gezaehlt gewertet). Geplant ist auch wieder ein Bunny Hopp Contest fuer alle Freestyle-affinen BMXer (wenn genuegend Teilnehmer).

Beauty-Show:
Bei der Beauty-Show sind natuerlich alle BMX-Raeder erlaubt. Hier haben wir folgende Klassen geplant:
- Best-of-Bike-Show: DAS perfekte Bike des Tages inkl. Praesentation etc
- King-of-Oldschool: Alle Klassen, Bike UND Klamotten sollten stimmen.
- Roots-of-BMX: Bikes mit Baujahr vor 1980
- Pro-Klasse: 20-Zoll-Bikes aus den 80ern
- Expert-Klasse: 20-Zoll-Bikes aus den 80ern und 90ern
- Junior-Klasse: 20-Zoll-Bikes aus den 80ern, 90ern und 2000ern
- Cruiser-Klasse: 24-Zoll-Bikes, Jahrgang egal
- Freestyle-Klasse: Alle Freestyler, Jahrgang egal

Voraus Zeitplan:
Einschreibung 10:00-11:00 h
Training 11:00-12:00 h
Rennbeginn ca 12:30 h
Rennende ca 15:00 h
Bunny Hopp-Contest ca 15:30 h
Siegerehrung ca 16:30 h
danach Ausklingen an der Bahn.

Sonstiges:
Fuer leibliches Wohl sorgt der Verein, es wird Essen und Trinken angeboten. Die Finalisten der Race-Klassen erhalten Pokale, die Beauty-Show-Gewinner Medaillen.

Wenn sich Corona-bedingt noch kurzfristig etwas aendern sollte, werden wir es hier kommunizieren. Wir wuerden uns freuen, Euch auch beim diesjaehrigen 28. Veteranencup wieder zahlreich in Weiterstadt begruessen zu koennen.

Gruß, Ralf (& der TSV Braunshardt)

Video of event:


June. Former SE factory rider John HUTELIN (USA) visiting the Does family.

Besides a great sport, BMX did bring us a lot of good friends from all over the world since 1978. Even till this day many of our foreign friends are in close contact with our family and some, who have the possibility because of their work or new hobby, to travel the world. So is John Hutelin, who stayed at our house several times in the '80 s, as our family stayed in their house in Fr. Lauderdale-Fl, USA when over there for racing or otherwise.
Johns profession is being an official pilot on a Boeing 747 Freight plane, travelling the world. He realy flies all over the world, from the America's. Europe to Asia. The past couple of years we did meet when John was on an airpot closeby, like in Liege-Belgium or Schiphol-Amsterdam or Germany. This June he was in Amsterdam and he had a couple of days to spare (stay over), so we did meet again and had a good time. Soon on his way again, off to China ! It was nice meeting up again John, greetings to your family, your Mom and sister Bonnie's family. Till next time !

Picking John up from Eindhoven Train Station. Visiting with Pieter in Brandevoort - Helmond.



John Hutelin in Bergijk - Holland in 1981, racing there. Together with another American David Argyle, they stayed at our house and raced a couple of events here in Holland. Good times.
David Argyle John Hutelin Gerrit Does


July. Former USA PRO Todd Corbit and good friend Jorg de LOUW visiting the Does family.
Good and long time friend as well as pioneer BMX' er from Holland, Jorg de Louw called me and asked to visit with as since another good friend, Todd Corbit was at Jorg's place. Todd had been to a bicycle exhibitian in Germany for business and would like to meet up with us. So after about 10 years we did meet again at our house. Also my youngest son Pieter Does happened to be in the neighbourhoodand came by as well. We had some good talks about our experiences in BMX world wide. Always nice to meet old friends and that happens with people from BMX as well as from motorcycle moto-cross more and more now-a-days.
Todd Corbit used to work for Richard Long and Gary Turner (former GT e.o. BMX brand owners) and has been invited by me / Slagharen to compete with other American Pro's in the E.C.C. - European Challenge Cup events in the early 90's at Ponypark Slagharen - Holland. It was good seeing you again TC ... till next time !

July .... the UCI European BMX Championship and Challenge took place in Dessel - Belgium, here a report.


Check out this video on that 2022 European NMX Championship organized by Frank Smets and his Crew.
https://www.facebook.com/1371821048/videos/1226609057907969

July. Former Moto-cross PRO Pierre Karsmakers, Oakley EU Fred Bakker and mrs. and mr. G. Does visiting Paul's Boutique by Paul der JONG.
Paul de Jong and his PAUL's BOUTIQUE BMX Shop is well known in Europe and even over the world. Startin as BMX racers, Paul and his brother Bart de Jong got interested in BMX Freestyle a couple of years later. In that scene the are very wll know judges, who travelled the world to act as judges during important BMX Freestyle events. While Bart is actif in the UCI BMX Freestyle section of the UCI, Paul runs his shop and is an enthousiast amature MX rider.

Paul is a big fan of former MX Pro Pierre Karsmakers and was very pleased when Pierre came to visit him and that he could she his Waal of Fame on Pierre in his little office at the bicycle ship. Along with Pierre came Fred Bakker, thé OAKLEY man in Europe and Pierre's sister and borther in law, Mieke and Gerrit Does. Stories were told and we all had a good time. Thanks for having us Paul !

July 29th through 31st. the UCI BMX WORLD CHAMPIONSHIPS took place in Nantes - France. Here my report as I have seen it happen, looking from the OUTSIDE in.
















OPINION on the 2022 UCI BMX WORLDS IN NANTES - FANCE by Gerrit Does.
I want to discuss 2 topics:

1. the length of UCI BMX World Championship tracks.
2. the fact that 2022 should have been a celebration year, the 40th. Official BMX Worlds took place in Nantes-France, since 1982 when official international racing started worldwide under I.BMX.F.

Dear BMX friends in BMX,
Allthough I am not involved in any way in an official capicity anymore within the sport, I still want to give you all my OPINION once more, on what is going on at the highest level in BMX, organisation wise as well as several aspects about BMX racing itself. I also still feel the responsability, telling the History of BMX as correct as possible. I am sorry to say that in this year 2022, in my Opinion an omission has been made by the organisation of this years UCI BMX World Championships, the FFC ánd the UCI.

Remark 1:
This should have been the 40th. official BMX World Championship, however it was stated by the speakers during the event that this was the 26th UCI BMX World ! I will come back to that in a moment, but first this:
Before the actual UCI BMX WORLD CHAMPIONSHIP on July 30th and July 31st, the UCI BMX CHALLENGE event was run from July 18th through July 28th. 2022. On our website (universityofbmx.com) we concentrate ourselves on the World Championships in Junior, Elite and Master classes and for the first time ever this year, the Under 23 classes, in all classes male and female ofcourse.

The highlight of this week of BMX was the WORLD CHAMPIONSHIPS in Elite Women, Elite Men, Junior Women, Junior Men, Men Masters and Women Masters .... for the first time at this level 2 new classes, being Women Under 23 and Men Uder 23 were included. So in total there were now 8 World Championship titles to be won.

General remark on my part .... the BMX track looked great, was smooth, maybe not as spectacular as before, but just cool to race on. As always a French organised top international BMX event, specialy on the main day where the semi's and final's were run, many OUTSIDE BMX spectators come out and watch the racing (remembering Tours, Dyon and other events). Enthousiasm is at the TOP then, unique for France.

The semi-finals and finals in all the classe mentioned were just great. I think I can say a NEW GENERATION has shown itself right here and then .... think among others of Maleine Sorensen - Denmark, Leo Garayan - France, Eddy Clerté - France, Julien Bijsterbosch - Holland, Jaymio Brink - Holland, Felicia Stencil - USA and Simon Marquart - Switzerland and others.

Looking from the outside IN, I have only 1 remark to make on this Worlds racing technicaly. Want to talk about the LENGTH of the track .... in the past, UCI changed from indoor track racing to outdoor because of the fact that tracks indoors were often too short, like one lap in 25 plus seconds or so. The start at these short tracks were cruciaal, only a short sprint followed and that was that.

Originaly tracks had to be between 400 and 450 meters long and depending on the obstacles on that track, the fastest riders should take around 43 till 45 seconds to finish such a track. To include not only stenght from the gate on, also stamina was needed, coordination, tactics and so on. At now-a- days tracks it takes about 27-30 seconds, most of the time its "follow the leader", a train like race.

Besides all of the above, in the mid '90 s, when the "New Concept" on BMX was written, to upgrade BMX to an Olympic level, a comparison was made with Olympic runners in athletic 400 mtr. The fastest Olympic champion (Men, Mickael Norman) in that discipline did run the 400 meters in 43,56 seconds (without a 8 mtr. high starting hill to gain extra speed !). The last time a BMX World Championship was run indoors was in 2014 at AHOY-Rotterdam and were Sam Willoughby won Elite Men in 25,4 seconds !


ADVICE to UCI:
We realy have to go back to longer outdoor tracks were the fastest Elite Men rider can finish a lap between 42 and 44 seconds !!!!!! (in comparison with the 400 mtr running distance at Olympics). For Elite Women this means finishing a lap in about 47 - 49 seconds depending on obstacles on that track.

My personal Opinion is that World Championship tracks are built to accomodate the World Challenge races. Too long tracks take too much time to have around 2000 entries run in a week or so (including practise). Time and money do play a roll as well.
Again a very good reason to split World Challenge and World Champiosnhips and race at different locations OR building a longer Worlds track then a World Challenge track on the same location could also be a solution. I understand very well that these events can't be run without the CHALLENGE Classes, they bring in the money to make these events happen. Still a solution is needed I think.


Remark 2:
THIS WORLDS SHOULD HAVE HAD A GREAT CELEBRATION ....THE 40th. OFFICIAL BMX WORLD CHAMPIONSHIPS SINCE 1982!

As we all know now, Bicycle Cross (BC) originated in Europe were young kids immitated their Motorcycle Moto-Cross hero's from the 1950's. They used normal standard road bicycles, which the took sometimes from their parents to race on, prepaired them with numberplates and sometimes a special handlebar and just raced that way. In Holland localy their were clubs having competitions run like in the Amersfoort and St. Anthonis area. No National organizations were in place at the time. These activities slowly burn down early '60's.

Then in the early 1970's in the USA young kids started to immitate their National motorcycle moto-cross hero's as well and they did that on 20 inch Stingray bicycles, specialy prepaired for this kind of racing. So here in the USA, the original called Bicycle Moto-Cross sport or better BMX got off the ground. A name to mention here is that of Scot Breithaupt as pioneer initiator/promotor/ organiser. BMX got very popular and soon several National organisations did see the light of day in the US like the NBA, ABA and the NBL.

Another promotor by the name of Renny Roker, owner of JAG BMX bicycles, started to organise BMX World Championships in 1978 under the name JAG BMX WORLD CHAMPIONSHIPS in the USA. Around 1978-1979 BMX started to develop in Europe. In 1979 for the first time a group of 8 Dutch riders from an official BMX National organisation called S.F.N. (Stichting Fietscross Nederland) participated in the 1979 JAG BMX WORLDS in Indianapolis. Over 2000 entries and about 4 foreign countries (Holland, Japan, Venezuela, Colombia) with around 20 foreign riders were present and learned a lot there. BMX started to spread over the world.

Promotor Reny Roker worked together with the NBA and NBL, they sanctioned his events in the beginning. However, there was NO World Wide BMX organisation in place at the time to organize and coordinate international BMX racing world wide. Early 1980, visiting the USA to learn more about the sport of BMX, I visited the NBL Headoffice and talked with George Esser about starting an international BMX organization where officialy registered National BMX organizations from aaround the world, could apply for a membership (the FIM was our role model at the time). The whole set up would be organized as a democratic institute. So in 1981 the I.BMX.F. - International BMX Federation, did see the light of day, all official registered through lawyers etc.

I.BMX.F. developing.
The development of the I.BMX.F. was fast and strong. Soon contacts were made with FIAC, the at the time Amature division of the UCI. In 1990 a working together relationship was formed.

I.BMX.F organized BMX World Championships up and till 1995. Finaly, ending 1995 I.BMX.F. and at the time the UCI ( FIAC and FICP stopped to exist due to reorganisations within UCI, had everything to do with Pro and Amature sportmen/women being allowed to compete together at the future Olympics) decided to MERGE, so from 1996 on we had one orgnization, the UCI and within that organization a BMX department/committee was set-up.

All rights, titles etc. from I.BMX.F. Continental, World Cup (since 1995) and World Championships transferred to the UCI. And this is very important .... it means that in fact from 1982, the 1st. I.BMX.F. Worlds in Dayton - Ohio, USA up and till the UCI BMX World Championships in Nantes - France in 2022, have to be seen and mentioned as one series of events. I.BMX.F (the pioneers/trendsetters) organized 14 Worlds and UCI 26th. World Championships, so all together we should have had the 40th. ANNIVERSARY of offical BMX World Championships in Nantes - France. So sorry that NOBODY took any notice of that and that there was NO celebration what-so-ever.

It frustrated me to hear the speakers at the Nantes Worlds mention several times that this was the 26th. UCI BMX Worlds. NOT KNOWING YOUR PAST IS DENING THE FUTURE ! My feeling is that all those World Champions from 1982 till 1995 are not recoqnized by the UCI BMX Department and these champions did not get the respect they deserve being the pioneers in our sport. ….... How can this WRONG be made RIGHT ?

Personly I got confirmation a couple of years ago of the fact that my work as initiator and General Secretary of the I.BMX.F. has been noticed and so were, as original founder members of the I.BMX.F., mr. George E.Esser - USA and mr. Tadashi Inoue - Japan, honoured with an UCI Merit. So here the recoqnized the work we did to get BMX were it is today.

Hope all those Champions from 1982 till 1995 will get that recoqnition too, UCI ! They are part of your history, since the merge in 1996.
So far my OPINION on these 2 items.

GERRIT DOES




Now we go on with a picture galary concerning the 2022 BMX Worlds in Nantes - France:

Note on the total members of Team USA: I belive there are NO other World Champions in any other sport, where a country can delegate this number of participants ...... around 100. In BMX World events like this are split into 2 sections, the World Challenge event and the actual World Championship event. ONLY participants in the World Championship event can win the OFFICIAL UCI BMX WORLD TITLE. Depending on a World Ranking, a country can delegate a certain number of riders per class in the following classes: Elite Men - Elite Women - Junior Men - Junior Women, since 2022 Men Under 23 - Women Under 23 and Masters class.
Around 800 selected top riders maximum will compete in these classes for a World Title. Winning a title MEANS something, we talk about absolute TOP sport here, the best of the best. During the 2 days of racing (qualifications, semi finals and finals) is interesting to watch for outside BMX spectators and TV stations are interested to broadcast, part of the qualifications and semi finals and finals.

In the World Challenge classes, a National organization can select many more riders per class and in all other classes then the ones mentioned above. These are the masses ... ofcourse the best riders in these classes per Nation are present, but too many are there to just enjoy themselves and have fun. The World Challenge represents the sport of BMX as it was, a family sport, which is a good thing to promote BMX.
During the World Challenge races, most people watching are the other riders, parents, coaches and maybe some outside BMX spectators. Problem is, racing takes from early in the morning till late in the afternoon, so all day long and depending on the total number of entries, sometimes a whole week to run training sessions, qualifications, semi finals and finals. Not very interesting for outside BMX pleople to watch a whole day. These events are not broadcasted.

Due to the high cost a organizing World Challenge and World Championship event, these high number of entries and spectators being parents, coaches and so on, in the World Challenge classes, are needed to be able to run such an event. Well, that's why there is such a large group of riders among others in the US BMX Team. All of this is also the reason why in the Media the focus is on the World Championship event.


Pics will be update soon.
August 20th., a unique event took place, a Bycycle Motocross Day called BOMD at Montdoumerc - France.

Here a report of this event written by Werner Peters in Dutch ánd English, to give you all an impression of this event.
(Report in English will be updated soon).


REPORT in DUTCH: by WERNER PETERS.
Beste Gerrit !

Terug in die tijd, die mooie gave tijd.............Bicycle Moto Cross !

20 Augustus gingen we terug in die tijd, naar Montdoumerc, in Zuid Frankrijk, in de LOT. Daar was de BOMD, een initiatief van Fabien Rolland, een oud Supermoto en Enduro rijder. Fietscross weer terug gebracht naar de basis, zoals het ontstaan is ! Een schitterende baan, downhill ( ! ) 450 meter lang, whoops, tabletop, een waterbak en vlakke bochten. Strobalen langs de kant, vlaggetjes, een startheuvel van grond en starten achter een elastiek. Alles, werkelijk alles klopte.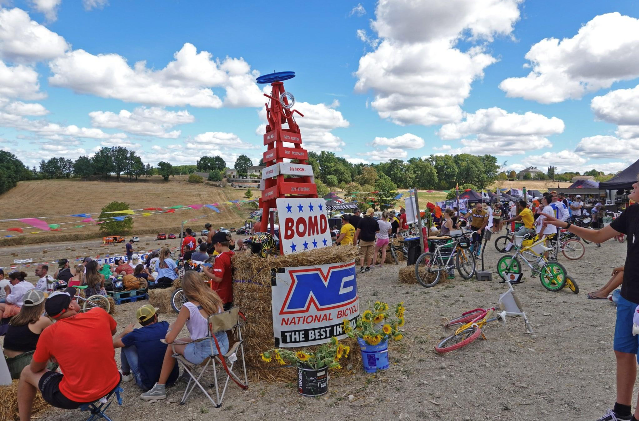 Meer dan 150 deelnemers, zeker 45 plus, waren aanwezig, op de meeste gave bikes uit die tijd. Legends, zoals Xavier Redois, Mickael Clerte, Christophe Vico, Jean-renaud Ducis de Lahitte waren aanwezig.
Ook oud oprichter van Bicross Magazine was aanwezig.

Professionele fotografen, professionele commentatoren, noem maar op !

Uiteraard was de Franse deelname overheersend, doch Zwitserland en Corsica was er ook en Nederland ! Astrid en ik hebben besloten af te reizen naar Montdoumerc, na ingeschreven te hebben in 3 klasses.
Bikes gebouwd en geprepareerd, voor die ene dag, die mooie historische dag.

Er waren meerdere klasses:
- Early Categorie
- Vintage Categorie
- Youngtimer
- Open Klasse
- Sidecar

De meest mooie machines aan de start, van Atala, Schwinn, tot high end Hutch. De uitrusting was spectaculair ! Zelfs de eerste Full Suspension Gary Turner was te zien, en werd bereden ! Een parc-ferme, prachtig met zeer veel standhouders, in die stijl van toen.

Tussen de manches door, was er een verspringwedstrijd. De lakejump contest kon niet doorgaan ivm de lage waterstand. Na de races was er die avond een prachtige Old Skool Party, om het af te sluiten.

Kortom, een weekend om nooit meer te vergeten, en waar men met een schitterende club vrijwilligers, ons heeft teruggebracht naar die onvergetelijke tijd.
CHAPEAU !!!

Astrid en Werner





REPORT in ENGLISH: by WERNER PETERS.
Dear Gerrit,

Going back in time, those very cool old days of ..........BICYCLE MOTO-CROSS/BMX.

On August 20th we, Astrid and I (Werner) went back in time, travelling to Montdoumerc in the South of France in the LOT. The BOMD event would take place there, initiatif by Fabien Rolland e former Supermoto and Eduro motorcycle rider. BMX organized as it was in the late '70's early '80's, how it all started.

A very nice track was layed down, downhill around 450 mtrs long including whoops, tabletop, waterjump and flat turns. Strawbals on the sides of the track, lots of little flags, a starting hill made of dirt about 1.5 meters high and as in the old days, an elastic band was the used to start the riders. Every thing was like it was in the starting days of BMX about 45 - 50 years ago.
Over 150 competators in the ages of 45 years old and over were present. The most extraordinaire bikes from back in the days were represented. Legend riders such as Xavier Redois, Mickael Clerté, Christophe Vico, Jean-Renaud Ducis de Lahitte and many others were present. Also the original founder of Bicross Magazine was present. Professional fotographers were there as well as professional speakers, you name it it was there!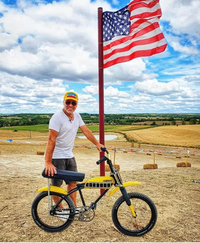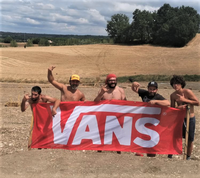 Ofcourse the French paticipation was major, bur alos participation from Switzerland and Corsica was there and 1 Dutch couple, being Astrid (de Graaf) and myself (Werner Peters). We decided to travel to Montdoumerc, after I registered myself in 3 classes. I was the only representative from Holland (probably more next year!?). I did built my bikes and prepaired them for the races, which would turn out to be a beautiful HISTORIC day.
The classes run during BOMD were:
- Early Categorie
- Vintage Categorie
- Yountimer
- Open Class
- Sidecar Class
The most beutiful bikes were on the gate, from ATALA, to SCHWINN till high end HUTCH. Also riders outfits were spectacular. Even de 1st Full Suspension bike by Gary Turner was present and raced on. The "Parc-Fermé" included many venders with top quality old school stuff for show and sale.
In between moto's, there was a jumping contest not one to jump HIGH, but one in which riders had to show how FAR they could jump. A lakejump contest was also scheduled, but had to be cancelled because of the fact that there was to little water in the lake (dry weather).

Ofcourse after what happend during the day, stories were told and friendships renewd in the evening during a wonderful and well organized Old Skool Party.
In short, for Astrid and myself (Werner) a weekend never to be forgotten and a fantastic group of volunteers realized all of this under leadership of Fabien Rolland. We were brought back for a day to an incredible and unforgetable periode of BMX, starting and developing. Respect and CHAPEAU to all present.


Report by Astrid & Werner - the Dutchies present at BOMD #1.

BOMD 2022 PICTURE GALERY:
















Meeting some Legends present at 2022 Bomd:

BOMD Race Action pictures: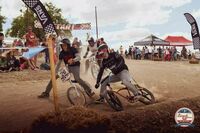 And here it all went wrong

for Werner Peters in the Main
Final .... "the serie pics" that
tell it all ..............................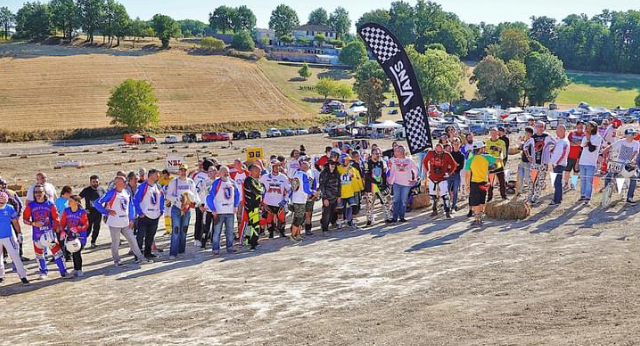 Reactions by participants, written in French:



END OF THIS REPORT ÁND OF A FANTASTIC "BOMD" WEEKEND.
Most pictures of BOMD, COURTESY of mr. BORIS VELOCLIC. Thanks you very much!


August 25th. - 28th., former USA PRO BMX'er Greg ESSER and family visiting the Does family.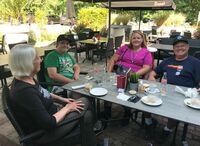 Greg Esser (former BMX Pro) and his family we can call very close friends. After BMX Greg started Motorracing and in the mid 2000's he started racing mini-racecars. Since around 2008 Greg regularly races in Europe taking part in the ENS competition for European Championships. Togehter with another freind, Louis Vrijdag, we travelled to several of Greg's racing among them in Switserland, Germany and Holland. This time Greg races in Apeldoorn Holland, not to fat from were we live, so on his way to Apeldoorn from Franfurt he comeover to have lunch together. Greg brought his wife Melanie and son Alex, whom I know from his 1st year when he ws born and travelled with Mom and Dad to Lostallo in Switzerland for ENS races. No Alex is 14 year old and racing ENS himself. Does time flies and how fast kids grow up ....

We had a nice lunch in Waalre and the next day I visited them again at the races in Apeldoorn. It was great meeting them again after around 3 years (Corona included, etc.). It was nice meeting you all again and see you next some somewehere, sometime.




August 26th. - 28 th., The Malverns Classic 2022 in England took place.
September 3rd., the FAT JAM (Aarle-Rixtel) and 50th anniversary/Reunion of the 1st ever Open I.BMX.F. European BMX Champion took place in Beek & Donk - Holland.

The FATJAM in Aarle-Rixtel is run for the 35th. year now and one of the longest running BMX (Freestyle) events in Europe. Paul and Bart de Jong are the founder fathers of the FATJAM and still running this event together. It concerns BMX Freestyle and this event is run like it was run in the early days of Freestyle. Not too many rules and relaxted competators / enthousiast amateures that love to be "free & wild".
This time it was combined with a kind of a reunion by the BMX club of Beek & Donk that organized the first ever I.BMX.F. OPEN European Championships in Beek & Donk in 1982. We did see several former races at the FATJAM as well as the Chairman of the BMX Club Beek & Dink, Jan Leenders. It was a very nice day, there was a relaxes atmosphere and everybody enjoyed themself. On to the #36 issue of this FATJAM in 2023.
More to read om website of FATBMX.com.
Pictures here to give you all an impression of what happened.
The venue:



People ánd riders are arriving from around 14.00 hours on ........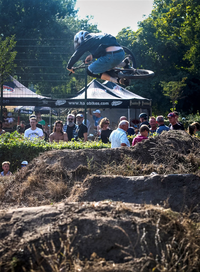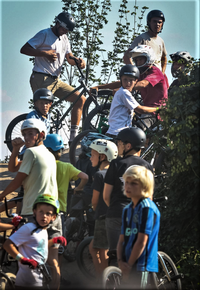 A serie of ACTION PICTURES .........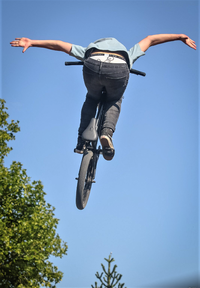 E N D ......... E N D ........ E N D !
1st. ever I.BMX.F. OPEN European BMX Championship, Beek & Donk - Holland in 1982, so now celebrating its 40th anniversary.
In combination with the FATJAM, the celebration of the 40th anniversary on the 1982 I.BMX,F. Open European BMX Championship took place. Stories were told and pictures shared. Here a few from the 1982 I.BMX.F. OPEN BMX European Championships in Beek & Donk, Holland. For more details and pictures check "Year 1982" in the section of this website .... "History of BMX".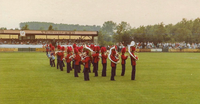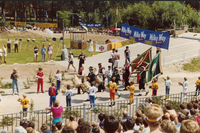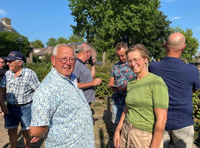 September 9th. - 11th. The Frogtown Classic BMX Days in Angels- Camp CA, USA 2022 took place.
Overlooking the FROGTOWN CLASSIC BMX event grounds.



Presentation of the riders present at the Forgtown Classic at Angels Camp, Ca - USA .... enjoy

https://www.facebook.com/1209619906/videos/pcb.10229513566322759/1655739118160337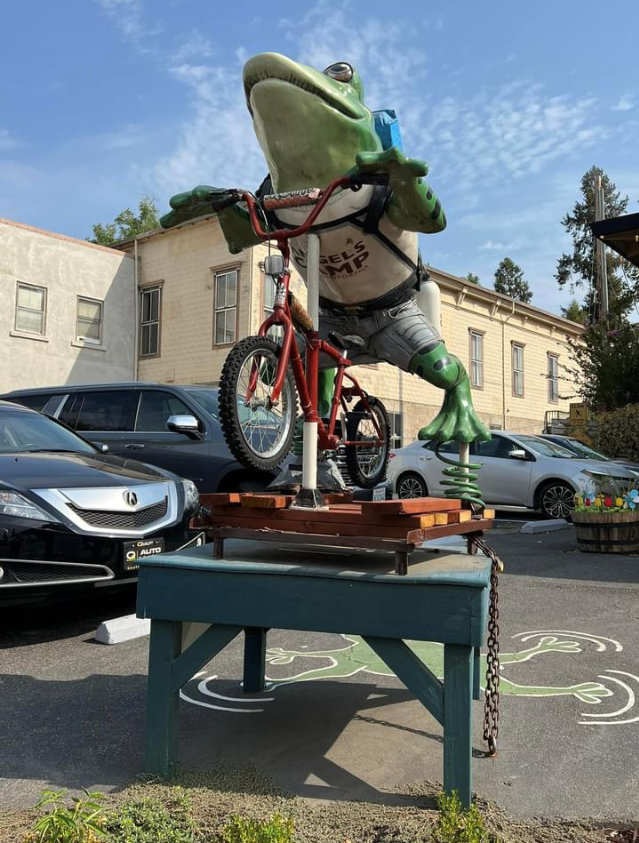 Thanks Rainer Schadowski (GER) for picture !

Scott Towne is with Todd Huffman, Ollie Keinzle (GER) and others ......

🐸I have so much I could say about this weekend's Frogtown Classic BMX Days event…So many highlights, so many laughs, good conversations and ridiculous scenarios. It was incredible. I took a ton of photos myself, but this one is of me, during my second moto in the 1976-79 division aboard my 78 Webco that I flew to California with. I was in second at the time, but I finished out the weekend with third place behind Rob Cornett and Ollie Kienzle, two of many new friends I made this weekend. This is how BMX looks in my mind. It's all I ever wanted out of the deal. I didn't get to meet Mike from @albright_media, who shot this photo, but I would have given him a hug if I had. So many thank yous to so many people but Todd Huffman gets the biggest high five for creating the event...✋✋✋

Lawan Cunningham
Big radness!! The "what got me into it" days!


Scott Towne
Piece of history on the Frogtown event in 1980:


Here a contribution by Jenny DAGER on the Frogtown Classic in Angels Camp, Ca-USA.

Jenny Dager is with Perry Kramer, Ernie Alexander and many other.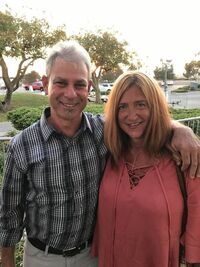 Some may understand the passion for BMX, although you can trust that mine is equally as deep as those of any of my confrere. When I attended the Frogtown Classic BMX Days in Angels Camp, CA. last weekend, it furthered my love of BMX and ignited my passion further. From the moment I arrived, the vibe was that of yesteryear- taking me back to when I began racing in my youth. My mind was inundated with memories and the rush of competition.

The site of the track, the bench racing in the pits, and even the dirt that covered me took me to a place I love and remember as if it was only moments ago. To all of you that raced, the legends, the old school friends, and friends anew, my respect to you. I loved cheering you on and you gifted me more than you might know. To the boys of Fasthouse, you made me laugh and smile more than I have in quite some time. I thank you.

To Ernie Alexander, who listened to me talk of my family's history of BMX in the Midwest and saw my love, passion for the sport, and my tears as I remembered my Dad, I thank you for your silence and respect. You, Ernie, are a man of few words, yet your silent demeanor is vast in wisdom and experience. I learned from you when you spoke. I learned when you were silent. I learned how immense your heart is for the sport, and moreover the people whom you have gifted throughout your years in the BMX movement. You propelled it. I have gained mad respect for you.



To all of you who were there that I spoke with, and all of you that did not know I was watching you- especially the children, I respect you and I thank you. You enlightened me. If you are old school, or if you are new, watch the videos and you might feel like I do. Do you, you, feel like I do? You should.
JENNY DAGER.
Note GD: so, the above courtesy of Jenny Dager, thank you for your very nice comment on this event and on BMX in general.
September 10th., the Australian BMX Hall of Fame had its annual induction ceremony at the Gold Coast.

On September 10th. the 3rd. Australian BMX Hall of Fame induction Ceremony took place at the Gold Coast in Australia. Initiator and organizer as well as former I.BMX.F. World Champion BMX in the 7 year Expert ánd 7 and Under Open class from back in 1983, at Ponypark Slagharen - Holland ..... Cameron Mitchell did sent me the following information on this 2022 event.

Gerrit, we did just have our Hall Of Fame event last week here in Australia. I held it again on the Gold Coast in Queensland. We had a smaller turnout this year due to ongoing domestic travel issues but still had 165 persons in the room to welcome our new inductees. They are:

- Rachael Marshall (Rider)
- Alistair Johnson (Pioneer/Rider)
- Dean Crisp (Rider/Industry)
- Lyndal Ellement (Rider)
- Brian Pearse (Industry)

We have waited 3 years to have this ceremony due to lockdowns and border closures during the pandemic. I have just posted the Introduction Videos I played on the night to our Youtube channel if you want to watch them and learn about each inductee.

https://www.youtube.com/channel/UCD_J0EzcqTkLtjBnMzmjvnw/videos

We also featured an Olympics exhibition that included Australian Olympic Memorabilia from each Olympics 2008-2020. Our Olympic Gold Medallist in Freestyle, Logan Martin joined us for a Q&A onstage and our guest speaker was Kai Sakakibara who gave us an update on his recovery since his severe brain injury in 2020. Note GD: Logan Martin is the 1st ever Olympic Champion in BMX Freestyle Park, congratulations Logan.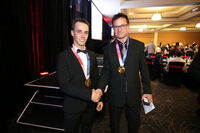 The night also revealed the winner of the 2022 Sam Willoughby Medallist - this year won by Teya Rufus, and we heard from each inductee except Rachael who was unable to make it due to illness. I've attached a few photos for you.
Pictures courtesy of:
Hi Gerrit,
This was the 3rd event we have held and you are most welcome to use any of the photos I sent.
Cameron Mitchell (now organizer of the Australian BMX Hall of Fame, well done Cam).

Special addition:
Some more HISTORY of BMX, the 1st outside the USA I.BMX.F. BMX World Championship at Ponypark Slagharen - Holland 1983 and its all about Cameron Michell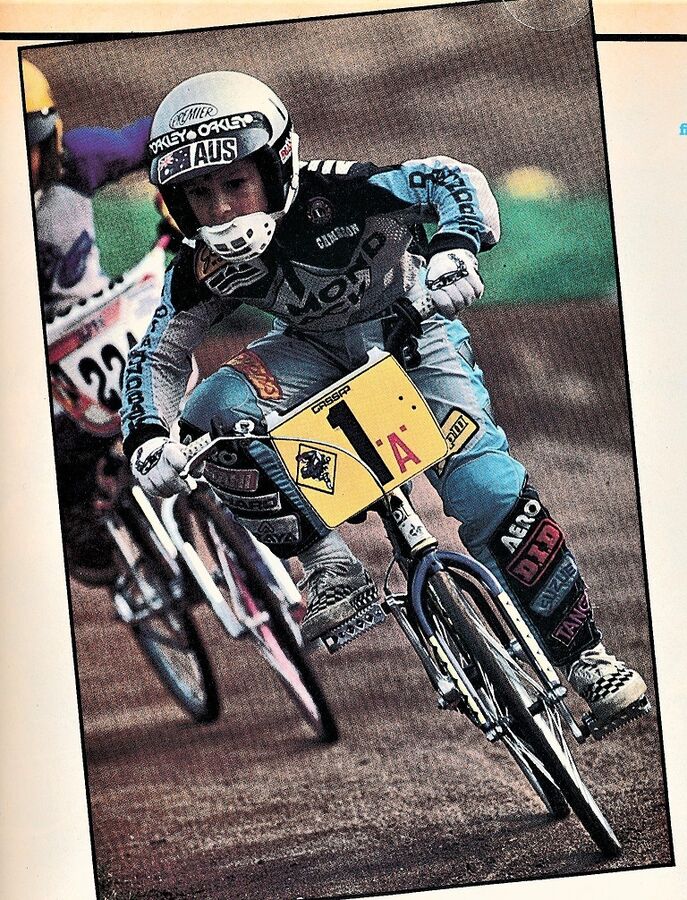 October 1st. How it all came about .... The British BMX HALL of FAME.
Since a couple of years there have been talks about organizing a British BMX Hall of Fame. Early 2022 it was decided to indeed organize such an event for the first time in 2022. Here the story how it all came together.

Over the last 10 months there's been a buzz from across the English Channel that a British BMX Hall of Fame to preserve and honour the history of BMX racing and freestyle in Great Britain and Northern Ireland, and to celebrate the people who made British BMX so great, will take place at the National Conference Centre in Solihull (near Birmingham, England) on 5th November 2022.

When we heard about this event, not only were we excited to attend, but also keen to learn more about who was responsible for creating this historic event, so we contacted Andy Ruffell (ex Mongoose and Raleigh factory team racer and freestyler) to get the lowdown.

The Organising Committee is comprised of Andy Ruffell, Dale Holmes, Darren O'Neill and Mike Wong.

Andy Ruffell needs little introduction to anyone who was around European BMX in the 1980s. He was the UK's first BMX superstar who not only enjoyed popularity and fame within the sport of BMX, but also in the mainstream media. Andy was the epitome of the all round BMX'er, winning numerous races and titles, as well winning many freestyle comps and innovating new freestyle tricks during that first era of BMX. Andy was also one of the first BMX promoters, creating the Holeshot events, amongst others. After retiring from BMX Andy went on to co-found the world famous MOBO music awards and embarked on a career in the music and entertainment promotion industry.

Dale Holmes is arguably Great Britain's most successful BMX racer who started his racing career in 1981 and along the way achieved 2x Elite Men World Titles, 3x Masters World Titles, plus numerous domestic titles in the UK and USA. After retiring from racing, Dale took on many high profile team manager and mentoring roles, most notably with Free Agent, Kyle Bennett and Maris Strombergs. Dale is still a very active member of the global BMX community as the the driving force behind the BMX Weekly website and podcasts, as well as running hugely popular BMX camps in San Diego, CA.

Darren O'Neill is another successful racer from the UK having held multiple national, British and European titles throughout his illustrious career. Darren rode for some of the UK's best and most popular factory teams, including ELF, Edwardes and MRD to name just a few. Darren is now a BMX dad and sits on the Board of Trustees of Redditch Skatepark.

Mike Wong is a first generation BMX'er and the founder/owner of the Dialled Bikes and FTB BMX bicycle brands. As a designer, Mike has seen numerous riders win World and European titles on Dialled Bikes and FTB frames. And as a team manager, teams created and guided by Mike have won multiple national/British team titles. Mike also fulfilled a lifelong ambition by moving to America in 2016 to race the USA BMX national and Gold Cup series'.

The plan for the British BMX Hall of Fame is that each year, significant figures from British BMX History will be inducted into the Hall of Fame in the following categories:

Pioneer Female Racer
Pioneer Male Racer
Pioneer Freestyler
Pioneer Influencer
Female Racer
Male Racer
Freestyler
King of Dirt
Outstanding Contribution to BMX

The nominees for 2022 can be found here,
Numerous other people have been assisting the Organising Committee behind the scenes, with the likes of Clive Gosling, Scott Dick and Will Smyth from DIG BMX Magazine also providing invaluable input to the selection and induction process.

Tickets are still available for this historic event but are selling out fast. You can get yours via the EventBrite website: https://bmxtix.com
Prepairing for the actual event .......



November 5th. the 1st. issue of the British BMX HALL of FAME will take place in Solihull near Birmngham - GBR.

Check this out, no further words needed ......