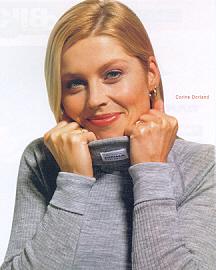 Groesbeek-Holland, Today the Dutch National Championship Cross-country ATB/MTB/VTT took place in the small town of Groesbeek near the city of Arnhem in Holland. Corine Dorland, the QUEEN of BMX with in total 10 World titles, could win here another Dutch National Title as she did last year, in ATB/MTB/VTT cross-country. She almost did, however, a few hundred meter and out of sight of officials, here main competitor van de Brand, T-boned Corine in on of the last tight turns. With only a tenth of a second mrs. Van den Brand did win the title and left Corine very upset at the finish line.
Anyway, now a days Corine also makes money acting as "model" for a bike wear company called ULTIMA. Just to give you an idea, here three pictures of Corine on advertisements in magazines and papers.
It was in 1986 that an American photographer already predicted here future as a model, isn't that right mr. JOHN KER ? (John now works for Moto-cross Action Magazine). Here the pictures mentioned.