Spectacular developments in BMX from 1995 till 2016 ?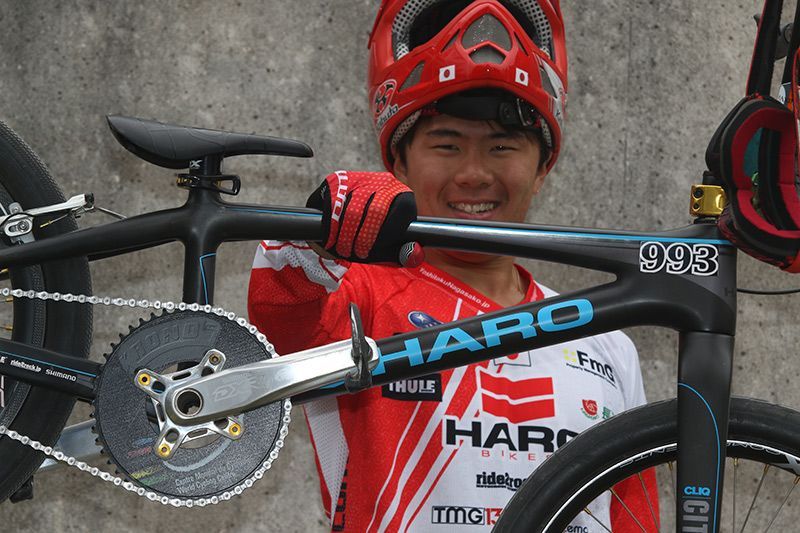 To read about the DEVELOPMENT in BMX at the highest level, the Elite classes and within the World Cup/Supercross format, check this out:
Waalre, March 26th., 2016
An historical overview.
For some time now I had the plan to write an article about the developments/evolution in the sport of BMX at the highest National and International level within the UCI, in the Elite Women and Men classes. Also all the other BMX classes followed the development closely.
Background information.
Since BMX started as an organized sport in the USA in the early 1970's (1974 to be exact) and was spread over the worlds since 1980/81 by the I.BMX.F. (International BMX Federation) and from 1996 when the I.BMX.F. integrated into the UCI, big changes took place.
I think we have seen the following six (6) phases in the development of our BMX sport so far:
Phase 1, the pioneer periode from around < 1970 through 1979, mainly in the USA.
Phase 2, BMX start to spread over the world with help of among others, the I.BMX.F., 1980/81 through 1990.
Phase 3, the recoqnition of BMX as a official sport by the FIAC/UCI. A working together relationship started between I.BMX.F. ánd the FIAC from 1991 through 1995 with the intend to merge at a certain point and time.
Phase 4, merge of I.BMX.F ánd FIAC (bmx) into 1 organization, the UCI. A UCI BMX Comittee was formed. This happened in 1996 and is stil running.
Phase 5, BMX being recoqnized as an Olympic discipline from 2008 on. First Olympic Champs in Elite Men and Women during the 2008 Beijing – China Olympic Games.
Phase 6, BMX at the highest level developing towards an absolute top-sport from 2007 on. Meaning training technicaly (fitness and riding technique) as well as on track design etc. Facilities professionalized, governments supporting National BMX teams (since BMX became an Olympic discipline) etc.
After the 2012 Olympics in London, world-wide BMX got an extra boost. Old tracks were updated to the now-a-days international standards, many new tracks were built according to the new UCI standards, indoor as well as outdoor. Building companies specialized in building BMX Elite tracks did see the day of light.
Additional specs.
When BMX started, tracks were kind of simple and peddle power was essential. The hight of starting hills varried from around 1.5 metre till around 3 metres. Working towards the 1990's, more and more technical tracks were built, worldwide. At the time the Pro class and Superclass riders were well trained and because of the increasing competition (I.BMX.F.) more attention was given to phycical and technique training.
During that periode of time (1991) the I.BMX.F started to work with FIAC, the Amature division of the UCI (FICP was the professional division, due to the possibilty of Olympic participation later on, BMX was considered an Amature sport at the time).
After 6 years of talks, in 1995 negotiations were very serious to have the I.BMX.F. integrate into the UCI, also because Olympic rules had changed and amature and professional athletes in sports would be allowed to compete in the Olympics. A reorganisation within UCI took place with the result that FIAC and FICP seized to exsist. Final result concerning BMX: the I.BMX.F. integrated into the UCI in 1996.
During that same periode (1993/94), Gerrit Does submitted his plans, written down in the so-called "New Concept" report. After discussing the New Concept within the UCI BMX Committee, the UCI by name of their President Mr. Hein Verbruggen and the UCI BMX Committee, asked Gerrit Does to start executing this new project: developpe the UCI BMX World Cup/Supercross events. GD was appointed as Project Manager BMX World Cup/Supercross events ending 1994. After prepairing these series, the first World Cup was organized in Brighton – GBR in 1995. It was the intention of taking BMX with these series to the next level within the UCI.
From 1995 till 1998 according to Gerrit Does' NEW CONCEPT (presented to the FIAC in the early '90 s), World Cup/Supercross events were organized during this try out periode. Transponders were introduced, a big screen was installed to inform the public of the results, laptimes etc. and show replays of races, TV was essential and therefore implimented, an ATB/MTB class was introduced to show the "outside" BMX world the big wheel bikes as well as to give the sport an adult image. Only ELITE Men and Women were invited to compete. To communicate the new format, all international Elite riders received a periodic information bulletin from the UCI on developments within the World Cup organization of the UCI.
During this periode also the possible 400 meter tracks (35 thr. 40 seconds lap) became more technical, to make BMX spectacular to watch for spectators and on TV. Finaly ending 1996 the World Cup/Supercross event at Valkenswaard in Holland, broadcasted on National TV, showed the actual idea of such events. This was realy the start of a new area.
Gerrit Does resigned ending 1998 as Project Manager and for some time the World Cup events were not of a high priority to the UCI. Still the events kept taking place.
At the UCI office a big change took place ending 1999. BMX Coördinator Jeroen Vrijdag (Holland) resigned and Johan Lindström (Sweden) took his position at the UCI office in Aigle Switzerland and he started to work there on July 1 st. 2000. He became the new UCI Cooridinator BMX ánd Trials.
Johan Lindström's background originaly was Alpine downhill skiing and downhill mountain biking. He organzed multiple Mountain Bike World Cups and in 1999 the UCI Mountain Bike World Championships, all in Äre, Sweden.
During the following years, Johan Lindström got more and more involved in organizing the UCI BMX World Cup events. In 2003 the format of the UCI BMX World Cup transformed more and more in a downhill event. This concept was based on the Xgames/Vans Triple Crown events, with a purpose build downhill type BMX track for Elite riders, but with the Supercross being built more like a race track (compared to the Xgames).
The dowhill was great but had 2 issues: 1. you always needed a big hillside and 2. it was difficult to attrack spectators to the mentioned hillside. This was 2003 and as we know now (2016), it still is very difficult to attrack big crowds (outside BMX people) to World Cup / Supercross events. At "normal" international BMX events, Continental and World Championship events, as an organizer you have around 1500 till 2500 + participants. They bring with them an average of 2.5 / 3 persons to the races, so you have around 4500 till 7000 spectators on and around your event. With World Cup/Super Cross events one has around 250/350 riders present with maybe around a 700 till 1200 spectators, if you are lucky. Not many "outside BMX" spectators present in general. There are exceptions ofcourse. Still a lot of work to be done on this topic. Marketing/promotions concerning these events are needed.
During this periode of time the UCI also worked with a start ramp with the idea of bringing "Supercross" style racing to a "Parking lot". So therefore creating a big roll in start ramp to reach the same speed as on a downhill track. All of this to make BMX very attractive in city's with lots of people who would come and watch to see this spectacular BMX racing.
So, the first ever built mentioned above ramp was placed at the San Jose Dew Tour – USA in 2005. The ramp was 10 meters high with a ski jump lip at the bottom. Johan Lindström said it became obvious that the format could work and the riders liked the idea of combining traditional BMX with this new Supercross Format.
During that periode of time (2005) , the UCI, headed by mr. Hein Verbruggen, President of the UCI ánd International Olympic Committee member, was working on including BMX into the Olympic Games. In the early '90 mr. Verbruggen promissed to try to get BMX into the Olympics. This was during the periode that the I.BMX.F. and FIAC were negotiating a merge at some time. So a lot of lobbying went on. The original request from the International Olympic Committe – I.O.C. was to have BMX Freestyle into the Olympics (they mixed up BMX Freestyle and Race!). As you might know, the first ever official application for recoqnition of BMX racing becoming an Olympic Sport, was done by the I.BMX.F. in 1984, so the I.O.C. knew about our sport BMX Racing since then.
BMX Freestyle also was ofcourse known by the UCI, but organization wise, was not in any way a part of the UCI organization. So, Freestyle not being a part of UCI, therefore never could become an Olympic discipline at the time. At last the UCI also convinced the I.O.C. that this new format of BMX racing (Supercross) could fulfill their needs. And so it happened that in 2008 our sport BMX racing became an Olympic discipline at the Beijing – China Olympics. Due to the maximum number of participants per discipline (cycling) at the Olympics, the UCI had to skip velodrome disciplines in favour of BMX, which resulted in heavy protests. BMX will have it's 3rd. Olympics this year 2016, in Sao Paulo – Brazil.
Talking about this new development in building Elite tracks, the first correct "Olympic Spec Ramp" was built in Aigle – Switzerland in 2007 (UCI head office), followed by a "travel ramp" for all other World Cups, such as Roc d'Azur, Madrid and others.
Besides the unique RAMP, now standard 8 metres high, the track itself changed a lot in comparison with the 1997 and on tracks. Because of the 8 meter and the speed that could be reached now (around 60 km/p.h), the jumps at the first traight had to be adjusted as well as the berm in the first corner. Tracks became very technical and full of obsticals.
UCI's core business.
Within the UCI a lot of discussion was going on about the fact that the UCI BMX Coordinator had became more a promotor/organizer then UCI official/BMX Coordinator. From 2008 till 2010 their was constant change and discussion going on. Questions were raised about what the core business is and should be of the UCI.
It was on January 1st. 2011 that Johan Lindström left the UCI and became thé man of a new business oriented organization called GSX – Global SX Events inc. The World Cup/Supercross events were mainly funded by the UCI, but since 2011 when GSX inc. became a fact, the investment in the World Cup/Supercross events had come from private funds rather then UCI's. A new UCI BMX and Trial Coordinator was appointed. Former BMX Champion Ellen Bollanssee took that position at the UCI office.
Since then Johan worked closely with some of the top riders to fine tune the design of the starting ramp, also knowing that Elite Women would ride the ramp from now on. The height was tweaked, angles to suit the riders better (watch the first 4.5 meters, the have only an 18 degrees angle – 2 cranks ).
So developments in track design specialy concerning the starting ramp was spectacular from around 2007 up and till 2015. Also the obstacles on the track became more radical. Since speed went up because of this 8 meter ramp and obstacles became more technical, also the risks of injuries increased! Although riders being better protected then in bicycle road racing, protection still is insufficient in BMX. Attention needed here.
Due to financial problems, ending 2015 it was decided that GSX inc. would seize to exsist. Johan Lindström stopped his activities as CEO. It became clear since GSX inc. started, that generating sponsorships in this particular BMX World Cup/SX project was very difficult for several reasons.
Career ending injuries occured, mainly caused by high speed crashes.
Developments in BMX happened with ups and downs. It was in 2011 when in Holland a replica of the London Olympic Track was built on the grounds of the National Olympic training facilities PAPENDAL – Arnhem. Their were some standaard messurement concerning the width of jumps, shape of jumps, hight of corners etc. but no check by the UCI on the execution of those guidelines, took place at the time. At the Papendal replica Olympic Track, GSX inc. changed the messurement, made jumps that were further apart then "standard", they even made a so called "box jump" which proved to be a disaster.
Anyway, during the actual first race on this "new, updated" track design, a lot went wrong. The track proved to be very dangerous and over 30 riders coming from realy far away, did not start because of the risks involved, riding this track. During the raceday, many riders crashed, were brought to hospital were at a certain point, injuried riders were refused and sent to another hospital, because there were to many casualties at this particular hospital. Not good for the image of BMX. This track design was just "one bridge too far" as we say in Holland. The result was that not only this track at Papendal was changed after this event, but also the official Olympic Track in London (luckely).
It is good to say that since about 3/4 years now, the UCI coordinator BMX and Trials and their head officials follow delopment closely and now rules and regulations tells you exactly what can and what cannot be done building a Super Cross track.
At the UCI office another change took place. BMX coordinator Ellen Bollanssee left her job and Kevin MacQuish was appointed the new BMX and Trials Coordinator (2015).
Number of licenseholders down, went up after the Olympic Games 2008-2012 ?
The first Olympic Games did give the sport a boost. In many countries numbers had go down badly from the late 1989's till around 2000. In Holland we did have around 6000 licenseholders in 1985/86 and in the early 2000's there were only about 8 / 900 licenseholders left. After the 2012 London Olympics a real boost came, not only in numbers of licenseholders but specialy in building new tracks and updating old tracks. The numbers in Holland are now (2015) around 2000 / 2500 licenseholders overall (2 organizations, the KNMU and the NFF). I am very anxious to wait and see what the 3rd. Olympic Games 2016 in Brasil will bring us concerning the above aspect.
For some time in the past, I have been trying to collect information on exactly how many licenseholders UCI affiliated countries within their BMX departments have. It would be nice ánd usefull to have statistics about numbers of licenseholders to follow the developments and act if numbers go down, for instance. It looks like it is a secret, no statistics available. I have put together statistics concerning Holland and will show them below, just to give you all an idea of the developments over time. In the early days of BMX (1980's) I knew exactly what the numbers were. Over time it became more difficult to get these figures on the table. Why ? ..... I don't know.
In Holland BMX officialy started in October 1978. Seen here the number of licenses issued up and till the end of the year.
Year # licenses # tracks/clubs our national population went from 12 to 17 million over these years (2016)..
1978 27 0
1979 122 1
1980 750 5
1981 1318
1982 2959
1983 4700
1985 5950 190
1986 7432 196
remark: in 1986 the KNWU issued official licenses 4400 + so called "club cards", only for local racing approx. 3000.
1987 3831 130 (just the number of official licenses, no club cards included here)
1988 2875
1989 2001
1990 1497
1991 1288
2000 900 35
2010 1200
2013 1936 44
Remark updated April 4th.'16: Holland has now 2 BMX organizations, the K.N.W.U. (Royal Dutch Cycling Federation and is UCI affiliated) and the NFF (Dutch Bicycle Federation) with all together around 3423 official licenseholders. The KNMU has 1936 license-holders, the NFF has 1487 license-holders. These are figures that I have from 2013. (inside info).
2016 3423 licenseholders KNWU + NFF
In Europe, all countries involved in BMX did have the same development curve, only with different figures ofcourse, but the trend was the same. As you can see the top was reached in 1986, now 30 years ago. Also the Olympic recoqnition did not realy help increase the number of licenseholders.
In France the curve was about the same as in Holland as one can see below.
Year # licenses # tracks/clubs France population went from 54 to 64 million over these years.
1981 140 10
1982 1500 75
1983 2240 140
1984 5300 208
1985 7700 300
1986 10.000 327
1987 12.000 400
1990 6000 260 approx. up and down
1995 6310
2000 6970
2010 7200
2014 7500 260 approx.
2016 7800
As you can see, the curve is about the same as in Holland, only with bigger numbers ofcourse, because of the larger number of inhabitants in France. I believe that development in the USA and other countries in the world have seen a simular curve.
I also wonder about the number of members published bij de ABA and the NBL in the past. ABA claimed to have around 45.000 licenseholders and the NBL around 25.000. Since NBL integrated in a way in ABA, now called USA BMX .... is the number of licenseholders now around 65 till 70.000 ? (The USA has around 315 million inhabitants). Wouldn't it be nice to finaly have exact numbers on this item from all National BMX organizations world wide?
Well, just recently I got some very specific and probably correct information through a relation in the USA, concerning number of license-holders of USA BMX. At the annual USA BMX Summit earlier this year, it was stated that there were 44.000 active BMX racers within that organisation. Probably we talk about USA BMX ánd Canada. USA BMX has 330 BMX tracks operational in North America at this moment. BMX in the USA did have no more then around 100.000 racers in the top-days of the sport in the '80 s (at the time there were around 3 till 4 big organisations and around another 3 till 4 smaller ones running BMX events). Still a lot of work has to be done to get back to the 1980's numbers of active riders .......
The Future, ... adult image, ... Elite classes on 24 inch BMX bikes ?
Will there be a special organization like GSX inc. sett up next? I believe countries can now organize their own SX events and be professionaly scrutenered by UCI officials present, on forehand as well as during the events. In fact I learned that the above is a fact at this moment. The UCI BMX Coordinator, Steve MacQuish is coordinating activities during the World Cup/Super Cross events as "Event Director", in collaboration with the event organizer. Further more a panel of UCI commissaires present is actualy helping out as usual, during the event. Mr. Yvan Lapraz is appointed by the UCI as Technical Director of each event.
I also believe a bit more should be done on giving serious attention to safety ánd specialy the adult image of BMX. I would like to see the 24 inch class having a come back. A more adult BMX bike that probably is safer to race on SX tracks as well. So, something to think about, changing Elite Men and Women classes racing from 20 to 24 inch BMX bikes. This idea is not knew, have said it several times before over time (since 1992). I also know that for BMX'ers the 20 inch bike is THÉ bike to race. However, to give the sport a more adult image, bigger bikes like a 24 incher, might be the thing.
At last.
Since I was talking above about the deveopments in BMX from 1995 till 2016, here some pictures that show you all not that much difference, while when present at a SX event, one sees and feels the difference, specialy when you are "old school" and can compare old & new. Still great to see were BMX stands now, but ....... IT IS GOOD, BUT IT CAN BE BETTER!
These 2 pictures do show us a BMX magazine cover from 1996 and one of 2015. All together not that spectacular differences.
Here 2 pictures of advertisements in which one can see the differences in bikes 1996 and 2015. Not very spectacular either. 2015 models have lower frames, probably longer as well compared with the 1996 models. Seat post and saddle in a very low position in 2015, click pedals on the 2015 models and flats in the 1996 ones. Due to the difference in track bottum, very hard in 2015, real dirt in 1996, slick tires and nobbies in the 1996 bikes. Biggest difference probably is the quality of materials used now. Bikes must be very strong when jumping wiht speed over 55/60 km per hour on the first straight and jumps.
Picture of a 1996 indoor track and a 2015 outdoor Elite WC/SX track. The 1996 track is real dirt, the 2015 concrete in turns and very hard topsoil. Tracks should be around 400 meters or 35-40 seconds per lap. Big difference in starting hils for Elite classes ofcourse. Modern tracks are wider then the old ones and have many more obstacles.
Seen here a picture taken during the riders meeting at the 1996 UCI BMX World Cup in Valkenswaard. Want to show you mainly the starting hill seize from that periode. Picture 2 one sees the 8 meter starting hill now used in Elite class event at Continental, World Cup and World Championship level.
With these two pictures we want to show the difference in riding styles, while racing on "old school" tracks (left) and "new school" tracks. Also not that big a difference. At the old school tracks there used to be much more "contact" then at the new type tracks.
more pictures soon:

body renner 1980 / body renner 2015
spectators 1996 wc/sx / spectators 2014 wc/sx
20 inch bike (seen as kids bikes bij outsiders) / 24 inch bike (more an adult type of bike).