December 1993, the Carlos Swinkels story: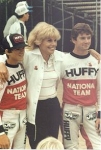 The story I am going to tell you now concerns a former Dutch BMX racer called CARLOS BORLAND - SWINKELS. I knew Carlos from the time he started to race BMX bikes in the early '80. He was one of the first BMX'ers in Holland. His mom was from Spanish decent and his father Dutch. Carlos was born on March 22nd 1968 in Eindhoven and has a sister called Carmen. His parents got a divorce and later on his mother remarried an American by the name of Jimmy Borland. From that time on Carlos lived with the parent of his father, his Grandfather and mother mr. and mrs. Swinkels in Eindhoven. Carlos in picture above on the left side, Huffy CEO in middle and Erik Dukino on the right side. Picture taken in Slagharen.

In 1981 Carlos became Dutch National Champion BMX in the 13 Expert class and was considered one of the talented riders of Holland. He was a member of one of the first BMX clubs in Holland called The Champs in Eindhoven. Carlos traveled all over Europe and became member of the Huffy BMX team in 1983. Together with the 1983 World Champion Girls class Monique Franssen and Expert rider Erik Dukino they formed the Huffy team. All three of them took part in the 1983 World Championships in Slagharen-Holland. The last event Carlos competed in was the 1985 Worlds in Canada.

Later on that year Carlos moved with his mother Maria Borland-Dominquez to the USA to live their with his stepfather and his mother.

Being an adventurer Carlos enrolled in the army in 1987 at 20 years old and was educated as "boordwerktuigkundige" of a Chinook- helicopter. Carlos stayed in the army till 1992. He served in Asia (Korea), South-America (Panama) and the Middle-East (Saudi Arabia).

Just before he left for the first attack in 1991 with the 18e Airborne Division direction BAGDAD, he did write a letter of fare well if he should die in this war. Just a section of the letter he did wrote, you will find here:

"Mom, if you do read this letter it means I am no longer among the living. I am glad that I made every day of my life worth while and military service was more then just a training. I never had any regret joining the army. Death is the risk of this job, I loved my job and I was good in it. Mom I love you, you always supported my 100%".
This is just a part of a long letter in which he thanks his sister Carmen and his father Jim and specially his grandfather and mother who were always there to help and support Carlos and at their home, they were the place of peace for Carlos.
But, Carlos did not die, he survived. This letter however, would become an imported document only 2 years later in December 1993. After leaving the army ending 1991, Carlos returned to his parents in Fallon in the USA. He applied for a job as deputy with the Churchill County Jail and was appointed. Six months later he was hired by the Nevada Highway Patrol and after an education of 26 weeks he started patrolling the roads later on 1992. Carlos was stationed in Lovelock, close to Fallon and patrolled during day and night time, the Interstate 80.

Along this Interstate there is a truckstop called "Trinity Truck Stop" and Carlos stated to Dan Orosza, a friend police-man, that a lot of weirdo's did hit this truck stop. Just recently Carlos stopped a car there and the passengers of that car started to run. Carlos chased them and after 2 hours he was able to lock them in. They were fugitives and wanted for kidnapping. The Interstate 80 was and is a risky highway. Imagine, a very long road, dessert and for miles and miles, nothing. Then on November 30th. 1993 destiny hits. At the Trinity Truck Stop a man drove away without paying. His name was Michael Sonner, an escaped prisoner. He carried a .38 revolver and was considered one of the most dangerous criminals at the time in this area. Sonner had already in his mind to kill a trooper because he wanted to be killed himself doing this. Carlos ofcourse did not know this and when the message came that somebody did not pay at the truck shop, he followed the car concerned and stopped Michael Sonner on Interstate 80. Carlos got out and slowly approached the stopped Chevrolet. In short range Sonner did shoot Carlos in the head and was injured critically. A by-passing trucker had seen it happen and informed the Highway Patrol right away. Hundreds of agents started a massive hunt for this cop-killer. Airplanes, dogs, helicopters and so on. 25 hours later they did find Sonner in Dixie Valley and arrested him.

Carlos dad, Jimmy saw his son die the next day, December 1st at 3.05 hours. Carlos was the 4th trooper of the Nevada Highway Patrol that died since its existence in 1949. A report of this terrible happening has been on American National TV and in 1998 the same report has been on Dutch National TV on a program on reality TV on "COPS" and their sometimes dangerous work.

Since Carlos Borland-Swinkels had his roots in Eindhoven-Holland, he was brought to Holland and barried here. My family went to his funeral and so did many other BMX'ers and former old skool BMX'ers. It was a very emotional happening, something not to forget. With great respect I think back of Carlos and I found it necessary to share my thoughts and this incredible story with you all.

GD