Veldhoven, Holland.
Pioneer Old Skool BMX'er JAN van LOON living in Veldhoven, near Eindhoven in Holland, a National BMX Champion in the Expert 14 years old class in 1979, now is a well respected rally car racer. Jan van Loon, 37 years old now, takes part in the Dutch National Rally Championship in the Super cars 4WD and holts at present a 6th position in the standings.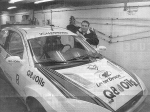 2002 Jan van Loon as Rally Cross Rider Recently Jan obtained, with help of his sponsors, a new race machine a Ford Focus World Rally Car. In his first race with this new car, Jan finished 4th and was very happy with the result. By the way, the race was run close to the Valkenswaard BMX track were in 2004 the UCI BMX World Championships and Challenge will take place.

Going back in time, here a picture of Jan van Loon as a member of the S.F.N. - Holland team that took part in the JAG BMX World Championships in 1979, Indianapolis - USA. Jan's picture and biography also was in the official program of the 1979 JAG BMX Championship.