November 15, 2003 In memorian of Ludy v.d. Werff.
Tuesday October 28th. 2003, at about 14.00 hours, while in a meeting at work, I received a telefphone-call from Laurens "Zonto" Dingen a pioneer BMX'er. He called from Eindhoven and said he heared rumours that Ludy v.d. Werff had taken his own live. My immediate reaction was, NO that can't be, Ludy! I called my wife in Waalre and she had no clew of what I was talking about. About half an hour later, my wife called back and confirmed that indeed Ludy had died early the same morning. I WAS STUNNED. How could this have happened.

During the day and specially in the evening I received several calls from mainly pioneer BMX'ers who knew Ludy from the early days of BMX. Among them also one of Ludy's buddies Peter Ploemen. Everybody was totally surprised, in a way very said, but also angry. If he had problems, why didn't he ask for help. The questions remain.

On Saturday November 1st. the funeral took place in Waalre. The church was too small. Since the early '90 Ludy had left the BMX scene and got married to Charlotte. He had 2 son's called Sammi en Pim. Ludy was working in his fathers company so.. besides a lot of after BMX time friends and business relations also many pioneer BMX'ers were present like his close friends Peter Ploemen and Hans Gerrese, but also Bas de Bever, Jan v.d. Dungen, Nico Does, Fred van Tongeren and many, many more. Pitty to say that during the ceremony almost nothing has been said about his BMX career except for the fact that Ludy was a 5 time National Champ and a World title holder in BMX. Nobody of his old friends were asked to say something. Main remark of the priest that still is stuck in my mind is, why, Ludy why did you do this? We will never know the answer to that question.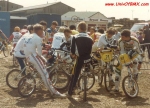 Things to remember.
Ludy was the number 12 licence holder in 1979 and really one of the pioneer BMX'ers in the, at that time, Top class. What I can say now, is that Ludy was a role model for many young BMX'ers at the time. He had a professional attitude towards the sport and among other things was selected for that reason in the famous AMEV Team together with team mates Phil Hoogendoorn, Pierre van Zuijlen, Addie v.d. Ven and Jan Hekman. Anybody asking him for help or a favour, when in his power, he helped you out. He also was a guy to have good fun with. I remember the conversations between Peter Ploemen and Ludy when we travelled to races. My jaws did hurt of after about 1 hour of nothing but jokes. In general Ludy was a good guy, with an golden heart, worked hard and loved his wife and children. He was in the process of taking over his fathers business and the prospects were good. Again nothing there to expect such a drastic step to be taken by Ludy
What can we say more. Ludy we will remember you as you were. R.I.P.

Your BMX friends.