November 2004
During one of my visits t the USA to orientate myself on the developments in the spot of BMX, I stayed at my brother in law Pierre Karsmakers, Yamaha MX facotry rider at that moment, house in Laguna Beach.
November 1976 Pierre showed me around in the L.A. area and we visited several BMX manufacturers and people selling parts and other products related to BMX. Among other we visited WEBCO inc. a company involved in motorcycle products, but also selling WEBCO BMX bikes. Darwin Zenser was the man at this company. Also Kuwahara run by Howie Cohen was visited as well as Laguna BMX run by Jeffrey Heininger at the time. Next stop was REDLINE, run by Linn Kastan. Most impressive visit was with mr. Skipp Hess at Mongoose, I believe at the time the most important manufacturer of BMX bikes and parts. Skipp was very helpfull and several years later he also supported the most important BMX vent in Europe at the time, the European Challenge Cup at Slagharen in Holland.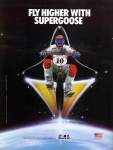 A 1981 advertisement by MONGOOSE
Underneath do find some information on Mongoose and its owner at the time, Mr. Skip Hess.
Mongoose can be considered one of a few companies from the early days of BMX in the USA that made BMX happen. They were very innovative and did lead the BMX market for a very long time. Even today Mongoose is know all over the world not only for BMX but also in the field of ATB/MTB bicycles.
In the mid '80 's owner Skip Hess visited Holland and the European Challenge Cup, being at the time the most important international event. Skip wanted to check out the European BMX market personally and so he did.