Waalre, August 2005.
News: The CHRISTIAN van de GROENENDAAL STORY or the start and development of GPR, later ONE Bicycles.
UNIVERSITY of BMX.
During the history of BMX in Europe we have known several manufacturers of products made in Europe like ASCO BMX bikes and parts(Holland), PRO-WINNER bicycles(Belgium), WHEELS bicycles(England), SUNN Bicycles and parts(France), WEBCO bicycles and parts(Holland) and last but not least ONE bicycles/GPR number plates.
Out of a serie of stories about those pioneers, I want to tell you the Christian van de Groenendaal story, C.O. of ONE Bicycles (Vught-Holland) still active and going stronger as ever. Christian got involved in BMX in the year 1980 when there was a group of riders in his neighborhood with whom they had races amongst themselves. In 1983 Christian's brother Arjan applied for an official KNWU (Royal Dutch cycling Federation) license and Christian went with his brother to the races. Officialy Christian started make numberplates for BMX bikes, just for the fun of it, in 1986. The first plates were made by hand completely, later on it became more a production type of thing. His motivation at the time was, that it would be a great thing to have BMX racers using his plates on their bikes. Christian never raced himself but loves to watch the sport and make things that could be used by BMX'ers.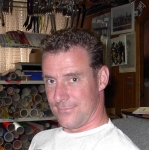 Christian 2003
At the time Christian still was in school, learning about art, screenprinting and designing. It was a great thing having a hobby and learn more about it at school. When he finished his education, Christian started his own company. The demand for numberplates was growing because BMX in Holland was developing very fast at the time. Around 1988/1989 there were over 5.000 KNWU license holders needing numberplates.
The company Christian started was called GPR or beter "Groenendaal Private Racing". However, the abbreviation was used on the numberplates and then the GPR numberplate was born. At the time the only rider "sponsored" by Christian was his brother Arjan.
When during time Christian was picking up more riders, he changed his companies name in "Groenendaal Prime Racing". In Europe GPR was almost leading the numberplate market and that's why he changed his name into "Prime" instead of "Private". During time riders like Eric Carter, Pete Loncarevich, Bas de Bever and Phil Hoogendoorn were using GPR plates. As you can see, from a National scene GPR moved on to an international scene.
Also organizers did find the way to GPR plates, by giving out free numberplates at registration to participants of national and international events like, the E.E.C. (European Challenge Cup) events at Ponypark Slagharen, the Worlds in Norway, Holland and France and the 1998 Europeans in Germany.
In the year 1991 Christian started to buy BMX products in the USA, directly from the manufacturer, because the products available in Holland were old fashioned and the quality wasn't that good. People started to ask for good, preferable USA BMX products. Due to the fact that less good products were available during time, Christian had the idea of designing/ developing and producing his one BMX frame, which he called ONE Bicycles. The first ONE BICYCLES were introduced in 1994 and besides BMX bikes, also MTB/ATB bikes and race-bikes as well as cyclo-cross bikes were introduced. Christian did have the support and sponsorship from some major companies in the USA, Italy, Taiwan and Holland. Christian's policy was to look for riders with a positive attitude, who would live for the sport and were very grateful to promote their sponsors. Sponsors are hard to find in BMX and that's why you have to treat them with respect and promote their product well. "I want to have my teams to look different from other teams. No fluorescent colors, but original colors that don't make riders look like a colorbook or something like that" did Christian state in the early days once.
In 1995 ONE BICYCLES did have 2 teams, a 5 men ATB/MTB team and a 2 men BMX team. Since our heart is in BMX, the year after we started to concentrate ourselves more and more on BMX, Christian adds.
Bas de Bever introduced our bike/brand ONE Bicycles in the USA during the December NBL Christmas Classic. We reduced out ATB/MTB team to one rider and increased the BMX team with 2 more riders, so now there was a 4 rider BMX team active.
During the years many riders of importance have had a place in our team of national and international origine. Besides Dennis Wissink, a former Rookie of the Year by the name of Lukas Tamme from Czech Republic and Milan Krebs from Slowakia were teammembers. At this moment riders like 2 time World Champion Arturs Martisons from Latvia, 8 time World Champion Manuel Lopez from Argentina and 2005 European Champion in Junior Men, Maris Strombergs from Latvia, are racing ONE and are members of the ONE Bicycles World Trade team.
A European BMX scene without ONE Bicycles is hard to imagine at this moment. Besides frame sets, ONE has a variety of own designed and made products, such as goose-necks, chain tenseners, chainrings, cranksets, hubs and handlebars. ONE bicycles' dealer network is extended all over the world with branches in the USA, New Zealand, Australia, most European countries and recently Chile and Equador.
Besides ONE Bicycles Christian also started a photo website called BMXPIX. On the website you will see photos of the biggest races and all of them are free to download and use. The address is www.bmxpix.org .
Christian keeps busy.
At the 2005 Worlds in Paris a new organization was founded. BMXTTO - BMX Trade Team Organization. This organization will allow Trade Teams to become officially recognized by the UCI. All teams with a professional structure (mechanic, teammanager, team tent) with at least 1 Junior and 2 Elite riders (male or female) can become a member of BMXTTO. The positive thing about this is that teams will be able to talk with the UCI and organization of high level international events. One of the ideas is to have an area with technical assistance/support next to the parc fermé (staging area) available for all riders of the trade teams (members of BMXTTO).

BMXTTO is looking for:
visibility of trade teams
progress of the sport
future of BMX
more sponsors in the sport
more media (TV)
It is important to know this is all for the progress of the sport. The idea has started when Christian van de Groenendaal (ONE Bicycles) and Tiziano Cristofaletti (Ciclomania Racing) developed a concept at the European Championships in Switzerland. This set up is already well known in mountainbiking.
As stated before, Christian keeps busy. I think it's great to see youngsters who raced themselves or supported their family members getting involved in BMX after their active career and help develop BMX. Their experience and skills can be a great advantage for new kids coming into the sport. Christian van de Groenendaal is one of those guys and see what he accomplished this far. Compliments Christian!
Last but not least I can say that I am kind of proud also, realizing myself that bringing BMX to Holland in 1976 I am the cause of all of this.
Gerrit Does