Waalre, August 2006
Introduction.
During my time in BMX and other bicycle disciplines, I have seen accidents happen. I know of several BMX stars and former BMX stars, who due to these accident broke their backs and lost the use of their legs. Out of respect for the battles each individual had to fight for and with themselves to keep believing in live and themselves, I will tell you the story in short of one of them, my friend Tarek Rasouli.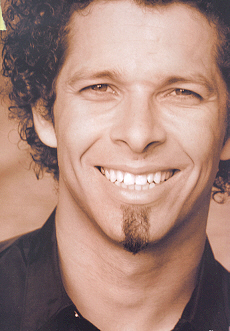 Tarek Rasouli, the Man!
The Story of Tarek Rasouli, an Old Skool BMX racer.
Those who have been in BMX since the early days, know of the name Tarek Rasouli very well. This former German top international BMX racer has a long history with ups and downs in BMX and freeride MTB. Here in short his story. Tarek, living in Munich – Germany, started racing BMX bikes in 1983 at the age of 9. He became better and better and one of his favorites at the time was Bas de Bever. In the early '90 among many others, Tarek was one of the European riders that traveled with Gerrit Does to the USA as member of the " University of BMX training camp" (check www.univofbmx.com section Univofbmx training camps).
As with several other riders, these trips to the USA were the motivation for among Tarek to go back to the USA and race, after finishing school. Around 1994 Tarek changed from BMX to MTB in which cycling discipline he became a Pro rider. Also because of his good looks, Tarek became a model for magazines, catalogs, advertising, calendars and whatever more. Together with his friend Igor Obu (and also a University of BMX training camp member from back then) he has done demonstrations and shows like jumping over 24 people and high jumping on a bike over 1,07 meter. Igor was a specialist in going down a ski-slope on a bike. As " test riders" for German magazines, both guys crashed several bikes. Tarek also was involved at the time in Free riding, traveled a lot to and from Europe to the USA and did see a lot of the rest of the world.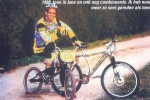 During one of his trip across the ocean, Tarek was in Canada for another photo shoot and to give a MTB clinic in the Whistler Bike Park. He also participated in the Cranked V series with Bjorn Enga. During one of the shootings, Tarek did not land right after a spectacular jump of about 17 meters he crashed hard, landed on his foot and after recovering he found out he did not feel his legs anymore. He was paralyzed.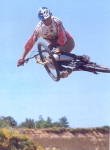 Tarek had a very tough time during rehab in the hospital, but with the help of his family, friends and others, he became what he is today, a still very positive thinking, enthusiastic bicycle freak doing all he can to enjoy live. He is writing now for German bicycle magazines and still travelling the world to cycling and special free ride events. Besides that Tarek is business wise active as an organizer as well as a marketing and sponsor consultant in the sport. You can see this guy has a good future ahead of him.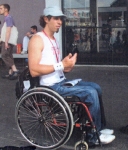 Respect for you Tarek!