Waalre, January 17th 2007
For the really Old Skool riders 1979 – 1986 this will be probably a big surprise. Guess what.... JAG BMX is returning to the BMX scene. Just some days ago I received a surprising e-mail from Renny Roker, the former owner of JAG BMX bicycle company and promoter of the JAG BMX World Championships from 1978 till 1984.
As you can read in the article about Renny Roker on this site (check out the "Renny Roker" story in the Old & New section), Renny has been involved in golf very much the past years. Now Renny returns to his "old love" the BMX sport.
Please do find the enclosed e.mail that I received recently in which Renny Roker outlines some of his plans:
---
Press-release January 17th 2007.
JAG BMX RETURNS, a BMX preview - $ 100,000 shoutout & the Olympics.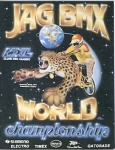 Good morning everyone,
Below please find the link to the BMX highlight video. There are many exciting things happening with BMX now, since it has been accepted into the Olympics. Coming soon, information on the $ 100,000 Pro JAG BMX World Championship Final in an exiting location! Look for the exiting TV Series on Versus TV Network (81 million homes weekly), Internet TV and worldwide TV with more than 300 million homes worldwide. Enjoy the 3 minute video. More info soon to come.
Renny Roker Executive Producer
Note by Gerrit Does:
On special request of the NBL - USA at the time, the "link" was removed from this site. According to the NBL, RR was acting illegal not sanctioned by NBL or ABA and therefor a non UCI member. It would take till 2011 before RR was sanctioned by the ABA!
---
JAG BMX RETURNS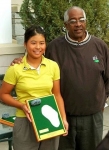 Sunday January 21st. 2007
Renny Roker did write:

Gerritt
I want you for me to video tape this event (2008 Reunion at Slagharen) for broadcast. Imagine BMX Holland 30 years old and it all began with JAG BMX World Championship.
Concerning JAG BMX, I will have new designs of the new JAG BMX Bike & Frame and TV series on broadcast and broadband/Internet TV for the world to see.
Gerritt I would like you to advise all of Europe through your promotion network of writers, riders, parents and officials when the JAG BMX TV series begins to broadcast (very soon).
I am also looking for the best BMXer's in Europe to ride for the JAG BMX team (especially riders in the Olympic classes).
Thanks for sending the footage, please find all the BMX footage of European events you can and we will broadcast those programs on our BMX Network.

I will launch the JAG BMX website very soon.
Renny Roker
__________________________________________________________________________________________
Update June 2011:
From early 2007 on till now, plan were made by JAG BMX but nothing has been realized yet. The history of JAG BMX events and its troubles in the early days ('80 s) were following Renny Roker. Finaly after about six and a half year JAG BMX with Renny Roker seems to have pulled it off: A new modern BMX track is being built at this very moment. The ABA is sanctioning the track ánd the event that mr. Roker has planned to organise this year. October 14 through 16th the new facilities will be officialy opened. The track is being built in the city of Bunnell in Flagler county, Florida - USA. Its a Dual BMX track including a SX track. More on this subject go to History of BMX year 2011 for more.