update March 2008.
Going back in time
Seen here is an advertisement of PK Racing from 1982. PK stands for Pierre Karsmakers. Pierre was the first Dutch importer of BMX materials from the USA starting in 1976. Being a professional moto-cross racer in Europe, Pierre was contracted in 1971 by YAMAHA USA to race in the USA. It was while staying with Frans Karsmakers ( a younger brother of Pierre) and Hennie Beekmans, 2 top Dutch moto-cross riders, in the USA in September 1974 that I discovered BMX at a local Yamaha dealer in Kansas City (details can be find in the section History of BMX).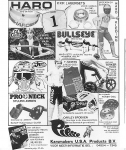 Seen on the picture is Edwin Smulders wearing a Oakley uniform and in another picture holding a PK ripper frame. Edwin now is one of the most famous PAPARAZZI'S in Holland.
Anyway, coming back to Pierre. Just recently a special DVD on the AMA National 500 cc Championship Moto-cross was released and guess what, one of the producers is the among old skool BMX' ers and bicycle business people in Europe and the USA well known, mr. Todd Huffman, a former close worker with Richard Long and Gary Turner at GT Bicycles. This DVD called ONE CHANGE TO WIN handles about the 1975 National 500 cc championship. At the last race out of 5 championship races, six riders amongst whom Pierre, were possible candidates to win the title. Besides action, lots of interviews, background stories etc. Very interesting to see and hear.
A well respected journalist called Jody Weisel (Moto-cross Action Magazine) also gives his view on these series and his opinion about the riders. I must say, after seeing these pictures I am even more proud of my brother in law as before. 1975 was an historical year for moto-cross in the USA. From that moment on MX in the USA changed and became what it is today, mainly because of Pierre Karsmakers. A rabbit was chased and gazelle's, the present top USA pro's in MX, were formed.
I highly recommend each and everyone of you to purchase this DVD, its a very important document about the development of moto-cross in the USA. Check with Motocross Action for more details and at www.onechancetowin.com.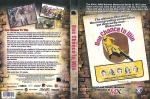 A Chance to Win DVD Cover