DICK Scott (England)
Special recoqnition European Hall of Fame
Pioneer non racer, promotor of BMX, official, organiser; in short one of thé pioneer BMX fathers in England
Picture on right, courtesy of Rhodopsin Photography
First Name: Scott
Family Name: Dick
Married: YES with Margaret Dick
Date of Birth: 25/8/1956
City where you live: London
What year did you get involved in BMX:
In 1980.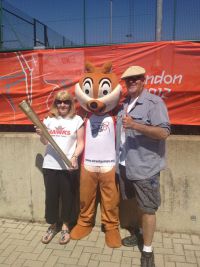 How did you get involved in BMX:
I worked as a playleader at a Adventure Playground (local community youth project) in Notting Hill, London and children started to bring in the American bmx magazines before we even had bmx bikes here in the UK. We would also help them fix up their bikes (mostly Raleigh Grifters) and take them out to ride in the woods etc..Then the whole bmx scene exploded, with the bmx bikes being available, tracks being built and taking young riders to races around London and beyond. Our own local track was Westway and I helped run race series there from 1980, with riders like Winston Wright taking part.
Do you consider yourself a pioneer in the sport of BMX.
Yes I would like to think so. Being directly involved in the sport from the beginning here in the uk, helping riders and supporting bmx clubs.
Please give me a resume of activities in BMX, like: local activities, name of club, did you train,coach or manage riders/teams name dates (years).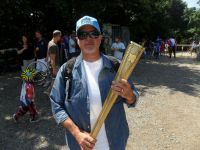 As I stated earlier, I was involved in the running of races at Westway in West London from 1980 to 1982. Then I moved out of West London to Hillingdon and got involved with Hillingdon Hawks around 1982. This where my own sons started racing from the age of 3years old. I eventually became Chairman of Hillingdon Hawks, where the club had many successful years and then moved to High Wycombe in the early 90's to run our club there for a couple of years and then to Slough (the Hosts for the World Champs in 86) in the mid 90's . I was directly involved in running many UK National series races at these venues and also 2 British Championships.
a. I was also GB Cheif De'quipe for two years at various European Champs and World Champs ( Brighton, and Argentina).
b. I also ran 3 BMX Races at the National Adventure Sports Show, an extreme sport and music festival in Somerset and also 3 BMX Races at the Bike Show in Birmingham and Stoneleigh Park.
c. I have been Chairman of Hawks BMX Club for almost 20 years and Chairman of South BMX for around 15 years. d. I was also involved for two years in the running of the No Clips National BMX Series…
Involved in the National organisation? If yes, in what respect etc....
Yes was on the board of the National BMX Commission for over 3 years and before that GBBMXF after it was EBA. I was on the BMX Commission when BMX racing went into British Cycling. My position was promotion and running of events. I am no longer on the BMX Commission after deciding to concentrate on Hawks BMX Club.
What are you doing right now (2012) in BMX
I have been commentating at the UK national series races for the past 10 years and the highlight was commentating at the UCI World Champs in Birmingham this year. I also help run the South Regional BMX series and officiate at commentate at those races during the year. My wife has also been a race official for around 12 years at National and Regional level and supported me running races right at the beginning at Westway and has supported me also in running Hawks BMX Club.
We are hoping to build a new improved bmx track at Hawks with facilities and we have been working on that plan for 3 years and hopefully if we get the funding, that could happen next year. We have raised the funds for a new concrete skatepark on the same site and that should be going in early 2013. I also help run our Hawks Schools Outreach programme, where we have a truck with 25 bmx bikes, helmets and gloves and we go into schools and youth groups and attend events to promote bmx racing and give children a taste of bmx racing with coaching and fun races on their school field. I am also attending meetings re the future of the London Olympic track and its future use and design…
Any special plans for the future:
My aim for the future is for the Hawks to have an improved facility, with all weather track, floodlights and fence. A managed bmx facility supported by the the local council and British Cycling, running school sessions during the day and club sessions and races in the evening. To keep promoting the club and the sport and making people realise what a great sport bmx racing is and why they should get involved. Carrying on enjoying being involved in the sport with my family. See my eldest son Alex make the final at the UCI BMX Worlds in Rotterdam in 2014.
General remark(s) by yourself about past/present and future of the sport.
The sport as a whole has achieved its pinnacle by being in the Olympics, one of my dreams for our sport. It can only get bigger from here on in.
I respect the past and history of our sport, but do not dwell on it too much, I miss certain aspects of those times, but for me it is all about the present and the future and how the sport develops.
In an ideal world, I would love to see clip pedals banned for lots of reasons. This is not an old skool thing, I just see too many bad injuries now and just don't see the need for them in our sport.
The current format of Supercross bmx races work, with the top riders competing around the world. It's a great promotion for the sport. I think some of the track designs need to be looked at as quite a few are becoming too dangerous for the riders, too many bad crashes and I don't want our sport to be remember when coming away , that its all about the crashes. Also a lot of the tracks are follow the leader, with not too much passing. In saying that the track builders like Clark and Kent have taking track building to a whole different level and we can thank them also for the promotion of our sport. The London Olympic track was a dream.
We need to get more bmx racing on tv and not just supercross races. Make it more appealing to the general masses, film regular bmx races so that families and kids can see that they can also get involved at a normal level.
UCI need to introduce more older age groups at the World Champs , not reduce them. We have many more older riders competing now around the world and they should have as fair a chance of competing. Also older female age groups too.
End of CV - interview
Thanks very much Scott for this interview and for all the good work you have done for BMX. Welcome as a member of the Euro BMX HALL of FAME.
Inducted in 2012