LYNCH Tom (England)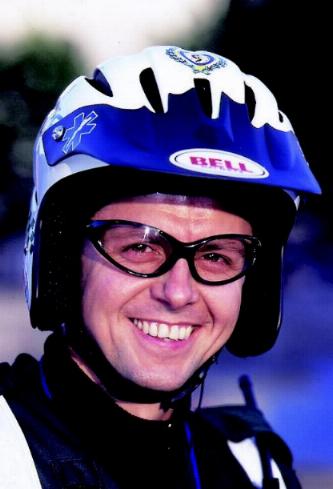 1986 European Champion
Special recoqnition European Hall of Fame
Tom Lynch, one of the most successful British riders who managed to rake the Superclass by storm when he was only 16 years old (in 1986). Tom stated "I still have me verses TEAM AMEV dreams". Insiders know exactly what Tom means by this!
Tom started out as a moto-cross rider but switched to BMX in 1980, competed in his first BMX events in 1982 and Tom finished his career in 1994.
He really never could let go of BMX and at present he acts as a teammanager/coach/trainer for the English National Team.
Gentleman racer Tom Lynch has been and still is an example (roll model) for new and young BMX racers. Tom won one European, but never a World title but for sure he belongs in the European BMX Hall of Fame as you can understand reading all of the above and the attachement on his BMX and professional career after that.
Profile of Tom Lynch (GBR) part 2.
Updated April 2nd. 2011. Here the profile of one of Europe's top BMX'ers from the 80 and 90's, Tom Lynch.
Profession: Emergency Services Officer, Bicycle Consultant and Instructor. For more information look at www.publicsafetycycling.co.uk
Started BMX in:1980. First official race awas in 1982.

Main results: Results from 1984 to 1992
National level: Around six (6) National number 1 titles, including Superclass, British Champion & Champion of Champions by the UK.BMX
European level: European Champion, European Challenge Cup Winner of many European Championship Rounds within I.BMX.F.
World level: World Team Trophy & number 3 in the World in Superclass I.BMX.F.
Memorable events & results:
Winning the Superclass European Championship final in 1986, first in Superclass (should have been 16 Expert) and of course beating the infamous Dutch Team AMEV. World Championship Superclass final in 1986, the infamous Dutch Team AMEV were in the race Mr. Phil Hoogendoorn and Mr. Addie van de Ven gave me a good battle! I finished third (3rd.). Respect still goes to Team AMEV, what a team!
Was a member of the following BMX teams:
Patterson, Redline, Robinson, ASR, Haro, ELF, Kovachi, LRP & SE racing among others. Of course my father being my coach.
Any other remarks to be made:
I would not have changed anything, Bicycle Moto Cross is close to my heart and to be in it for a while was fantastic. In the eighties BMX was so big, meaning the publicity, big racing teams, TV and stardom. BMX has been a positive experience and to be voted a BMX 20th Century Heroby RIDE BMX Magazine complimented my career at the end. In addition I was very honoured to be awarded an MBE (member of the order of the British Empire by the Queen and presented by Prince Charles) for "services to cycling" which included my BMX career. Thanks goes to Carol Gosling (BC Commission/UCI) as she provided me with great mentorship over the years and to Gerrit Does for chronicling the History of BMX.
When did you stop your active career?
I stopped being active as a racer in 1994
Still active in BMX or any other sport?
Yes, for a while I was active as the British Cycling Federation National Squad Coach and Coaching Advisor to the BCF to develop BMX Coaching. I also ran BMX Training Camps in England and was the first coach for Olympian Shanaze Reid.
Not active in any other sport as yet. Professionaly active as innovator of the "life saving ambulance bicycle response" in the UK, national lead for emergency services on bikes and international police mountain bike instructor. So still on two wheels and my Patterson BMX bike is always ready to go ( www.ipmba.org )
BMX Legend Tom Lynch (GBR) 1.
Updated September 2000: It was my second BMX event this year (2000), that I (Gerrit Does) did go to: the EUROPEAN CHAMPIONSHIPS in the city of MANDEURE - France. I was very surprised to meet one of our BMX LEGENDS from England there, acting as trainer/coach for the English team: TOM LYNCH.

With his BMX Training Camp LEGEND, Tom is now training BMX riders and even forming future coaches. If you want to know more about this just look for more info on www.legendbmx.co.uk.
Professionally, Tom is working as a paramedic in the city of London. Just recently he has been selected for a special test case. To be able to reach patients more quickly in the centre of London, Tom has been given a special prepared Cannondale mountainbike with essential equipment on board, to respond around the Trafalgar and Leicester Squares to potentially life-threatening calls and also incidents where it is thought unlikely that anyone will end up being taken to hospital.

Even in Holland Hollands the most important daily newspaper, "de TELEGRAAF" reported on this test and printed a picture of Tom Lynch riding the Ambulance-bike in Trafalgar Square. Well done Tom, keep up the good work!