UnivofBMX Trip to the UCI BMX World Cup Orlando USA, April 1996
The 1996 University of BMX organized trip to the UCI - BMX WORLD CUP, Orlando - USA and .......
participation of the European riders in the SARASOTA BMX race ánd the NBL Gator National in Orlando.
Period April 8th. through 15th., 1996.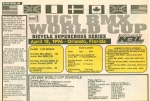 Organization was set up exactly as the usual training camps. Our transporter was United Airlines and our flight went from Amsterdam to Washington, Orlando and back. 15 riders travelled with us from Amsterdan, the others travelled from their home country directly to Orlando - Florida. As usual, on arrival, Mr. Beeler did pick us up from the airport and brought the group and baggage to our hotel. We did have 3 mini-vans available as means of transportation to travel to and from events during the days we stayed in the Florida.
In Orlando we stayed at the Ramada Orlando Central hotel along the West Colonial Drive, close to the BMX track. We made reservations for 11 hotelsrooms there. At this time the Orlando BMX track was run by mr. Jeff Kania, Art Beeler retired from his position as track-operator. Besides organisisng another BMX training clinic for the local riders, we also visited several bicycle shops, among them ABBOTT's bicycles, just around the corner of the Parents Council BMX track in Orlando.
Our European team consisted of 21 members. They were:
From Sweden: Johan Edman and Sanna Ohlsson.
From Germany: Joachim Ruckgaber, Sascha Meijenborg and Kerstin Munski.
From England: Anthony Revell, Scott Beaumont and Marco Dell'isola.
From Switserland: Marlies Knill, Mr.& Mrs. Knill, Suzanne Knill and Albert Knill jr.
From Holland: B.v.Kruistum, Wilco v.Kruistum, Nico Does, Pieter Does, Jorg de Louw, Jeroen Vrijdag, Karien Gubbels andDorus Brink.

The riders took part in the following events.
April 10th: Sarasota International Spectacular.
April 12th: UCI - BMX WORLD CUP, Orlando, Florida.
April 13th: NBL Gator National - Orlando, Florida.
Concerning the results of the riders mentioned in the UCI - BMX World Cup, check History of BMX, year 1996 and date April 8th thr. 15th.
In general I can say that the UCI BMX World Cup in Orlando, which took place on Friday, organized by the NBL was of a low quality, organisation wise. NBL was not very interested back then, in having the World Cup and did not promote it among their riders very well. Therefore attandance was kind of low. Included in the World Cup event was also a Jumping contest. After a very long time I did meet with Scot Breithaupt again, Scot was present with a camera crew and acted himself as host for a TV program.
I am sorry to say I don't have too mnay pictures of this trip and specialy the World Cup itself. Probably because I was busy acting as Project-manager for the UCI BMX World Cup ánd the lack of interest by the NBL in this event had it's effect on me too (not good, but it happened!). It was also very nive to meet with the founding father of the NBL, George E. Esser and his son Greg Esser during this weekend.
Most of our riders took part in the NBL Gator National that took place on Saturday and Sunday the same weekend as the World Cup. Again result of the World Cup can be found in the section History of BMX, year 1996. The results of the NBL Gator National have been posted below.
Besides the European riders in our group, ofcourse there were more foreign riders taking part in the UCI BMX World Cup, that also took part in the NBL Gator National. Here some names you can find back in the results above: Jamie Staff, Dale Holmes, Christophe Leveque, Carmine Falco, Frank Brix, Jorg de Louw, Olivier Prosper, Thomas Allier, Koen van Kuringen, Natasha Massop, Kerstin Munski and Dorus Brink the are all in the results.
The Sarasato event was just fun. I knew the track from about 10/12 years ago when I was here with Nico and I must say not much had changed during these periode. Among others the starting hill was still the same, about 1 1/2 meter high!
END OF STORY.