2014, May 24th., Tree planting ceremony at the Olympic Tree Park, Valmiera
May 23rd. - 26th, trip to Valmiera Latvia, Olympic Tree Park, tree planing ceremony.
Early March I received an invitation from Mr. Janis Matisons through Mr.Janis Silins to be present at the tree planting ceremony of several Olympians (present and past) in the OLYMPIC (TREE) PARK in Valmiera - Lavia. I was more then happy and honoured and ofcourse excepted this invitation.
I arrived by plane in Riga - Latvia on May 23rd. I was picked up from the airport by Mr. Silins daughter and husband and brought to Valmiera.
The next day, Saturday May 24th., in the afternoon the tree planting ceremony would take place at the OLYMPIC PARK in Valmiera. After breakfast, Janis Silins picked me up and we did a short tour around Valmiera. We first visited the only super cross track in Latvia in Kegums. This track was built early 2012 and a copy of the Olympic track in London. The Latvian National team with Strombergs, ........ .......... were training there to prepaire for the Olympic Games. This project was set up by coach Ivo Lakucs.
At the time of our visit to this SX track, preperations were going on to bring the track up to racing conditions again, building a clubhouse and adjusting the pump track / junior track, next to the SX track.
Besides BMX we also did a cultural tour along several historical places. Latvia has a lot of historic buildings and places to go to. I always enjoy learing about their history. Seen below an historic stem-roller and an old caslte tower, protected by a wooden construction. Only a view left in Latvia, so need to be protected very well (against time, weather etc.)

The Tree Planting ceremony at the "OLYMPIC PARC" in Valmiera, Saturday May 24th.
At around 14.00 hours we arrived at our gathering point for the Tree Planting ceremony, the Olympic BMX Museum in Valmiera, next to the Valmiera BMX track. Both activities are owned and run by the Matisons family.
As soon as everybody invited had arrived, we were directeed to the bus to leave for the Olympic Parc.
The official opening was done by Mr. welcoming everybody and introducing the Minister of Sport Mrs.
Tree planting ceremony at the OLYMPIC PARC in Valmiera - Latvia.
Here I am, standing next to the tree I planted during a ceremony like this in 2009. Now I good see how my tree did grow in 5 years. It takes time to grow! Proud to be part of this project.
This pictures shows the initiator of this project, the OLYMPIC PARC, Mr. Janis Matisons (on right) and myself, standing next to the tree I planted in 2009. Picture on right shows Janis Silins (l., father of Latvian BMX) and Janis Matisons (r., owner Valmiera BMX track and Olympic Parc).
Here the trees planted by the 2 men who started BMX in Latvia, Mr. Aldons Vrublevskis and Mr. Janis Silins, the founding fathers of Latvian BMX.
On this signpost, the names of the Olympic athletes that planted a tree on these grounds and also the names of VIP's, who planted a tree here.
As a remembrance being present at ths event, I received this plaque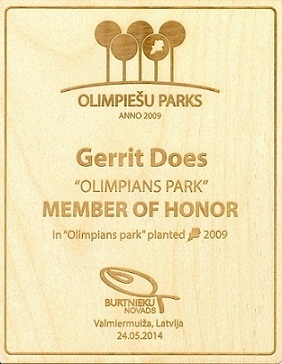 Cultural activity after the Tree Planting ceremony.
After the Tree Planting ceremony at the Olympic Parc, we all were picked up by the bus again and brought to a unique place. The location was at the ground of where in the early days a kind of castle was, that was used as a library. Sad to see this building being destroyed in a big fire. Also all books went up in smook. Before the start of the cultural activity, we had time to drink a very special local beer called VALMIERMUIZA. A very nice, strong beer with a very good flavour, loved it.
Then we moved to the open air podium, were the chairman and the minister of sport opened the Cultural part of this event.
The invited athletes, their families, invited VIP's and others were introduced to (dansing group + opera singers m/w and pianist)........
In the end, all Members of Honor were presented with a remembrance of the Tree Planting ceremony, as shown above. We all had a great afternoon.
Later that day:
Visiting Janis Silins family in the country. Here some pictures, on our way to Janis house, nice and quit roads, love it. Janis and I arrived at his house and we enjoyed the sun going under.
We also went out to a small lake nearby, How quit and pacefull this place was, I love Latvian nature. Latvia is about 1.5 times bigger then Holland but has only around 30% of the number of inhabitants then Holland. Half of the country is wood, forrest etc. I'ts so nice and relaxing, I enjoiy that every time I come over to Latvia.
When its about motorcycles etc., I am always interested so I took a few pictures of unique motorcycles and mopeds, very well restored and of which brand I never heard, except for the Jawa.
Some sightseeing on Sunday May 25th.
After a good nights rest (went to bet kind of late,but had a fun day), Janis picked my up on early Sunday morning for a sightseeing tour through Latvia. Every time I came over so far to Latvia, we always had one day specialy for sightseeing. Indeed I have seen most historic and interesting places in Latvia of which it has so many. Everytime there is something new to see and I absolutely love it. My BMX friends here (Aldons Vrublevskis and Janis Silins) always take good care of me: appreciated that very much!
This time we started a walk through Valmiera, early in the morning.
Then we went on "tour".
After our walk / tour through Valmiera, we got on to the car and started with an about 600 km ride through Latvia, this very interesting ride would take all day, till late in the evening. I will mention the most memorable parts of this trip. We went on visiting a castle/palace that I visited many years ago. At the time it needed a lot of maintenance, but now I saw a fantastic restored building.
Now just a few pictures of the inside of this spectacular restored palace.
During our tour through this fantastic restored palace, I made a picture of Janis Silins and myself in the mirrors of one of th large rooms. Here this tour ended and what a big difference I saw comparing this restored building with when I visited there about 20 years ago. Compliments!
A visit to Jelgava.
The red line through this visit was BMX ofcourse. So we visited several places connected with BMX. The city of Jelgave has been very important for the development of BMX too. And again here I could witness the difference of around 20 years ago when BMX was developing in Latvia. Now a professionaly built track was layed down, one that can compete with any track in the other leading countries in Europe. Here some pictures.
Ofcourse we toured Jelgave and visited with some old friends from the early days of BMX in Jelgava, Latvia. We had a great time indeed.
Monday May 26th., last day of this trip. On my way home ....
Early Monday morning we left Valmiera and travelled to Riga. Before leaving that afternoon by plane to Amsterdam, we planned to visit a museum in the center of Riga. This was an intense happening too, since the history of Latvia before and during the 2nd world war was told. Learned a lot again about the Latvian history.
Arriving at RIGA airport that afternoon, going into the main entrance, one rans into this man high poster of Olympic Champion BMX, Maris Strombergs. This is how Latvia goes about with his Olympic Champ in BMX ! Awesume. Arrived safe and sound after an about 2 hour flight. Enjoyed very much another very nice trip to Latvia. Thanks Janis Matisons and Janis Silins for having me!
End of story. 2014, Opinion on UCI BMX SX Papendal NED
May 15th. 2014. The UNIVERSITY of BMX, the preservation of BMX History ánd honoring the Legends & Heroes of BMX racing.

Concerns: Opinion / Evaluation of the 2nd. UCI BMX SuperCross at Papendal – Arnhem, Holland, May 10-11, season 2014.
Last weekend May 10-11th. the UCI BMX World Cup/Super Cross took place at the Dutch Olympic Training Center NOC-NSF at Papendal, Arnhem – Holland. This was the 4th SuperCross that took place at this venue, starting in 2011.
Most of you know, that I was very unhappy with the 2011 first ever Super Cross event at Papendal - Holland. You can read all about it in my report on that event at www.universityofbmx.com section History of BMX, year 2011-12. A lot was wrong then, in my opinion that is.
Ofcourse the UCI did receive my report on the 2011 event as well, back then and I must say that the organizers, BMX Holland BV and the NOC-NSF as well as the UCI noticed very well what I said (and with me, many others had the same opinion!) and had changes implimented on the track and racing technicaly wise since then (2012 and on).
Despite the terrible weather conditions this weekend, which we can't control, this 2014 event went rather well. Rain all day on Saturday slowed down racing and only at the end of the afternoon it became kind of dry in a way and racing could finaly start. Pitty that only a handfull of spectators were still in the grand stands (around 100).
The track itself was o.k. to race, only two problems were the wooden starthill ánd the starting gate, Both were very slippery because ot the rain. All possible was done to get the races underway and they succeeded when it became dry.
So, in comparisson with 2011, this track now is 99% o.k. Next upgrade is making the starting hill raceble when WET! Also the starting gate platform has to be made WET proof. Work to do here then. Compliments on the track and I might say that probably Papendal belongs now to the top 3 best Super Cross tracks in Europe, maybe even in the world (Chula Vista, Aigle, Papendal). I also hope other organizers and the UCI will learn from this bad rainy weather and that they will take care of SuperCross starting hills being rideble at all times, in all weather conditions. I guess everybody knows what I mean? Rain can happen everywere and any time.
One other very important aspect of changes that were made this year, time trials were limited till only top 16 Elite riders (M/W). To qualify for the main events on Sunday, 3 ad random scrambled moto's were run on Saturday. Instead of watching one rider at the time on the track for hours, now we saw what BMX is all about, real racing with at least 4 till 8 riders on the gate. This is so much more exiting then just time-trials ….. very good decision to change the format in what BMX is all about: competative racing!
This is an important change and will keep spectators in the grand stands for sure. They want to see racing and not 1 rider going around each time (160+ times!!). Again, only a handfull of spectators could witness this "normal" qualification system. I believe the UCI did find a nice compromise having normal racing going on ánd the top 16 per class doing a time-trial for gate possitions, after these qualifiers. Compliments! Nothing more to say at this moment. Again, despite the bad weather, I left as a happy man. And now we are getting close to the 2014 UCI BMX Worlds in Rotterdam, another indoor Worlds. Personaly I hope the UCI will decide to go outdoor in the future and race on at least 380/400 meter BMX tracks or have an indoor Worlds at locations were an outdoor 400 meter track can be layed down. We'll see what happens.
Another big question is, what will happen next with SuperCross racing in Holland? I understand that the 3 year contract with GSX Inc. came to an end last year (2013) and NOC-NSF / KNWU / BMX Holland BV came to an agreement with GSX Inc., the organizer of the UCI BMX Supercross Series, for another 3 more years ( so up and till 2016). We'll see you all next year then? Now on to the 2014 UCI BMX Worlds in Rotterdam!
End of Opinion/Evaluation.
GERRIT DOES
Waalre-Holland